I can't believe it is only mid-November and all the winter storage boats are already under cover!
Yard news
Thanks are due to Andrew and his team of merry men (and women) who have worked so hard recently to ensure that more than forty customer boats came in safely before there was any threat of flooding or frost.
Some of these boats are with us for sale, a few for winter work and most for minor bits and pieces like antifouling, engine servicing etc.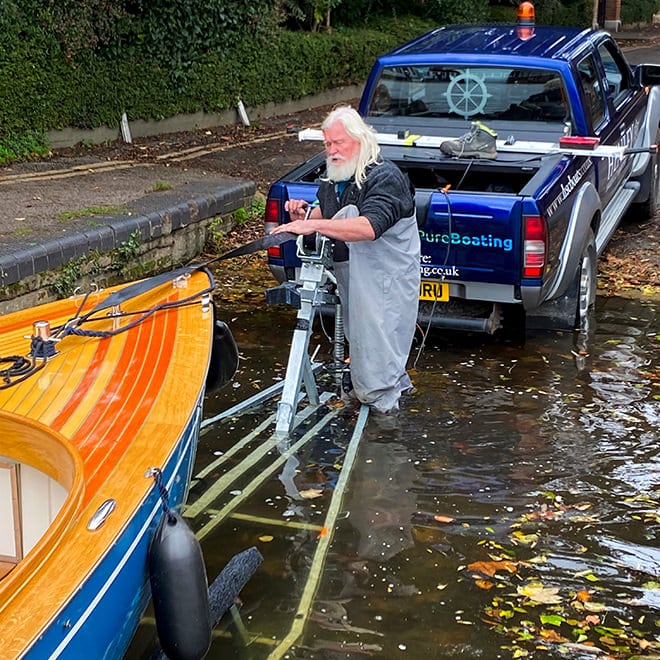 Henceforth we are delighted to be working with Oliver Waterhouse, engineer extraordinaire who trained under Freebody.
Ollie would love to hear from you if you need your engine servicing or have other miscellaneous engine concerns. His workshop is in Chertsey near his home, but he will obviously visit anywhere along the mid-Thames with the Kingston-Teddington area in easy reach, and he also enjoys bundling together jobs higher up the river in rural South Oxfordshire and Berkshire.
We wish Ollie every success with his new company. It's not easy to run your own business in any field, so hats off to him for giving it a go.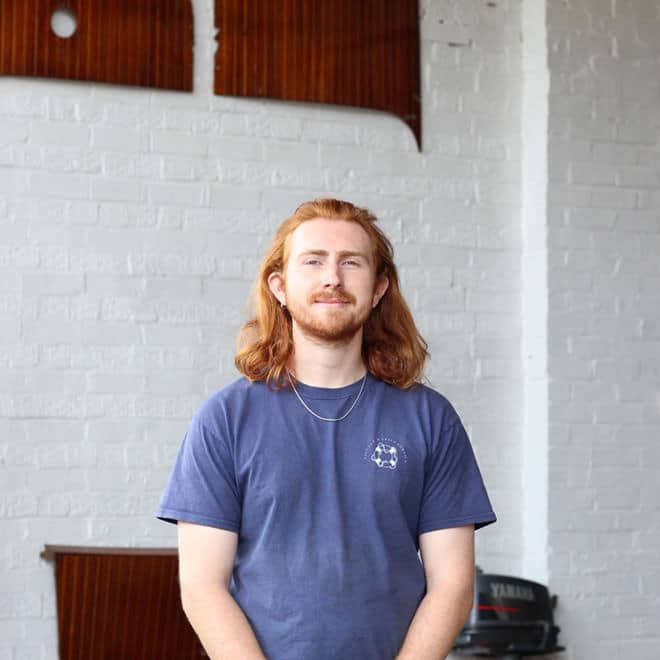 Oliver loves all kinds of engines, especially old ones, which is music to my ears, given that some of our customers still run on pre-war motors.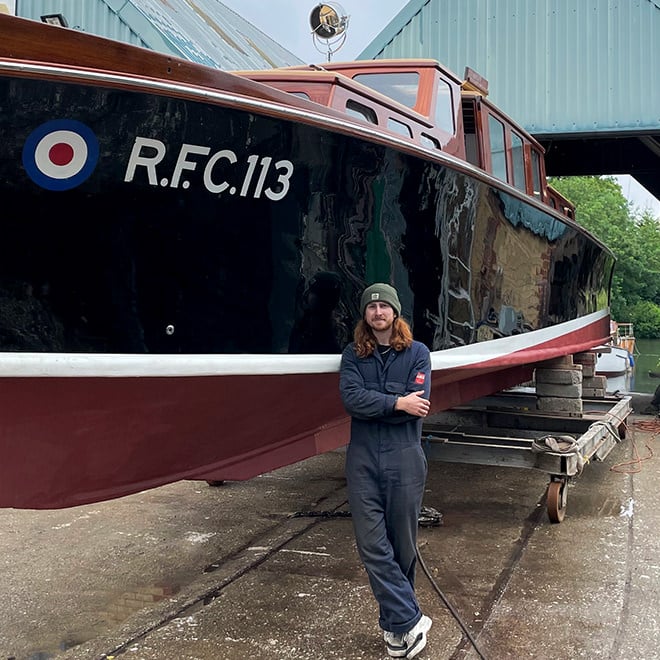 We have recently finished a long project on a 1930s Gray Marine petrol engine which involved a highly specialised tooling engineer building certain parts from scratch. Hopefully, "Golden Hind" will now be set up for another 90 years of elegant cruising.
No shortage of British classics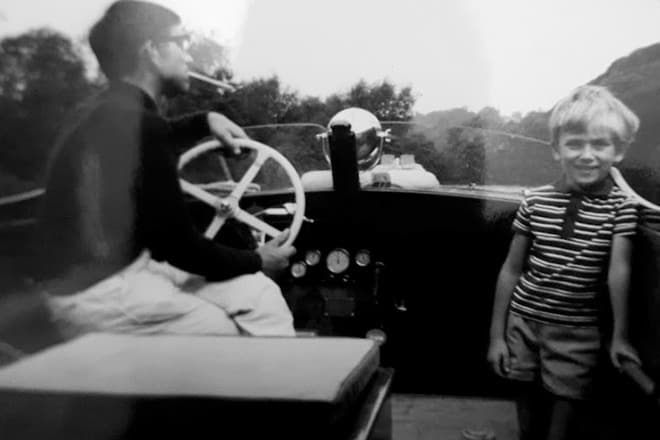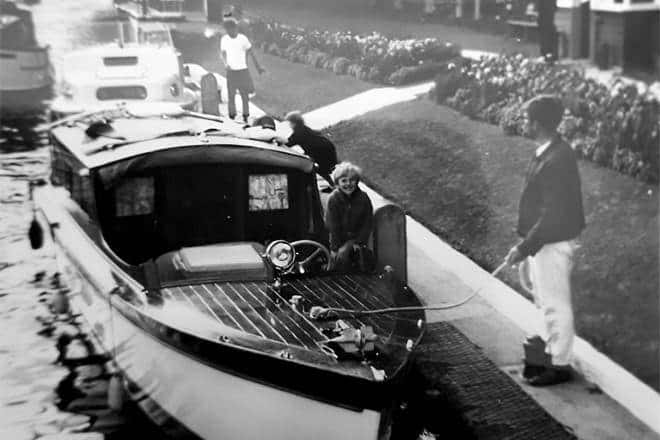 Talking of British classics which keep on giving, as the expression goes, consider if you will an Andrews day launch like "Glenelg" (formerly known as "Titicaca" (photos above)), which has been in the same ownership for over two decades and has served its ageing owners honourably. "Glenelg" presents beautifully and would guarantee pleasure to a new owner for many years to come.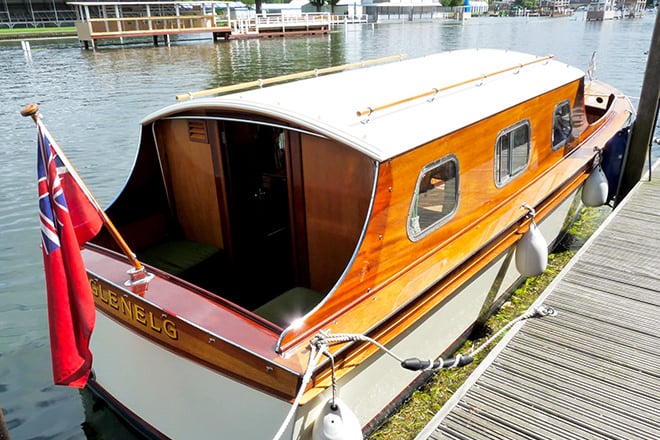 In fact we have the most amazing range of interesting classics for sale right now on brokerage.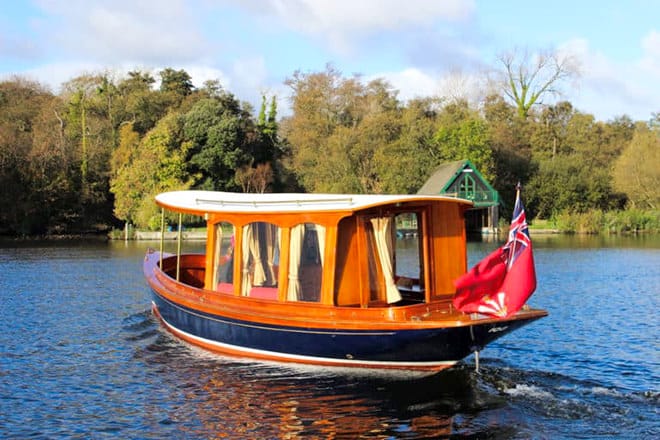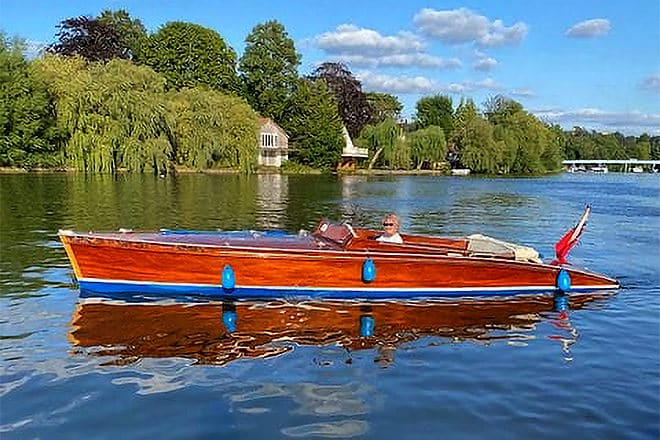 So, whether you are looking for an all-British Brooke Marine 4-seater river launch like "Merlin", a 25-foot Andrews slipper launch like "Swanella" and "Windflower", each with their own intriguing past, or maybe even a Scottish special like the stunning "Grace", HSC has got you covered.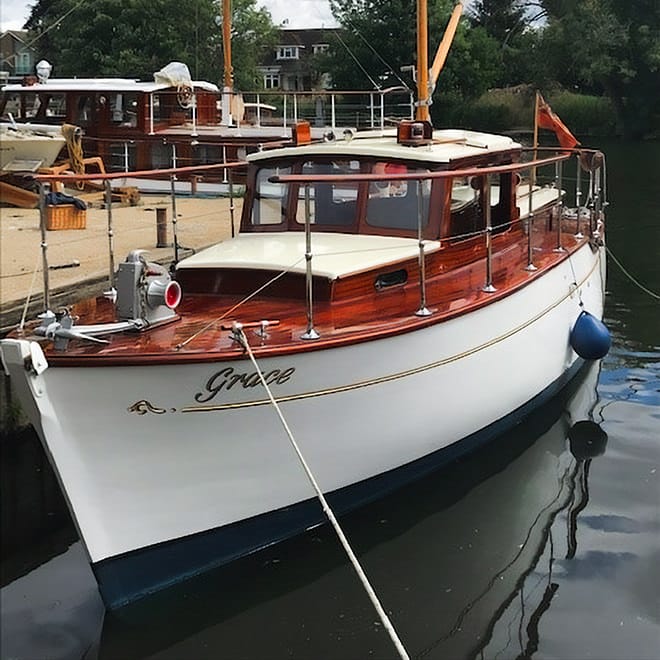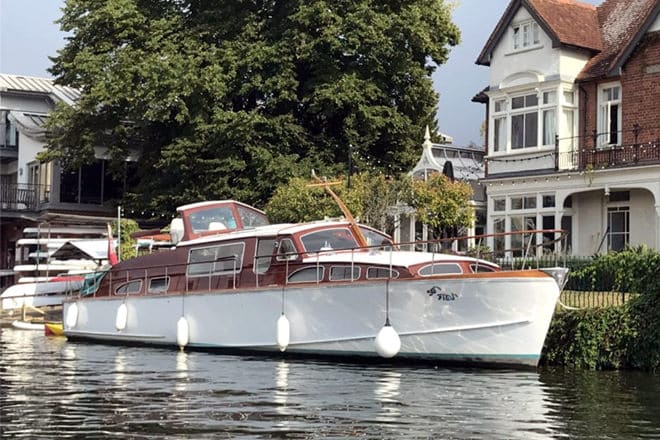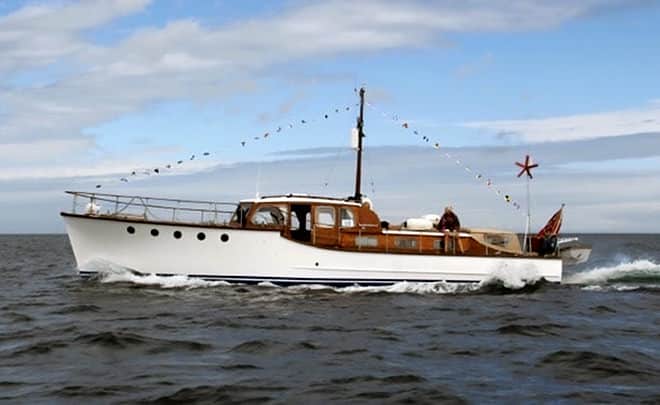 Maybe you see yourself spending a lot more time afloat and might therefore want to consider investing your hard-earned cash to get away from it all in comfort on-board something like "Sunstar", "Albaquila", "Albatros", or you could head down the Seine to repatriate "Ona II".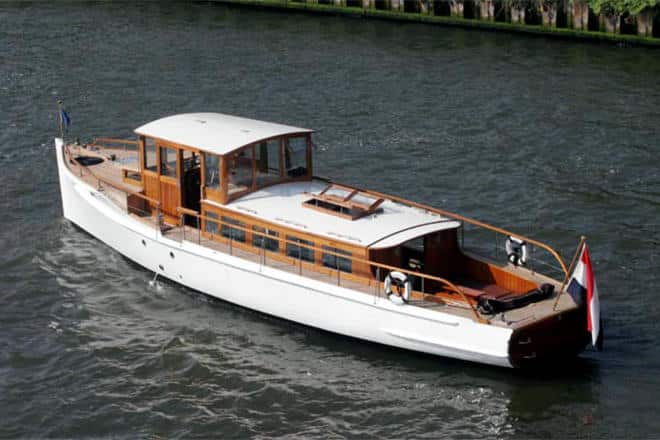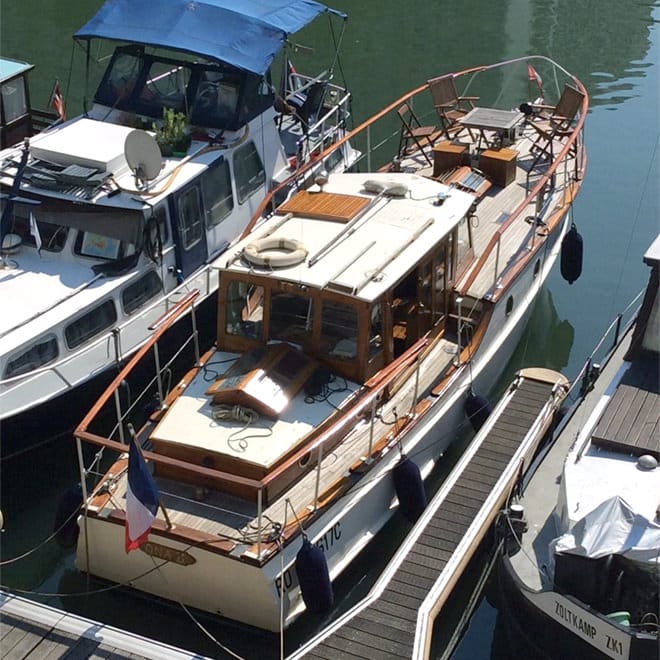 Whatever your choice you will experience some unforgettable adventures, and in my opinion, such adventures are what enrich our everyday experience and life.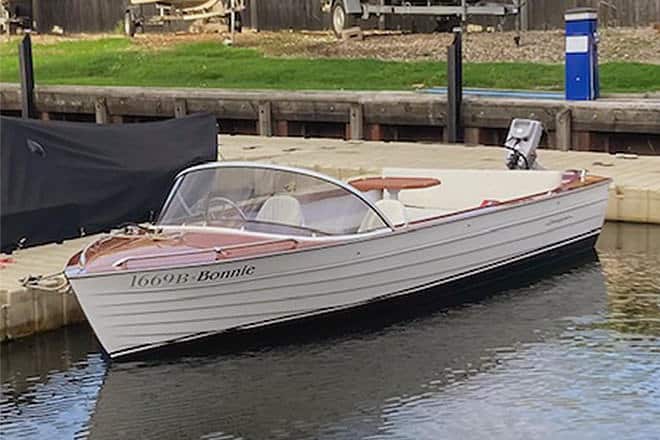 For some, small is beautiful, and friends Tamsin and Karen from Beccles chose a Bermuda 505 which they named "Bonnie", to sit astride their new pontoon, ready for evenings out at the local riverside hostelry.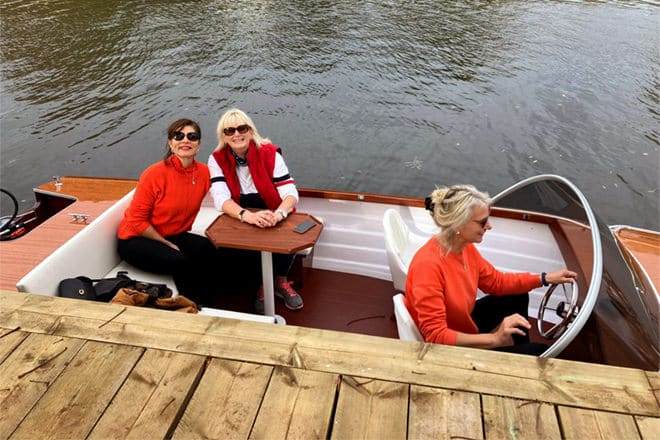 Whether you are a private individual or envisage a commercial boating operation, now is the time to place an order if you are hoping to get afloat in spring 2023.
Soon upon us ...
The season of giving is soon upon us once again. If you are stuck for fun 'boaty' gift ideas, these are some possible options:
A gift voucher for day boat hire on the river Thames
If you or a friend would like to purchase a voucher for a 2023 spring/summer Thames adventure to contemplate during the long winter evenings, why not purchase a Pure Boating gift voucher, which will guarantee you (or your loved ones) a fun afternoon on a tranquil reach of the Thames, in the vicinity of Goring or Wallingford, just an hour from London in the beautiful South Oxfordshire countryside.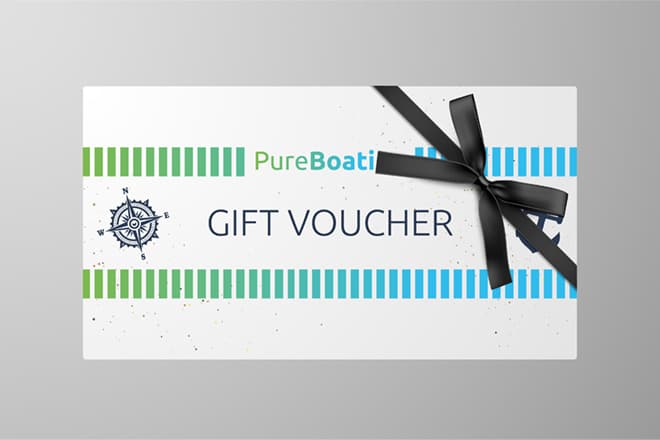 Why not make a day of it and book lunch or dinner at The Beetle & Wedge (Moulsford)? Better still, stay over in one of their nine charming rooms which Ben, the proprietor, will be opening from Easter.
We plan to have a small self-drive electric launch available at the Beetle & Wedge next season for diners and residents, as well as a brand new 12-seater which will be named "Ellie" in honour of our much loved departing boat builder.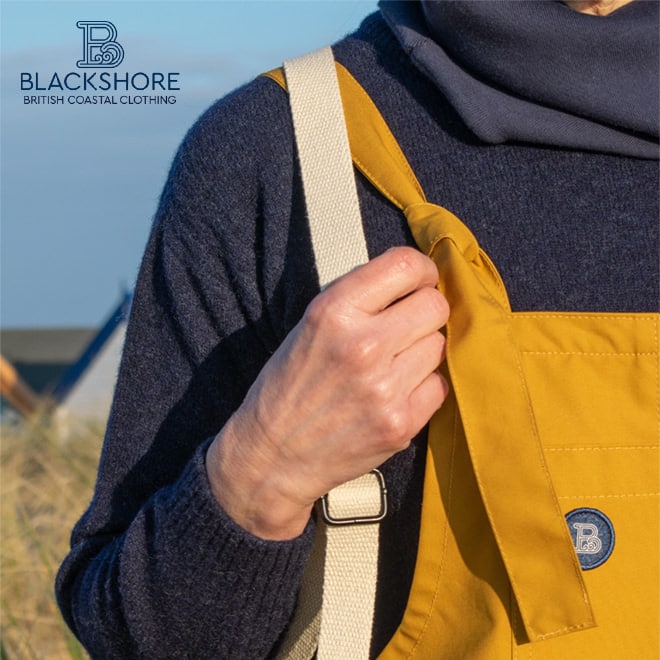 Some British-made, quality 'boaty' fashion
We hear a lot these days about fashion being a major polluter, and for sure we should be buying quality clothing if we can afford it and keeping it for many years. I ordered a jacket which was handmade to order in Suffolk. It arrived ten days after I placed the order and is clearly going to be a favourite for many, many years. Blackshore has since slightly expanded their range, so if you are in the market for a boating-inspired piece of heritage clothing or are looking for a present for a loved one, do visit their website.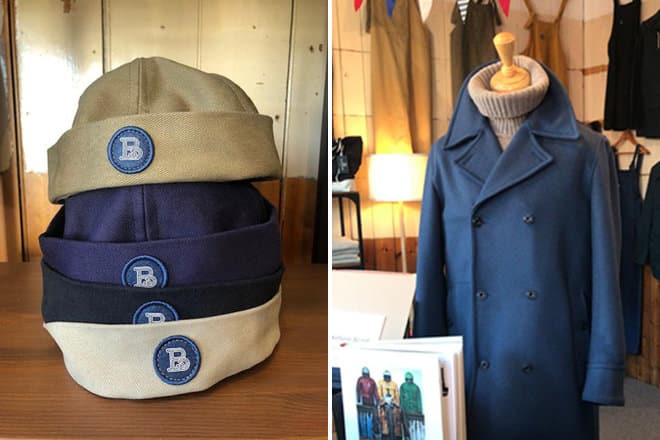 A Brompton e-bike
If you really want to treat yourself to something special, also British and built to last, I am loving my latest lightweight Brompton electric folding bike, which you can tuck away in a locker on your boat or simply zoom around your urban environment with, leaving your car at home on the drive.
An Arthur Beale stocking filler
I have just spotted a great little stocking filler which would suit everyone from the hearty sailor with chapped lips to any cosmetic-loving relative with a sense of humour. Arthur Beale are selling a lip balm in a beautifully made pillbox with the phrase "Don't give up the ship," borrowed from the last words uttered by the captain on board the USS Chesapeake in 1813.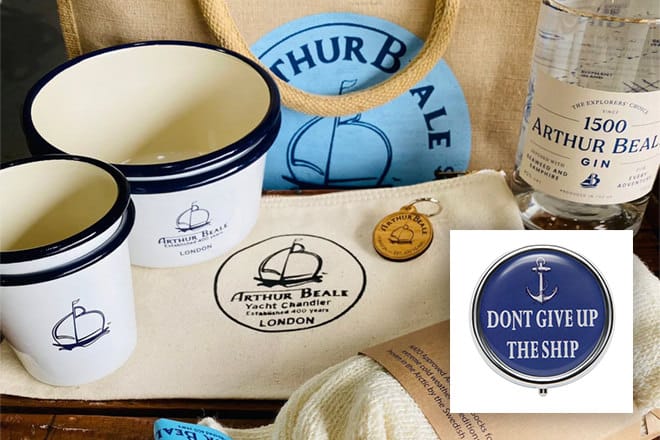 According to Wikipedia, early in the war of 1812, the Chesapeake captured five British merchant ships in the course of one patrol. She was subsequently captured by HMS Shannon shortly after sailing from Boston on the 1st of June 1813. The Royal Navy put her into service as HMS Chesapeake, and she served until 1819 when she was broken up, and her timbers became the basis for The Chesapeake Mill in Wickham, Hampshire, England.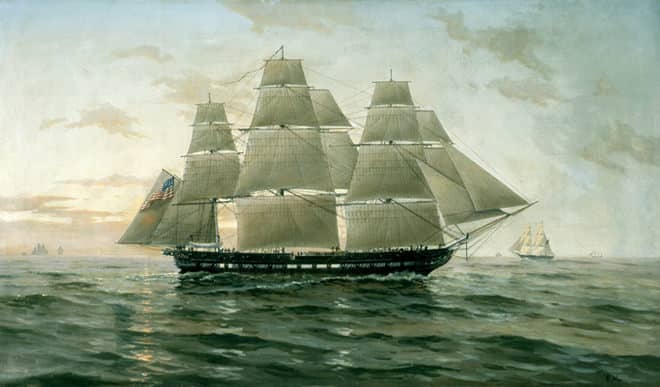 Having long ago ceased to be a working water mill, today The Chesapeake Mill is a vintage lifestyle emporium with the inevitable cafe. However, while enjoying your 21st-century Flat White, you can admire some of the Chesapeake's deck beams that supported the gun deck.
I think this is just the most fantastic example of the many lives lived by a plank of wood. Those planks grew in North America and are still serving today on the other side of the Atlantic.
Bordeaux - a feast for the senses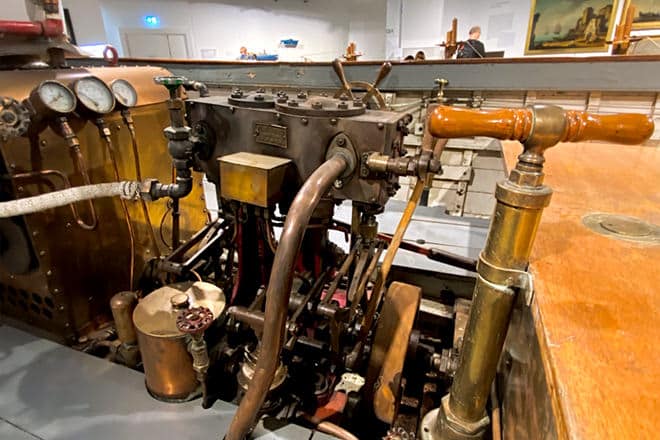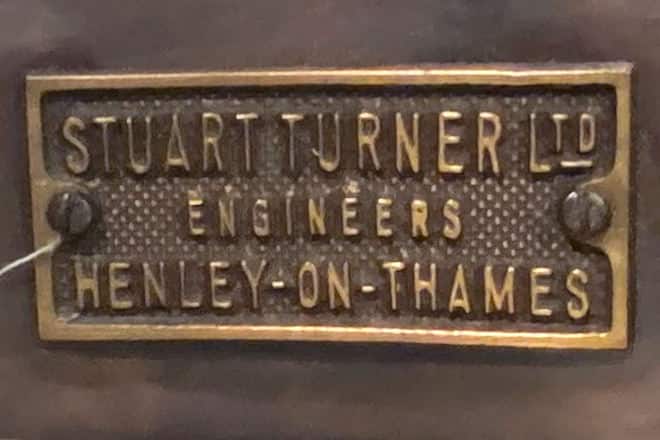 Almost as interesting as the reuse of the Chesapeake timber was my discovery of a steam launch, on our recent visit to Bordeaux, with a Stuart Turner engine (built in Henley-on-Thames) with an accompanying boiler from The Lune Valley Engineering Company in Lancaster.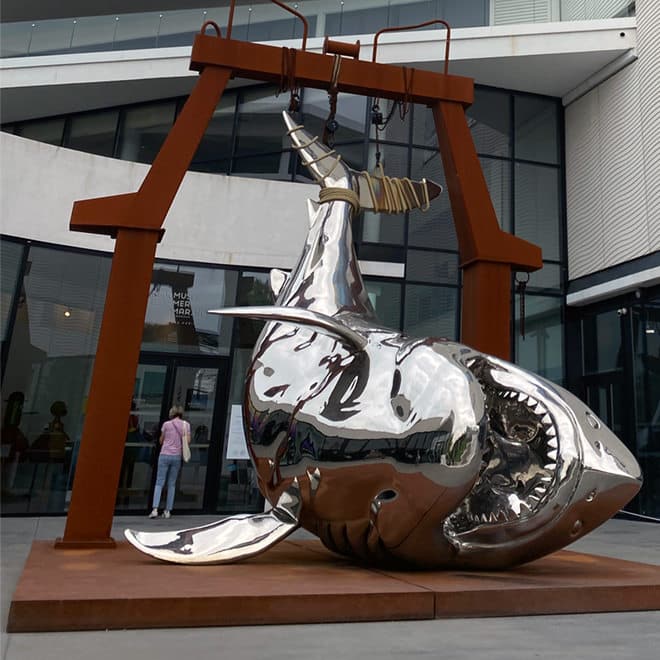 Last time we were there in real life p.p. (pre-pandemic), we discovered a new maritime museum; however at that time, it was just an empty shell and looked like somebody's good idea which never had taken shape due to lack of finance. Fortunately, the Musée Mer Marine is now half open at least and has many things to recommend it.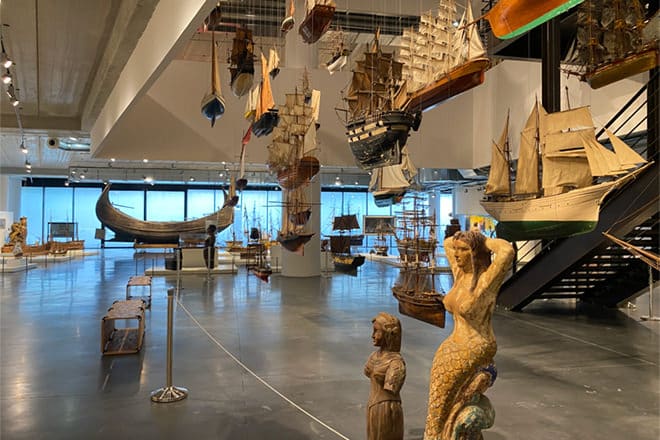 While the museum still has some fairly obvious gaps in its collection, they have a huge selection of boat models and some fascinating narrative and film on the history of Bordeaux as a major trading centre.
The first time I went to Bordeaux was as chair of the Electric Boat Association back in 1990, when I was invited not only to a gastronomic feast with fine wines as you would expect in Bordeaux, but principally to view the native Pinasse vessels, which are typical of the region and which you can still see today on the Bassin d'Arcachon.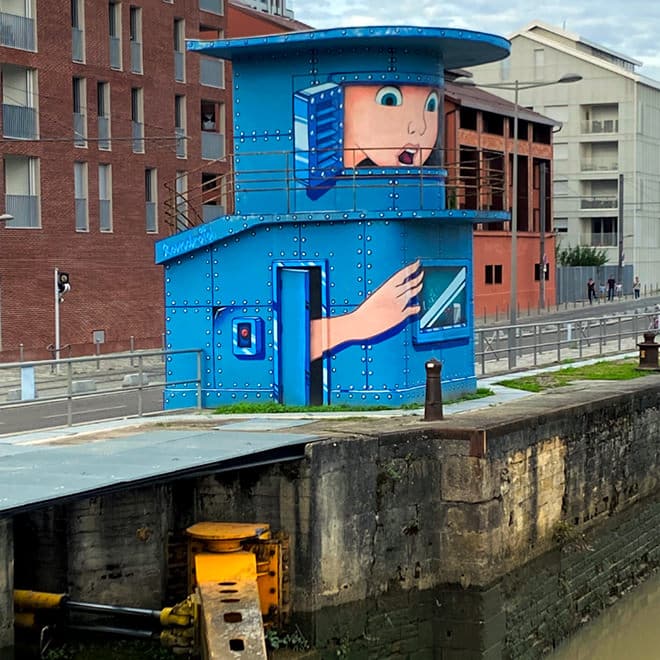 The museum is located in the extraordinary district of Bassins à Flots, which formed Bordeaux's historical 19th-century port before becoming a notorious submarine basin during the war and is now a cultural and residential area in full revival mode.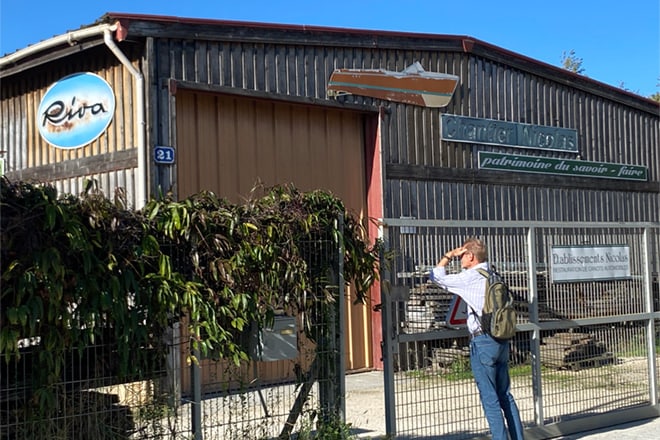 The weather was absolutely glorious, averaging 25°C and enabling us to meander for hours through Bordeaux's historic centre and along the banks of the Garonne.
This time we also indulged in some enjoyable gastronomy while watching the oyster barges return with the tide.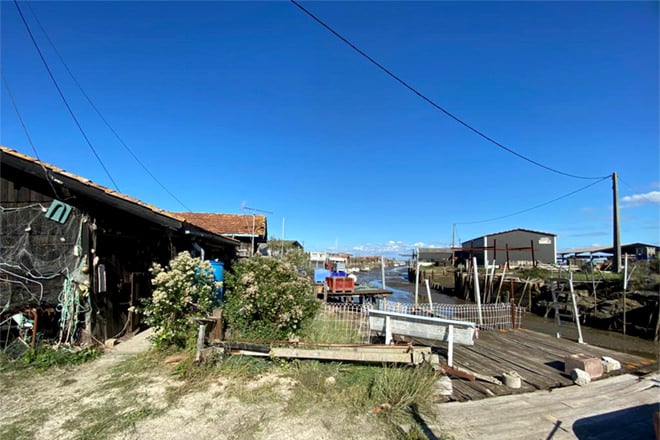 This trip was a true feast for the senses in every way.
Next time we plan to eat our oysters onboard a Pinasse with Arcachon Découverte.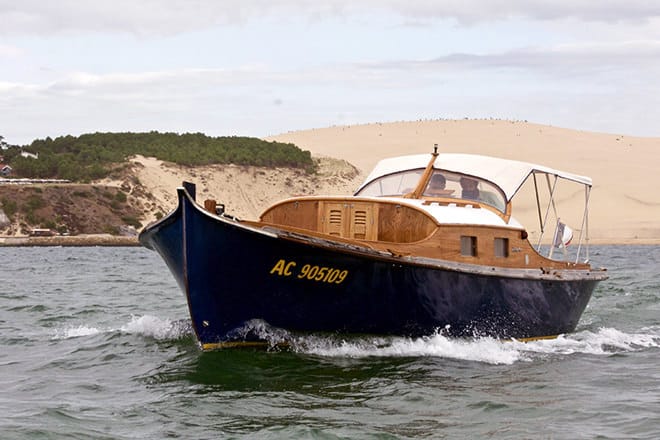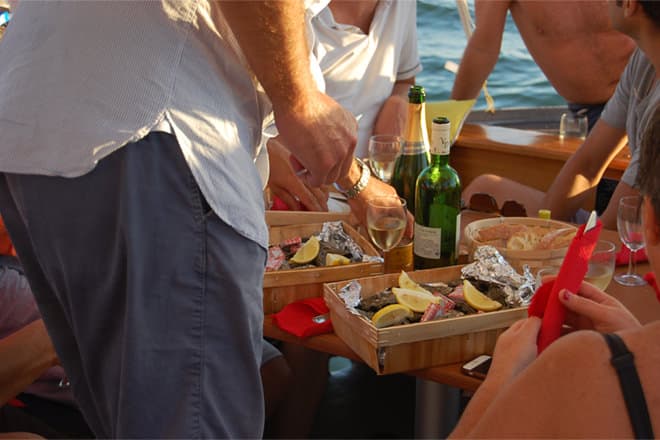 TV tip for a cold winter's night: "We are England"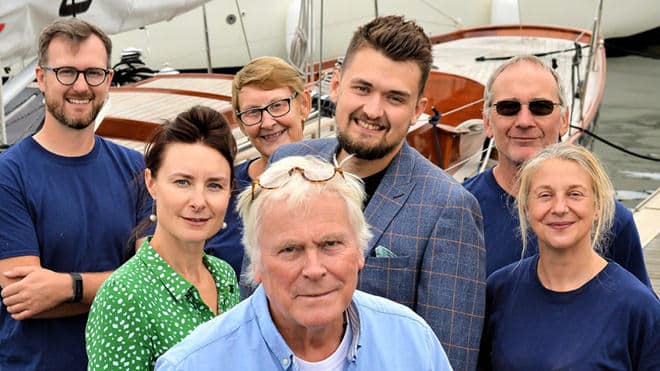 One of our avid readers made us aware of an episode of "We are England: Made in England" on BBC One. It's about Spirit Yachts, an Ipswich boat yard whose yachts marry classical wooden design with cutting-edge sustainability.
We are looking forward to watching it ourselves very soon on a cosy winter's evening while dreaming of another spring to come.