With the recent hot days in mind, we embrace the arrival of summer, hoping for endless cloud-free skies, leisurely extended evenings and invitingly warm waters this year. May a sun-drenched season be upon us, so we all can indulge in our favourite nautical escapades.
Navigating borders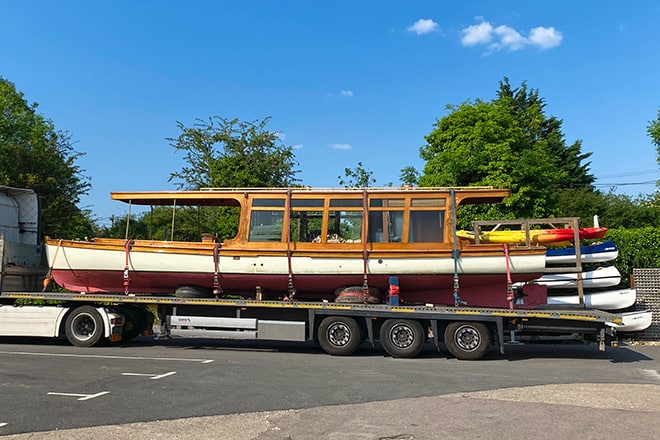 As I write, 'Lisbeth' is being unloaded in the port of Riga in Latvia, where she will join a fleet of classic saloon launches run by the enterprising Andris Elksnitis, whose business we visited last June when our Ponant Baltic cruise docked in Riga. 
At the time I wrote enthusiastically not only about Riga by canal itself and the surroundings but also about our encounter with their skipper, who had been a harbour master under the communist regime and is now loving his career as a classic boat helmsman.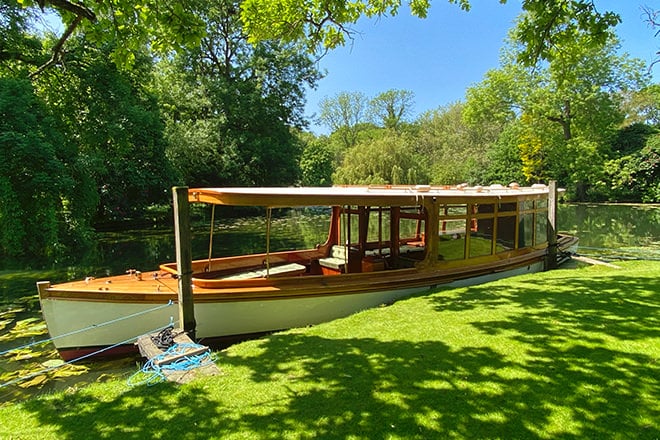 I think 'Lisbeth' will be entirely at home with her new workmates at Riga by Canal. Indeed she was built to carry 49 passengers on a lake in Oldham, north Manchester, and Raivis was delighted to find a vessel with more capacity than his 12 seaters, which was actually conceived and built originally as an electric boat by the famous Borwicks of Windermere. All his boats have to be electric to operate legally in the centre of this historic city.
Perhaps one day the Thames, like the Amsterdam canals, will also make this bold move.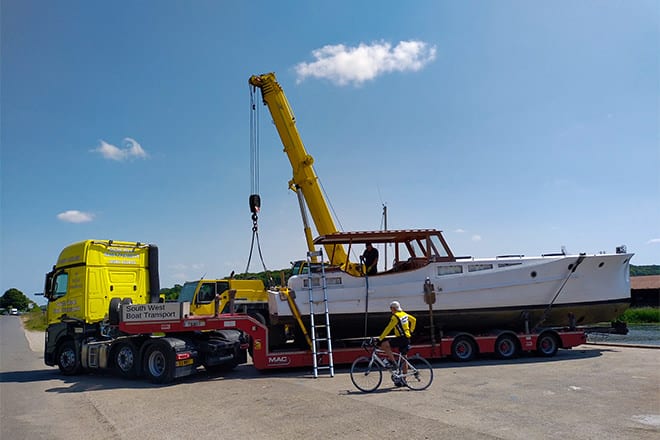 While one boat emigrates, another immigrates by land and sea from northern France to the Upper Thames. So look out for 'Nauporos' cruising gently between Oxford and Lechlade this summer.
Business to business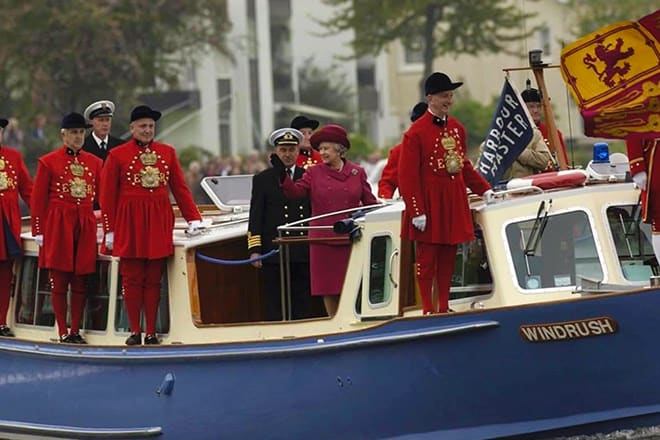 There has been a surprising amount of interest from commercial quarters. Charter company owners or would-be charterers are looking at the potential for creating or expanding their options.
For example, we have just closed a deal on 'Windrush 46' which has been featured in our newsletter before, as Her late Majesty used 'Windrush' on the tidal Thames on some state occasions.
Umpire adventures
The weekend before last I was actually having a day off work and decided with Steve to go and watch some of the finals at Henley Women's Regatta which is, if you have never been, a really fantastic event. Unlike Henley Royal Regatta it is perfectly acceptable to turn up in shorts and a t-shirt for a gentle stroll along the towpath.
We eventually found our way to the start and decided to go on a busman's holiday with a £6 ticket to follow a race on an umpire's launch. Umpire's launches are highly specific as they have to be capable of accelerating very rapidly from the start to catch up with a championship men's eight.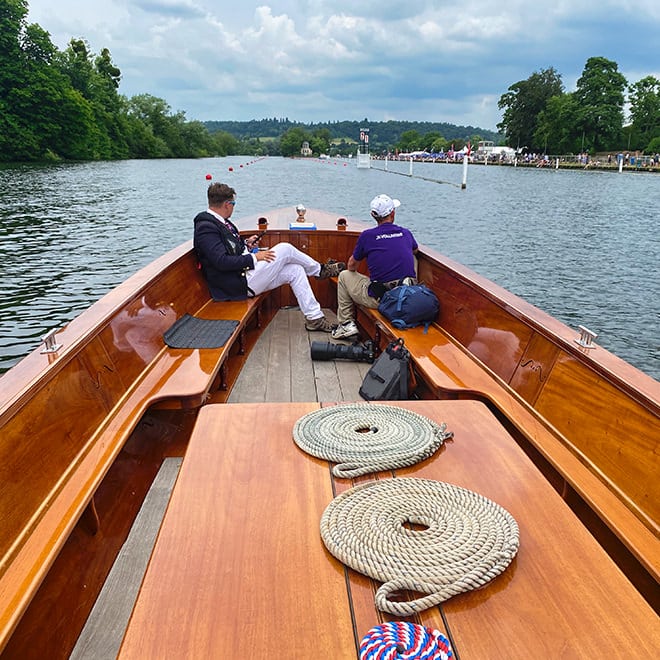 In 1991 I accompanied the owner of The Steam and Electric Launch Company, Rupert Latham, as we rode the course in a number of umpire's launches trying to ascertain which of the old wooden launches had the most efficient hull. At that time we were tasked with creating a mould from which the current GRP umpire's launches are made. By chance we got a ride on 'Argonaut' which was being helmed by the inimitable Dilly Bil, the only female umpire's launch skipper to date.
Dilly and her family now own Stanley and Thomas Boatbuilders in Windsor with its brand new crane which is Dilly's pride and joy. Imagine my sense of pride too when I espied the plaque, which reminded me of the role played by The Steam and Electric Launch Company in the continuation of the umpire's launch tradition.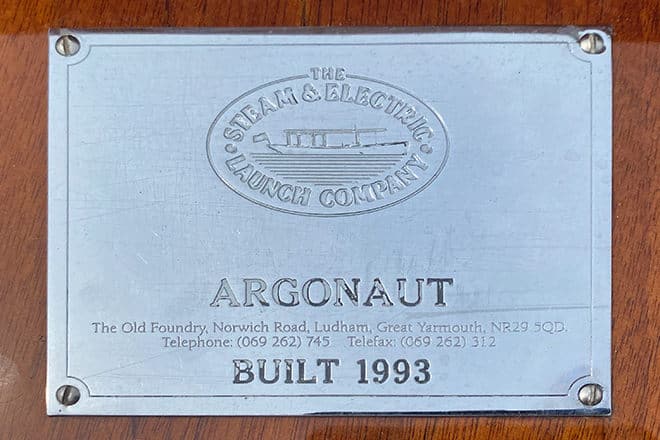 Just 24 hours earlier, I had been cruising around Beale Park Lake with a customer when the trusty crew of the vintage steam-powered umpire's launch 'Consuta' was preparing for her first outing in some years after a lengthy boiler rebuild.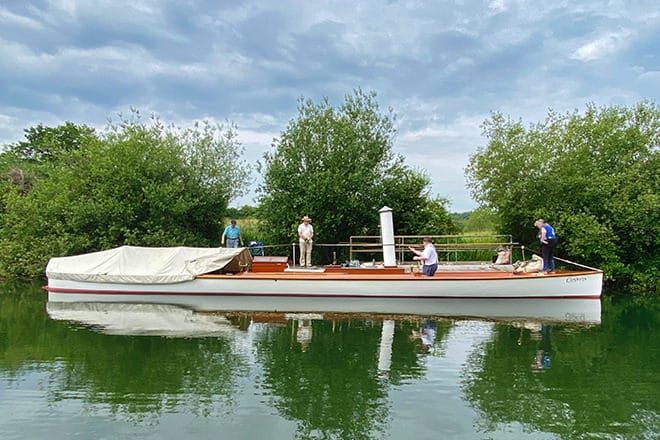 Built more than 125 years ago specifically to carry rowing umpires during the Henley Royal Regatta, 'Consuta' showcases a groundbreaking hull design that established her builder, Sam Saunders of Goring-on-Thames, as a trailblazer in high-speed sea and aircraft construction at the turn of the 20th century.
He devised the concept for the hull design of 'Consuta' by employing laminated wood for the boat's structure. Acknowledging the limited strength of adhesives available at the time, he innovated a method that involved four layers of mahogany planks interleaved with waterproofed calico and stitched together using copper wire. This groundbreaking technique, known as 'Consuta', derived its name from the Latin term for "sewn together." Instead of conventional frames, the hull relied on longitudinal stringers and full-length passenger seats for reinforcement. Recognising the value of his invention Saunders prudently secured a patent for it.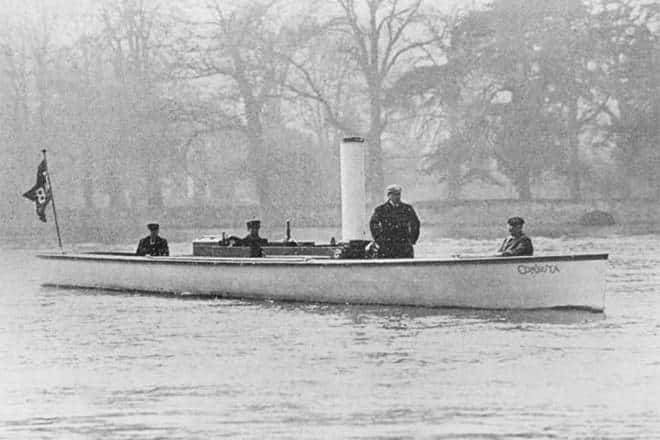 'Consuta' has since been rebuilt by Colin Henwood thanks to some lottery funding and The Consuta Trust (which is eager to welcome new supporters to join in its charitable pursuit of promoting the advancement of education in the history of steam launches, by the preservation, maintenance and exhibition of the umpire's steam launch 'Consuta').
When not on the water 'Consuta' lives in the barn adjacent to ours at Beale Park.
Another close connection is that Sam Saunders, the original builder in 1898, had his yard where The Swan at Streatley has the boathouse cafe area now and where Pure Boating has one of its hire bases.
Unwind with 'Ellie' at The Beetle & Wedge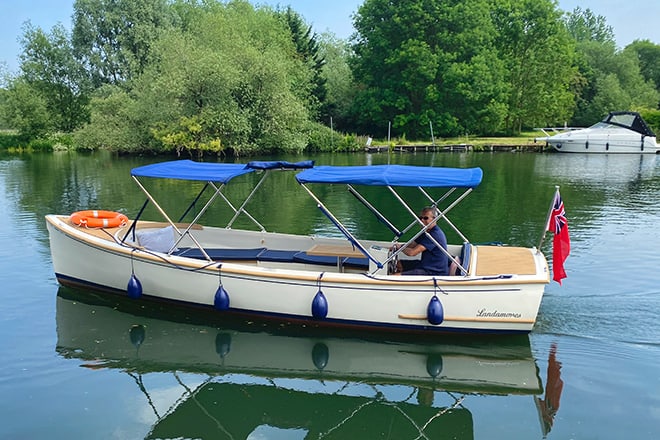 With the sunshine appearing on cue this month, Pure Boating has been extremely busy, and our new skippered electric Mayfly 21 'Ellie' is proving very popular at The Beetle & Wedge in Moulsford.
You can book her here for a pre or post-prandial cruise.
What happens in Windermere ...
We snuck away for half term to the Lake District with our grandkids in tow, and unusually managed a whole week of holiday without visiting a single boatyard!
However a great friend of ours insisted that we take out their electric Scoop, and a great time was had by all as a result.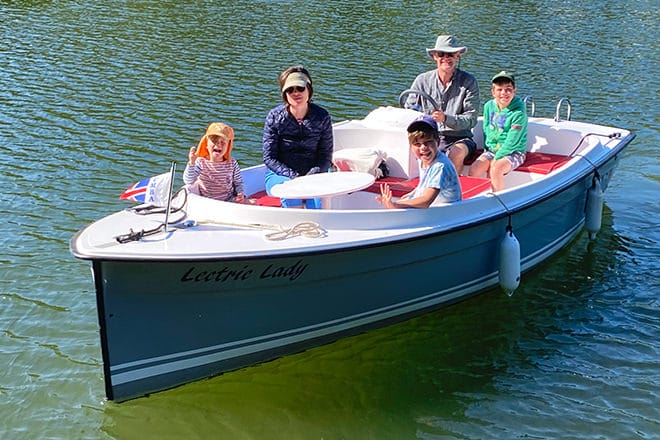 We have a brand new navy blue Scoop 2 in stock, complete with a full canopy, side screens, mahogany wheel, table and nav lights. If you don't have a stealth boat for evening events, this could be the one for you.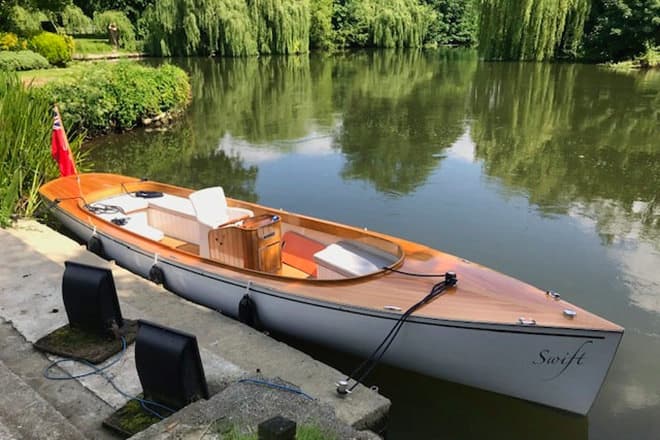 We do have a Lake District special for sale, also electric, called 'Swift', which is at the yard and ready to go, seats 10, and is very sociable.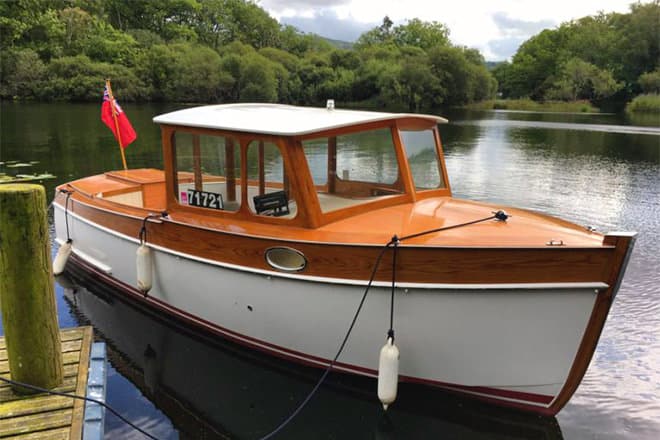 We also have 'Matilda' from the same Hawkshead builder PBW. 'Matilda' emigrated from a boathouse on Windermere to Hambleden on the Thames and is now for sale with us again here in the sunny southeast.
A celebration of traditional boatbuilding and craftsmanship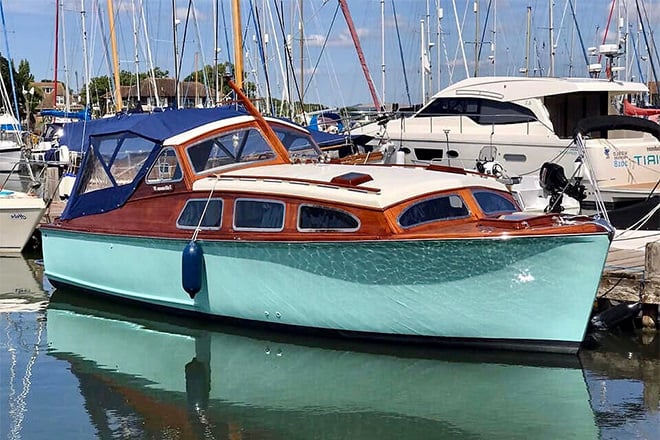 Our customers and friends are all looking forward to the Thames Traditional Boat Festival in mid-July and are praying that the weather will hold.
The organisers have kindly found space for a visitor from Chichester Harbour, Tim Gilmore, who is the restorer and owner of 'Talisman IV'. Tim would very much like to find a new owner for his 25ft Bates Starcraft which is sure to attract some admiring glances.
If you think this could be the boat for you, please let us know, and we will send across the details as soon as we have them. In the meantime here is a link to Tim's website.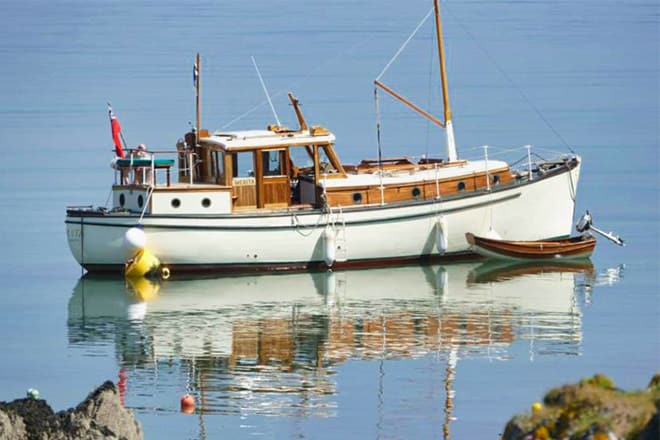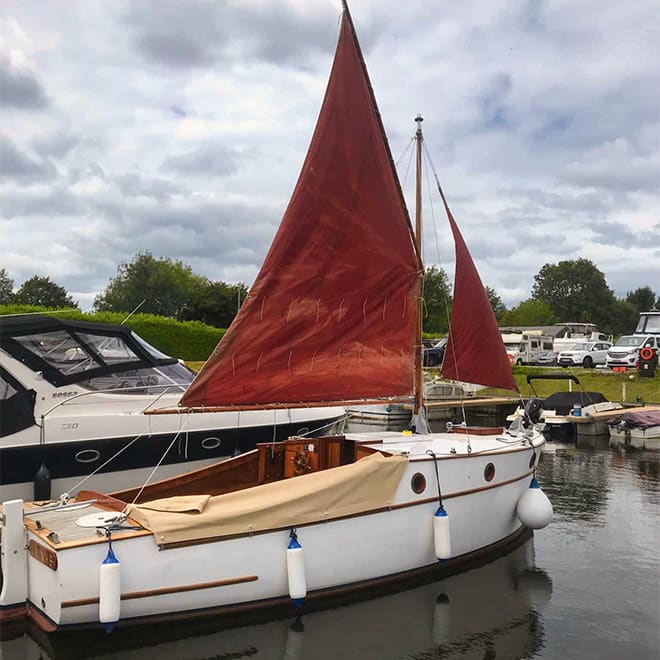 From our website and available to view at the Traditional Boat Festival, we are expecting 'Merita', 'Lavinia B', 'Verity', and maybe others, including hopefully the 30ft slipper 'Swan of Thames'.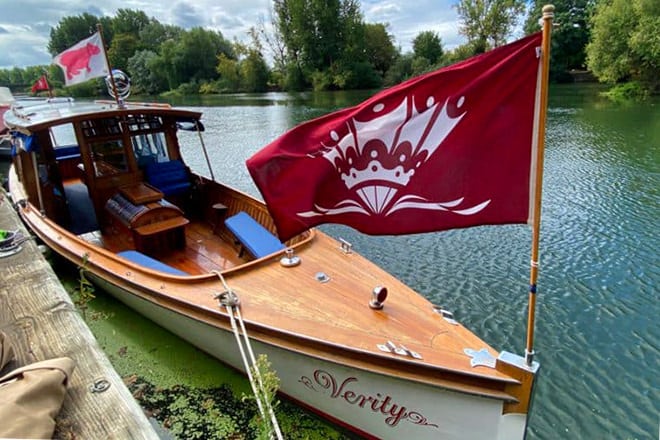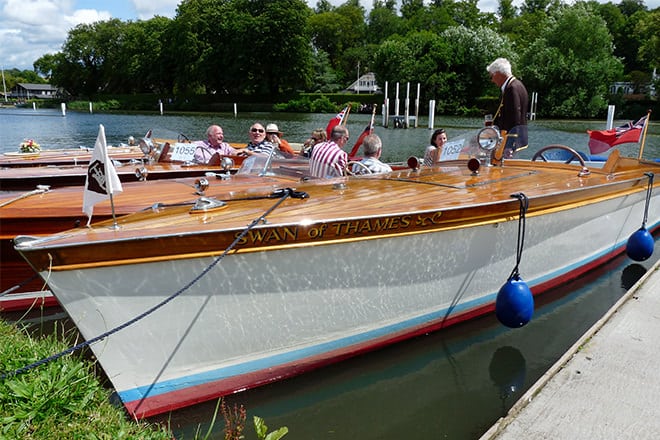 Exciting news: the River & Rowing Museum is now open!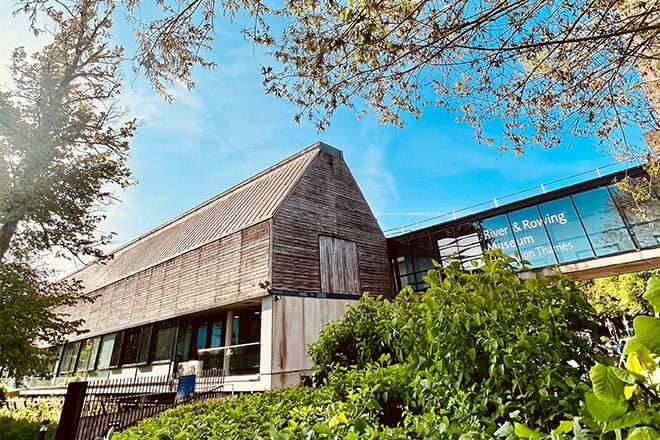 The River & Rowing Museum is finally open again and is eagerly anticipating visitors' return!
There will be a brand-new café, 'Thyme', which is going to be run by Dan and Jason, who are driven by their extensive industry experience and shared passion for offering delightful culinary experiences and local produce to the community. Dan actually supplied us with fresh produce during lockdown, delivering it to our house from Covent Garden.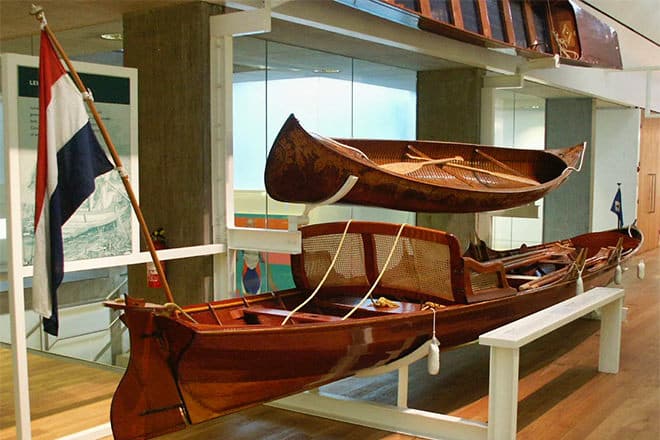 Additionally the museum shop has been revamped, offering a wide range of captivating gifts and local produce. Younger guests will have a blast in the engaging play area, Little Willows, and the galleries have been refreshed for visitors to rediscover and enjoy.
We are certainly looking forward to visiting and hope the café will thrive under its new management.
From a trusty newsletter reader (and dear friend) ...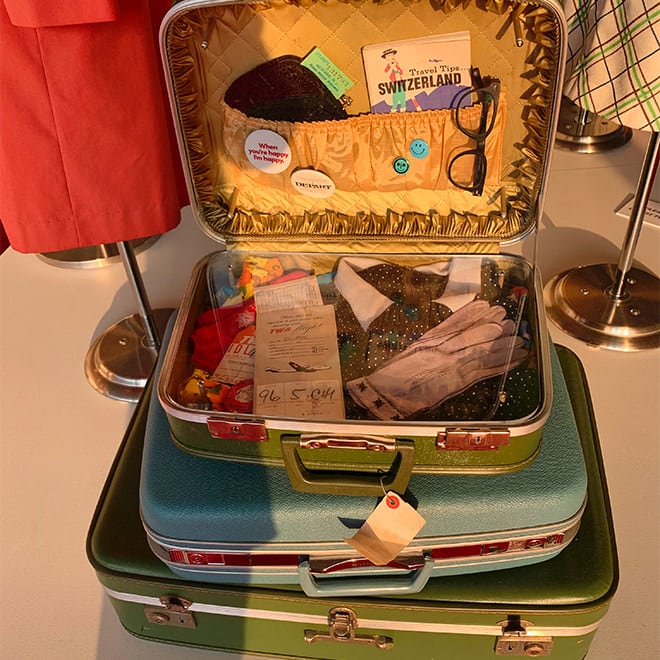 One of our regular readers sent this nostalgic photo which she took en route to the UK from the Big Apple a couple of weeks ago when she went to inspect the newly restored TWA building.
Thank you Trish for the photo, and happy holidays to those of you travelling over the next few weeks. Please send in any boat-related stories and pictures for inclusion in future newsletters.