It's been another busy month at the yard as the relaunch planning comes into sharp focus. We have been doing some viewings too so expect new boats to appear on the brokerage website very soon including an attractive Andrews Day launch. However it hasn't been all work and no play as you will read below.
Culture and gastronomy in Bordeaux
Steve and I were fortunate enough to enjoy a couple of days in Bordeaux this month when we went to visit the Saviboat headquarters near Cognac. Steve came along as my technical advisor and chief navigator (plus I needed someone to compare wine tasting notes with!).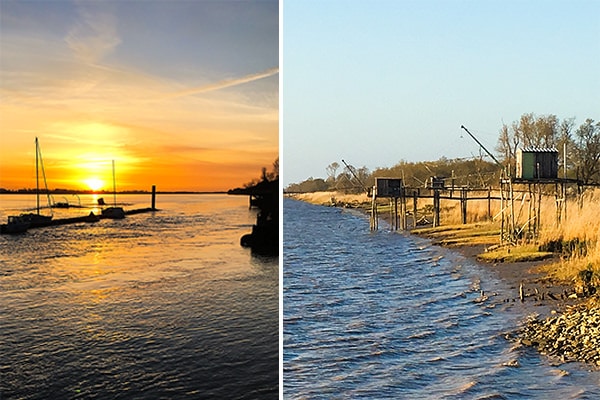 With Bordeaux being situated so close to the Atlantic coast and at the confluence of the rivers Dordogne and Garonne, it would not have been proper to visit one of the world's most famous wine growing regions without tasting some of the local produce! Indeed our hosts from Saviboat took us for lunch to the local rowing club watering hole on the river Charente, which is a 5 min drive from the centre of Cognac.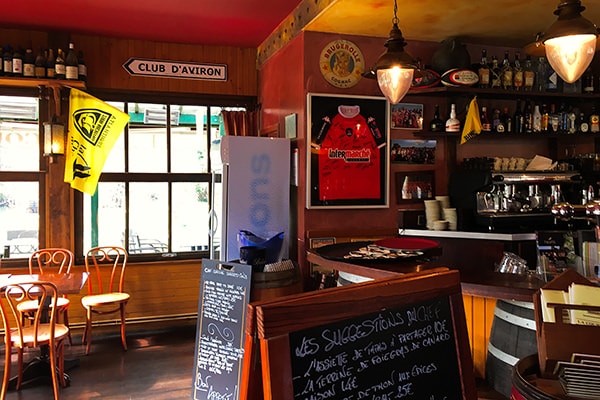 I was driving so restricted myself to the house aperitif, which consisted of a shot of Cognac, some lemonade, fresh ginger and a few strips of cucumber on the rocks. Steve tasted the local Pineau des Charentes, which was a first for him, too. He washed it down with a couple of glasses of the local red wine, while I watched on enviously.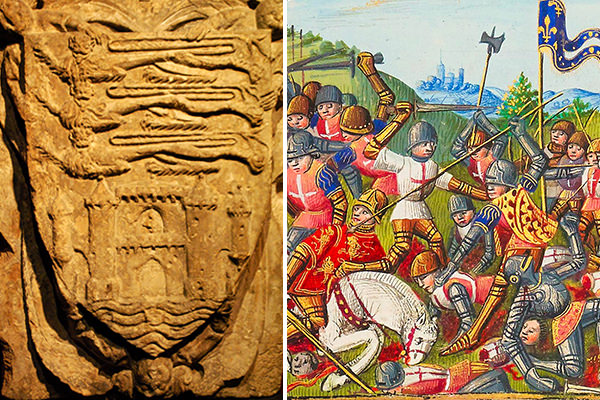 The British have a long and complicated history with Bordeaux starting with the fact that the city belonged to England for 300 years from 1154. During that period its extensive trade made it a major economic and cultural centre. However it was not the English who introduced wine growing to the region, but the Romans, at which time the city was known as Burdigala.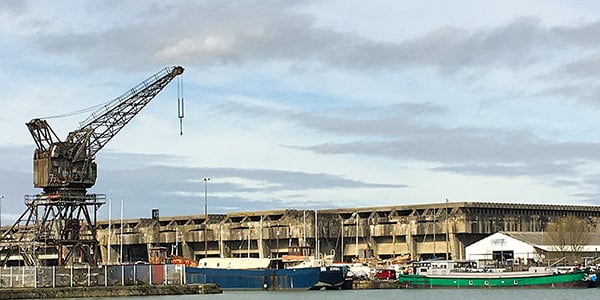 Centuries later this proud city became better known as a major submarine base for assaults on the Atlantic shipping routes. The submarine base is a monolithic structure that still has the power to impress (and depress) even today. 
After the fall of France during WWII the Italian Royal Navy established a submarine base at Bordeaux within the German occupation zone. The base could house up to 13 submarines and it had 2 basins connected by locks, as well as dry locks, all of which are visible today.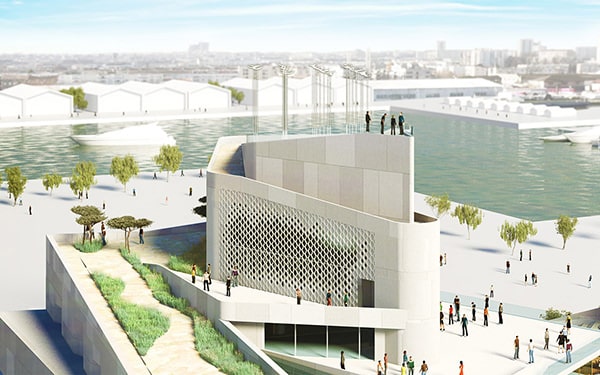 While it looks well nigh impossible to demolish the submarine base, there is an inordinate amount of building going on in this area including the imposing new Musée Mer Marine. The museum wasn't open during our visit and the official re-opening of their permanent collection is planned for summer 2019.
Fancy a night on board?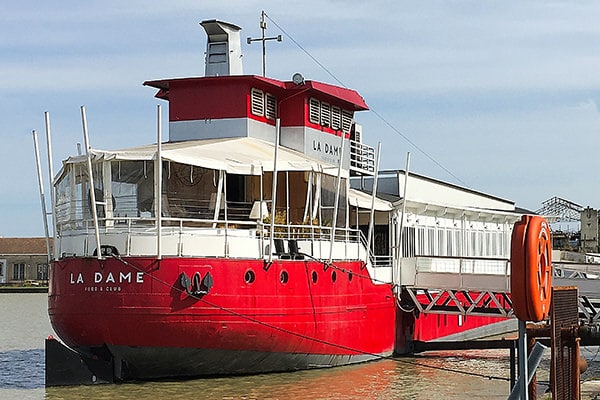 There is no more submarine activity (thank goodness) in Bordeaux's Bassins à Flot. Now it's home to a few large houseboats which seem to be semi permanent. Some are clearly residential, others house clubs and cafes.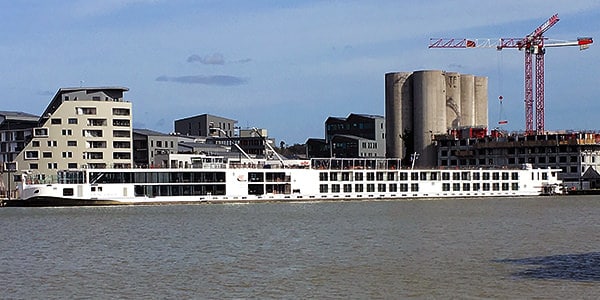 I also spotted in one corner a 135m Viking cruise ship undergoing a pre-season paint touch-up job, all done by a couple of guys in a rowing boat. Reading the Viking website it looks like the Bordeaux offering is really just a floating hotel with outings to vineyards and wine tastings etc. 
If you like the idea of a boat but you don't want to risk sea sickness, or in fact to go anywhere in particular, but you just want to eat and sleep on a boat, then you could take the train to Edinburgh to stay for a few nights on the vintage super yacht "Fingal".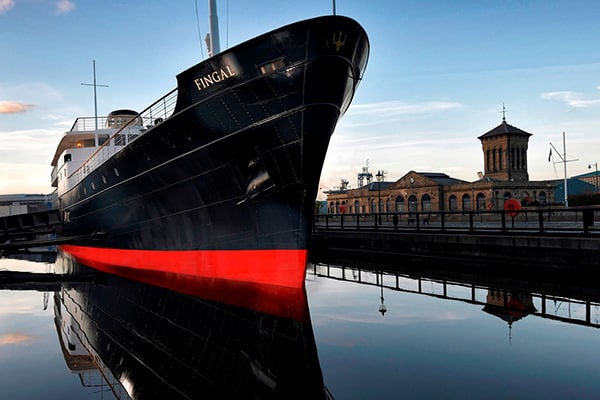 She is 72m long and crammed full of iroko and sycamore. Her 4-year refit cost 5 million pounds, and she is now simply acting as a hotel back in Scotland where she was built in 1963 by the long-gone, but once hallowed, Blythswood shipbuilding company. Her original role was to act as a ferry supplying lighthouses up and down the west coast of Great Britain. In 2014 she was bought by a heritage charity that also manages the royal yacht "Britannia". 
So if your preferred tipple is Whisky, rather than a venerable Bordeaux, you might consider the night train up north.
New arrivals & deliveries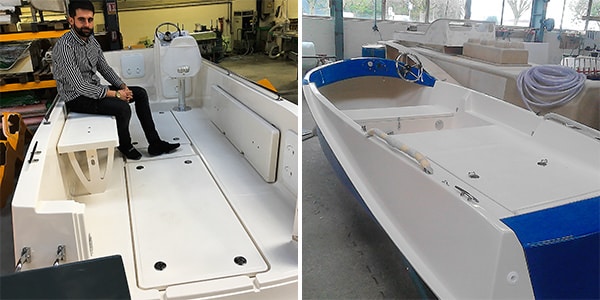 While at the Saviboat factory I bought a Derby 4.9 which is an electric boat licensed to carry 11 passengers (including a wheelchair), but frankly in my opinion it would be much better suited for 8 passengers as a private boat. We are expecting 3 Saviboats to arrive on March the 28th at Beale Park including two 4.3s.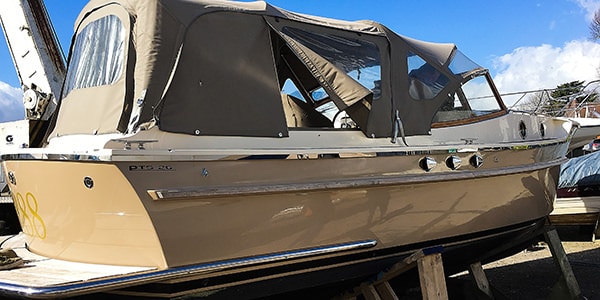 Last weekend despite high winds, we were able to deliver two preloved PTS 26s. "Loveboat III" has gone down to Kingston on Thames, while "888" will be enjoyed by her new riparian owners on the Cookham reach of the Thames.
New on our books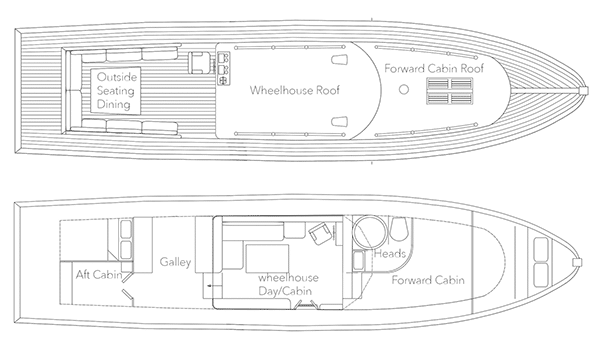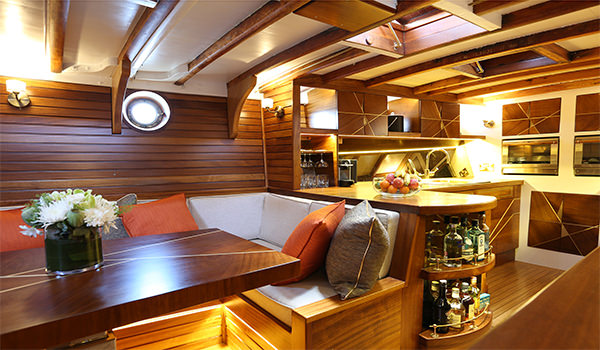 If you think you could do with a larger vessel in which to explore further afield, you might consider this project which is currently on the drawing board of Heather Dennett (from Dennett boatbuilders and an expert at yacht style interiors). 
In fact now "Llanthony" has found a new owner (Stop Press!), if you want to show off at the Dunkirk return 2020, how about investing in the "Elizabeth Green" (43ft, built 1935) project. She could be yours in time for the next return fitted out to the very highest standard. For more details please give me a ring or contact Dennetts directly.
A novel with the Thames at its heart
Whether you are relaxing on your boat or are flying to your next adventure, why not grab a copy of the book "Everything under" by Daisy Johnson as recommended by our very own Adrian Desmond (who will be resuming work shortly as a volunteer lock keeper at Hambleden lock, while "messing about in boats" at HSC the rest of the time). Adrian reviewed it for us as follows: 
"Only rarely do we come across a genuinely engaging novel with the Thames at its heart. The 2018 Booker shortlisted 'Everything Under' by Daisy Johnson is one such that has left this reader astonished at the writing and creativity of this, Daisy Johnson's first novel. 
The novel remixes the Oedipus story with a harrowing account of Sarah, a woman living off grid on a Thames houseboat and bringing up two daughters, both of whom she abandons, the first as a small baby and the second as a 16 year old.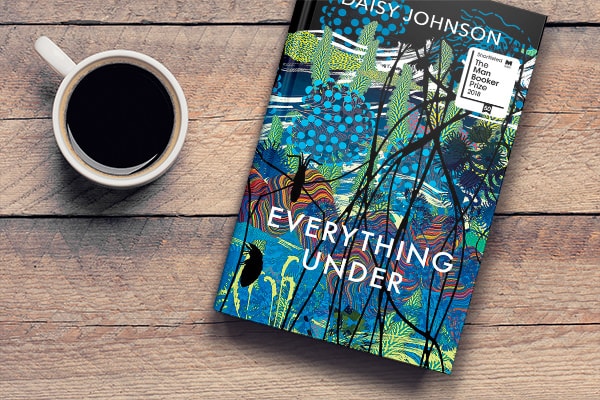 The story follows the lives of these three people, how they come in and out of each other's lives, sometimes consciously and sometimes not. 
Her depiction of mother Thames will stir the emotions of boaters, as we have all seen and felt the power of the river in her different moods and felt her nature, both benign and malignant but always alive. 
The writing is first class but one has to suspend confusion upon occasion and plough on to clarity, which arrives as the novel winds towards its sad conclusion. 
At the end as mother is reunited with daughter, the pieces of their lives come together through the dark prism of Sarah's progressing dementia. 
If all this sounds depressing, the novel is not. It leaves the reader thoughtful but with moody pictures of the river, written by someone who understands it."
Meet the HSC team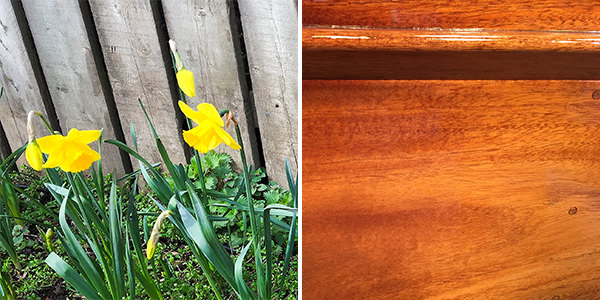 While you relax with a novel, rest assured that the HSC team is beavering away. At our Beale Park boat store the daffodils are growing, the sign writer is busy and the varnish is flowing.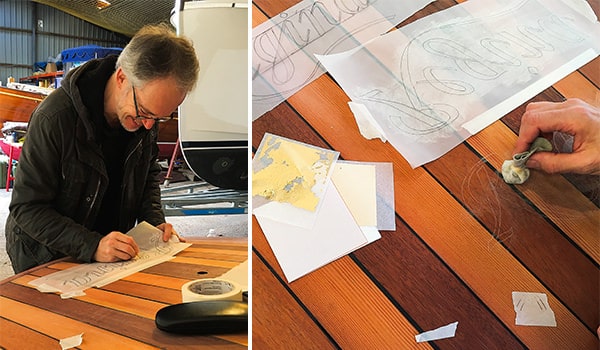 One member of the hardworking HSC team at our Beale Park location is Simon Denslow, our new operations manager. Initially he joined us briefly in 2017, then returned to us permanently in the summer of 2018 and has now established himself as an invaluable member of our boatyard team.
Simon's main task is to ensure the smooth running of all yard operations. So you can expect to see him in a pair of waders alongside a trailer and our trusty Land Rover some time this spring.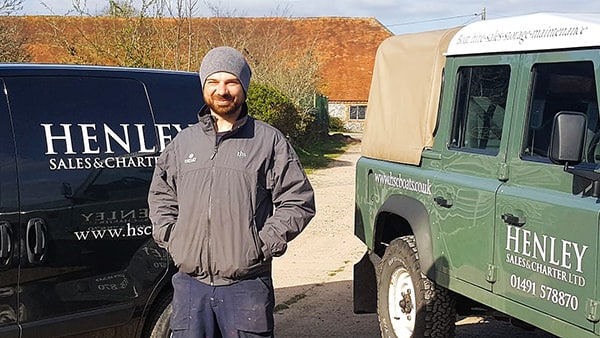 Fortunately for us Simon trained at Williams, the famous Oxfordshire based manufacturers of RIBs, and he is very skilled in gel coat repairs. He is enjoying learning some woodworking skills from Ellie and we also appreciate his knowledge of internal combustion engines, gained from an engineering course which he undertook while at Williams. 
It is also particularly useful for us to have an experienced licensed trailer expert in house. Simon is very comfortable towing boats to the various launching locations that we use to put our customers' boats in the river for the season. 
We are delighted to have him as part of our team.
Out and about with HSC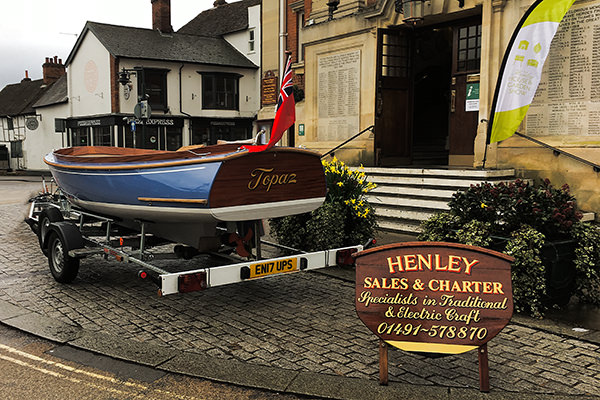 At the beginning of this month I braved rain and tempest at the Henley House & Garden Show with help and good humour provided by the Days, proud owners of "Topaz". Thank you to them and those of you who came to say "Hello".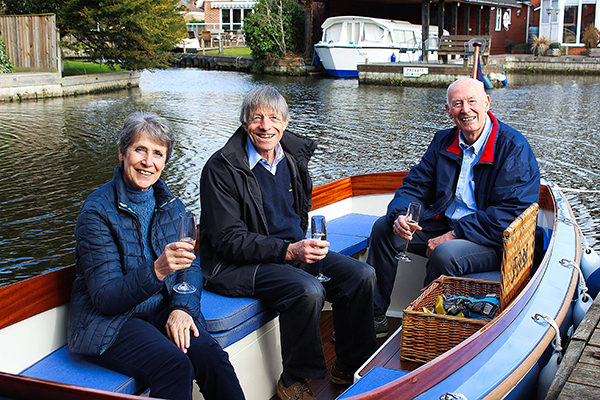 While at the show I spotted the products of a couple of locally based entrepreneurs producing waterproof, mould resistant cushions, rugs and throws – all ideal for boat owners.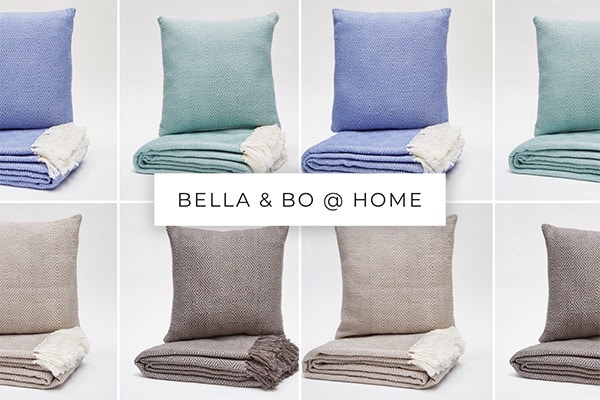 Bella & Bo are a Henley based gifts and homewares business. Their newest beautifully handwoven and soft rugs and cushions are made entirely from recycled plastic bottles! Suitable for both indoor and outdoor use, these products feel like wool, are machine washable and stain resistant. A fabulous addition to any home, garden or boat.
HSC Boat Lake Trials: Saturday May 4th!
The next event in the diary is our very own Beale Park boat show. On Saturday May 4th our boat store will be open and serving coffee and cake, while there will be a number of boats on the lake available to view and test. 
Please put May 4th in the diary, and to give us an idea of how much cake we'll need, please pop Gail an email ([email protected]) to let us know that you will attend, and whether it will be in the morning or in the afternoon.
We look forward to seeing you at RG8 9NH!