The owl and the pussycat went to sea in a beautiful pea-green boat... Lucky them, as nobody has been going anywhere on the Thames recently, given the atrocious Easter conditions when no amount of chocolate eggs could compensate for the lack of boating.
Adverse conditions for boating
You have to laugh, although Andrew and his team at the boatyard have struggled to see anything faintly amusing this month as the river has thundered past the entrance to Beale Park lake, making it impossible for us to launch any of the lovely boats we have been overwintering.
Understandably there have been some frustrated customers, none more so than those trusty rental customers who booked online at Pure Boating, thinking that a leisurely post-prandial cruise on Easter Sunday would be the perfect way to enjoy some quality family time afloat.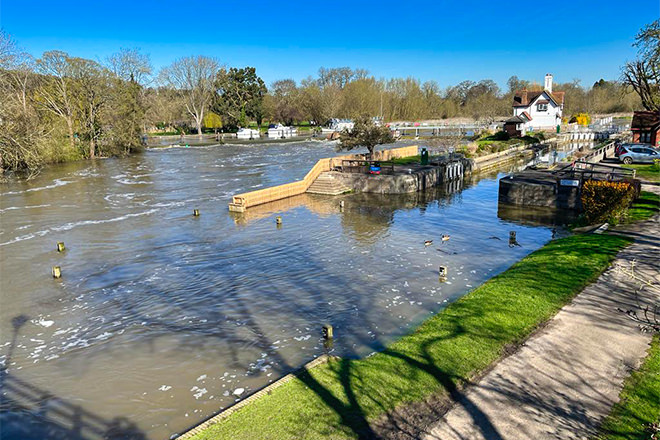 Our local skipper Mark kept us up to date on river Thames conditions on a daily basis. He is one of our stalwart senior skippers who recently joined a class of Pure Boating trainees for a full day of training.
We are delighted to have so many staff returning for another season at Pure Boating this year and to welcome several more, and we are fairly confident that we will be in full flow (excuse the pun) for the 'merry month of Maying'.
An exciting new Dutch live-aboard on our books!
Here at HSC International HQ 😉 with my multilingual team (that's Barbara, who is a native Dutch speaker and Regine, a native French, not to mention Gillian, our polyglot extraordinaire (writes Barbara)), we are happy to report that we have in fact managed to sell five boats in the past month and are responding daily to requests for information from a number of potential buyers from Italy, Germany and even Turkey.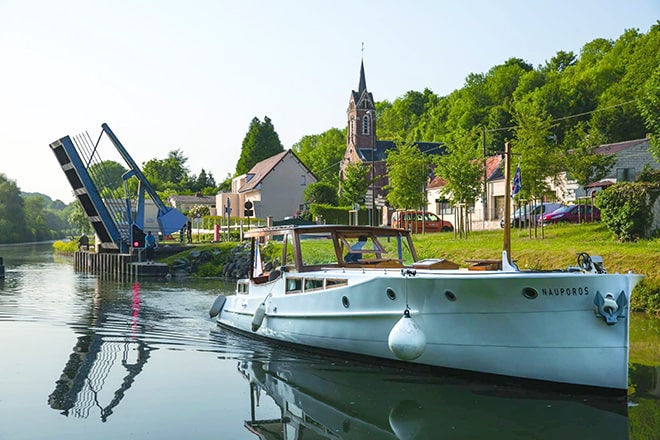 In terms of European sales, we have completed on "Nauporos", featured in last month's newsletter. This Dutch-built vintage Bakdekker is still in Northern France but will be coming to the UK thanks to an efficient Dutch transport company.
By the time you read this newsletter, we will be listing another vintage Dutch beauty by the name of "Maria Christina".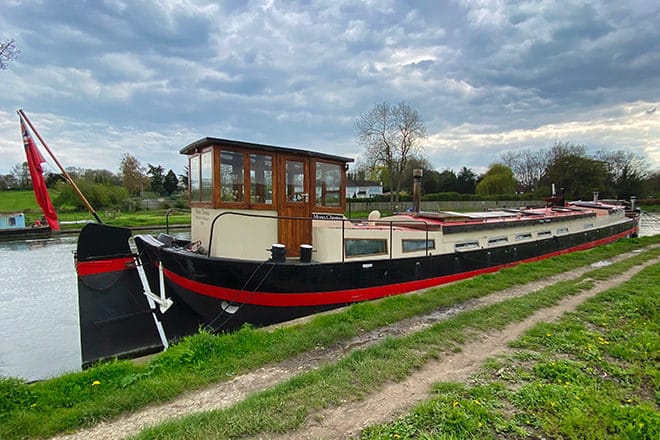 Some fascinating web research into the Stofberg family's boatbuilding history reveals it all started with Cornelis Stofberg, who, in 1793 became 'master shipbuilder' and owner of a shipyard in Mijdrecht.
In 1849 his grandson, Hendrik Stofberg, settled in Oudewater (Netherlands) with his young family. They rented the site of an old brewery where they turned an old syrup factory into their shipyard. There they built ships for canal transportation and also repaired boats for farmers.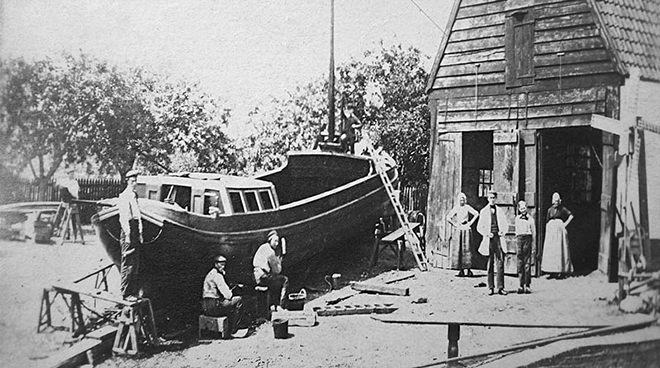 When Hendrik died in 1879, his widow, Geertruida, took over the business and ran it with the help of her three sons. She turned out to be one of only three female shipbuilders in the Netherlands at the end of the nineteenth century!
Due to a decrease in demand for canal transportation and the rise of road and rail transport, the shipyard was eventually shut down in 1919 after a 70-year run.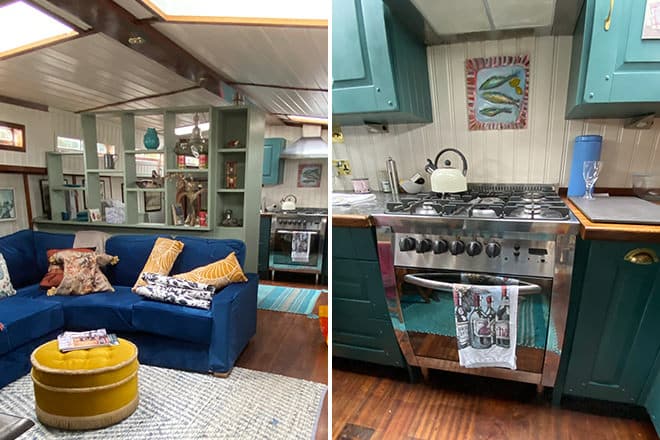 If you are in need of an ark, which frankly has been an appealing thought given the amount of rain we have endured in the past month, then "Maria Christina" could be the one for you.
"Maria Christina" has been around these parts for some time, and I remember being tempted to move on board myself in 2006. If you are looking for a 'pied-à-l'eau' with extensive living accommodation, please get in contact with our office to arrange a viewing.
The mooring near Temple Island is probably also available for a new owner and is an ideal spot to enjoy the river throughout the summer months.
Noah would have been very happy with the solar, the watermaker, the onboard generator, and really an almost completely autonomous vessel with all the comforts of home.
Midnight Mastermind from the comfort of my bed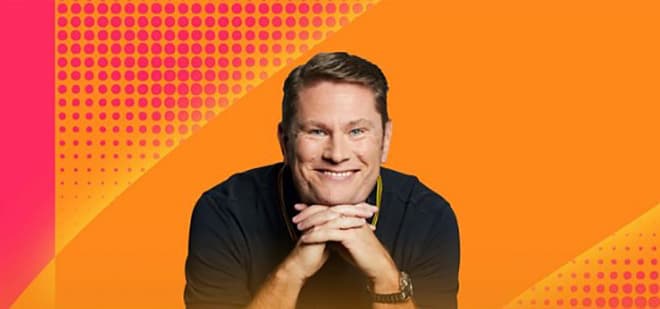 If you are a nightbird, unlike me, and happened to be listening to Radio 2 late Sunday night (April 14th), you may have heard a conversation between the DJ Phil Williams live in Salford Quays, and me, very much alive, in my bed.
The format of this programme is mainly chat and music with a nightly dose of Midnight Mastermind. My special subject on this occasion was 'Thames slipper stern launches'. Phil then got a three-minute musical interval to consult the internet and research the subject in order to answer the expert's (me) questions.
If you would like to listen to the clip (Mastermind starts 27:40 mins in), you will see that he got all three questions right the first time, and we both had a good laugh.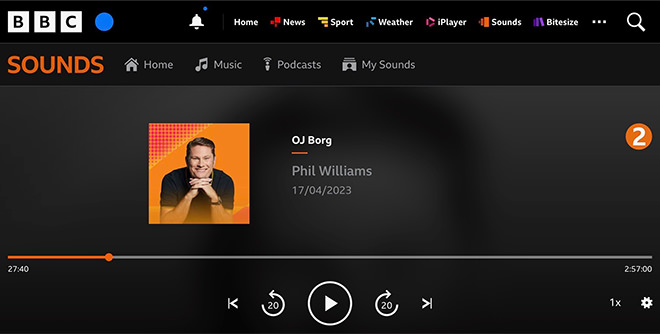 The programme's research team came across my profile on BBC's 50:50 Equality Project website, designed to encourage more diversity in media, and contacted me to take part.
My very first appearance ever on the BBC was in the late 1980s, on 'Tomorrow's World' as part of the team that broke the electric boat world speed record!
Sunday night a fortnight ago, however, my x-chromosomes propelled me to the dizzy heights of 'Midnight Mastermind'.
On the subject of slipper launches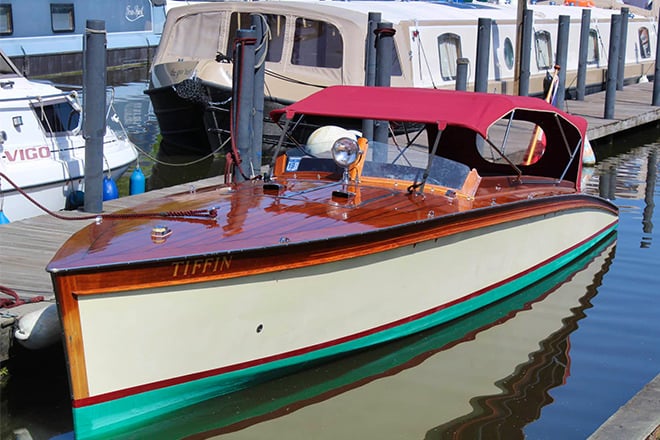 While we are on the subject of slipper launches, "Tiffin" is a Woottens slipper with a really spacious cockpit currently overwintering at Beale Park boat store. She is keen to find a new owner.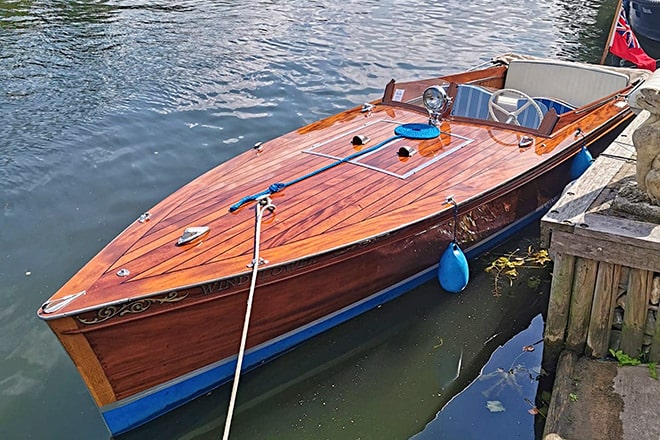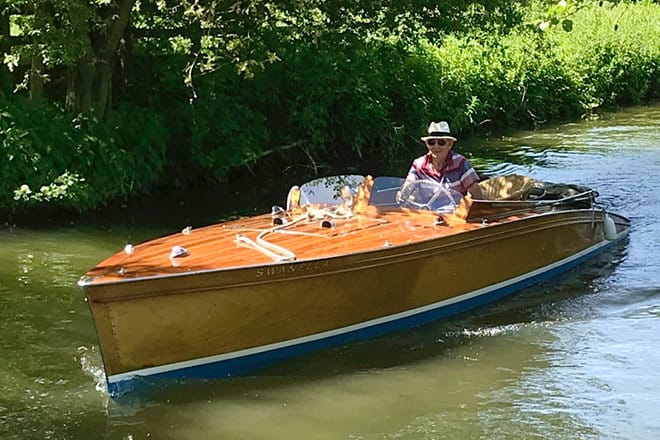 If you prefer a 25ft Andrews, we have a choice of "Windflower" or "Swanella". From Andrews we also have "Glenelg" on view at our Beale Park boat storage.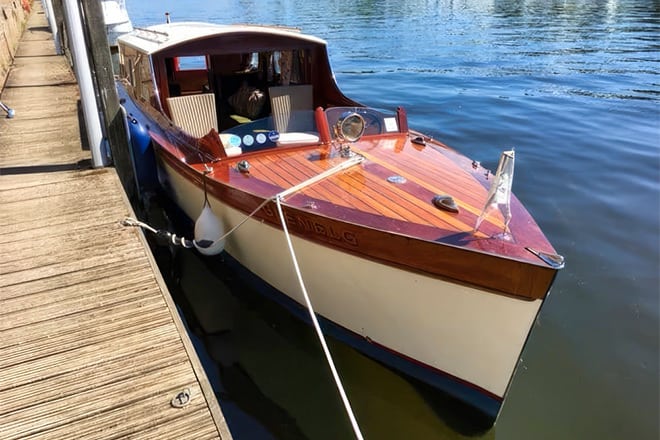 Fun events to put in your diary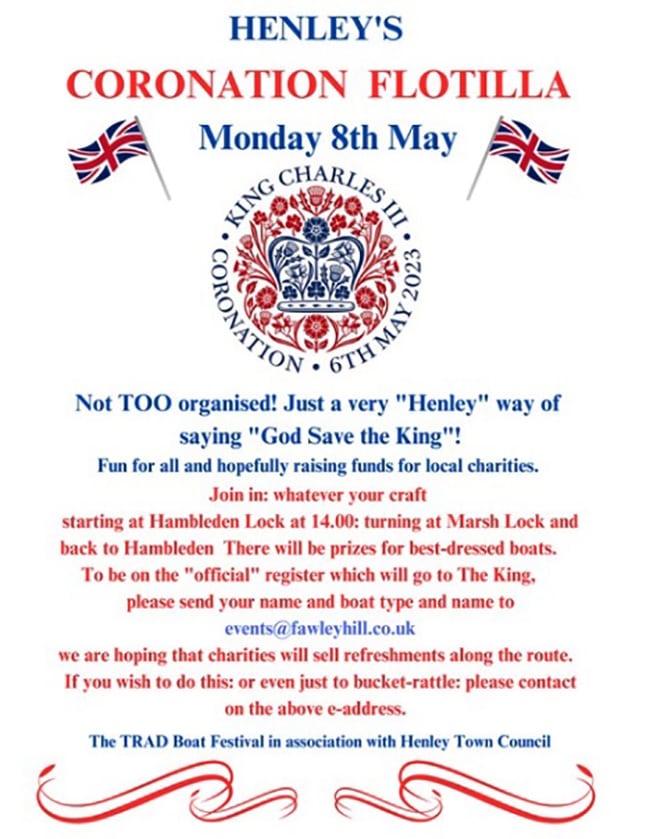 It is not too late to sign up for the Coronation Flotilla on Monday, May 8th.
HSC has commandeered "Tarbes II" and will be floating around in the afternoon parade from Hambleden Lock to Marsh Lock and back.
It should be fun, so please do sign up via the events email: [email protected].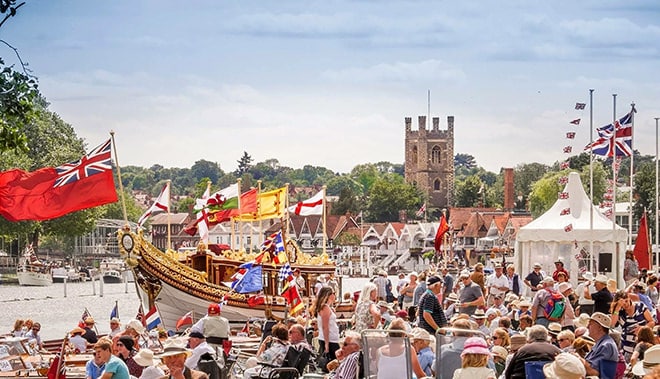 Don't forget to book now for membership, discounts, boat entry, camping or indeed to sponsor the 44th Thames Traditional Boat Festival, which should be firmly etched into your 2023 diary for the 14th-16th of July this year.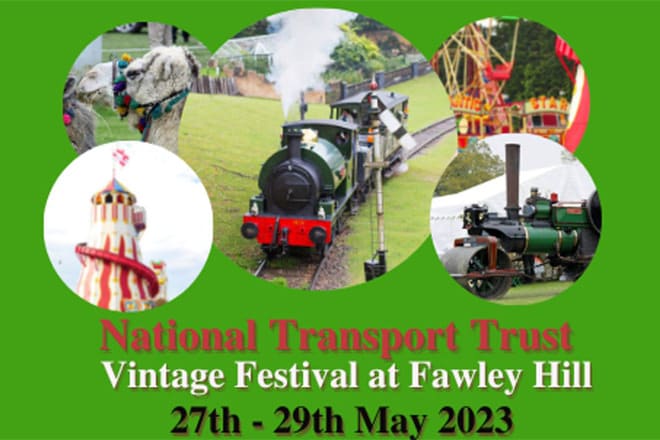 If you can't wait for July to see some fascinating and slightly quirky transport options join us at Fawley Hill for the National Transport Trust Vintage Transport Festival from May 27th - 29th, 2023.
River & Rowing Museum building repair in full swing
The above-mentioned Coronation Flotilla will pass the River & Rowing Museum, which is currently still undergoing renovation.
I was invited to visit it this month with some other museum supporters. The roof repairs are in hand, but there were still buckets under some of the light fittings, so I conclude that reopening is not imminent.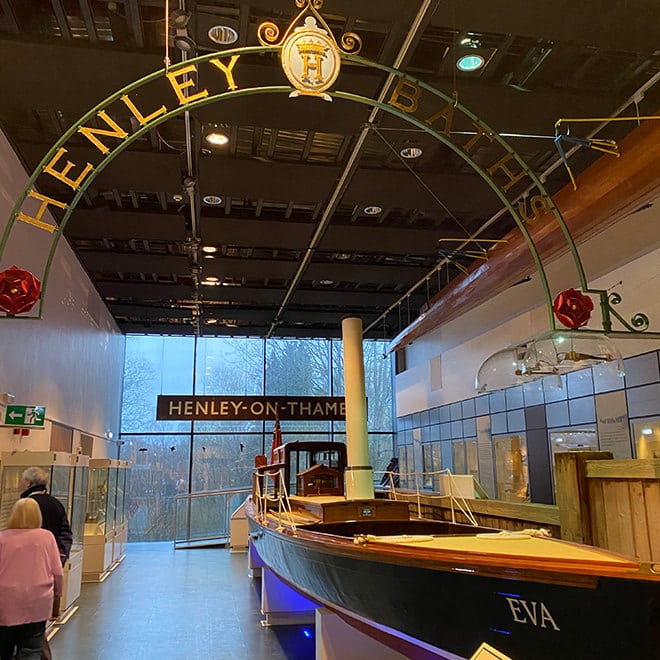 Part of the plan prior to reopening is to rename the museum to make it more attractive and to put more emphasis on the excellent Henley-on-Thames history collection, which always appeared as an afterthought whereas it actually is one of the most exciting parts of the museum to visit.
I am also hoping for a more vibrant café scene and some dynamic boating activity that links the museum more directly to the river just a few paces away.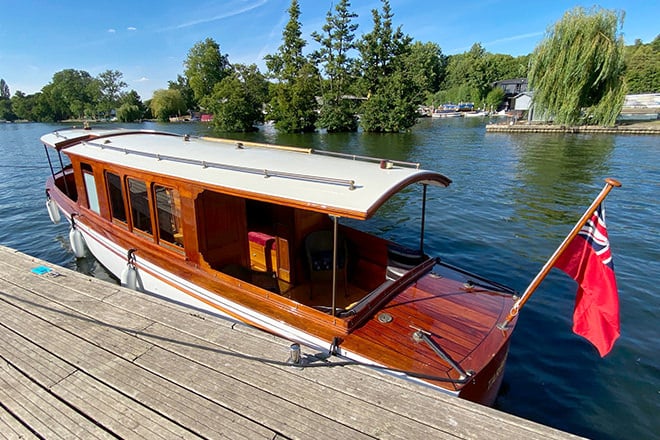 The museum's educational block has been smartened up and divided into a suite of offices with an amazing view, plenty of parking, a modern meeting and networking area and hopefully easy access to a world beating café.
If you snooze, you loose!
Whilst it is clear to me that there are going to be a good many impulse Covid boats on the market this summer once some hasty buyers realise that to spend your hard-earned cash on boating is great if you really enjoy it, others will realise that they would rather donate their earnings to holiday villa owners or simply to other leisure activities.
Obviously, this creates opportunities for buyers, but not if you are looking to purchase a PTS from Statement Marine, as they have no available build slots until summer 2024; hence if you are keen on exploring ownership of a PTS 24, 26 or even the all-new 32 form our esteemed Dutch build partners, I would urge you to make contact sooner rather than later so that we can reserve you a build slot for next summer.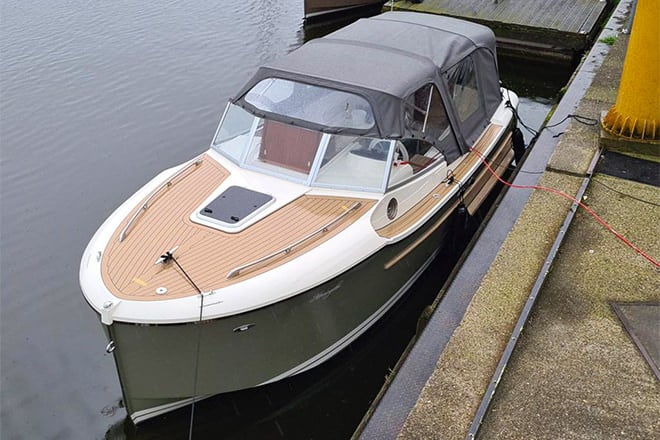 I should be able to show you more photos of the new electric PTS 24 in our May newsletter.
In the meantime, keep a close eye on our brokerage selection on our website or give me a call if there is something specific which interests you as some boats never make it to the website.
Our new Mayfly 21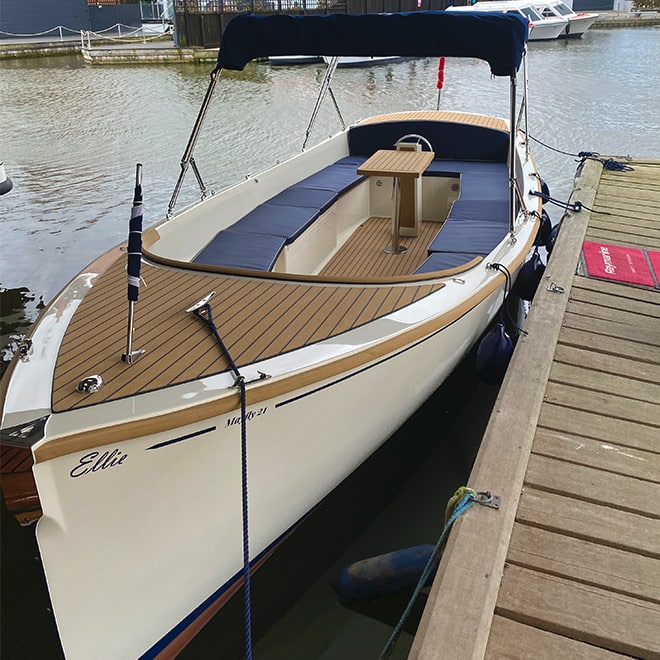 Some may be selling, but we ordered a new boat before Christmas for Pure Boating, and "Ellie" has now arrived.
She will be moored at The Beetle & Wedge in Moulsford but can be booked online from any of our three locations on the Mid-Thames. '"Ellie" will be skippered and has seating for up to 12 guests.
This month's reader submission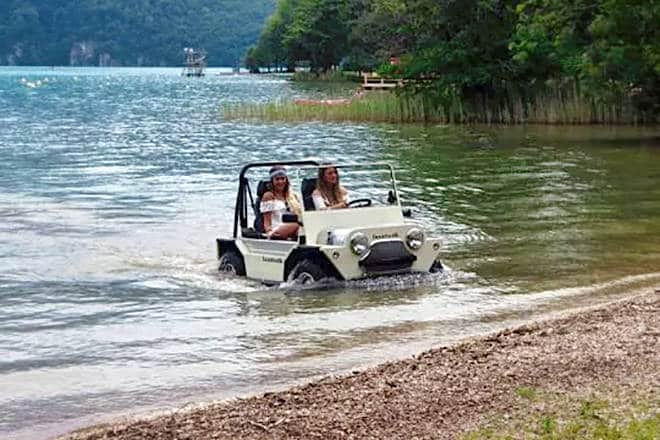 At the end of every newsletter, we appeal to readers for stories or objects of interest. We loved this amphibious mini-moke sent to us by a former electric canoe owner.
Maxim tells me that the inventor is a genius but struggles with marketing.
Personally, I could see the Lazareth, as it's known, being a winner as an add-on for largish vessels as it gives you total flexibility between land and shore.