Visiting family has taken me to Bristol and across the Channel to France this February. The warmer weather in southern France was extremely welcome as any reader living through the wettest UK winter on record will surely appreciate!
Bristol thinks "green"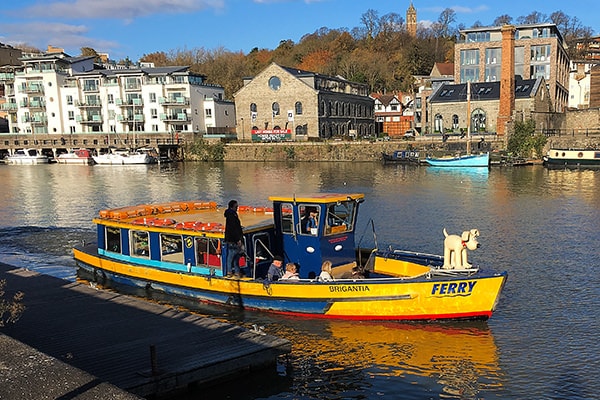 Mixing business with pleasure during my visit to Bristol I took a walk through the city to the harbour. Like many UK ports, Bristol has a mixed history with some shameful times and also some moments of glory.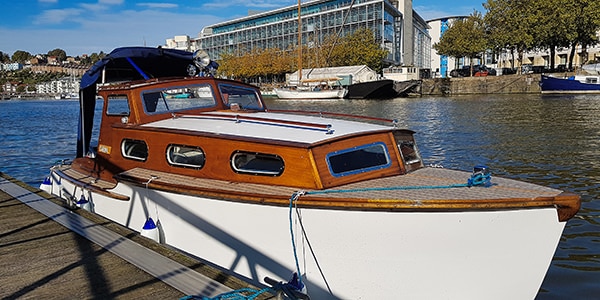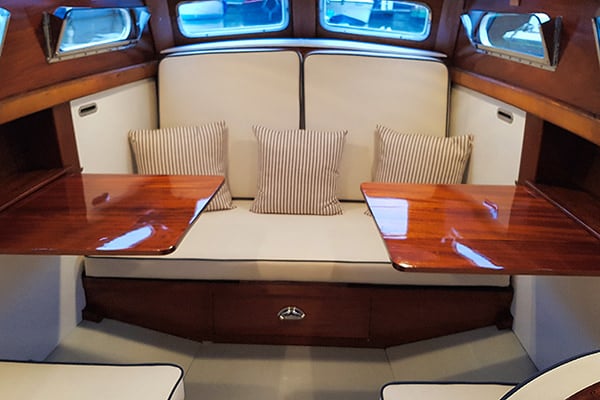 Walking by the docks to view the freshly restored "Carina", I was struck by the handsome dockside renovations which run right the way through the town, backed by a museum called "M Shed" and many attractive pubs and restaurants, not to mention the magnificent "SS Great Britain". 
While "M Shed" tells the story of the city and its unique place in the world from prehistoric times to the present day, the historic treasure that is "SS Great Britain" is a true testament to Isambard Brunel's genius.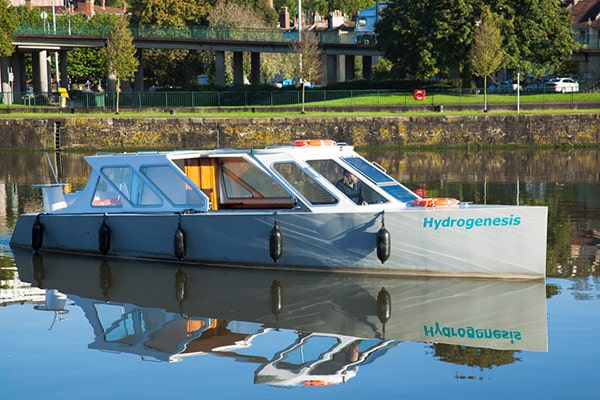 I also came across "Hydrogenesis", the first hydrogen-powered ferry in the United Kingdom. It operates six hours a day between Temple Quay and the "SS Great Britain" and produces zero direct emissions, with the only waste product being pure water. 
While "Hydrogenesis" sounds like an expensive face cream, it was in fact a rather costly council funded project. However new technology requires not only technical savvy and bright ideas but also investment, so I for one congratulate Bristol for having the foresight to think very green back in 2013.
The most environmentally sound of all!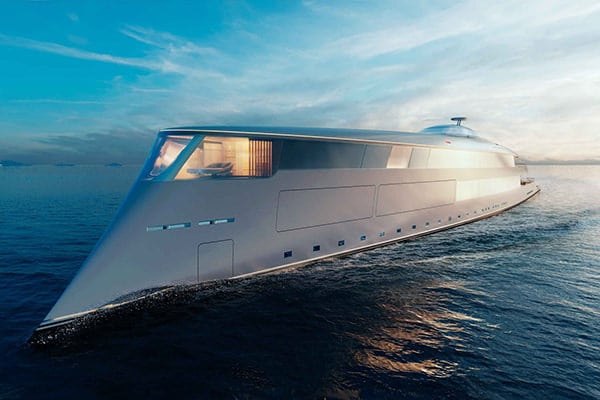 Talking of hydrogen, a Dutch company launched a hydrogen fuelled boat at the Monaco Yacht Show in 2019. While it was rumoured that a certain mr. Gates was involved in the project (as in buying the first boat) this was in fact pure conjecture (good publicity though) and the project remains just that at the moment. 
It may be a contradiction in terms, to even be able to link the word "eco" and "superyacht", but it seems that the Dutch design firm considers this possible when "one thinks outside the box." I fear that with the paucity of hydrogen refuelling stations on remote desert islands, the boat may find itself guzzling inordinate amounts of conventional black gold. 
Furthermore it does seem rather problematic to keep fuel in the hull at temperatures way below zero, as this in itself requires a massive power supply. 
Anyway, 'Good Luck' to the firm Sinot, which came up with the idea.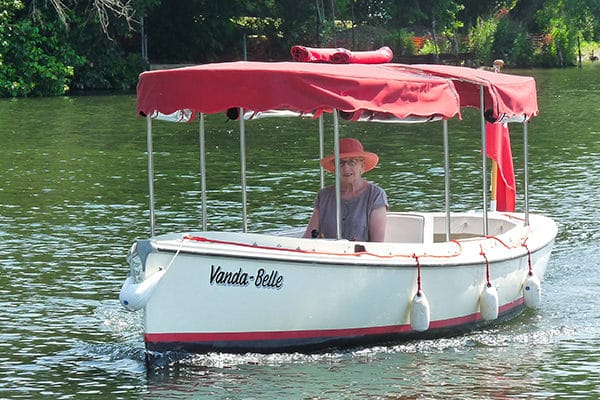 It makes our attempts to "green" the Thames appear somewhat pathetic. Ever the optimist, my motto is that you have to start somewhere, and it seems that most of the enquiries coming into the office at the moment, are for electric boats. 
It feels like I have been talking to myself and a few converts for the past thirty years, and now finally people are listening! 
We need to remember though that old wooden boats are possibly the most environmentally sound of all, whatever their propulsion system. They are infinitely repairable and grow in beauty, somehow imbued with a soul of their own, which no piece of plastic can emulate however beautifully designed.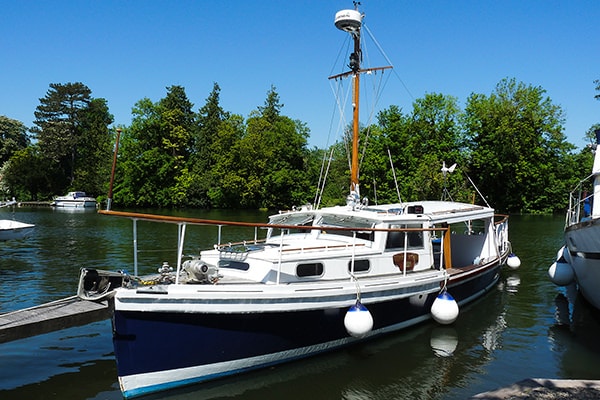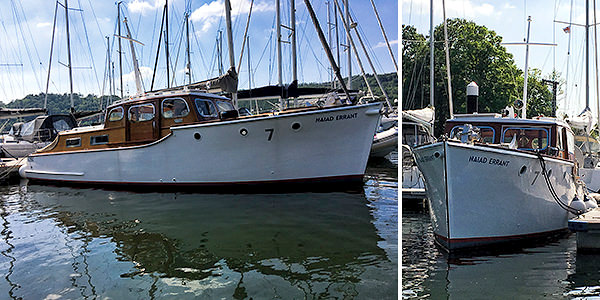 Who can fail to be moved by the story of the Dunkirk Little Ships, currently preparing for their May 2020 return? 
You may need a berth of your own if you wish to be present in Dunkirk for the event, as there are no hotel rooms to be had within 30 kilometres.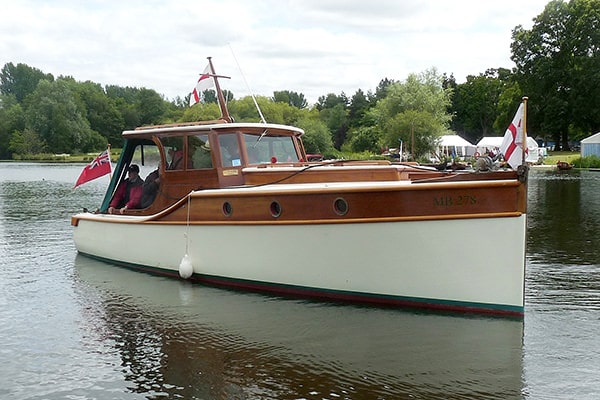 As we make bookings for Henley Festival 2020, we all know that the belles of the riverbank will be the gentleman's launches (not sure the guests are always worthy of that name by the end of the evening!).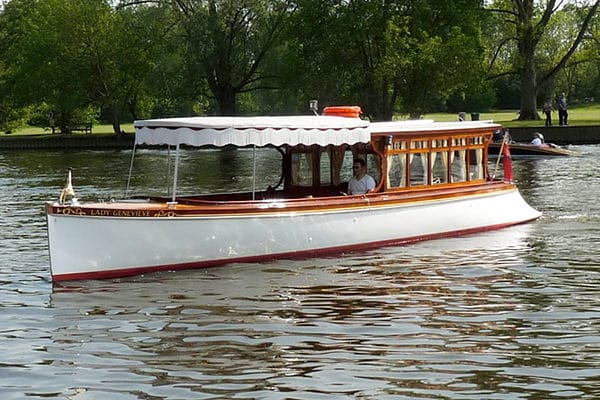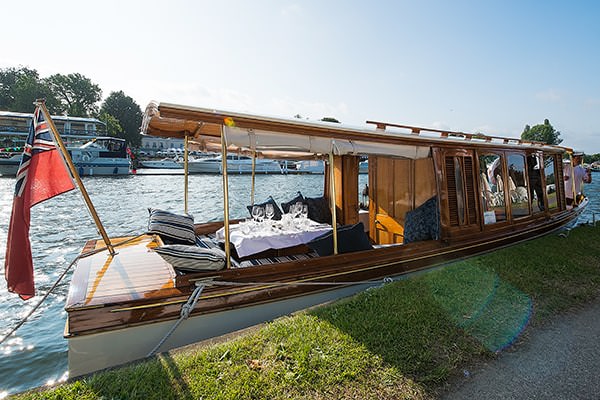 "Lady Genevieve" or "Archangel" would provide you with a splendid location for a balmy evening with friends amid the fray.
Power up with this nifty solution
Back here at E-Boatique we have a small and useful innovation which will satisfy customers desirous of an electric boat but lacking the necessary power socket on their pontoon. 
A French company based in Savoie, near where I used to live in fact, has come up with a wheel-on suitcase containing a lithium ion battery of 137 amp hours - sufficient to give an owner 4 hours of continuous cruising on a small boat like the 7 seater Scoop.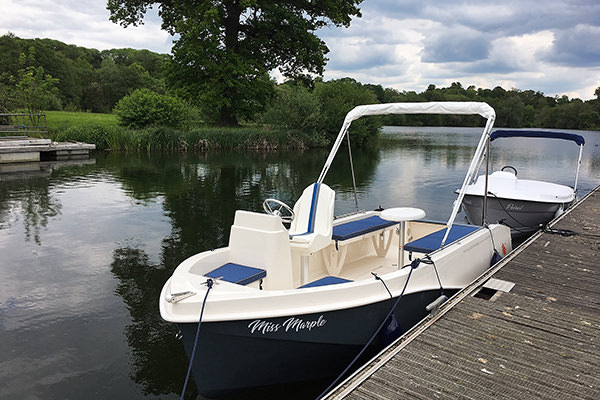 In fact last summer Steve Hoile, our in-house tech wizard (and also my esteemed spouse), supplied two carry-on suitcases containing lithium ion batteries to a customer with a mooring and two flights of stairs to the nearest socket. 
The customer had ordered a Derby 4.3 5 seater and had a lovely time over the summer with as much trouble free cruising as he could wish for.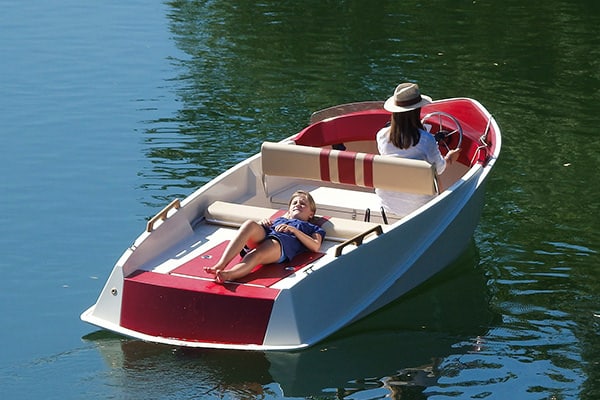 Granted there is a premium to pay for the privilege, but £20,000including VAT is hardly extortionate for years of pleasurable boating on the inland waterways.
There is an expression "virtue signalling". It sounds a bit smug but if you can have fun while protecting the environment, I can't see any reason not to have an electric boat and I have been banging on about the benefits for the past 30 years - I rest my virtuous case!
Repairing and reusing is "in"!
Reading my usual pink weekend rag (FT weekend) I noticed that repairing clothing is coming back into fashion even among the glitterati. Some of us have been darning socks for years while others have been simply discarding items to keep the economy rolling.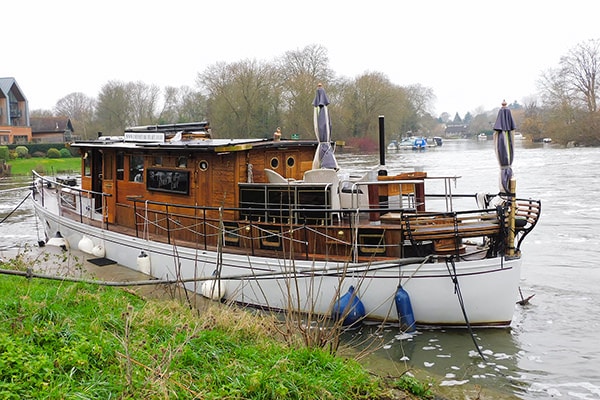 I love it when someone heading for early retirement comes to me saying "I need a hobby and I love boats". Forget the low maintenance advantages of shiny GRP and welcome to the wooden boat fraternity where you will have a lifetime of enjoyable communing with your vessel in some form or other. 
As an erstwhile 40ft Bates Starcraft owner I loved going to the yard in the winter to have a cuppa with the skilled boatbuilders who kept the boat looking amazing. I confess that I am not gifted with a plane, a chisel or a paintbrush. However there are many customers who enjoy either just pottering or even doing some quite serious on board maintenance.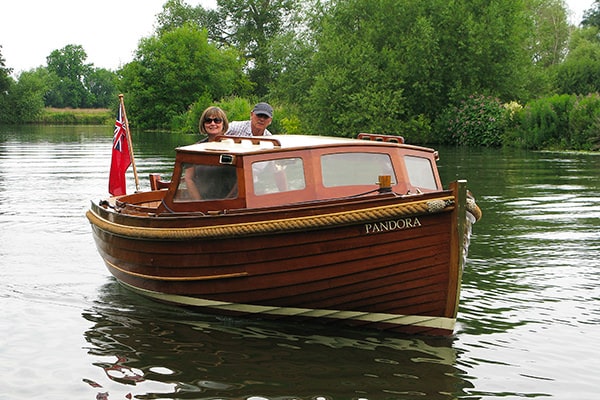 "La Falaise" and "Pandora" both have been subject to serious hours, or even years, of attention (in the case of "La Falaise"). Please don't be put off by the thought of maintenance as it can be a great pleasure and will certainly give you a sense of satisfaction. 
In March I will be reporting on a major restoration which Ellie is currently working on at the yard. The boat is called "Lacewing" and the owners have been closely involved with the work in progress. I think of this as a collaborative effort even if the graft is weeks of Ellie's patient skilled labour. 
Commissioning new boats never was "out"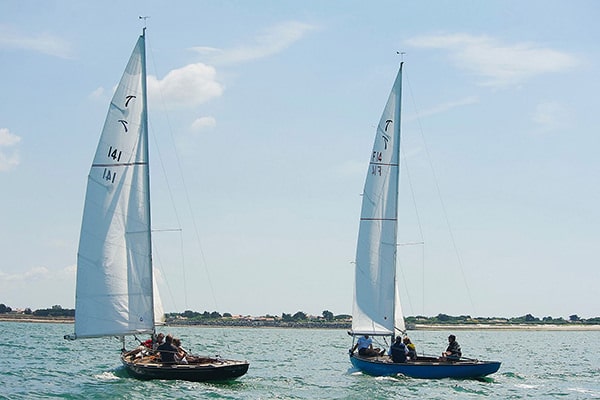 Commissioning a new boat is also an enjoyable collaboration and we are delighted to have signed a contract with a couple in Emsworth, who want a sociable boat for regular crossings to the Isle of Wight. 
They also chose a Tofinou sailing boat for some sea sailing and the two boats, while from entirely different European countries, will create an attractive matching pair thanks to judicious choices in terms of gelcoats, furnishings and wood finishes.
What is happening in the HSC office
Creating pleasure for others is what gets me out of bed in the morning. Gail and I are very happy in our new office at 29 Station Rd. Do come and visit. 
We have a kettle and a fridge so drinks are readily available as is Gail's friendly demeanour. She is busy with bookings for the big events of the summer. Weddings are also beginning to dribble through the door.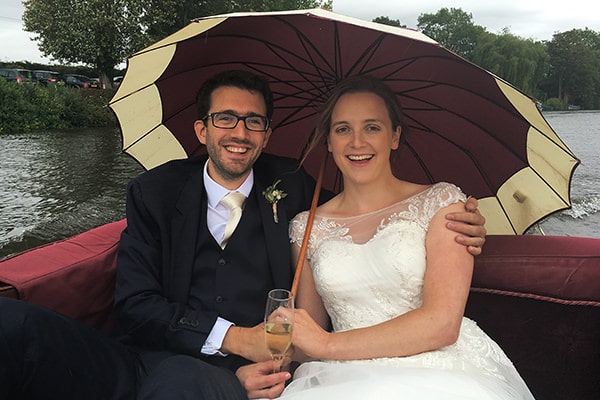 If you or one of your loved ones is contemplating a spring or summer wedding at one of the various venues along the Thames then please talk to us. 
There is now plenty of riverside choice whether you fancy the history and glamour of Leander or Phyllis Court, the contemporary River and Rowing Museum, the Great House at Sonning or their sister location at the refurbished Swan at Streatley.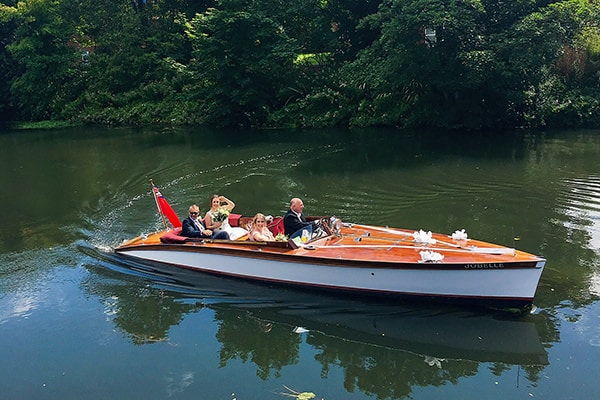 We have also been asked to quote for meet and greet at Bisham Church, which is in an idyllic location near Bisham Abbey and the Compleat Angler.
The only caveat there is the draft, which is suitable for a slipper launch such as "Jobelle", but not for anything bigger.
HSC's trusted Defender is now for sale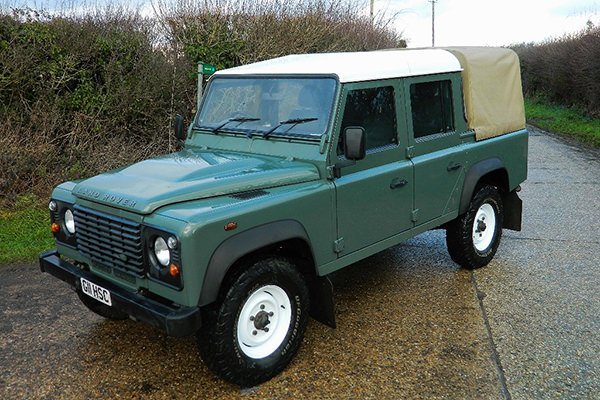 HSC is parting reluctantly with the trusty 2013 Land Rover. 
She has 68,000 miles on the clock and has been well maintained during our ownership (since 2016). She looks great with or without the canvas tilt and is finished in Keswick green. 
We would like £19,950 which includes VAT so 20 % could be reclaimed if you were buying for a business. Obviously she is a great towing vehicle and has the classic good looks of a Defender with plenty of grunt under the bonnet. 
Please call the office if you would like to come and take a look.
Coming to you next month!
As I finish the final paragraph of this February newsletter I am slightly regretting my return to the brimming Thames. 
However like many of you I am looking forward to the coming season and will be writing about this summer's events, new boats on brokerage as well as more on my visit to the decidedly 21st century Ceclo manufacturer in a remote former mining town in the Cevennes next month.
In the meantime it's back to Blighty and the serious business of selling boats!