Early June showed much promise in the South East, lulling us into a false sense of summer with clear skies, long lazy evenings, and warm water in which to wallow or simply cruise, depending on your preference.
"Wait a mo" said the weather report on the TV and "Lo" the heavens opened - great for the grass (oh happy husband) but not for the frustrated boaters with damp bookings at PureBoating and those eager to enjoy their lockdown boat purchases.
However, the solstice appears to have normalised temperatures, and we can relax again for a while as June creeps inexorably into July and high summer.
Our Suffolk staycation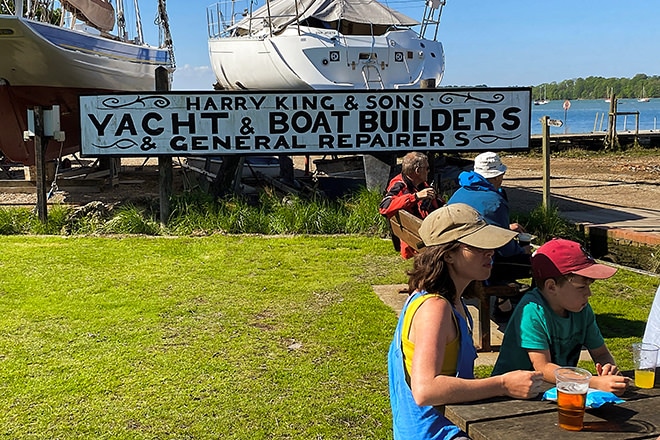 Our original plan had been to accompany the ADLS fleet of Dunkirk Little Ships on their return to the beaches of Normandy in late May. Inevitably plans were thwarted by COVID, and we headed east 'en famille' rather than south, to a charming cottage close to the wharf at Pin Mill on the river Orwell in Suffolk.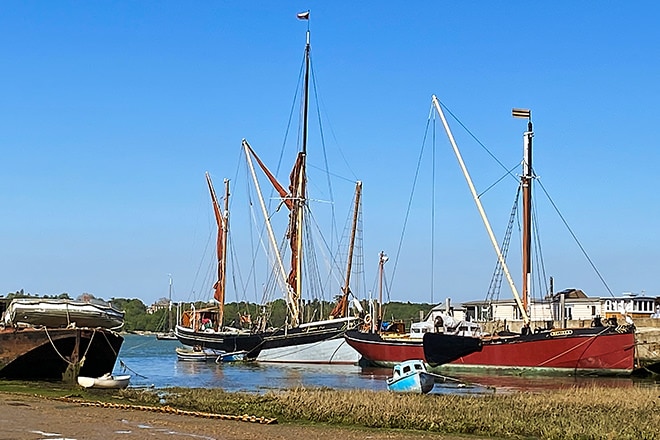 While the 1892 Thames sailing barge 'Greta', a proud member of the Association of Dunkirk Little Ships, was miles away in Whitstable, whence you can embark for a day's sailing, we were able to take a very close look at other Thames sailing barges which are permanently moored by the excellent Butt & Oyster Pub at Pin Mill.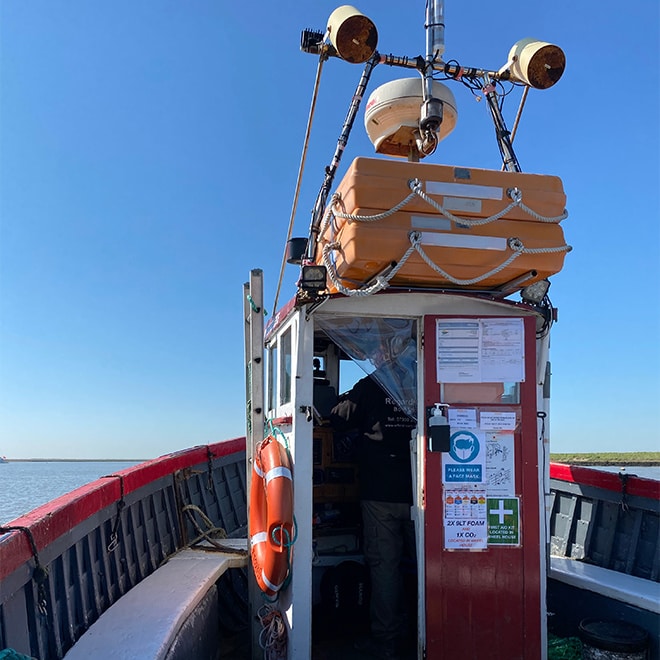 We may not have managed to get afloat at Pin Mill on one of these graceful Thames sailing barges, but the good ship 'Regardless' carried the family on a bird-watching outing around Orford Ness. 
'Regardless' is a 25ft clinker launch with a reassuringly traditional diesel motor at its heart. She was built in 1991 by Frank Knights of Woodbridge in Suffolk. 
We were all enchanted by the simple pleasures of an hour with skipper Oliver pointing out the sightings of avocets, marsh harriers, and the red billed oystercatchers.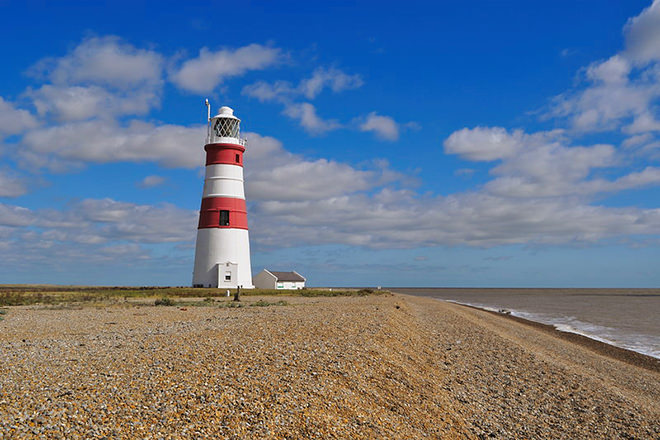 Orford Ness may be a bird sanctuary now in the 21st century but it has a mysterious, some might say murky, past. The site was the birth place of radar, where ground breaking research was carried out in the 1930s. Subsequently, the island became home to a group of boffins whose job it was to test bombs.  
There is an eerie atmosphere on this now deserted island. If you are visiting Suffolk, I would highly recommend a visit.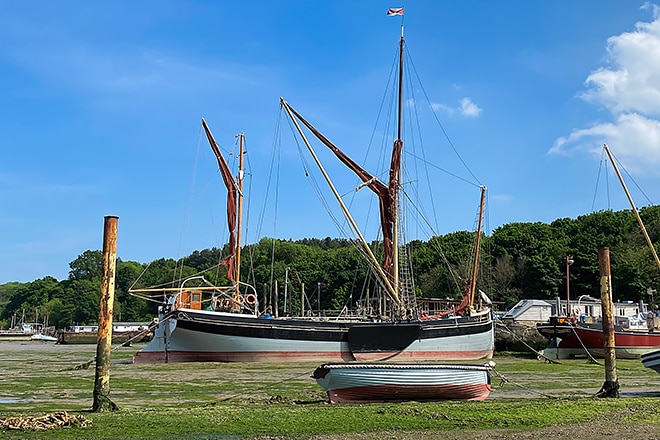 During our visit it became clear that wooden boats are alive and well in Suffolk. 'Cambria's' restoration was completed in 2010, and she is a splendid example of enthusiasts keeping historic vessels alive.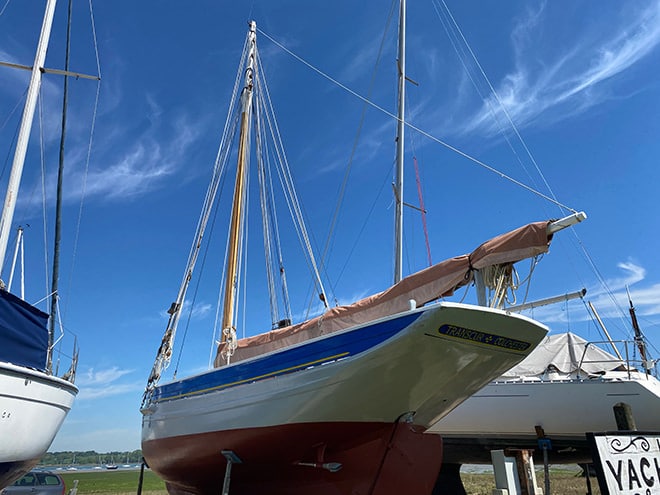 While playing in the stream at low tide, I got talking to the owner of an 1889 oyster smack by the name of 'Transcur'. He was rerigging his fishing vessel in anticipation of relaunch at Harry King's boatyard, prior to setting sail for his summer activities. He told me that he has owned the boat for many years. He races it, and he also goes annually across the North Sea to the Netherlands.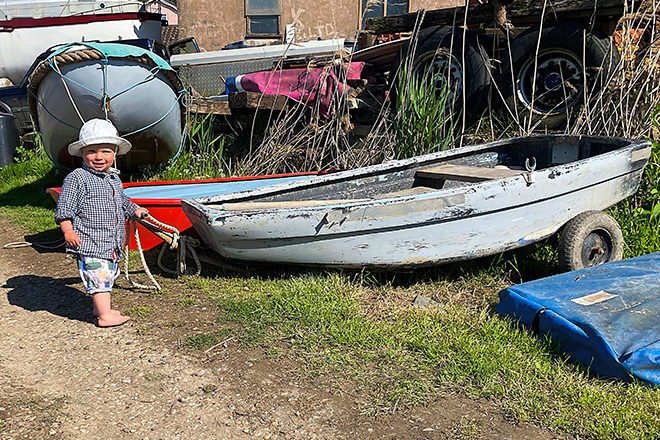 Waterbird - Wings over Windermere
Another Nahum of a scientific bent, and rather senior to Leon, is my cousin Andrew Nahum who has been playing with 'floating planes' or should that be 'flying boats', on Windermere, with an historic replica known as 'Waterbird'.
He and a group of enthusiasts, known as The Lakes Flying Company Limited, have been collaborating with our old friend Hamish Patterson in the recreation of this hybrid flying machine, which originally took off for the first time from Windermere in 1911.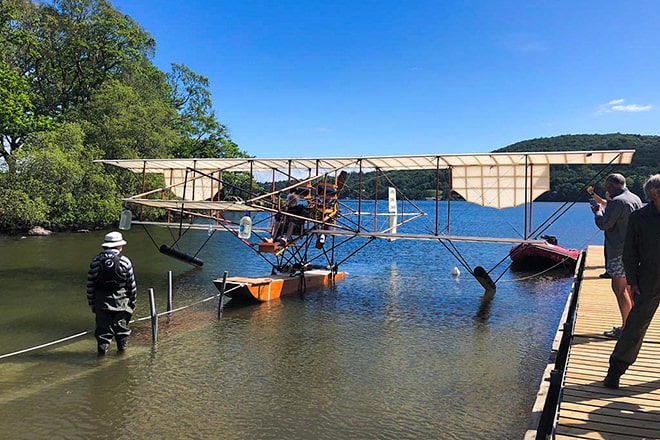 It was thanks to some of the innovations related to Waterbird that the Sunderland Flying Boats were developed on Windermere during the war years, and in less bellicose times Saunders-Roe had great success building record-breaking powerboats. 

All this has completely side-lined Hamish from boatbuilding. However, he tells me that there is a Windermere 27 nearing completion.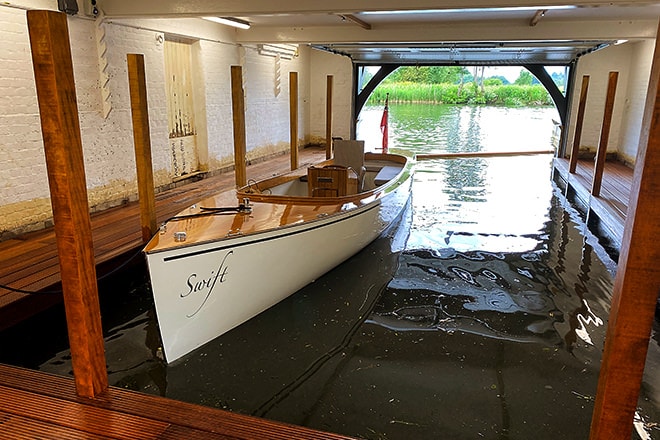 Another Scoop delivery
Just before taking our holiday, I drove in the opposite direction with  HSC's resident viking Andrew, heading west to deliver a Scoop to the river Avon. We came upon a lovely old boatyard sign, which spoke of years of devoted boatyard activity by the Scarrott family.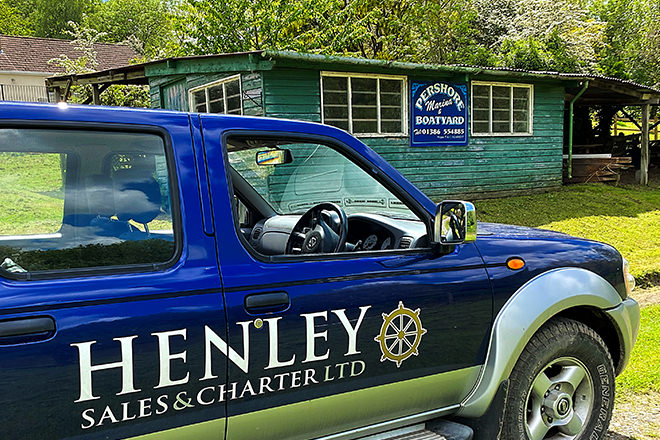 Pershore Marina & Boatyard is no more. However, the site is stunning, and the river Avon is clearly a popular boating environment, with Tewkesbury lying some miles downstream of the charmingly named Wyre Piddle at the confluence of the Severn and the Avon.
There was little evidence of any wooden boat activity on the Worcestershire reaches of the Avon, although our friends further upstream at The Boathouse in Stratford-upon-Avon still proudly operate a number of electrically powered wooden boats.
Check out these beauties!
Talking of wooden boats, we have a broad selection available immediately for new custodians who want to join the exclusive fraternity (and sorority) of boat lovers. 
Like their owners, these vessels come in all shapes and sizes.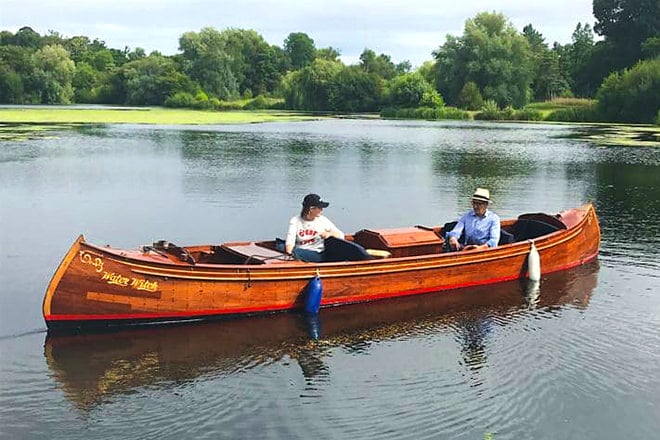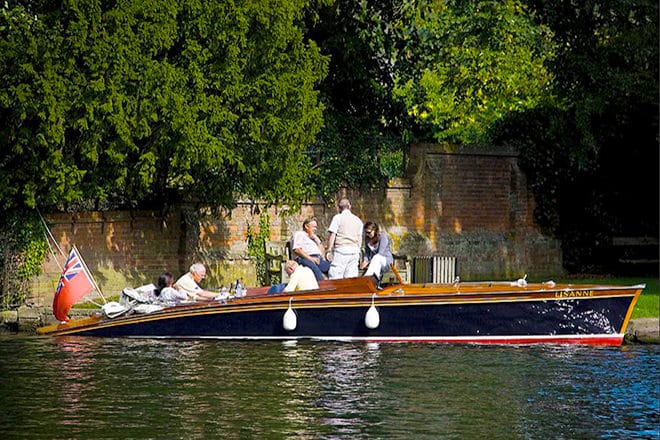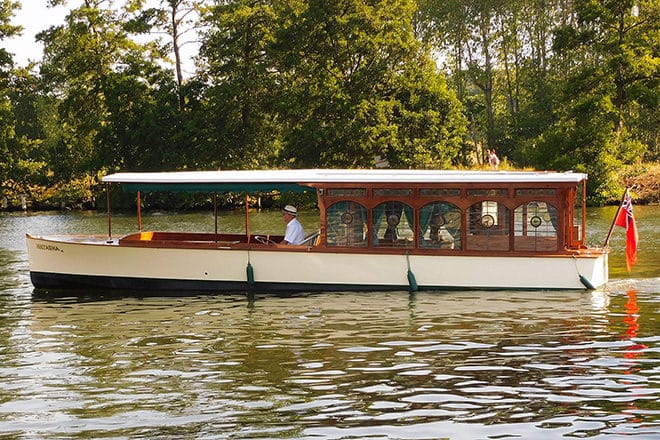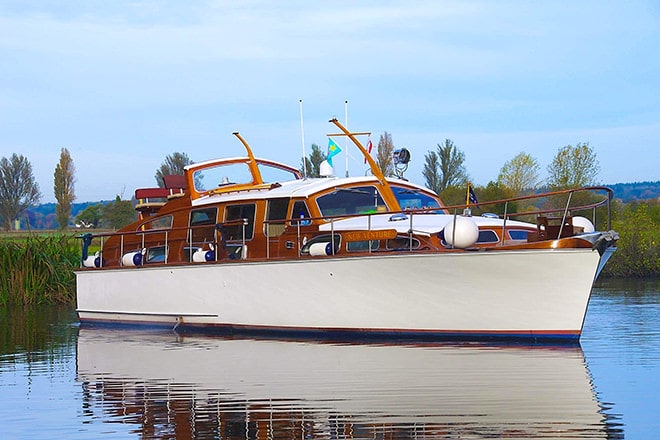 Love that lasts a lifetime ...
Over the years, many boats have come and gone from our website and indeed have contributed in some way to my own life story.
I once was the proud owner of 'New Venture'. She came with us to The Queen's Jubilee. The weather was inclement, to say the least, but memories were made during the historic event.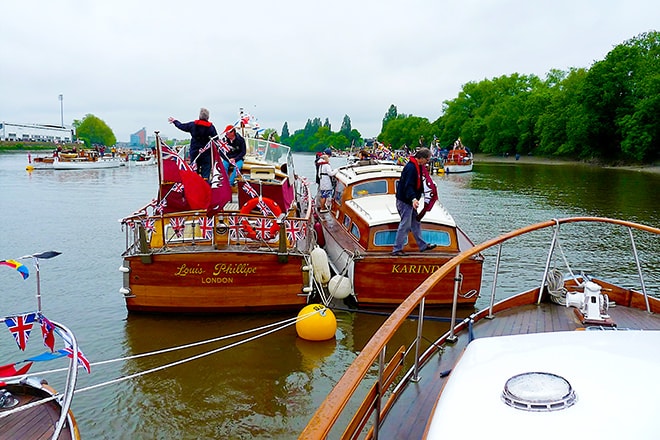 Many of the participants, and particularly those who spent the day in open boats, may remember this event principally for the appalling weather conditions. 
It is no exaggeration to say that it poured all day long, and we were all in admiration of good Queen Bess, who valiantly waved to every passing boat on that memorable June day.
See you at Cowes Classics Week!
It is always a pleasure to see an array of classic boats grouped together in one place. 
Obviously, we are all excited about the Thames Traditional Boat Festival on August bank holiday, and in the meantime, I am going to jump on the Isle of Wight ferry on July the 6th for a dose of classic wooden boat eye candy at Cowes Classics Week.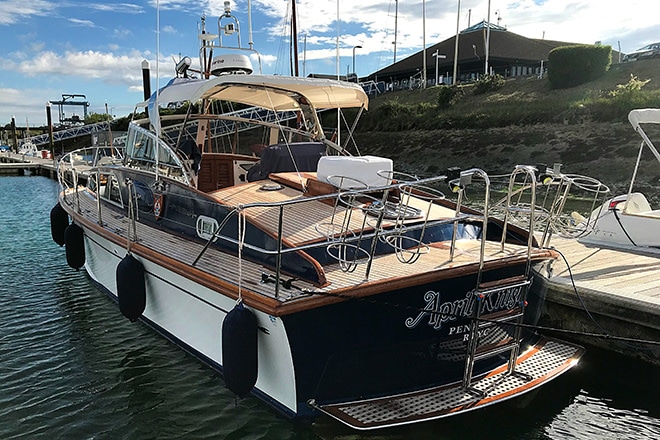 This is essentially a sailing boat event, but for the first time this year, they are inviting classic car and motorboat enthusiasts to bring along their pride and joy and join in with the day's events. 
It would be great to see some of you there, and I intend to report back on my day out in the summer newsletter.
Fun in the sun
In the early days of June day boat hire really took off and there were days at PureBoating when we were fully booked.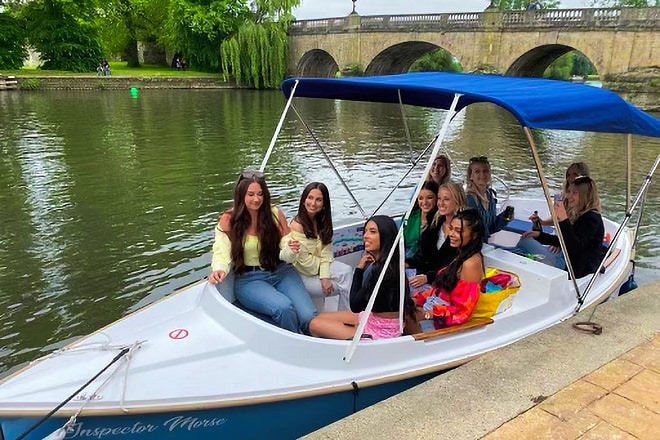 'Sapphire Rose' at The Beetle & Wedge is also beginning to gain traction for a preprandial outing, and our classic charter collection has recently added 'Tarbes II' and 'Breda' to the books.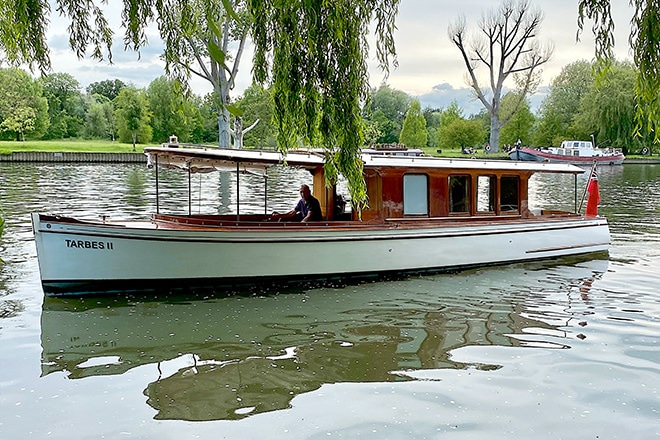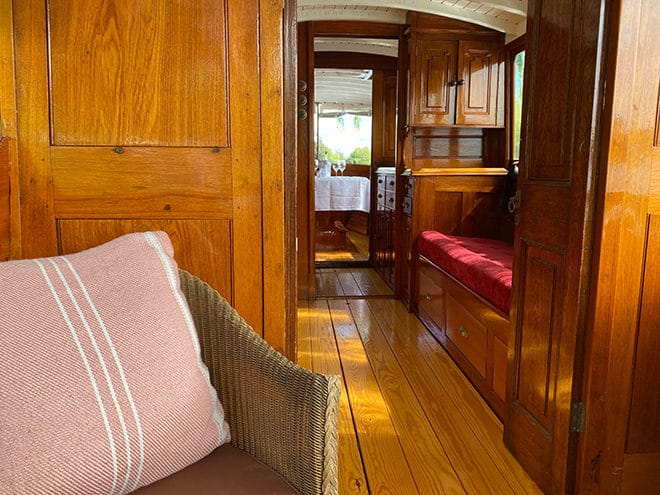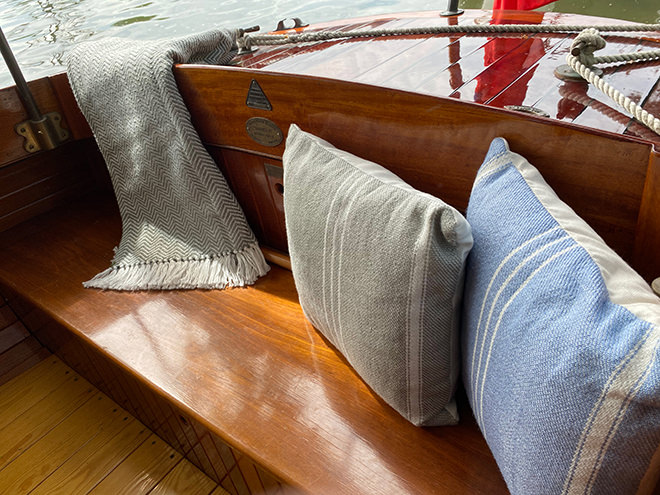 We are truly spoiled for choice and hope to have a busy summer on the Thames.
In the meantime at the boatyard ...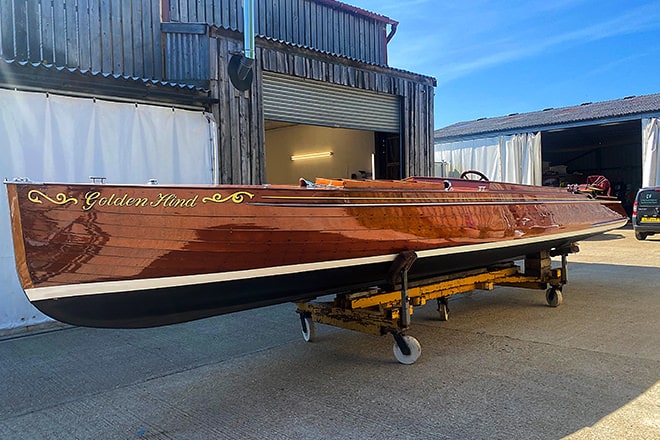 The boatyard team continues to toil with some interesting projects and has more in the pipeline. 
It feels eerily quiet at the yard now that most of the winter storage customers' boats have been relaunched; however, I suspect that Andrew and Ellie are enjoying being able to concentrate wholly on their projects without me throwing curveballs in their direction on a daily basis.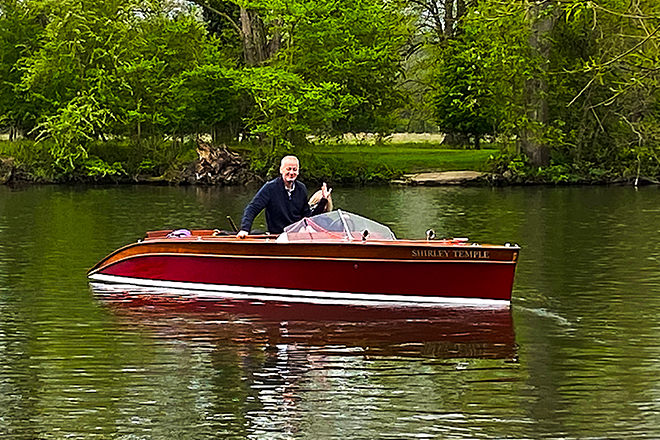 We never get enough of seeing our customers' happy faces. 
In the photo above, a delighted customer glides away from a Medmenham relaunch of his 'Shirley Temple' after an extensive paint and varnish job courtesy of Ellie and Andrew.