It would be very un-British not to mention the weather. Clearly meteorological conditions govern our enjoyment of boating and this year we are reaping the benefits of undiluted sunshine.
Each event, splendid in its own right, has been greatly enhanced by cloudless skies and balmy evenings. Who needs the Med when it's all here on our doorstep?
The highlight of the summer!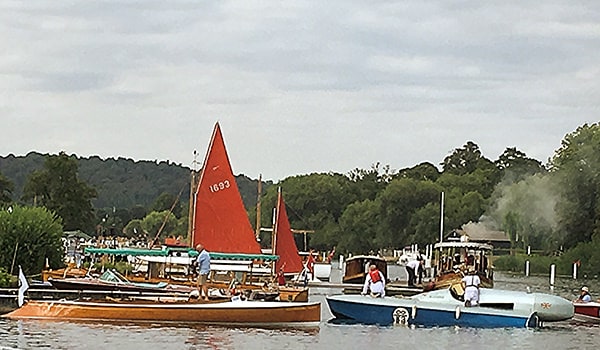 For me the highlight of all this summer's local events in Henley was last weekend's Thames Traditional Boat Festival. 
Admittedly I fried! Note to self: Buy a parasol for next year. 
You however were not deterred from appearing with your picnics and your prow polished for the occasion. 
Congratulations are due to those who won prizes, including Colin Henwood who had restored an exquisite electric canoe by the name of "Lady Emma".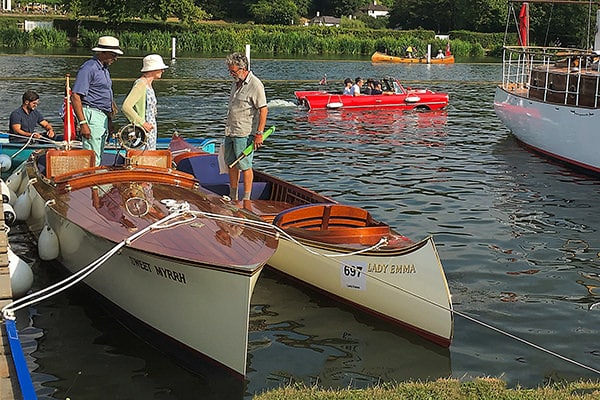 This event improves year on year and it is well worth planning to stay late as the evenings brought superb food from The Crooked Billet, late night dancing and an eccentric illuminated boat parade.
Eccentricity is of course the name of the game and how lovely it was to see steam cars, Tiger Moths and amphibious vehicles.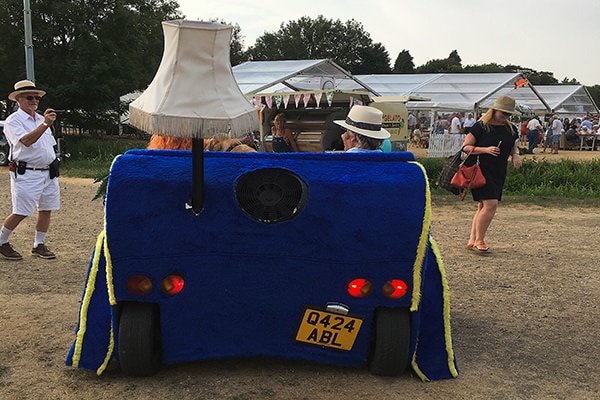 I see this event as a burgeoning rival to Goodwood Revival, which according to Humphreys of Henley is the place to be seen between the 7th & 9th of September. 
We shall not be there as frankly it has just become too expensive for us, and too disparate in its offering. Last time we went we were sandwiched between a generator serving a coffee machine and a shop selling frocks for £35. I am not a snob but I do think that the original idea of curating suitable and interesting exhibitors has fallen foul of Lord March's leanings towards Mammon.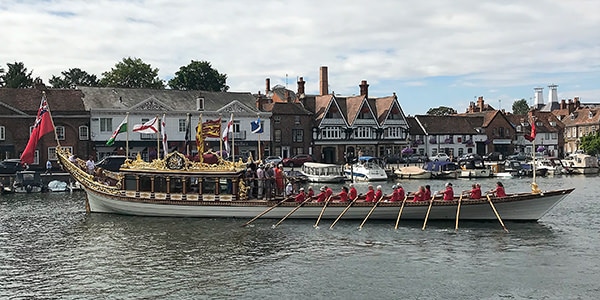 Of course for many the highlight of this year's TTBF had to be the appearance of the record-breaking speedboat "Bluebird".
For those of you who missed this wonderful once in a lifetime event, here is a snapshot of what we were able to enjoy for a brief moment on Saturday afternoon.
The return of an old friend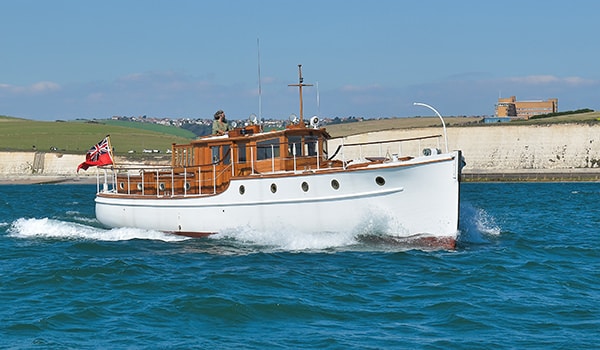 Just when you think things can't get any better lo and behold there was the resplendent 55ft Taylor Bates motor yacht moored close to Leander rowing club and in show stopping condition.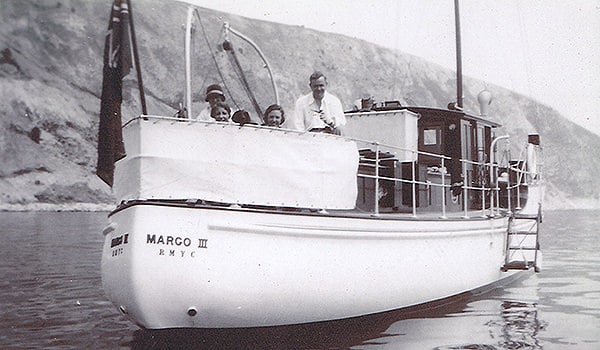 When we sold her in late 2016 she was called "Nerissa". However her original name on Lloyd's Register was "Margo III", and her current owner has renamed her "Karaboudjan" after a boat that was significant in the meeting of Tintin and Captain Haddock.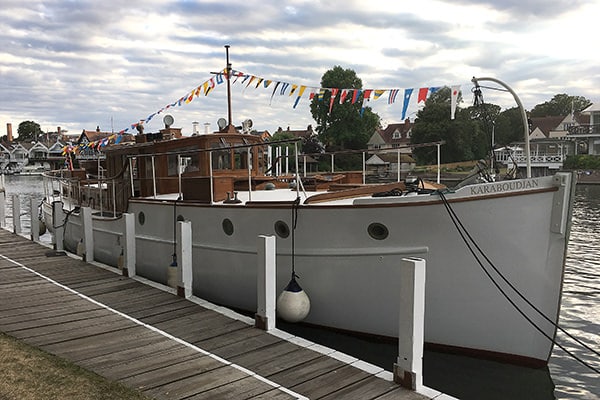 Vintage treasures right here in Henley
Why not brush up on your French this summer by rereading some of Hergé's wonderful Tin Tin adventures.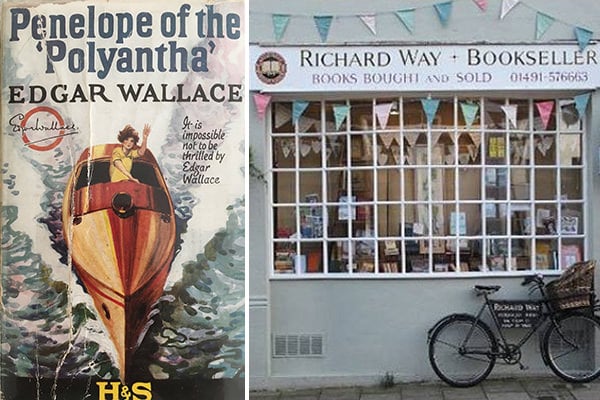 I shall be reading "Penelope of the Polyantha" by Edgar Wallace thanks to Diana from Way's bookshop at 54 Friday Street, Henley on Thames.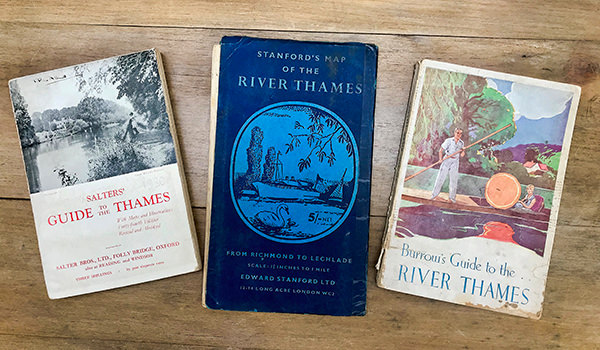 I can thoroughly recommend spending some idle moments browsing the many river related tomes on Diana's bookshelves, including some wonderful vintage guides to the Thames. As the river hasn't changed for the last 100 years (or more) these illustrated maps are a joy to behold and make fantastic presents.
Let's bring her back!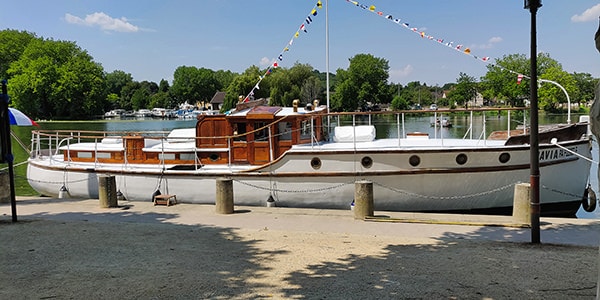 If you would also like to repatriate a fabulous example of British workmanship, come with me to the river Yonne (in France) to view "Davia", sistership to Wairakei II, also a Dunkirk Little Ship, as she is looking for a new owner.
Cruising for a cause
One of our customers is currently on a commemorative cruise around the British Isles in his boat "St. Joan" to celebrate the 100th anniversary of the formation of the RAF, and the 70th anniversary of "St. Joan" returning to private ownership after naval service. The vessel is circumnavigating the UK this summer, while raising funds for two charities, one being the RAF 100, and the other RNLI.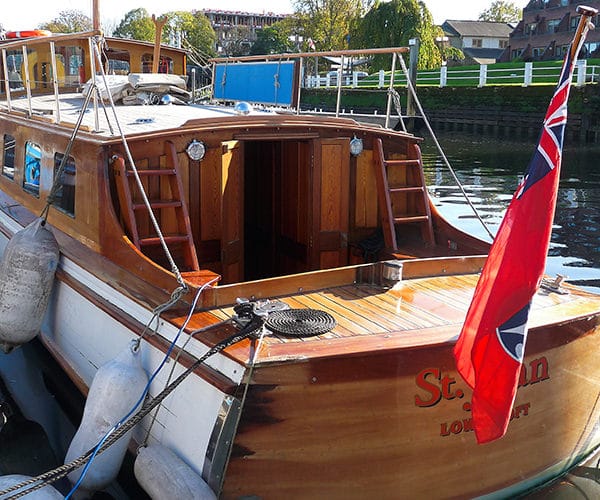 "St. Joan" is a 52ft express coastal cruiser built in 1929 by J. W. Brooke and Co of Lowestoft. She was requisitioned in June 1940 for service at RAF Valley, Anglesey, returning 8 years later into private ownership.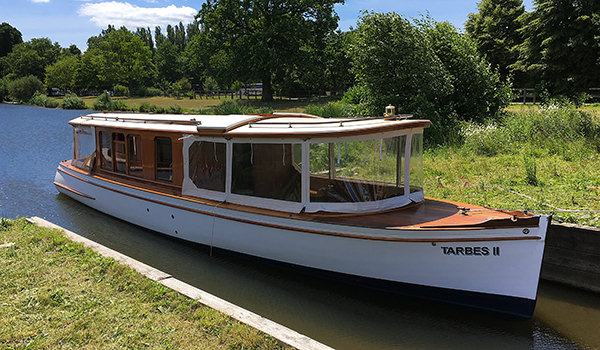 In the 1990's her interior was returned to its original layout by South River Marine in East Anglia. 
The same yard did some extensive restoration work on "Tarbes II" which has the most charming interior and is currently for sale through us.
Sexy enough for you?
Those of you who have recently acquired a slipper launch must be feeling smug, and possibly a tad overheated, unless you have purchased large straw hats and parasols for essential sun protection. 
Today just before sitting down with Barbara to put together this month's newsletter, I was driving "Jayfor" around Beale Park lake. Her 1950's side valve engine purred effortlessly and a good time was had by all. 
The prospective clients had asked to compare and contrast a 25ft 1950's Andrews slipper launch with a 1930's Fred Andrews twenty footer. Both are charming in different ways and how nice to have a choice.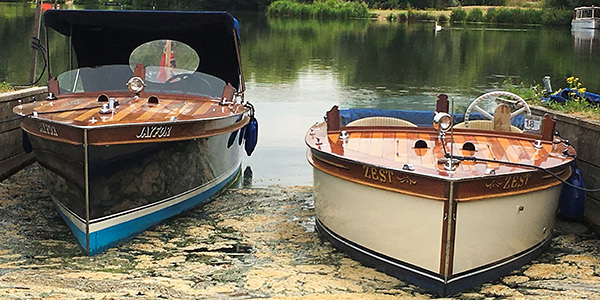 While leafing through an old Salters' Thames Guide I came upon this advertisement (below) for Bonds of Maidenhead, one of the leading hire companies of its time. 
I knew that they had a fleet of cruisers as well as electric canoes, but I was not aware of a boat named the Stiletto. If anyone has a photograph or indeed owns a Bonds launch of this type, could they please send us a photo.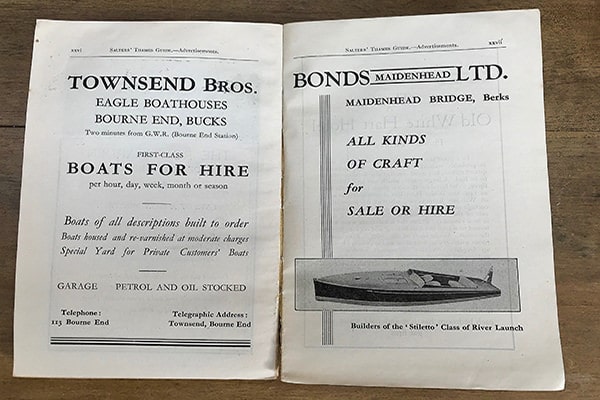 If you love that sexy, seemingly endless, forward deck stretching to the horizon (just a slight exaggeration) then maybe you should consider buying a Gibbs launch like "Rio" or "Golden Hind".
Both belong to riparian owners, and for an additional payment you could acquire a charming riverside residence along with "Rio".
Riverside refreshments in Goring-on-Thames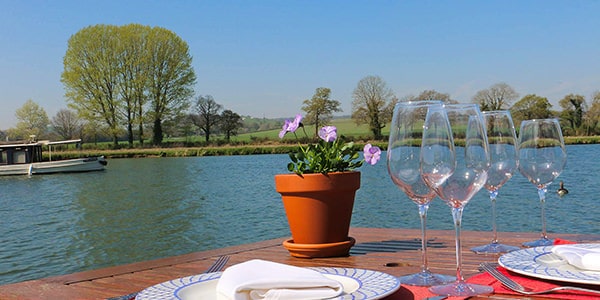 I was delighted to find out that Goring's Leatherne Bottel is back in business. The food is delicious. They have a lovely riverside terrace and welcome boaters to their moorings just upstream of Cleeve Lock. Worth a visit.
We love this quality contemporary classic!
Now for something completely different; the last PTS 26 I reported on was launched on a wet day into the river Dee in central Chester. 
This time the story was somewhat different. "Helena" was launched in mid May at the start of the heat wave and is a very attractive addition to the Thames scene around the Chertsey and Weybridge area. The purchaser has set up a small charter operation under the inspired name of "Time on the Thames". We hope to have "Helena" on the Henley reach for the Regatta in 2019.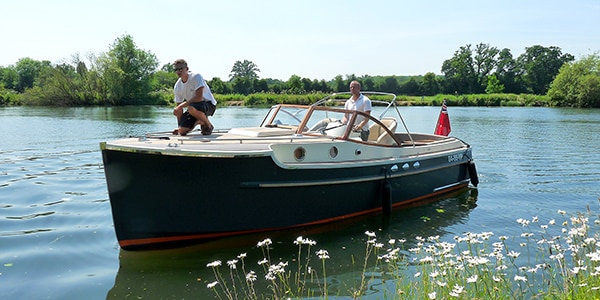 There is a great deal of interest in this spacious 26ft weekender and we are thrilled with the quality of the build. Let us know if you would like to view a PTS 26 as we now have two on the Thames available, and there should be two or three coming up for sale second hand mid September. 
If you think this could be the boat for you, please do register your interest with us by phone or email.
Closing shop
Some of our readers were fans of Boatique's nautical gifts and clothing. Our thanks to those of you who supported us during our ownership of the shop and also while Jules was at the helm. Unfortunately the pressures of the high street made the business unviable.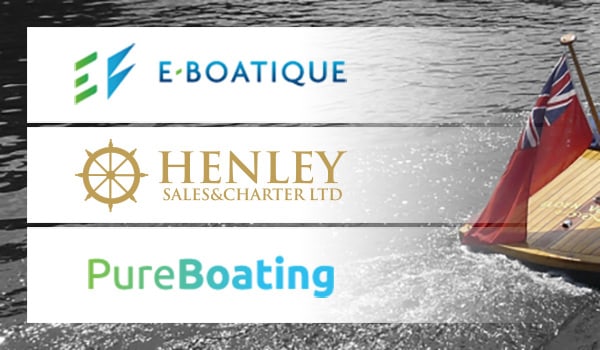 However the reason we decided to sell that part of the business in the first place was less a matter of economics, and more a matter of creating time in which to expand HSC's activities. 
This has proved to be a wise decision. PureBoating is thriving under the stewardship of retired lawyer Adrian Desmond. Such is the enthusiasm of Mr Desmond, whom you may have met on our stand at one of this season's events, that we have enticed him into the HSC fold on a more permanent basis. If you are having work done at Beale Park boat store or bringing your boat to us for winter storage (it is never to soon to reserve your spot), then you may find yourself dealing with Adrian as well as with the indispensable and gorgeous Gail Lewis. 
Stuart and I are very fortunate to have a skilled and passionate group of people with whom we enjoy sharing our growing business.
The cherry on the cake
I got a personal pat on the back from the editor of Classic Boat magazine in the August 2018 issue. 
In Rob Peake's editorial he talks about highlighting female figures doing great things in the classic boat world. And he writes: "There are many examples of leading women in today's classic world – Jane Coombs of Antigua Classic Yacht Regatta, broker Gillian Nahum of Henley Sales & Charter, and Joanna Powell, who runs the pilot cutter Agnes, to name just a few who are successful in typically male roles."
This is quite an accolade and possibly even more flattering than winning the Henley on Thames "Entrepreneur of the Year" award!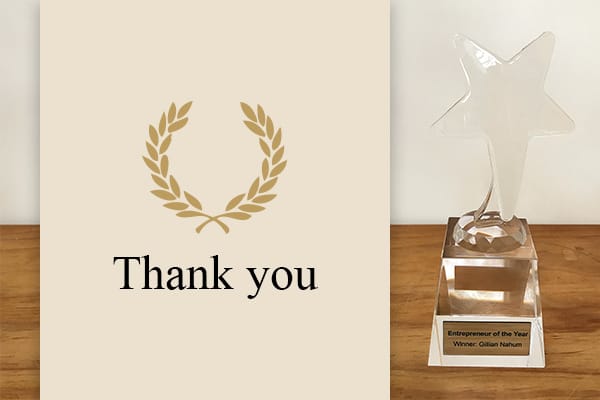 Being able to do what you love and help people in the process, is in itself a wonderful privilege, but being recognised for it really is the cherry on the cake. Thank you so much.
As has become customary in the annals of HSC, we offer you a month's respite in order to allow you to focus on boating with family and friends rather than just reading about it. 
So enjoy August wherever it may take you and if the urge to buy a boat becomes overwhelming rest assured our office and boat yard are open as usual.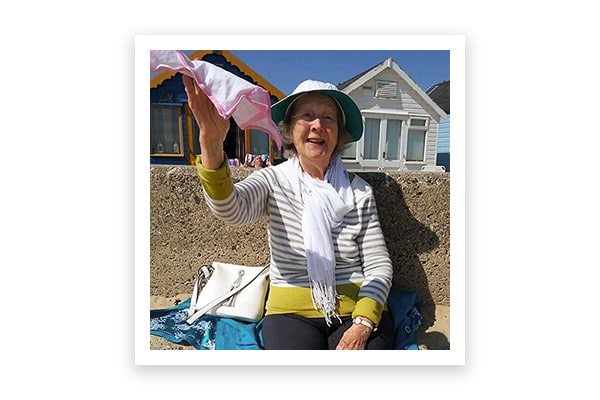 In loving memory of Muriel Nahum who passed away on July 7th, 2018.