Some of "our" boats are busy earning their keep as filmstars, while the rest of the HSC team (including myself) has been tremendously busy this month, both at the yard and in the office.
Best in Show (unofficially)
As the last newsletter went to press, I was heading for the Horning Boat Show in deepest Norfolk, where we were blessed with cloudless blue skies and crowds of enthusiastic visitors with time to chat.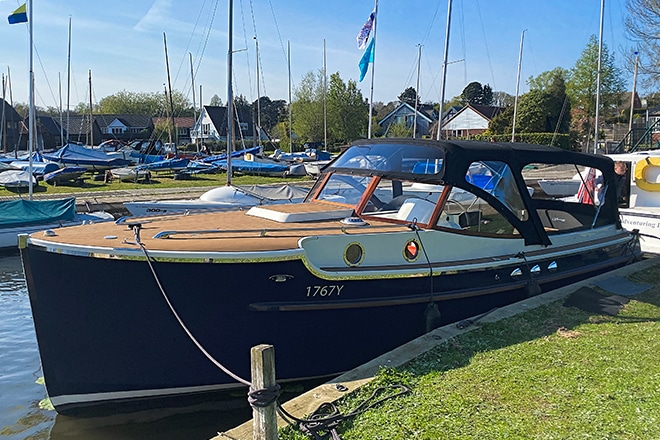 The PTS 26 loaned to me for the day attracted a huge amount of attention and was unofficially voted 'Best in Show'.
I enjoyed meeting so many new faces as well as bumping into colleagues from the trade and had a thoroughly enjoyable evening over dinner with Abbey (Boat Builder). She has relocated to Norfolk and is now very much the star of the local traditional wooden boatbuilding scene. You, too, can follow Abbey on Instagram @abbey_boat_builder.
Exclusively British-made coastal clothing!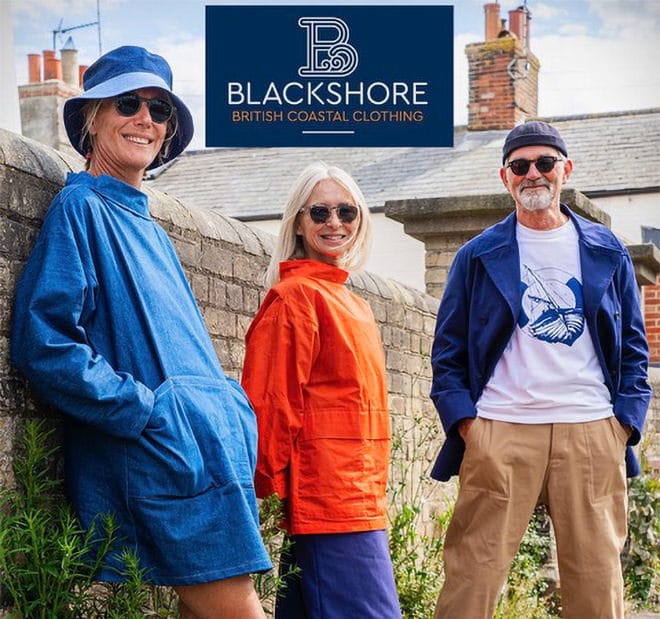 Another fortuitous encounter at the show arose from a casual conversation about my former shop - aptly named 'Boatique' - which some of you generously frequented, both in-person and online.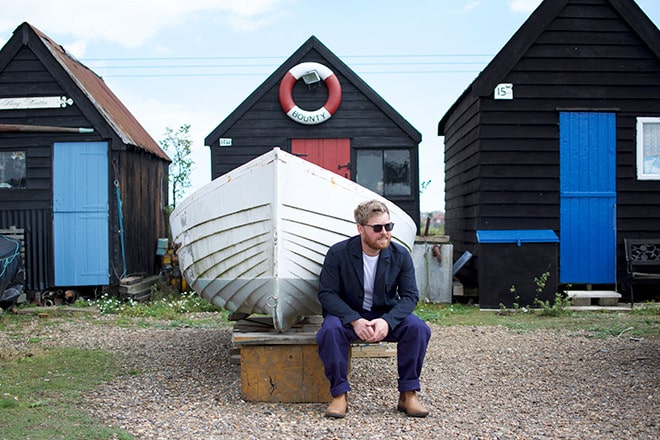 Two brave 'boaty' souls have launched a business based in Suffolk which designs, makes and sells a boutique range of genuinely British clothing. To eliminate waste from over-production BlackShore makes to order in the fabric of your choice, promising to deliver within three weeks.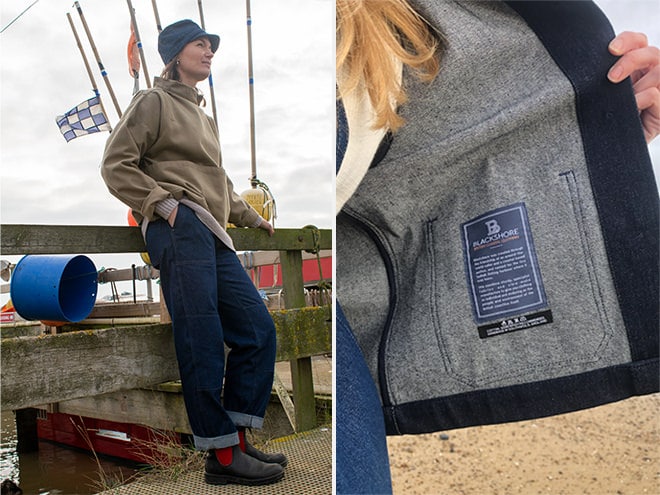 I am already a very satisfied customer, having received my jacket in a week, and I love the fabric and the attention to detail. If you are interested in refreshing your seaside summer wardrobe, visit https://blackshore.cc.
Bespoke carpentry by Ellie
Closer to home in our boatyard, Ellie has completed several interesting projects over the winter, including a rather niche piece of bespoke carpentry on a slipper launch. When a new owner started investigating the history of his boat, he discovered that it was previously named 'The John Andrews' after its builder, belonged to the owner of the Myers's Rum company and cleverly renamed the vessel 'On The Rum'.
He commissioned Ellie to fashion a folding table, a stand for the rum bottles and some suitable glass holders in mahogany. I think you will agree that the result is impressive.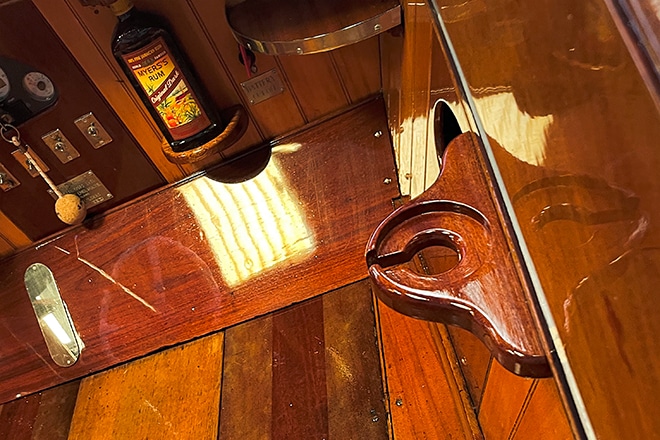 In the presence of history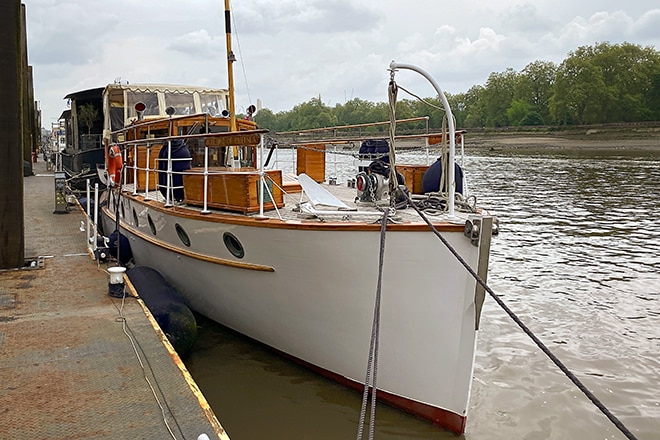 Classic boats are all about detail, and from the moment you step into the wheelhouse you are entering a different world. I love being enveloped by the ambience of an old boat or indeed an old car.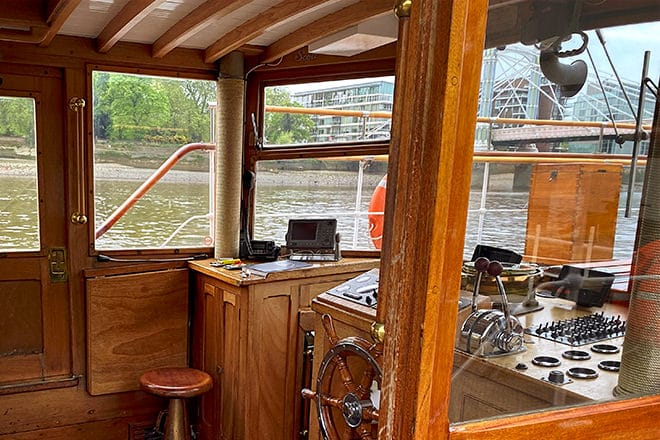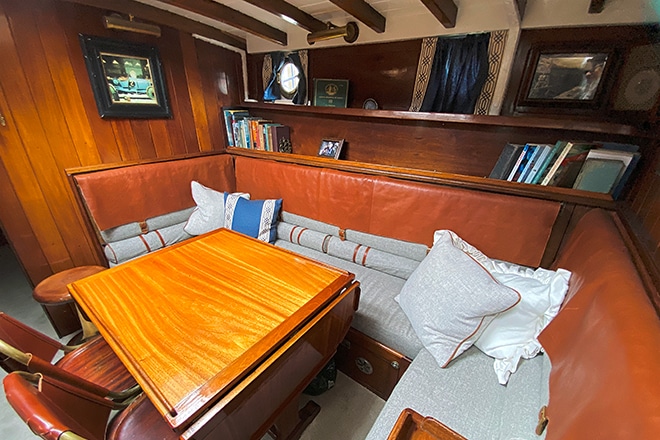 I feel that it is one of the privileges of my role when owners welcome me onboard their cherished vessel, inviting me into a little piece of their life and their boat's history.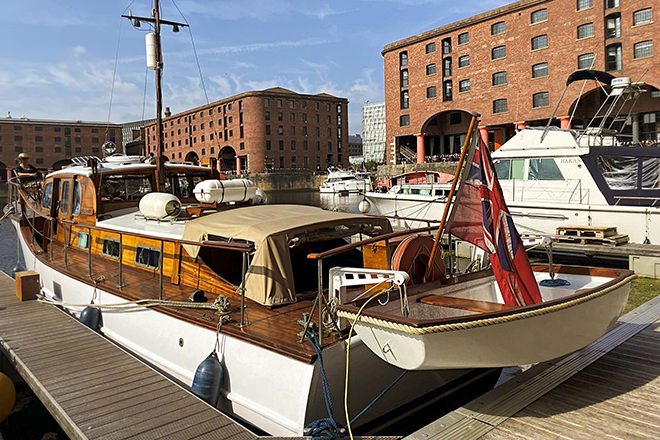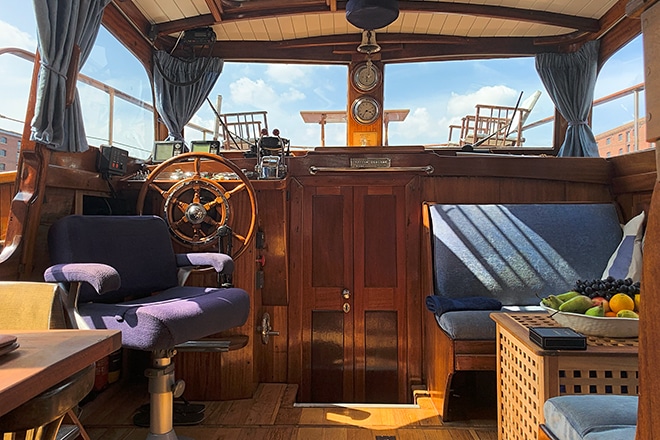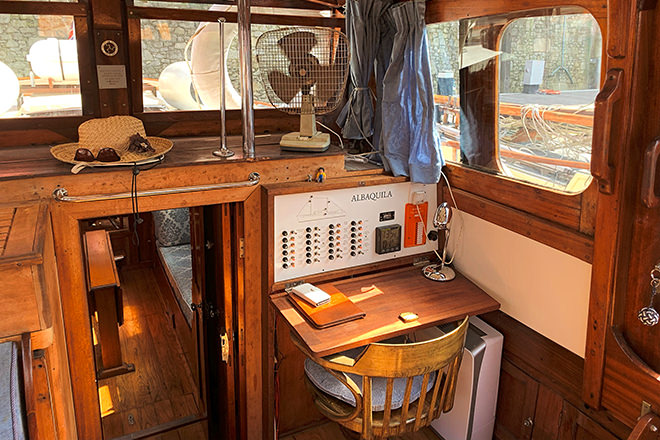 If you are interested in more information regarding the sale of either of these boats, don't hesitate to contact the office.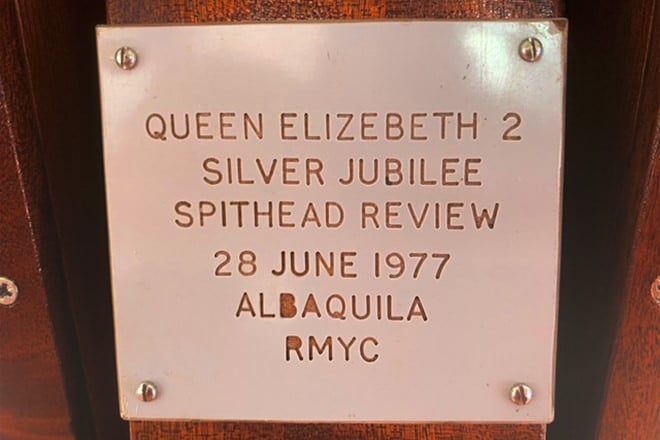 Celebrating the Platinum Jubilee
Many towns and villages by the water are holding parades in this extraordinary platinum jubilee year. If you know of one, or are participating in one, please send us photos, advertisements etc.
For example, the Star Craft Owner's Club is gathering close to Windsor Castle in the hope of a wave from Good Queen Bess II. Several of these mid-century motor cruisers were with us at the Diamond Jubilee 10 years ago. We are sincerely hoping for better weather a decade later.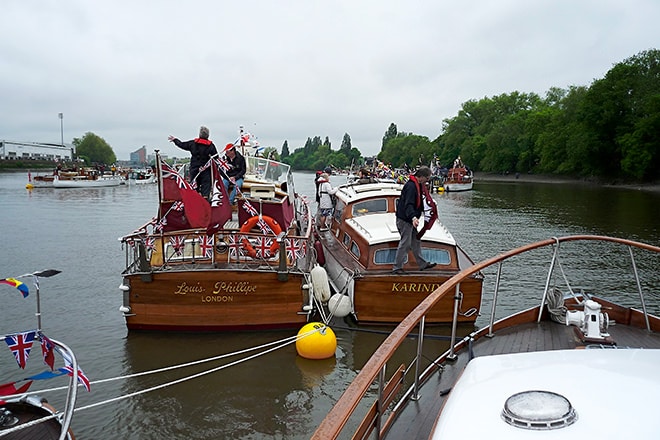 Incidentally, 'New Venture', once the location for many a happy family holiday, is for sale again as the current owner has decided to embark on a full restoration of a sea-going Dunkirk Little Ship which he can keep on the sea close to his home.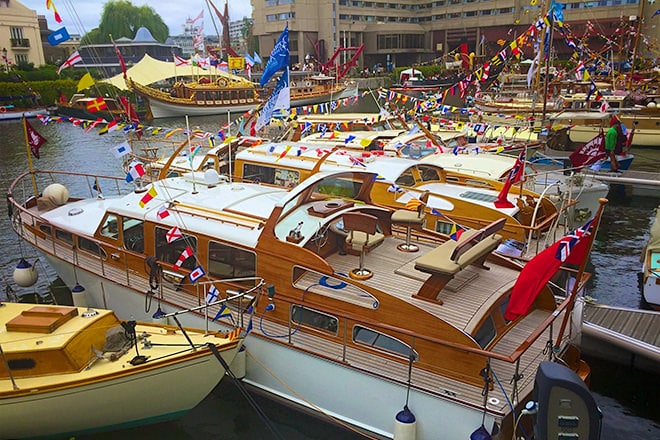 Regal connections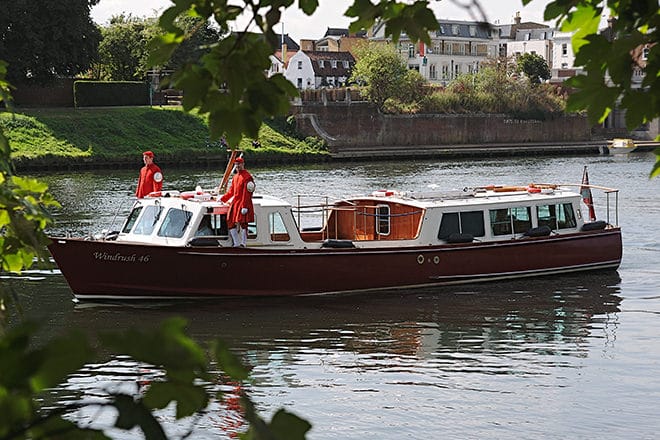 Another boat with regal connections we have on brokerage is 'Windrush 46', pictured here complete with Thames Watermen in full regalia. While she would make a great passenger launch for charter, as she has for the current owner, I actually think that with a bit of judicious interior design savvy, one could turn the generous proportions of the cabin and cockpit into a fabulous private boat. Uniformed staff are an optional extra!
Come rain or shine ...
Come rain or shine; we Brits know how to dress for the weather and carry on regardless.
Our skipper Eric took this photo on a recent outing where a group of 30 somethings hired 'The Preterist' from The Beetle & Wedge to celebrate a birthday.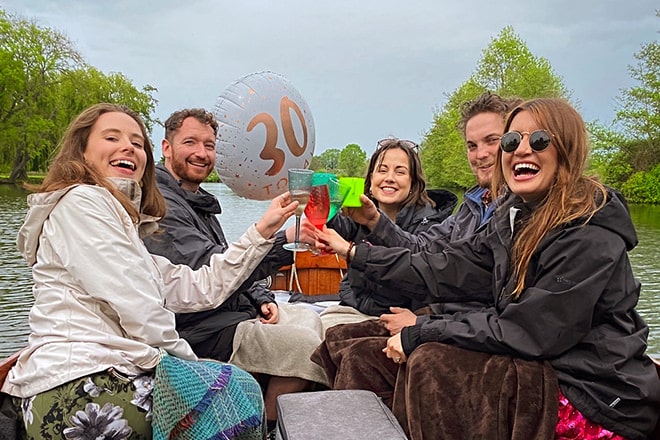 The Swan at Streatley collaboration launch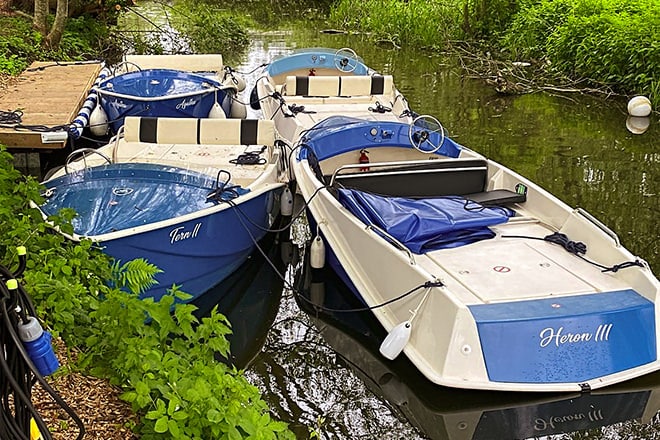 Talking of celebrations, on May the 6th we launched our new collaboration at The Swan at Streatley, where Pure Boating now has four 5-seater electric boats for hire as well as 'Sapphire Rose', which is a smart replica of an early 20th-century beaver stern launch (seats up to 10).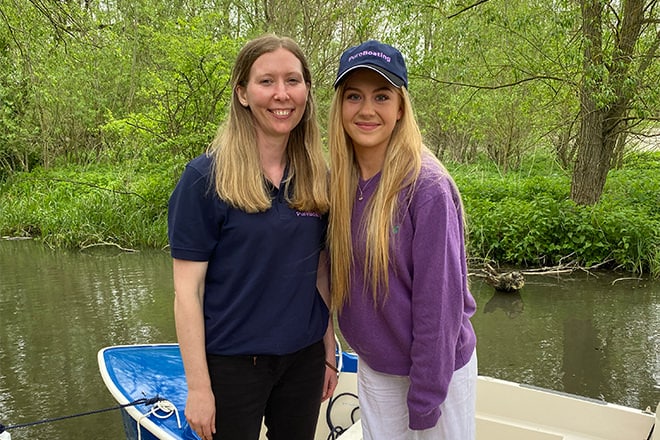 The locals appeared to be loving having the opportunity to get afloat right there on their doorstep, and in time we expect that the lively Coppa Club will also fill our boats at the weekends.
From May the 16th, you will be able to order a Coppa picnic online to take with you on your cruise.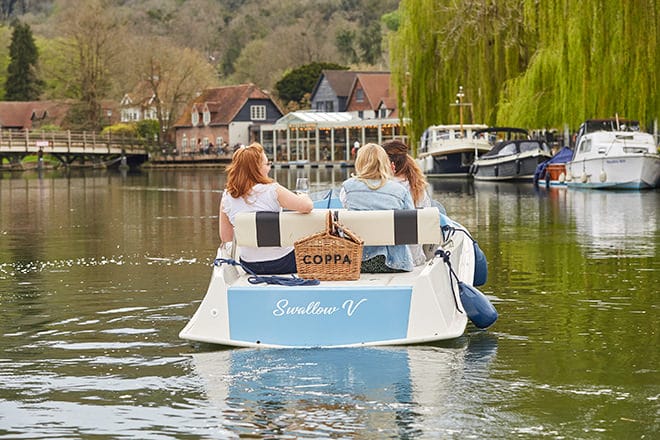 Wallingford boat hire
Further upstream we re-opened on May the 1st at The Boat House in Wallingford.
We have three 7-seater Scoops there as well as our 11-seater 'Inspector Morse'. For the summer holidays, we will be adding another boat, possibly the new 8-seater Elite.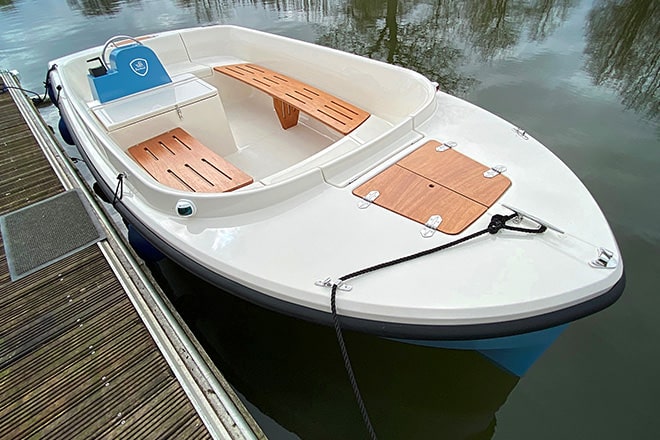 Buoyant electric boat sales!
Private sales of electric boats remain buoyant (excuse the pun), with 'Hero' leaving a couple of weeks ago and enquiries strong for both classic and contemporary models.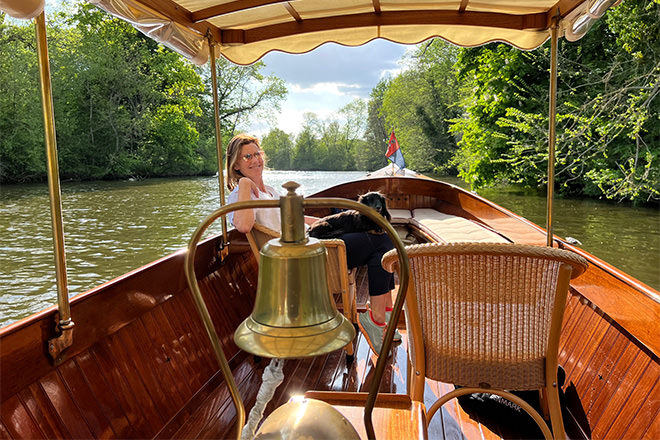 'Hero' may have been built in 1898, but when she left the yard she looked like new.
Equally, 'Barn Owl' departed from Dennetts, heading back to the Broads, whence she originated about 70 years ago. She can now reclaim her original Broads Authority registration number.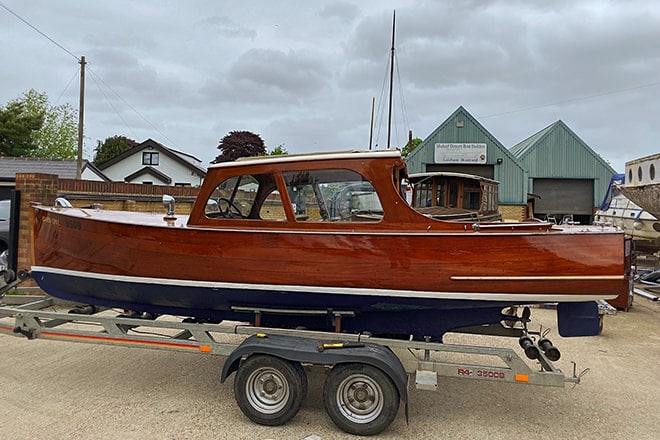 Watch this space ...
Watch this space for an update on the build project currently underway in Switzerland, where I ordered a Bermuda 505 last year. It looks like it is finally in build.
I will keep you updated as it progresses, and with luck the boat will be in the UK in time to celebrate 30 years of HSC.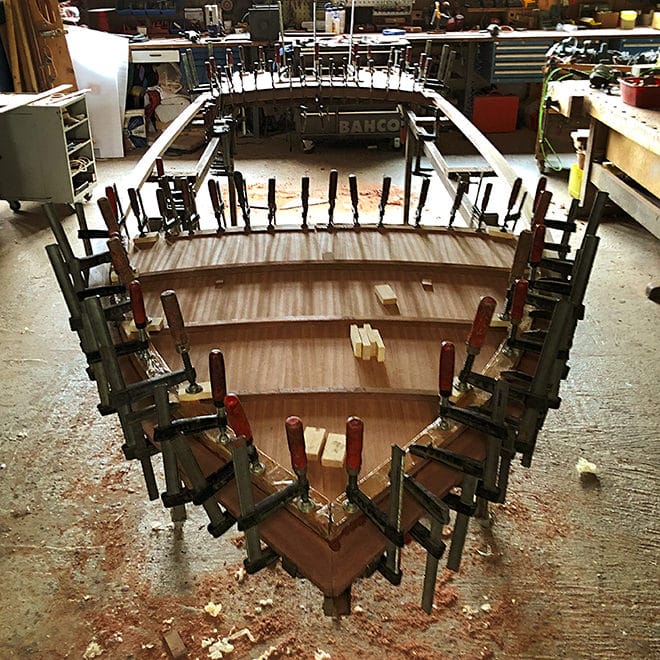 Stunning ethereal music
When I leave the office on a Tuesdays I look forward to a complete change of tempo as I head upriver to Wallingford to rehearse with the Benson Choral Society. Among our choristers are a number of fellow boaters and even our amazing pianist, Anita D'Attellis is a keen canoeist.
The choir's summer concert includes Edward Elgar's 'Sea Pictures' made famous by Dame Janet Baker and apparently sung for the composer himself by Dame Clara Butt when she appeared dressed as a mermaid. You are not required to come in costume to Dorchester Abbey on June the 25th though.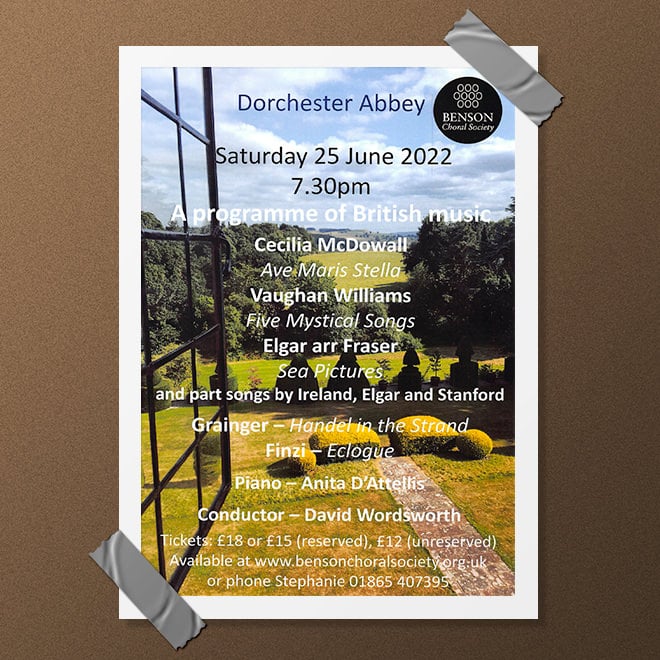 Another incredibly moving piece which would make your river voyage to Dorchester extremely worthwhile is 'Ave Maris Stella', a beautifully lyrical example of work by a contemporary female composer, Cecilia McDowall.
The notes to the musical score tell us that the piece was commissioned by The Portsmouth Grammar School and would premiere on Armistice Day 2001 by The Portsmouth Chamber Choir.
McDowall writes that she had already started work on Ave Maris Stella when the events of 9/11 forced her to reconsider her choice of words. Suddenly her original selection of war poetry seemed too disturbing, too provocative and raw for such a sensitive occasion as Armistice Day. As a result, she thought again about the text, wanting to bring something to the work that would have a more personal significance for Portsmouth Grammar School and for the City of Portsmouth with its great naval heritage.

I truly regret that I will not be present in Dorchester abbey on June the 25th as I shall be on a boat trip elsewhere, but more of that next month. I would urge anyone with an interest in music and a love of British ecclesiastical architecture to head for a Day's lock mooring so that they can enjoy a weekend of stunningly ethereal music in a beautiful pastoral setting.
Tickets are available online via the website or by phone on 01865 407398.