Forget dreaming of a white Christmas and substitute these well-known words with a "white February" for a more realistic image of our recent experiences.
While our Dutch counterparts have been skating on the ice, we have been able to build decent snow sculptures here and relieve the boredom of lock down with some serious outdoor activity.
Rarely a dull moment at HSC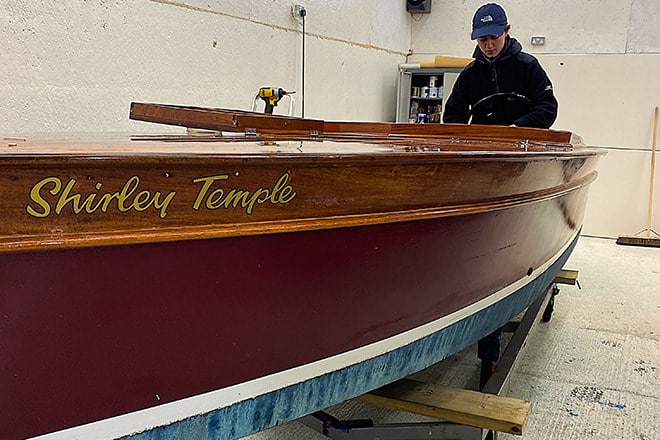 There is rarely a dull moment at HSC. The yard is busy and we are meeting on Tuesday to discuss the long-awaited return to the river forthe 30 plus boats we have been looking after over the winter.
While we have been planning spring and summer 2021 with some trepidation given the underlying uncertainties, the sales office has been having sporadic bursts of activity with three boats selling last week and a few steady enquiries trickling in for sales and even charter.
Come see us at Beale Park and bring the kids!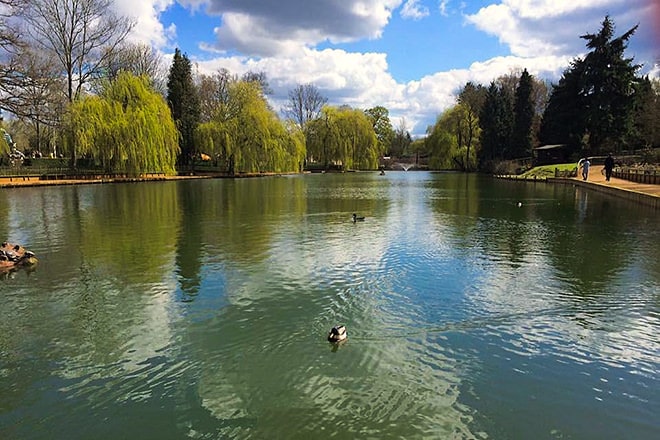 The team is expanding again, and we are very happy to have Tim Saunders joining us. His background is in major civil engineering project management, so managing our team of summer staff should be child's play for him.
And children there will be, as we have just confirmed a partnership with Beale Park Wildlife Park & Gardens to run a number of highly decorative waterfowl-themed electric boats, suitable for a child to drive with up to 3 other passengers. I just hope that the new Beale Park crocodile understands boundaries and keeps to his own pond!
Calm before the storm
During the calm before the storm, which the 2021 season undoubtedly will be again, I have been enjoying reading back numbers of Classic Boat and Watercraft magazines, while relishing an excellent book on Venice translated from the Dutch.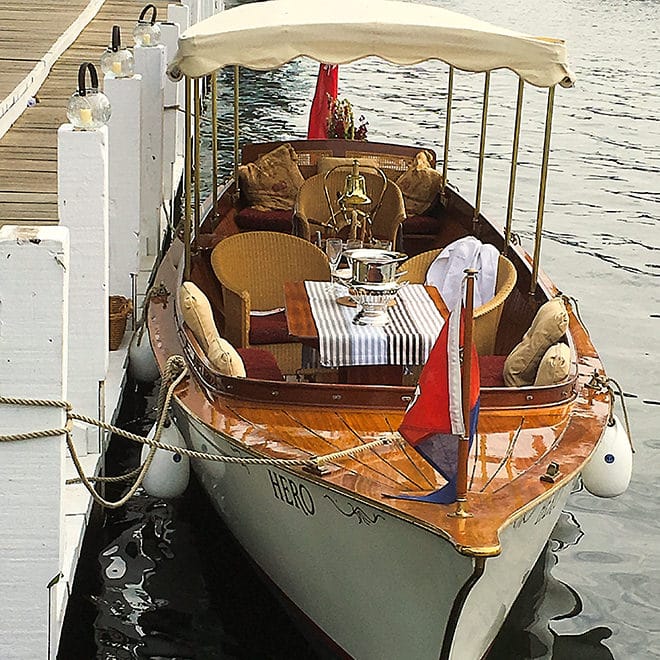 Readers' emails have been entertaining too, particularly those which talk about boats we have for sale, such as "Hero".
Into my inbox one day, popped a missive from the son of the skipper of "Hero" during the days when the boat was owned by John Player, and was used nationwide for advertising and marketing of the John Player & Sons' tobacco and cigarette brand: Player's. He appears to have been surrounded by scantily clad Player's girls whom he also had to chauffeur around the country to various events.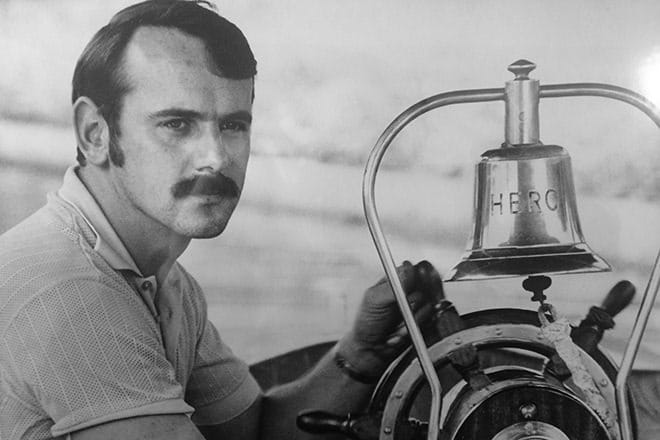 Pete Kellett writes, "For most of her life with Player's "Hero" was to be towed round the country by a Landrover, with 6 Player's girls aboard, attending rallies and events giving out rides and free cigarettes. The PC brigade would throw a fit these days but it's part of history. There's a fair few slides I've just remembered. I'll dig them out and get them digitalised. As people pass and memories fade, hopefully most of these things can stay with or near the boat."
Thanks Pete, for getting in touch and we look forward to cataloguing your photos with the boat for her next owner. Or should that be 'custodian'? Are we not all simply custodians when we accept to take care of an historic boat for a few years of our lifetime?
A special River Thames personality
One person in particular springs to mind in terms of custodianship. I mentioned Bill and Penny Rose specifically last year when Bill's book of objects from the Rose collection finally appeared. Last month I announced the purchase of a permanent home for what is now to be called "The Rose Toop Collection".
Sadly, on Thursday 11th February Bill succumbed to frailty and was collected by Charon the boatman for his final journey across to the other side. His wonderful widow Penny, who was born by the river in Bray and brought up in a boatyard, lives on to accompany Adam Toop in a joint venture which will see both their collections housed in central Henley.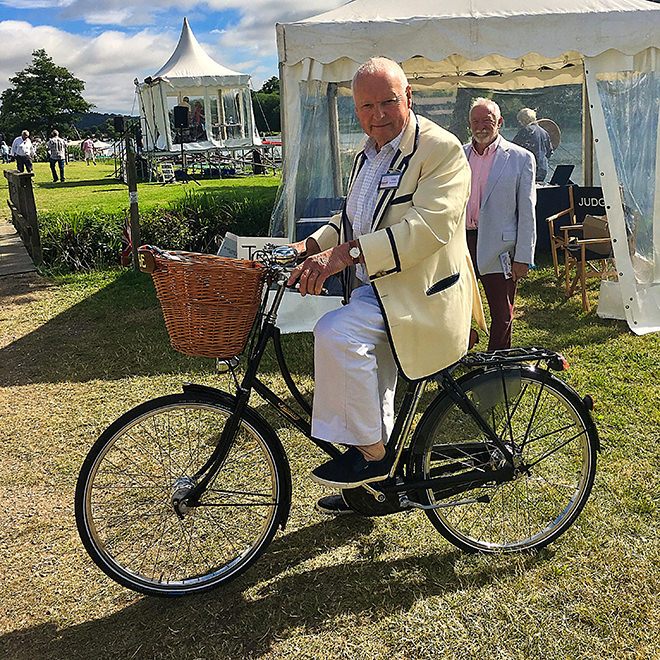 As Penny recounted, she met Bill when the family boatyard was beingwound up with boats and ephemera being sold at auction. He bid for five boats and left with a wife to be, and a son he was subsequently to adopt.
How lucky are we to have so many stories and so many characters to enhance our daily existence? I am sure that if we are able to gather for the Thames Traditional Boat Festival 2021 in July, we will be remembering Bill and celebrating his life as a special river Thames personality.
In a previous life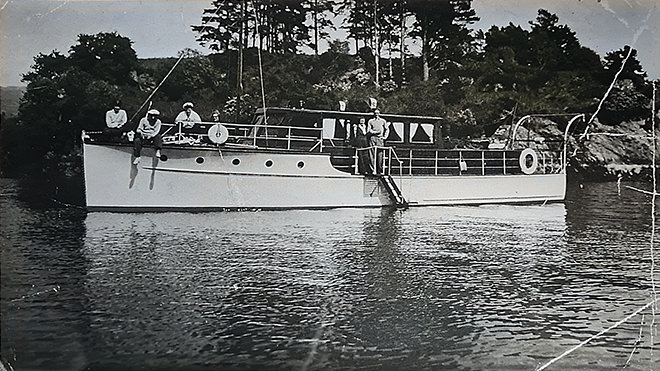 I also recently received a letter from a gentleman who had owned "Moja" (currently on brokerage and looking for a new custodian after many years with the present owner).
Keith wrote, "At one stage the boat was in the Florida Quays with V8 petrol engines - with a shallow draft it was ideal for rum running. Shipped in 1940 to the UK by its owner as a member of the special boat squadron."
Keith bought the boat in Scotland and used it on the Thames until he sold it after a Freebody refit twenty years ago.
We absolutely adore stories like this from our readers and clients. Please keep them coming!
Oh, how we LOVE our boats!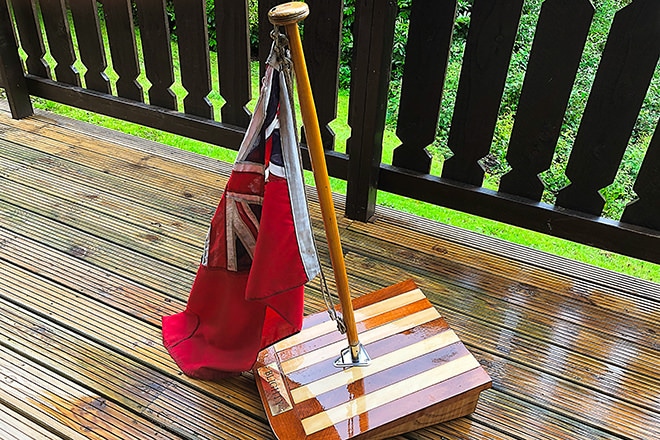 Readers of Classic Boat Magazine may have seen that one of our owners was so upset at having to sell his slipper launch, that he had a carpenter build a miniature replica of the aft deck on which he proudly mounted the original ensign.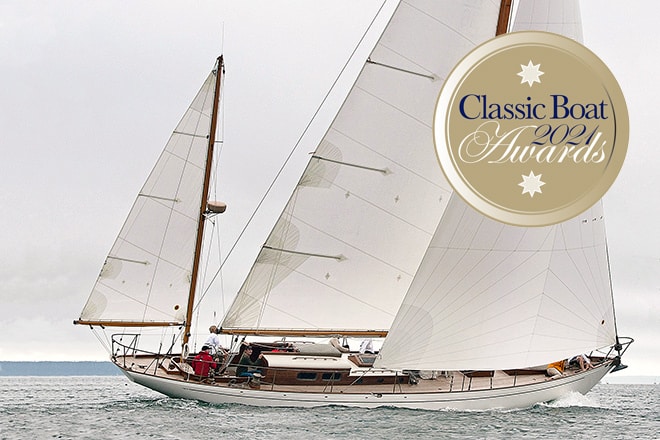 Talking of Classic Boat Magazine, please take a moment to vote for our PTS 26 to be awarded the 2021 Classic Boat Award in the category: New Powered Vessel.
It is not too late and any one vote can make a huge difference!
The wrath of the river!
Occasionally things go wrong and particularly when the river is raging, and a bankside mooring becomes hazardous to the point of 'too dangerous to approach'. This was the case last week when after shedloads of rain and melting snow we were called to a sinking locally.
Thankfully our insurers were reassuring, as insurers should be, and within 24 hours the boat was refloated and off for cleaning to a specialist yard on the other side of the country.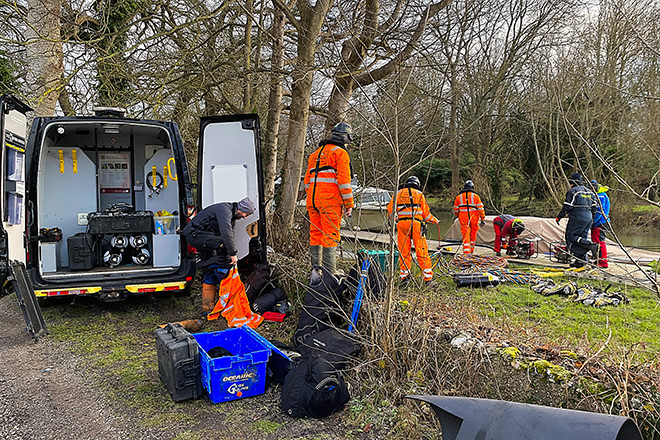 I make it sound easy!
For mere mortals it would have been impossible but once a rescue operation had been organised (in zero degrees) by the inimitable Nick Barke, comprising of 2 divers, 4 opos, 1 unflappable engineer, a rescue launch with 115 hp outboard, two pumps, two trailers, a low loader and three incredulous bystanders (myself and the owners), the boat as good as popped up and away everyone went.
It was back to the Isle of Wight for the divers from MMC, to Essex for Nick and his team, and to our respective hearths to warm up for me and the owners.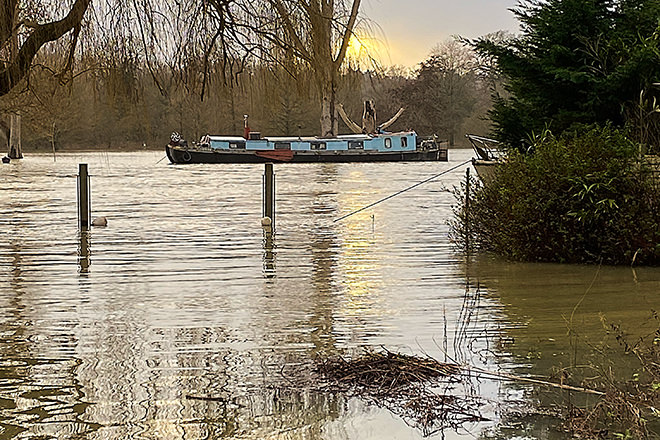 The moral of the story here is to never underestimate the speed with which the river can rise or how easy it is to get your boat caught on or under a moving pontoon when the water is starting to subside.
Winter storage really does make sense even if the investment seems unnecessary when you are enjoying an afternoon of balmy autumnal boating.
Utopia or Orwellian nightmare?
Some of you will be lamenting the lack of winter sun as you might have been planning to escape to a charter yacht to top up the tan and bolster the vitamin D intake.
If you are now determined to make a more permanent move, you could consider island living 21st century style.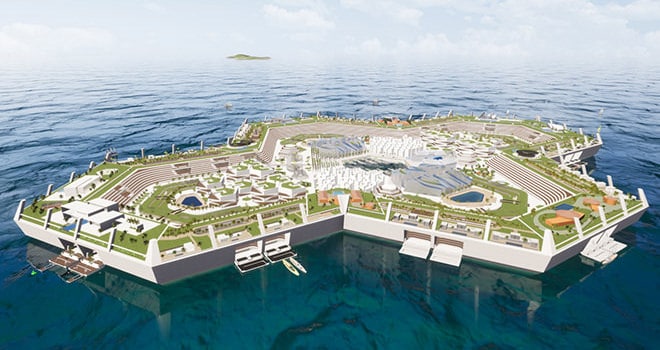 I came across this project while reading an online boating magazine and wondered a. whether it will ever come to fruition and b. how the 'island' governance will work in practice. It could be a utopia, but it might also be an Orwellian nightmare.
If any of our readers decides to apply for 'citizenship' please send in regular blog posts so that we can see for ourselves which of the above applies.
It is funny how life works
As I write on February 14th our futuristic America's Cup team Ineos is losing to the Italian Luna Rossa Prada Pirelli (not a novel type of pasta despite the branding). Sir Ben Ainslie will struggle to pull it back but there are more chances as the cup goes to the first team to achieve 7 victories.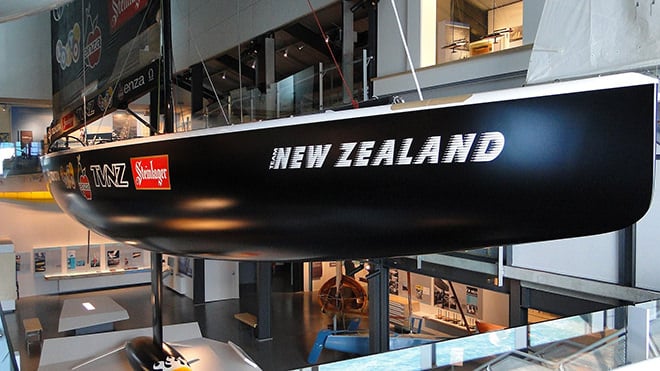 The romance may still be alive, but the boats are radically different from the first iterations of the America's Cup in 1851 which was then known as the Hundred Guineas Cup. The winner was the schooner America and so the race was renamed The America's Cup. The trophy remained in the safe keeping of the New York Yacht Club until 1983 when Australia won. Subsequently America fought valiantly to retrieve it until 1995 when New Zealand took it home.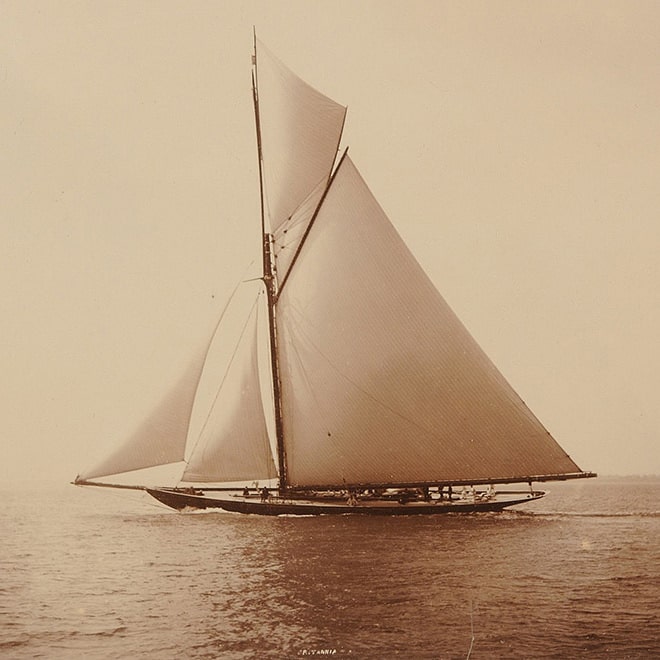 It must be said that with each iteration the cup has encouraged innovation.
Back in the post-depression nineteen thirties J Class era when the first 'Britannia' (Ainslie's vessel also bears this name) was converted to go faster under the American Universal Rule Measurement, cost seemed to be immaterial and owners themselves would helm the boats, including the royals who owned the 102 ft Watson designed 'Britannia' originally built in 1893.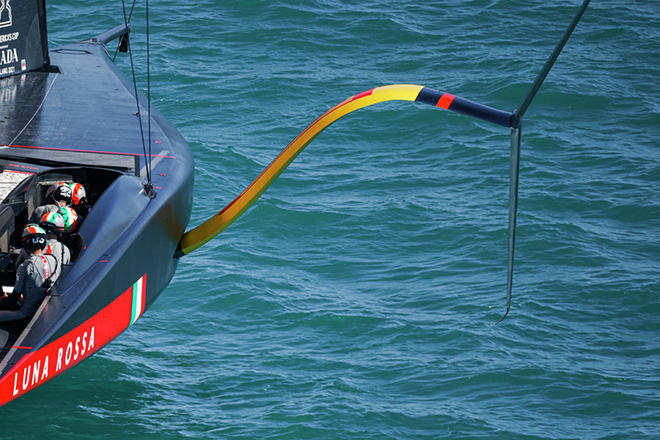 Today the boats are built under strict secrecy as brand ambassadors invest many millions in the hope of a victory. Professionals are at the helm and the boats are at the forefront of technological innovation. Britannia mark II is influenced by the Little America's Cup wing design.
This lesser-known race was indirectly the reason I myself got into the boating world. One of my first acquaintances on moving to the UK in 1986 was a Concorde pilot who was sailing in the Little America's Cup. He introduced me to my first boating business boss and the rest as they say... is (ancient) history.
STOP PRESS!!
As we await to hear from the Henley Royal Regatta committee, it is safe to say that the Regatta is postponed this year and will probably be relocated to Dorney.
Here are some great shots of Regattas past to bring back some memories for now at least.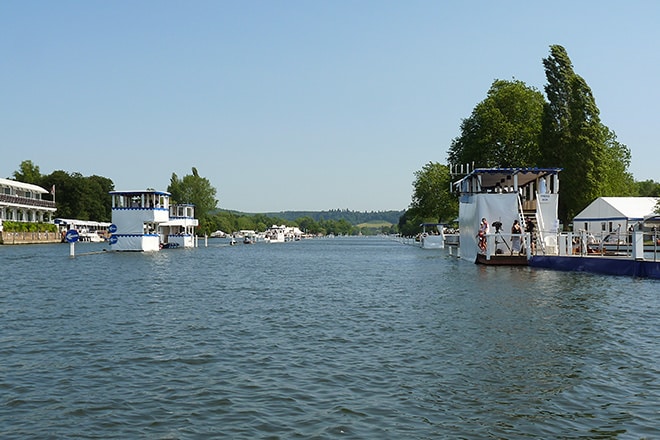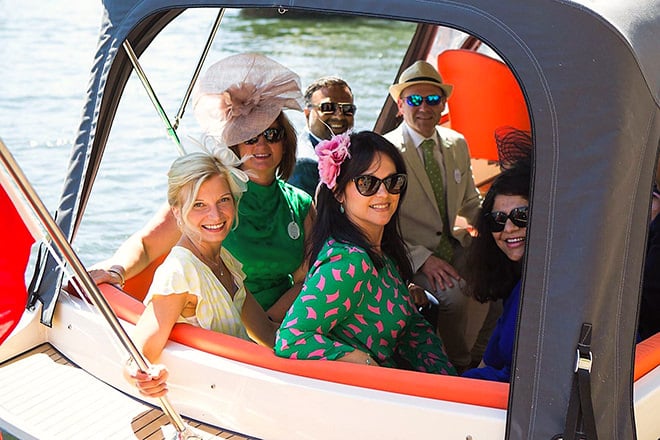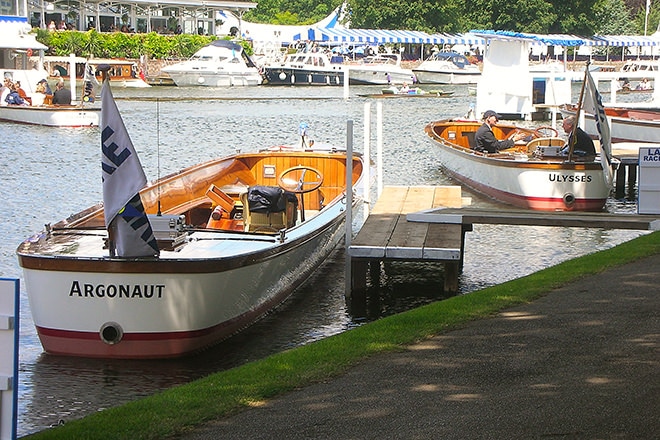 Watch this space as we update you when we find out more.
All that said ...
I hope that in the March newsletter I will be able to offer an optimistic picture of the forthcoming season's boating activities. Certainly, we are hoping to have our new electric boats safely delivered and ready for action at Pure Boating in two locations, news of a possible third joint venture and plenty of attractive and practical boats for sale on brokerage.
In the meantime, keep an eye on the website, email me directly and keep the stories flowing.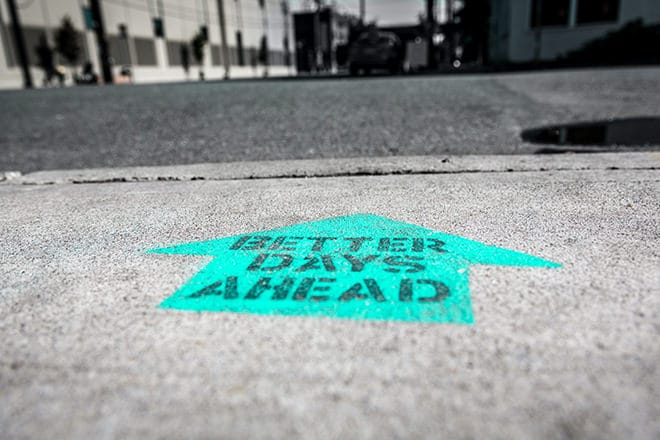 In the meantime, keep an eye on the website, email me directly and keep the stories flowing.