As the light fades our thoughts turn to winter festivities and the last of the boats are slipped for winter storage.
Mixing business with pleasure in Amsterdam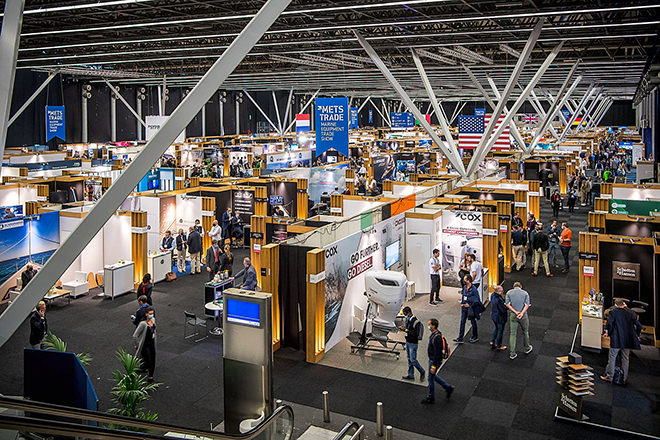 What could be more pleasant than a few days in the 'Venice of the north' with a cast iron excuse for the trip being provided by a world-famous boat show. 
METSTRADE offers a cornucopia of bits and pieces for the boating industry and of particular interest was the plethora of new electric propulsion manufacturers. I also came across some innovative tech as well as suppliers of more traditional wooden products such as ingenious folding wooden tables, which would be ideal for your boat or your garden.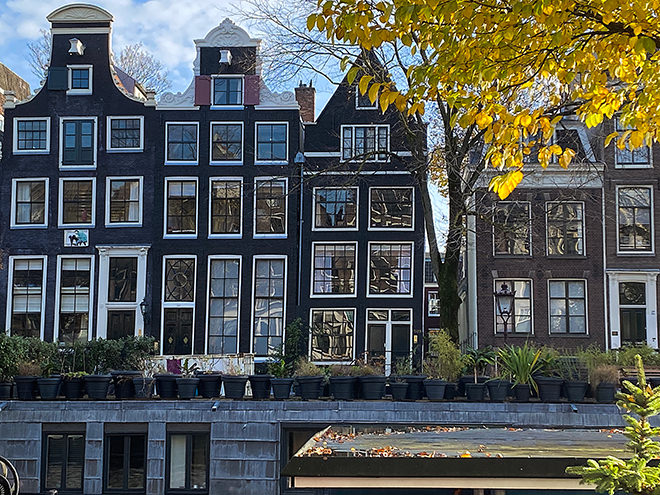 Unwilling to be housed in some exhibition rabbit hutch, Steve and I chose to stay at the Canal House in the old part of Amsterdam, and it turned out to be a great choice as the neighbourhood was so interesting, with all the sights just a walk away.
Imagine then my surprise, as I wheeled my suitcase along 'Keizersgracht' admiring the houseboats along the way and trying desperately to avoid being mown down by a passing bicycle, when I came across a sign for PureBoats.com. Unfortunately, we didn't have time to enjoy 'the ultimate canal cruise around the hidden gems of Amsterdam, while tucking into a diverse taster platter with Dutch snacks'. If this sounds like an attractive option then please give it a go, when you next hop on Eurostar and head east, and report back to PureBoating HQ, right here in Henley-on-Thames.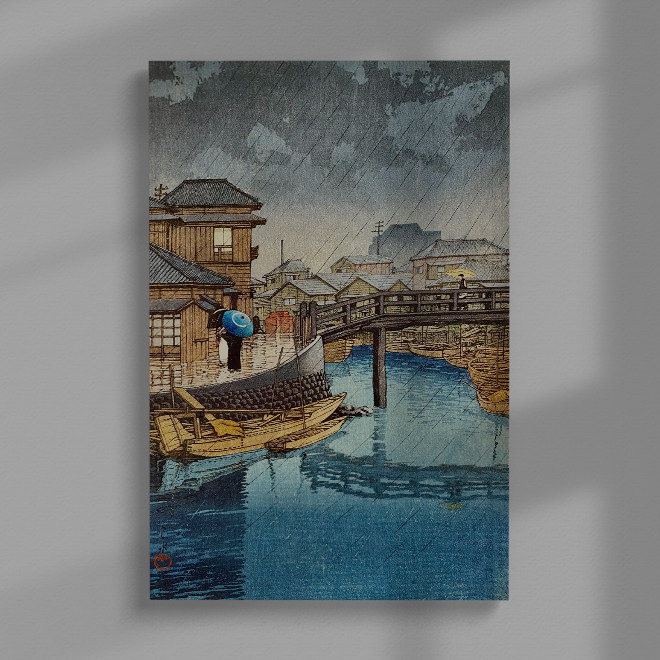 If the thought of endless covid testing and the bureaucracy currently involved with travelling (e.g. the rigours of the passenger locator form) puts you off going further than the corner shop, then I can warmly recommend going to a delightful exhibition of Japanese art and photography at the Ashmolean Museum in Oxford.
This is the BoatLife!
If you enjoy exhibitions, I must encourage you to put BoatLife Live into your virgin 2022 diary. I shall be holding the fort for Ruban Bleu between the 17th and 20th of February at the NEC in Birmingham.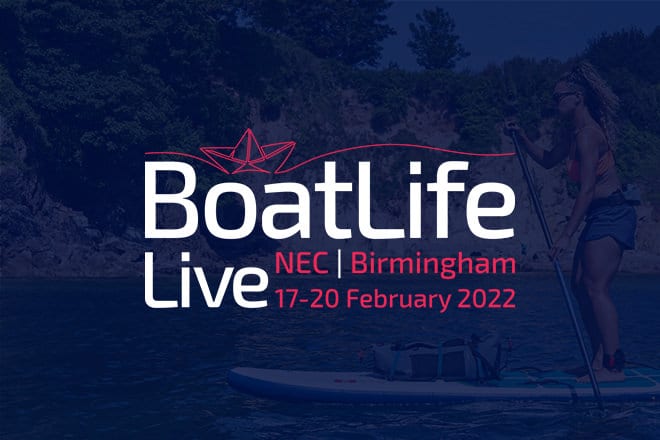 The emphasis at this show is very clearly on the inland waterways. So if you are an open water ocean waves fan, this may not be the right show for you.
However, I can see from the plans that there will be plenty to discover with a couple of houseboat manufacturers, holiday companies, the inevitable tech, Navionics, and the former Earls Court London Boat Show replica pub!
No time to lose for commercial hire fleet operators!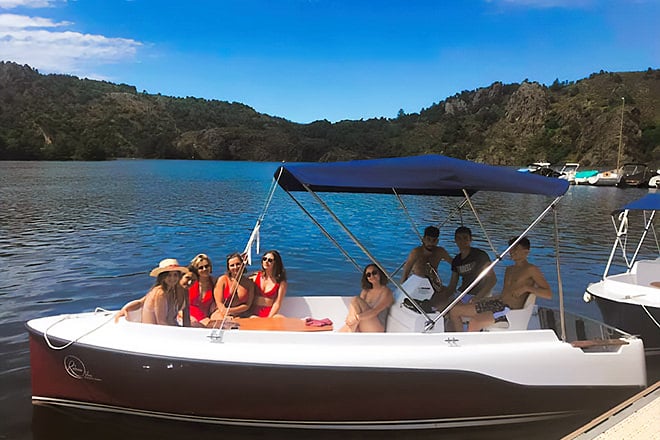 Just a gentle reminder to commercial operators hoping to be ready on the water for the 2022 rental season - please don't wait for the February show to place orders for multiple boats. 
Call our office in the next fortnight to ensure you are set up with your boats in good time for the start of the season!
In good hands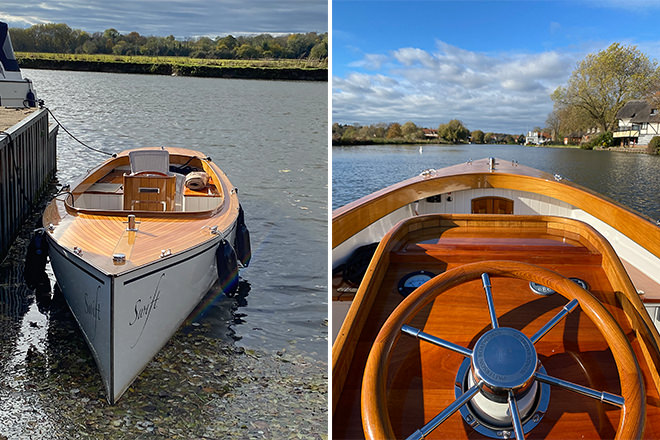 Between now and spring next year, our three musketeers Ellie, Andrew and Alex, will be super busy at the boatyard. With Alex on the keys, Ellie in her heated workshop and Andrew manhandling a variety of trailers, gantries and assorted wheeled vehicles, everything is in good hands.
Obviously I have my uses as a yard hand, and they let me drive boats on occasion, which is a tough job, but someone has got to do it. And … despite rumours to the contrary, Gail is still humming away in the background filling in gaps and lending a hand where and when she can.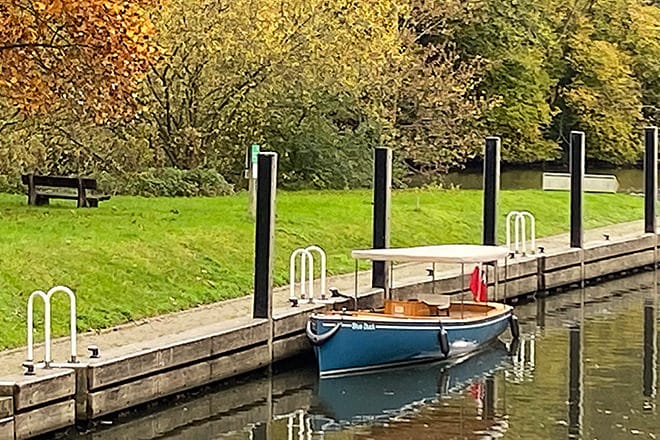 The photos featured above show the electric Windermere launch, which is such an elegant handcrafted work of art from the Hawkshead Yard run by Hamish Patterson. He has a new hull awaiting an owner, so if you are interested in owning one of these delightful craft, please give me a call.
Innovation is here!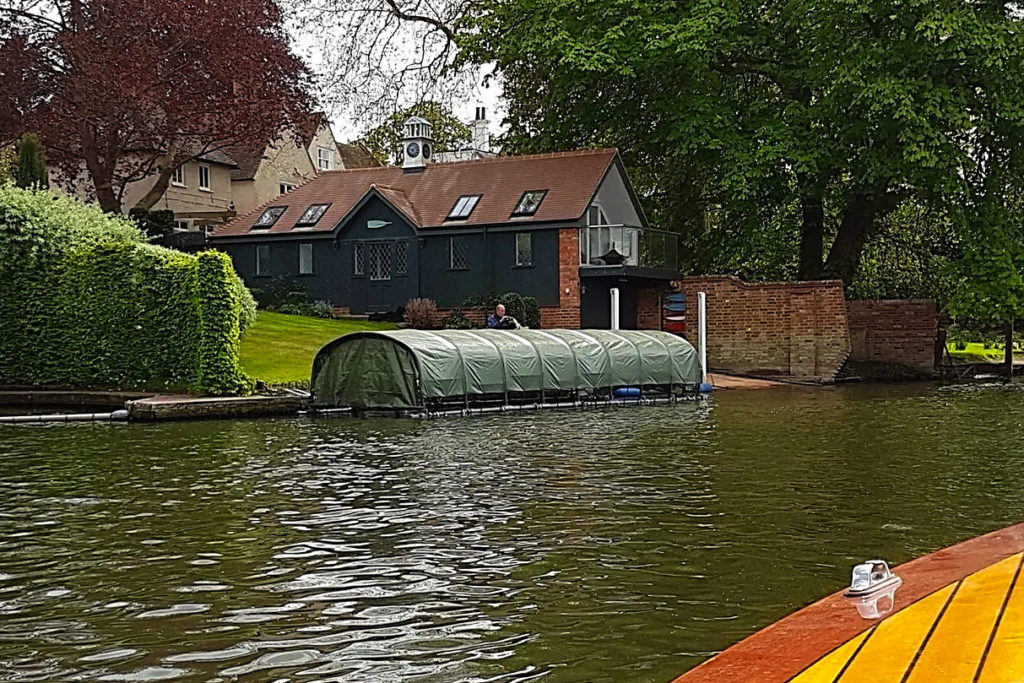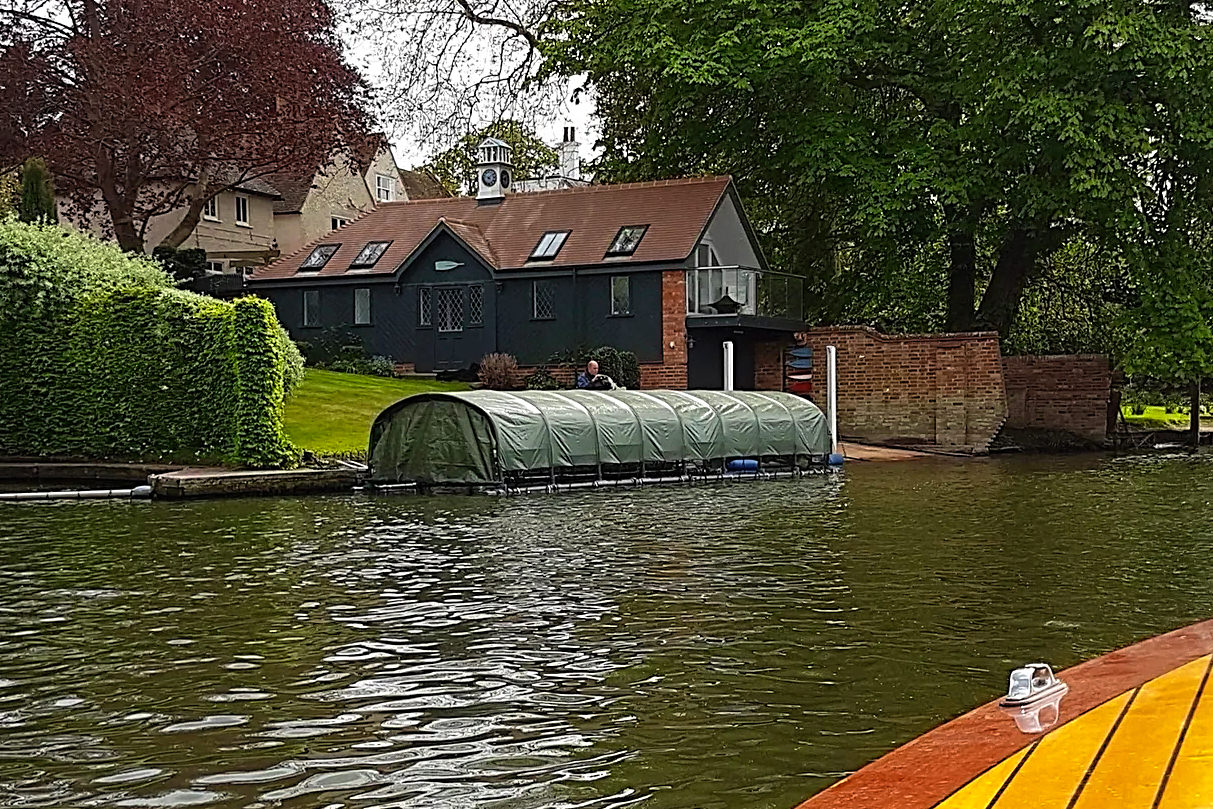 Beale Park Boat Store and our Little Stoke annexe are now full to bursting, so if you are at a loss as to how to store your precious vessel, one of our customers has come up with a clever innovation: the floating boat house!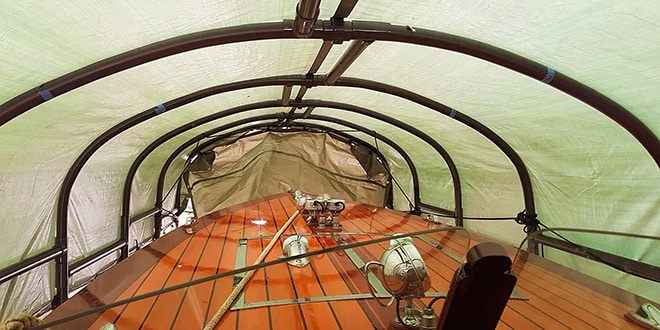 This option is ideal if you want to leave your boat afloat over the winter, and as it is a floating structure, it will simply rise and fall with the river levels. While it might not be as attractive as a wooden or stone boat house, it will protect your boat all year round from the elements for a fraction of the cost. 
If you are interested, please watch these videos showing the ins and outs of this innovative boat house, or contact Graham Pattie at 07387 677 733 or by email at [email protected].
Steadily plodding along
In terms of boat sales, I have certainly not been idle. Several boats we have on brokerage have changed hands recently. 
There are some interesting new listings and quite a few viewings in the diary, which may result in more sales before the end of the year.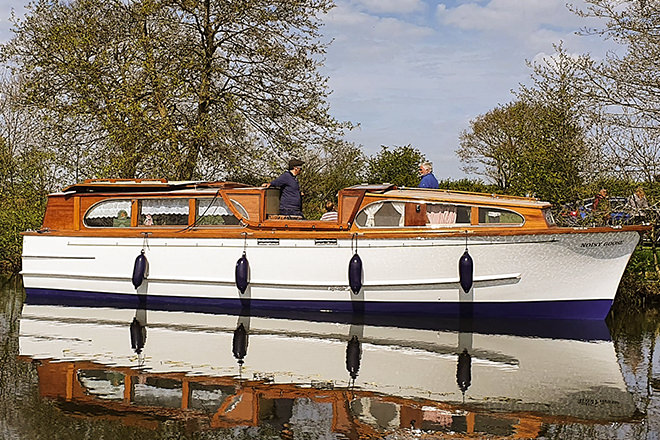 One of these is 'Noisy Goose', a Powles cruiser typical of those enjoyed by families on the Broads and other inland waterways in the 1950s and 60s. 
She would make a great addition to a hotel wanting an extra room, or a more traditional hire fleet, whilst also offering a 21st-century family a very comfortable cruising holiday home.
An emotional attachment
I have recently purchased another electric boat for our boat hire company PureBoating, this time a contemporary classic to which I have a profound emotional attachment.
'The Preterist' came into my life in 1987 when I joined The Steam and Electric Launch Company as Sales and Marketing Manager. I teamed up with a talented photographer, and despite shooting on a rather rainy grey day, we got some fantastic moody shots.
Since that time, the boat has always been in the same hands, and when the owner rang me to say that he wanted to sell due to relocating abroad, I felt 'The Preterist' had to join our fleet. The plan is for her to be moored at The Beetle & Wedge in Moulsford.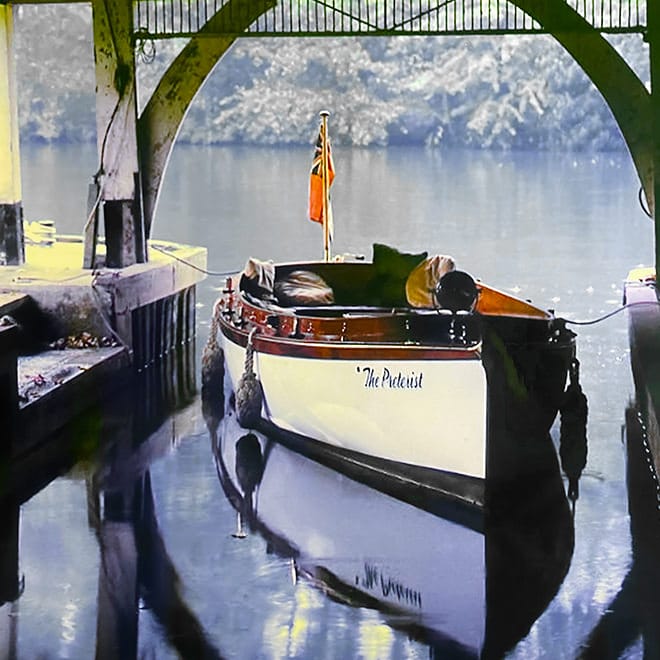 Upon investigating the origins of the name of this boat further, we discovered some quite interesting (some might say 'terrifying') philosophical and eschatological associations, and you are welcome to dip into Wikipedia for more information.
However, I have decided to stick with the name and simply refer to the latin root which is 'praeter', a prefix denoting that something is in the past. 'The Preterist' is certainly part of my personal past.
The Wooden Canoe Heritage Association
It is always gratifying to receive interesting titbits from readers. 
In this vein, I was delighted to hear from Nick Dennis earlier this month, as by chance I had seen a flotilla of attractive canoes pass me by while carousing at a friend's lunch party by the river in late October. Nick was in fact part of this flotilla.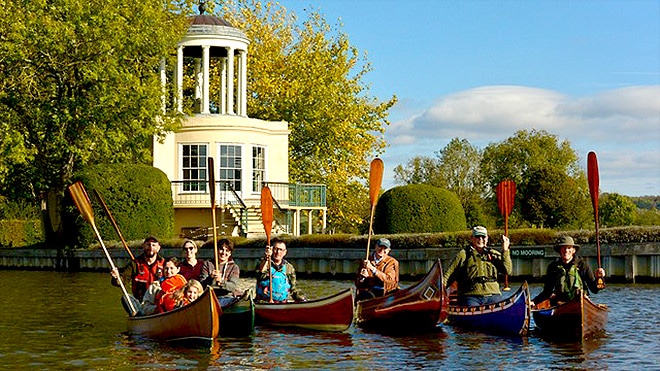 He runs the Wooden Canoe Heritage Association in the UK. The WCHA is a non-profit organisation dedicated to preserving, studying, building, restoring, and using wooden and bark canoes and sharing information about canoeing heritage throughout the world.
Nick states, "It may be that you come across old canoes sitting in boathouses when you are looking at larger craft. All too often these canoes sit there doing nothing. Some may need repair; others have simply been forgotten about. Over the past year, we have helped rescue and restore a mixture of wood/canvas and cedar strip canoes. I have members who can help with restoration or indeed find a new home for a canoe. 
Do feel free to pass my details on to any clients you have who may need such help or if you are aware of any canoes in need of help, do contact me. I paddle canoes over 100 years old; many say they should be in a museum. My answer is that they should be paddled as that is why they were built."
This sounds like a great association worthy of our support.
Holiday gift ideas for your 'boaty' loved ones
Maybe you are tempted now to add a vintage canoe to your Christmas list, however I doubt the elves have time to fashion you a brand new one, so vintage is clearly the way to go (sustainability and recycling being important factors influencing our buying decisions these days).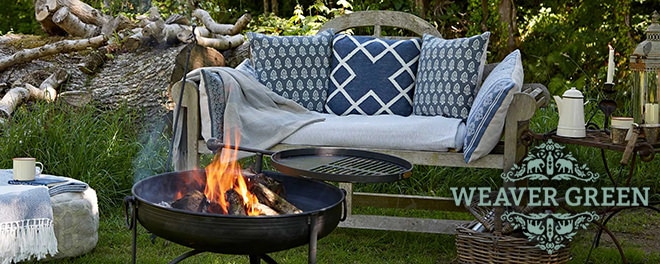 Other enticing options might include any of the Weaver Green products made from recycled plastic bottles. Did you know that a cosy cushion for your helm seat from Weaver Green is made from up to 600 recycled bottles? 
According to the website www.weavergreen.com 'the rugs and textiles look and feel like wool but are perfect for indoor and outdoor use. They are machine washable, stain-resistant, hardwearing and perfect for pet (and boat) owners'.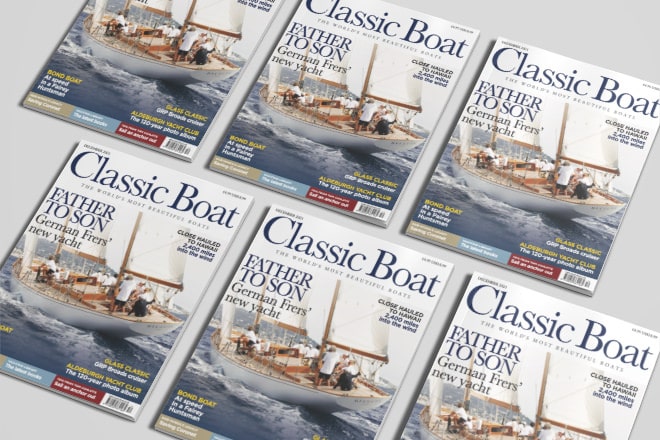 Magazine subscriptions are a useful option if you want the recipient to remember you all year round on a monthly basis (It's the gift that keeps on giving!). 'Classic Boat', 'Watercraft' and 'The Boater' (which comes automatically with an annual subscription to The Thames Vintage Boat Club) are great options. 
By the way: You don't have to be a boat owner to join the TVBC, and you will be welcome to their various social events as well as receiving the quarterly magazine. You can join using the application form on their website.
'The Boater's' editor, Jane Percival, has recently moved to Portsmouth to run Arthur Beale. 
For centuries this venerable institution supplied equipment not only to ships but also to expeditions, including to Shackleton for his ill-fated voyage towards the South Pole in 1901. He tried again, and on his 3rd trip in 1915, his ship 'Endurance' got trapped in the ice, sinking there after ten months. A fascinating story of human resilience, persistence, and bravery.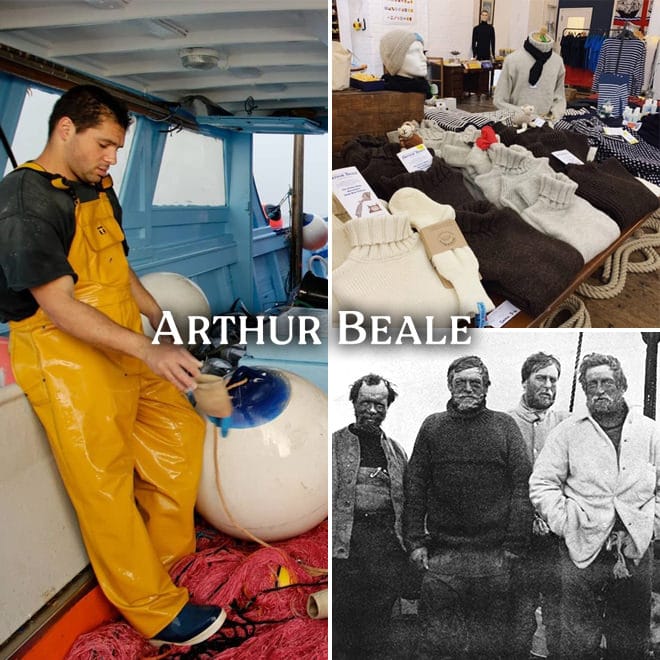 If you don't have time to visit their new shop in the heart of Portsmouth Historic Dockyard, to which they relocated from Bloomsbury under new ownership, then you will be relieved to hear that there is an excellent website, on which you can even request the click & collect service, with collection available from their very own pontoon. 
For £19.50, you could surprise your nearest and dearest with a pair of arctic sea boot socks, or for a more modest £3.95, a bar of wool fat soapcould seal the deal. Frankly, the choice is endless, and Arthur Bealemay prove to be a one-stop-shop for all your gift-giving this year.
Closing with our warmest wishes
This is your bumper Yuletide, Christmas, Hannukah special newsletter edition as I am heading south to the Pyrenees for a family reunion on December 15th thanks to the 12:24 Eurostar to Paris, which eventually gets us to Toulouse via Bordeaux at 21:31 the very same day, which actually is pretty impressive as I'm sure you will agree. 
If you are hoping to view any of the boats we have on brokerage right now, please make an appointment for some time in the next two weeks or again from December 30th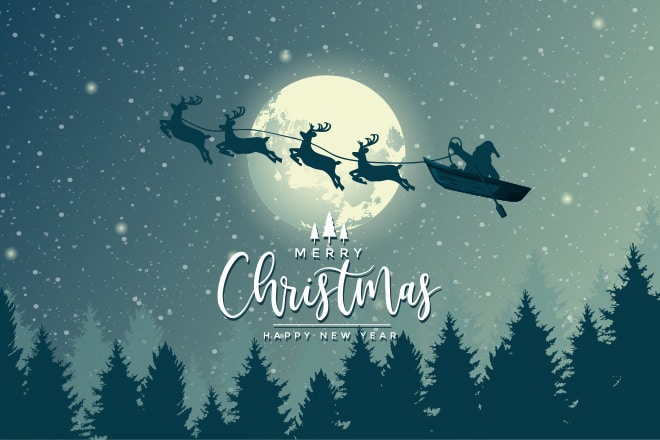 Happy holidays to one and all from the team at HSC.