We hope everyone has had a good summer. Whether you were having oysters on the Essex marches or drinking Retsina in a harbour on sunny Poros, taking time out with friends and family on a boat has to be the best way ever to relax.
My Favourite Event of the Year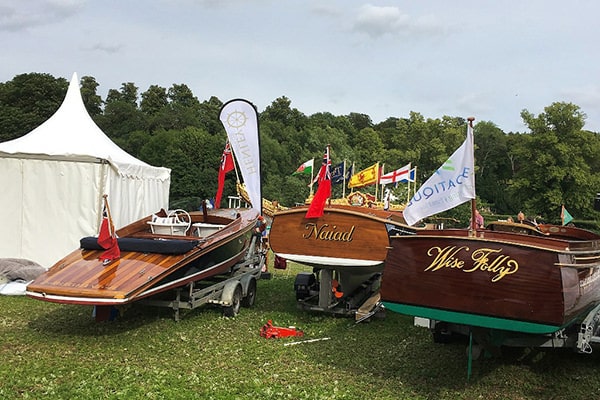 When we signed off in July, we were about to tow a trio of traditional boats to Fawley meadows for the annual Thames Traditional Boat Festival jamboree. It was an absolute delight and a great weekend as ever. I honestly think it is my favourite event of the year. It is fantastic to see people enjoying their boats and the river, and I just love meeting customers and hearing their stories.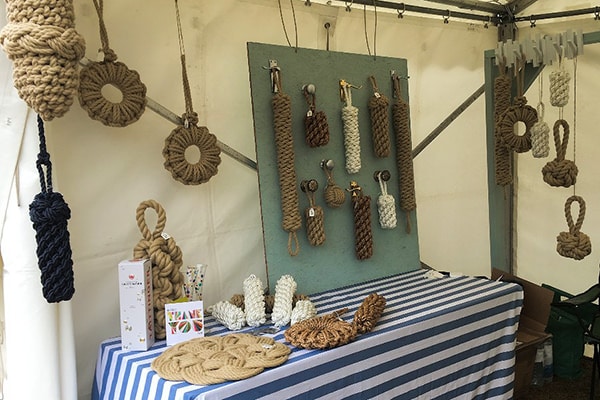 Bankside there were some interesting boat jumble stalls and a newcomer in the shape of a charming fender maker: Victoria, who can produce anything from a keyring fob to a knotted doorstop. She has rope fenders for boats of all shapes and sizes, and you can find her shop online at https://www.thefenderboutique.co.uk.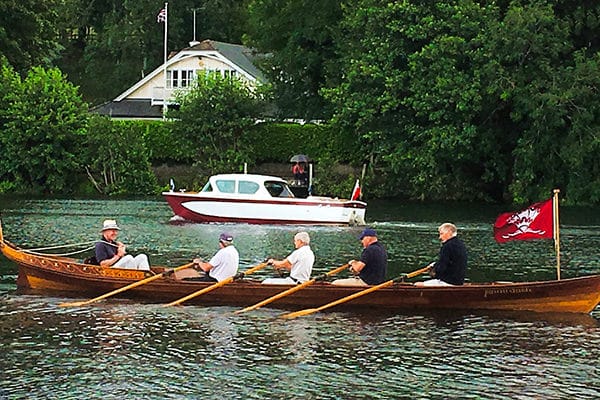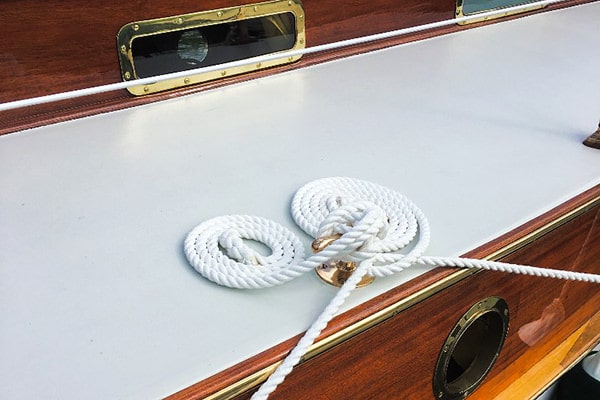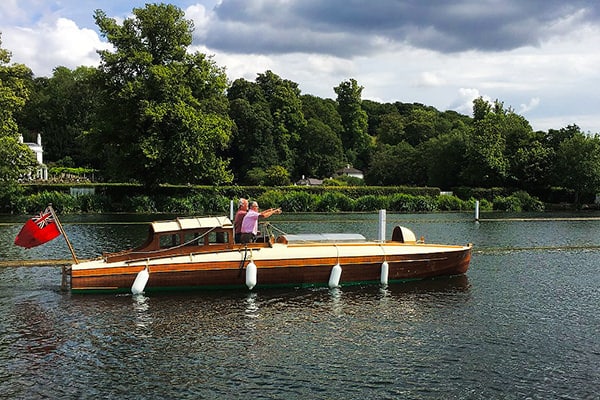 In the evenings the river bank was awash with gaiety and gourmet food. It was only the need to sleep that ultimately sent me home.
Pure Boating Fun in Wallingford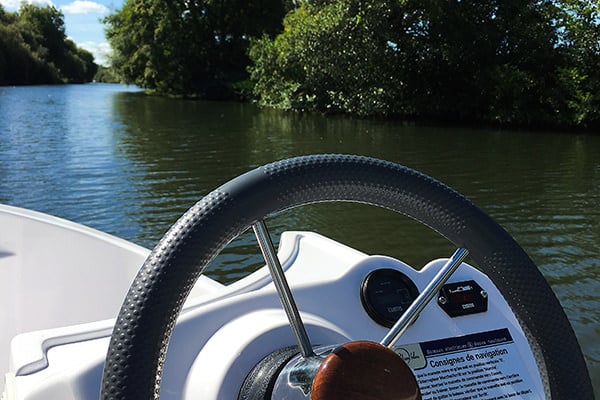 PureBoating was absolutely humming during August and on the last day of the month it was my turn to experience other people's summer fun in Wallingford. As boatman for the day I got to meet both new and regular PureBoating customers.
It was really gratifying to hear their excellent feedback as it made our fight this summer to stay in Wallingford worthwhile. Now that the legal position is sorted out, we look forward to years of happy faces on our boats on the Thames around Wallingford.
A surprisingly Cultural Trip up North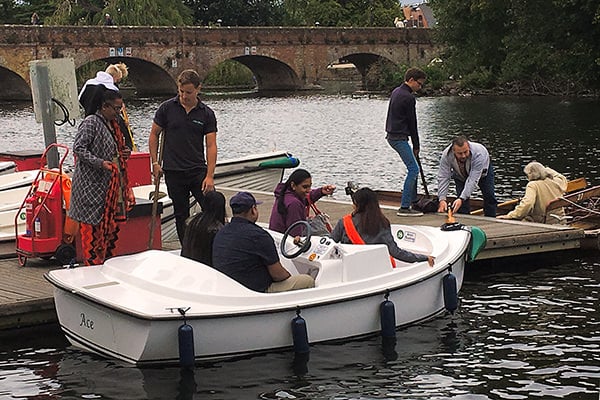 In the spirit of "cultural exchange" our little "Ace" headed to Stratford this summer to help out a fellow boat charter business operating on the river Avon.
Unintentionally its launch there coincided with the Ganesh Chaturthi festival. This is a 10-day Hindu festival honouring the arrival on earth of Lord Ganesha, the elephant-headed god said to bring wisdom and remove obstacles from the paths of the lives of true believers.
I was fortunate enough to be on site for "Ace's" first outing on the Avon and got caught up in the colourful celebrations enacted right opposite the Royal Shakespeare's Stratford home.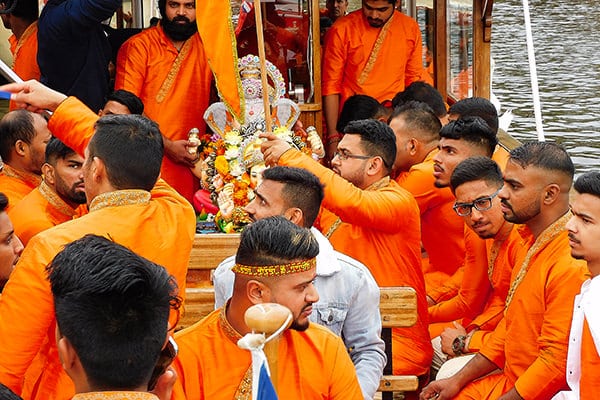 The festival culminates on Anant Chaturdashi, when followers immerse the murti in a body of water, a symbolic returning of the god to Mount Kailash.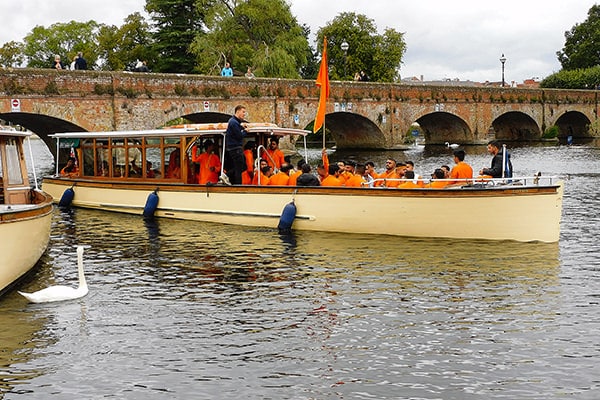 There was chanting, dancing, feasting and much jollity as devotees of a Leicestershire Hindu temple came down to the river Avon to enact the immersion of the deity Ganesha. As the images show the clay statue of the god is carefully loaded onto one of Avon boating's 1930's Borwick's launches, which then proceeds silently (thanks to its electric propulsion) under the bridge to drop the statue overboard, where it will slowly melt away into the water during the next few weeks.
Who needs to use up airmiles when within the borders of our own country we can enjoy such a beautiful cultural experience?
The Delivery of yet another Scoop
My electric boat odyssey also took me to the shores of Lake Windermere, this time for a private launch ceremony devoid of statues but equally full of joy.
A new Scoop, Windermere's first, is now safely housed in a charming boat house just a couple of miles south of the new Windermere Jetty museum.
A Family Favour for the William Morris Society
Like someone looking back on their childhood and remembering only the sunny days, I am reminded that we did in fact have some rainy days in August. Our skipper emeritus, David Mackney, took members of the William Morris society upstream from Hampton Court all the way to Kelmscott near Lechlade in Gloucestershire.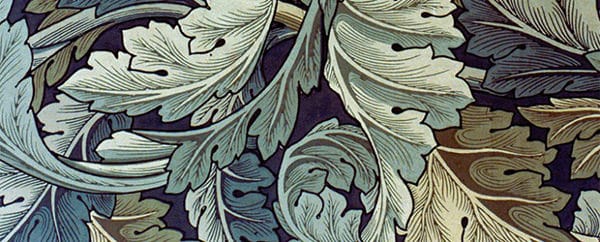 I joined the party at the Leander Club where they were overnighting on the third day of their trip. They were clearly an erudite bunch of Morris enthusiasts, some from Princeton in the USA, some from Japan (including a professor of English literature) and a couple of interesting women from London – all in all an eclectic group of people united in their love of literature and pre-Raphaelite art.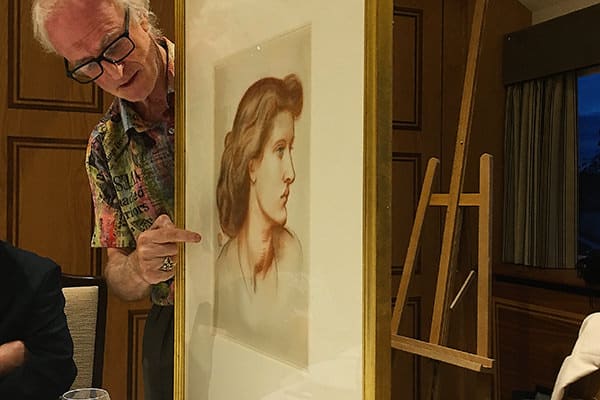 In a talk that evening my cousin, Peter Nahum, pulled together the various strands uniting the Rossetti siblings, Edward Burne-Jones and of course William Morris and friends. We felt extremely privileged to be handling pieces from Peter and Renate Nahum's private collection.
During the trip I believe that each day began on board with readings from "News from Nowhere", published in 1890. Wikipedia describes the novel as "a classic work combining utopian socialism and soft science fiction, written by the artist, designer and socialist pioneer William Morris".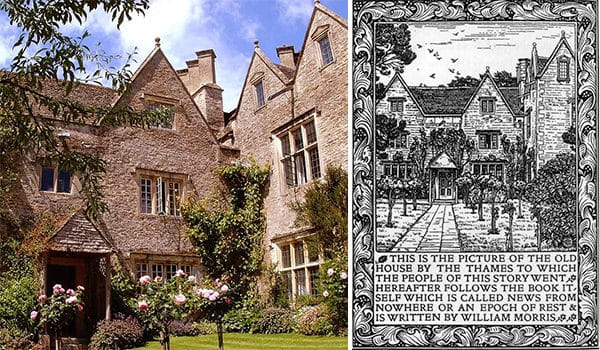 The last day of the journey took the travellers on the upper Thames, previously uncharted waters for our river launch "Midsomer Maiden". Their destination was the picturesque village of Kelmscott, where they stayed at The Plough Inn in order to explore Morris's country house on the following day.
If you wish to follow in their footsteps the house is open to the public from April 3rd 2020 – August 31st 2020 (on Wednesdays and Saturdays).
I loved reading the daily blog written by one of the members. Rain or shine, the trip appears to have been a fantastic success. If you would like to read about the onboard entertainment on a relentlessly rainy day, just follow this link: https://williammorrissociety.org/2019/08/11/the-thames-journey-from-hammersmith-to-kelmscott-day
River Boat Queen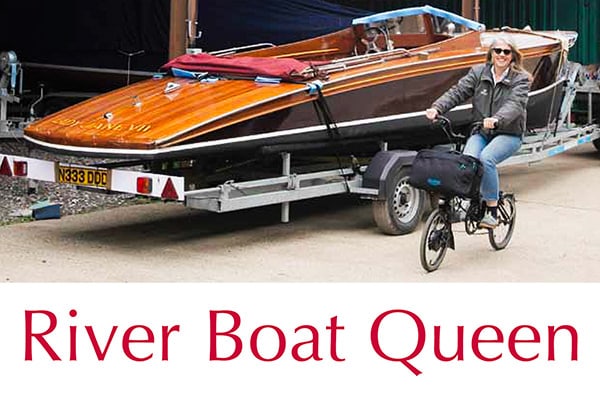 In an earlier issue of our newsletter I mentioned that Kathy Mansfield had written an entertaining biography about me for the summer edition of Watercraft Magazine. If you didn't catch it on the newsstand, here it is as a pdf.
Boathouse on the Henley reach for Sale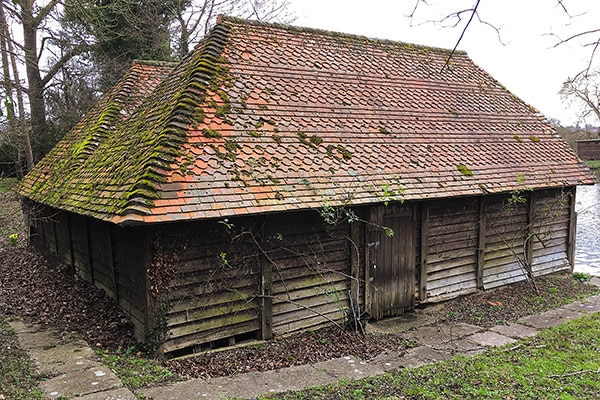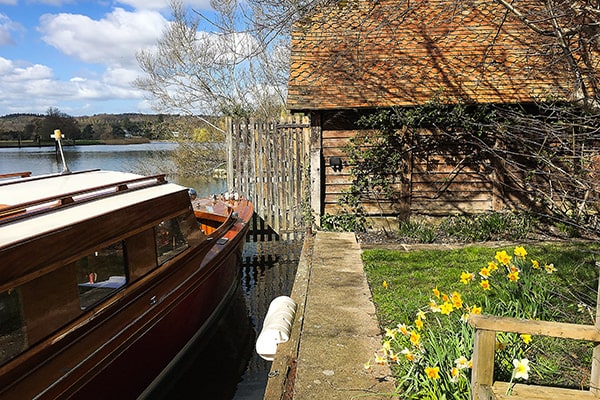 Some of our customers have struggled to find moorings this summer. Around Henley in particular they appear to be in short supply. However, one solution might be to purchase your very own double boathouse. If you would like some more information about this completely charming option on the Henley reach, please send me an email and I will pass it on to the relevant parties.
September – A Busy Month all round
September is boat show month, but as we are moving office and our website appears to offer a permanent boat show in conjunction with some judicious advertising, we are spending September mainly in and around the UK's waterways.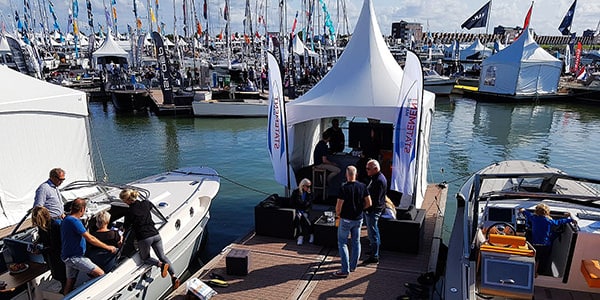 Our Dutch colleagues have just returned from HISWA, the main Dutch boat show which takes place in the heart of Amsterdam. They are very upbeat about their 26 and 31ft PTS range. There are plans for a 22ft launch with a small cuddy and we would certainly welcome an additional boat in this popular range. We currently have 2 pre-loved PTS 26s on our website, "Agora" and "Lakka" and expect a 2009 52hp model to be available shortly.
Southampton Boat Show kicks off on September 14th starring Cockwells with their Duchy range and no doubt there will be the usual array of wooden boat builders exhibiting at the entrance to the show.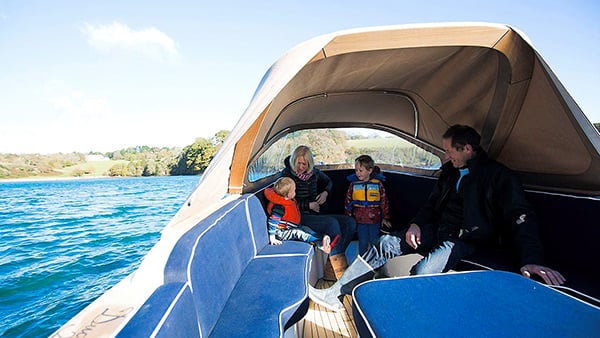 And while we won't be at Goodwood Revival this year, we do know that there will be an amazing Ferrari speedboat on display, which is actively for sale. The Formula 1 1952 Ferrari speed machine is a dream, a unique piece of history, one for real petrol heads (a dying breed!).
If you have a few million pounds to spare and would like to own something truly phenomenal, then please give us a call. To see it in action, watch this video.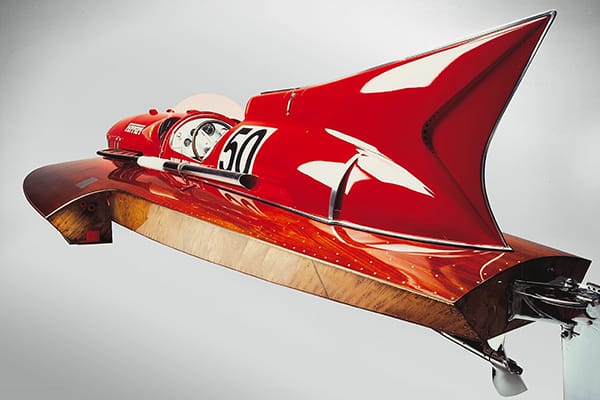 The office is extremely busy right now as we slowly prepare for winter storage at Beale Park where we are introducing a number of ameliorations to the site. Ellie is looking forward to some interesting winter work, so please get in touch once you have decided what improvements you might like us to price up for your beloved boat.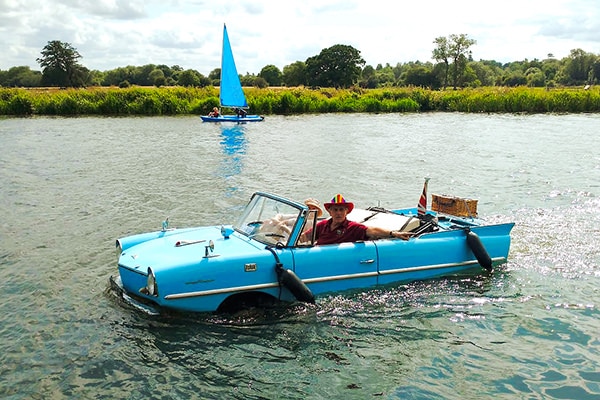 In the meantime, enjoy what is left of the late summer sunshine as it is still "jolly boating weather".