Isn't it great to be out and about in the sunshine even if the days start off with a chill in the air, and the occasional coating of snow?
Water fun at Beale Park
Judging by the number of cars in the child Beale estate car parks, the spring lambs and I are not the only ones gambolling in the fields of West Berkshire. 
Clearly, one of the highlights for parents in our local area this Easter holiday has been the reopening of Beale Wildlife Park & Gardens in Pangbourne. 
The offer of fresh air and fun have made family bookings irresistible, and adjacent to the Beale Park car park you will also find opportunities for wild water swimming and paddle boarding, under the watchful eye of Hi5!, a water sports and events company based in Berkshire.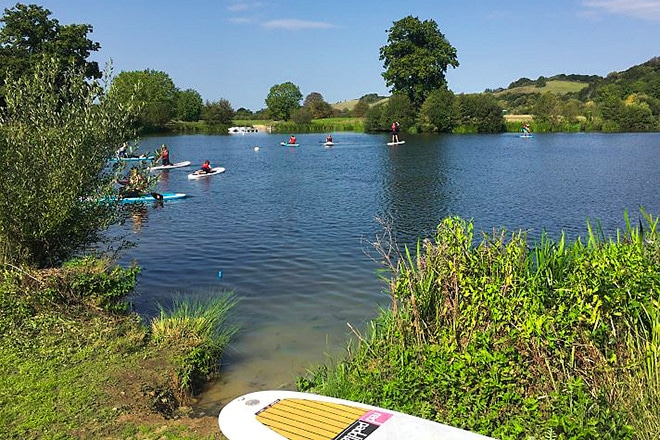 There was a great deal of controversy last year over the suppression of Thames moorings outside Beale Park, a long-time favourite with boating families. 
The plan for this year is for Hi5! managers of the paddle boarding and wild swimming options on the lake, to have a live bookings page on their website. An overnight mooring will cost £12, redeemable against activities run by Hi5! or Beale Park.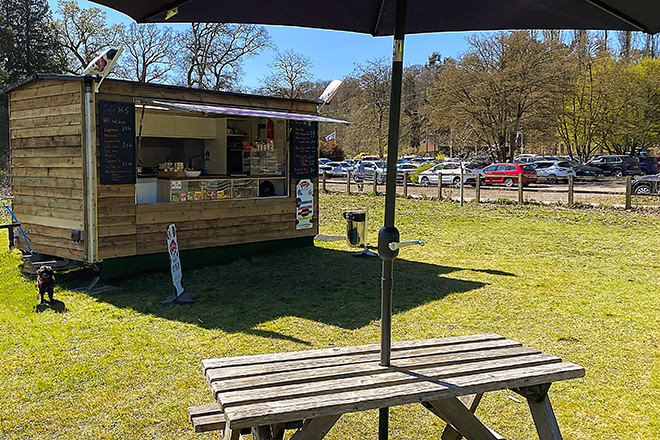 I had a very pleasant cup of coffee last Saturday at the café on the shores of Beale Park Lake while waving goodbye to 'Cutlass' with her new owners on board.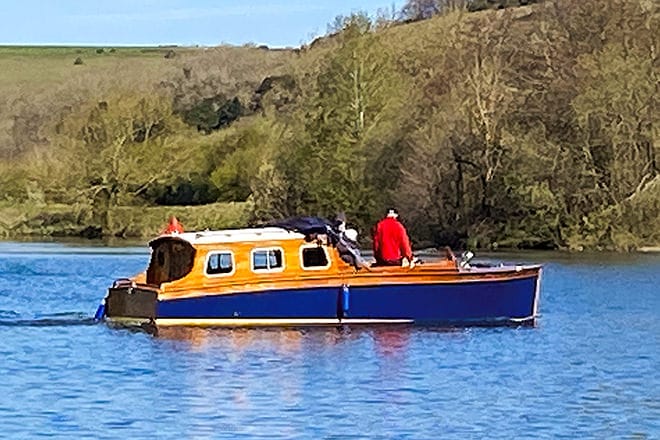 A perfect birthday gift
Another departure from our workshop recently was 'Sweet Leilani' (previously 'Lady Auriel' and prior to that 'Aja', which I presume was the boat's original name when imported from Scandinavia). 
She was given as a 60th birthday gift by a loving husband to his wife of many years. When he first rang to reserve the boat, which we had on brokerage, I did wonder whether this was going to be appreciated by the lady in question. 
However, she was thrilled and the entire family, comprising of the parents and their 3 adult children, slept in the snow on board on the night of her birthday!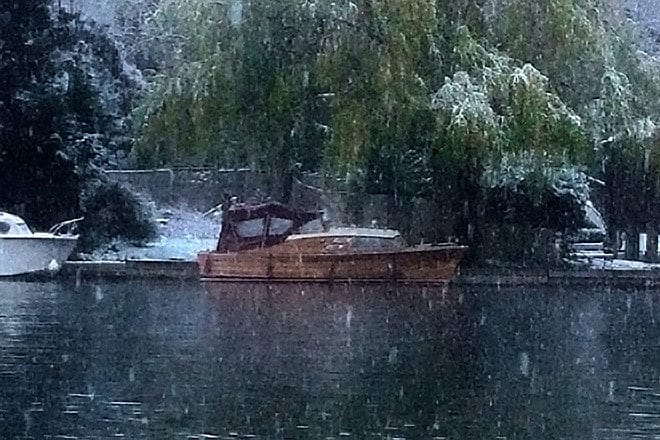 The boat she float, 
The waterline be fine, 
She sits in the flow, 
All covered in snow.
A fellow boater sent me this poetic photo (and his musings) of 'Sweet Leilani', taken early on the day after the big event. 
Apparently copious amounts of good Champagne had dulled the sound of a slightly hyperactive bilge pump overnight; the boat taking up every so gently in the wee hours of the morning! Beautiful memories were made...  
Thank you, Darrel, for the photo and the ditty.
Captivating boats on our books!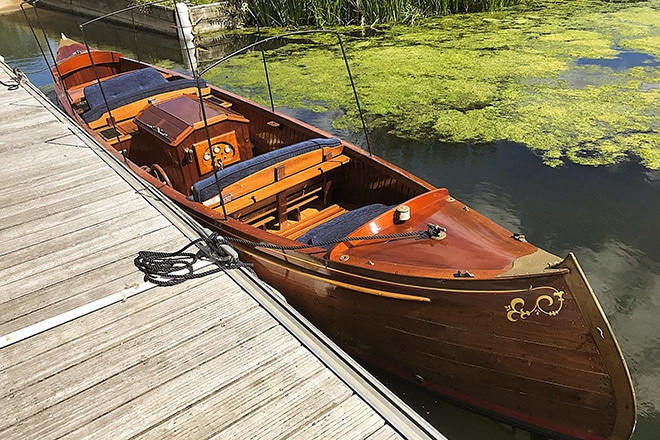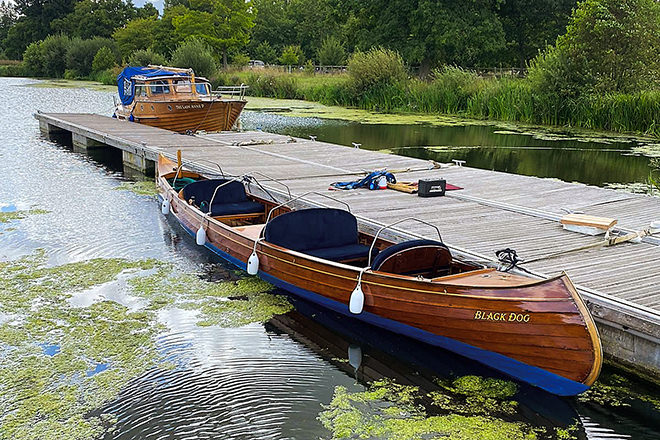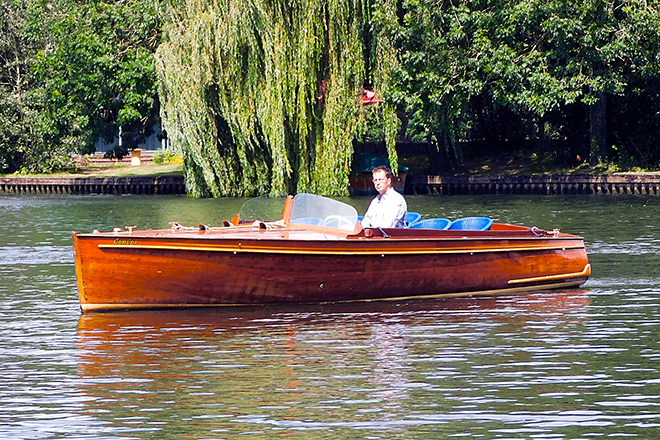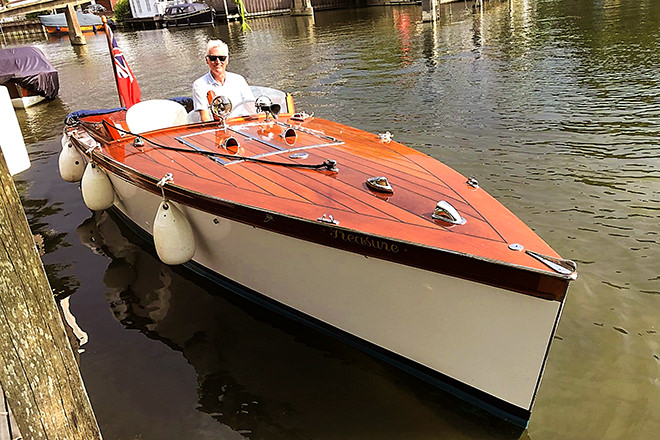 As some boats leave, others arrive, and we now have a selection of alluring options on site, including 'Water Witch', 'Black Dog', 'Condor' and 'Treasure' while off site I am happy to meet up for viewings on the enchanting 'Windsor Belle', 'Lady Genevieve' or 'Evensong' should you be looking for a boat on which to entertain this summer.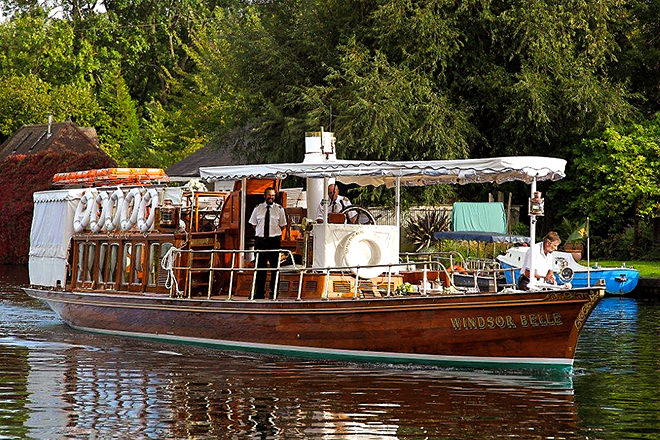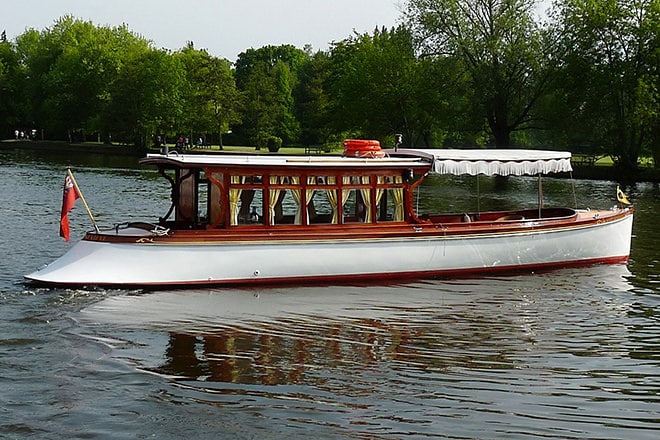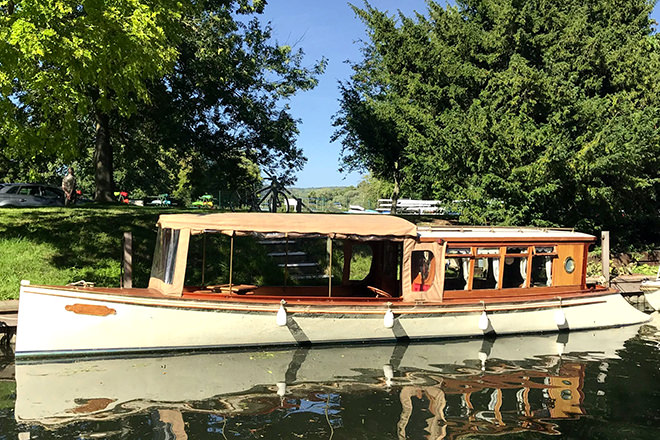 We now know that the Henley Royal Regatta will take place in Henley, as will the Thames Traditional Boat Festival and we even have an additional music event in July called 'Summer Fling' being run by the Henley Festival organisers, with last year's cancelled festival highlights postponed until September. So, let's get out there and party!
Photoshoot backdrop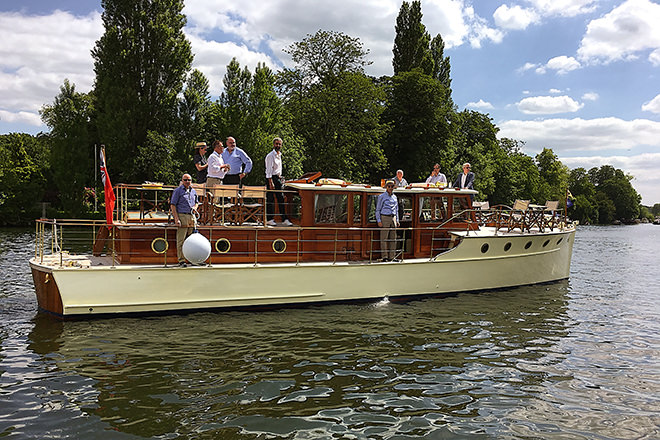 'Moja' is also a fabulous boat for entertaining. 
She recently hosted a select crowd of lovelies for a fashion photoshoot. They were equipped more for the Med than for a slightly chilly early spring outing on the Thames. However, the models were truly stoic, and some of their outfits would be perfect for a soiree afloat.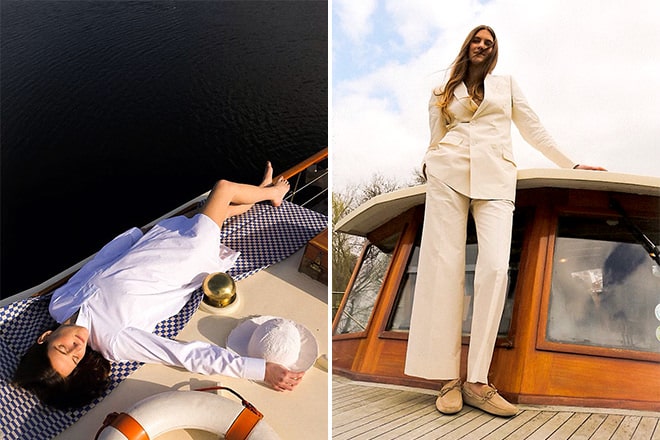 The image of the Connolly brand, possibly better known for its leather interiors in classic cars, has now been reinvigorated by its owners the Ettedgui family. 
Do have a look at their website where you can buy luggage, leather accessories, and a whole range of clothing and gifts, and spot 'Moja' in their apparel product photos.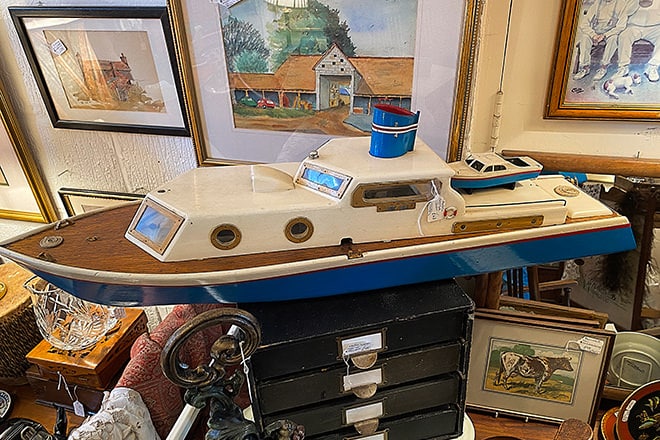 I don't know about you, but I am enjoying seeing the shops open again around and about our Henley office. 
While on the lookout for some gifts for friends I found this model boat at The Ferret in Friday street. It comes complete with a small tender on the deck, and you can see inside that at one time it actually worked, as there are miniature engine bearings, a prop shaft and a propellor which turns. My guess would be that it had a small paraffin engine. Now there's a project for a bored engineer!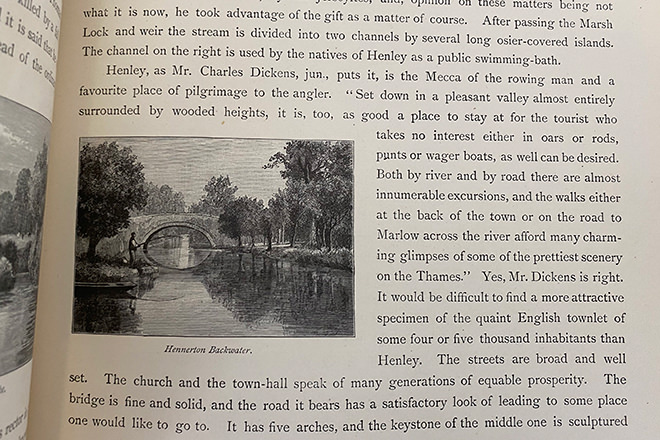 Another of my local retail haunts is Way's Bookshop where one can purchase wonderful old maps, as well as a wide and fascinating selection of interesting and collectable books. 
I regularly refer to books purchased over the years from Dick and Diana's book emporium.
Let's support our museums!
If you live in the north west of England, please do go and support your local museum in Windermere. While the actual Windermere Jetty museum itself won't be open for a few weeks, you can support them by visiting their café on foot or by boat.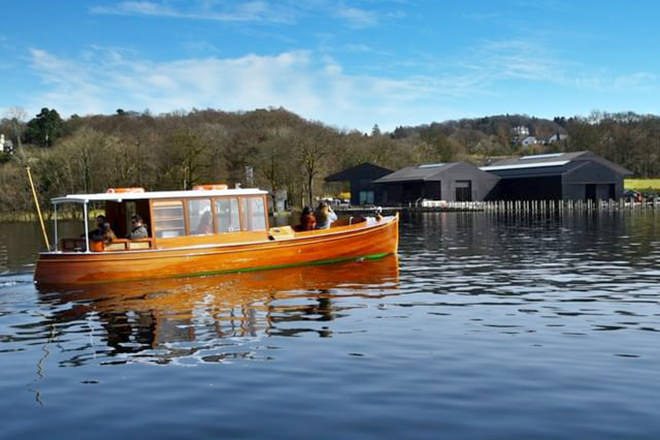 Here in Henley we will be supporting the café and shop at the River & Rowing Museum, while patiently awaiting the reopening of their gallery and exhibitions in late May. 
The café can be visited now, but due to financial constraints they are limiting opening to just 4 days a week (Thursday - Sunday inclusive).
Improving the mental health of Royal Berks patients
Charities of all kinds have been struggling during the pandemic, so we did our bit for Real Time one chilly morning last week, when 'Sapphire Rose', capably skippered by our very own Olivia from PureBoating, became a film set for the day, supporting a project to create videos for in-patients at the Royal Berkshire Hospital in Reading. 
The slow media project is a collaboration between several organisations including Real Time, an educational charity based in Reading, and Small Silence.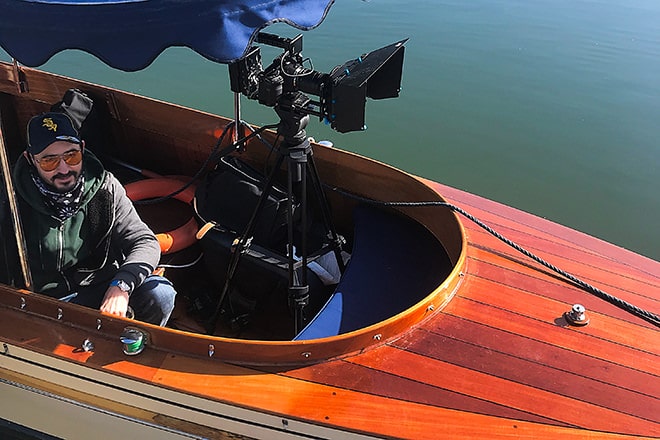 'Sapphire Rose' was used to film sections of the Thames between Moulsford and Pangbourne. The final footage will become one in a suite of audio-visual slow media, which patients will be able to access via iPads and headphones.
The soundscapes of hospitals are a colossal disjuncture from the comforting and familiar surroundings of everyday life. The slow media project aims to anchor patients in the familiarity of local scenes, and familiar sounds embedded within slow film and music, which can have a positive impact on patients' mental health and wellbeing throughout their hospital stay.
"It was fantastic that Henley Sales & Charter were able to support this project which aims to provide creative resources for one of our vital NHS hospitals."
Clive Robertson (Creative Director at Real Time)
PureBoating training day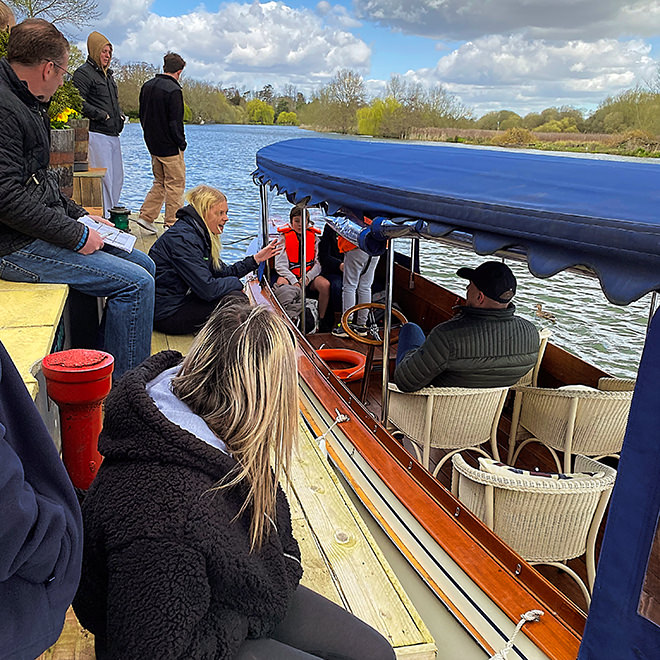 Olivia was also involved with some training, organised by a group of our existing staff, for new recruits and for some of the team at The Beetle & Wedge. 
We started out in 3˚c but the atmosphere was warm and convivial. We kicked off the day with a quiz and ended it with Captain Rod's boat training notes which I have linked to here in case you are interested.
Celebrating award winning boat builders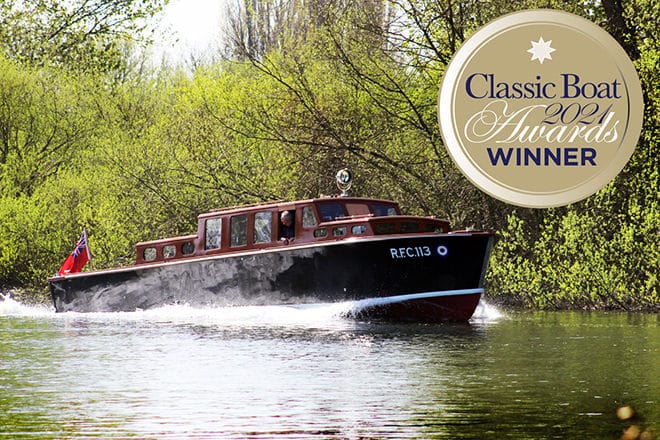 Last but not least we must congratulate the team at Dennetts who carried off the award for 'Restored Powered Vessel of the Year' at the 2021 Classic Boat Awards. 
We will soon have a similar boat available for charter powered by twin electric motors and reputed to be capable of its original 20 knots. Obviously we will be offering a more sedate wine and dine option on the river Thames.
One of the boat builders who worked on the restauration of 'Makaira' was Abbey who has now moved to Norfolk to set up her own business. 
She is working on a couple of very interesting projects at the moment, one of which will be on sale through HSC in the coming weeks.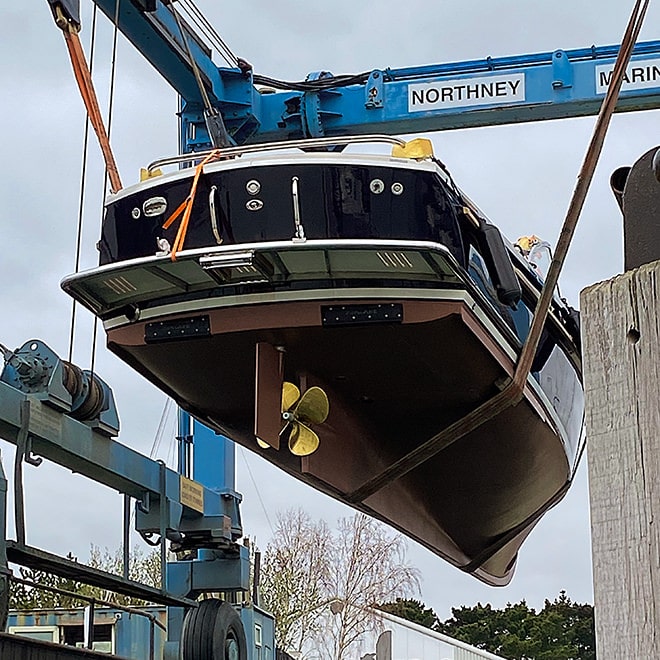 Our beloved PTS 26 was runner up in the 'New Powered Vessel' category. Congratulations Statement Marine! 
The Classic Boat Awards celebrates the best restorations, best newly built traditional boats and the greatest personal achievements in the global classic boat scene. 
If you missed the actual ceremony, a replay is available.