I hope everyone has had an enjoyable summer with plenty of opportunities for boating. Goodness knows how many picnics, sunset cruises and anniversary outings we have hosted at Pure Boating. Our staff at all three locations have had a busy and successful summer.
A well-deserved celebratory lunch for Pure Boating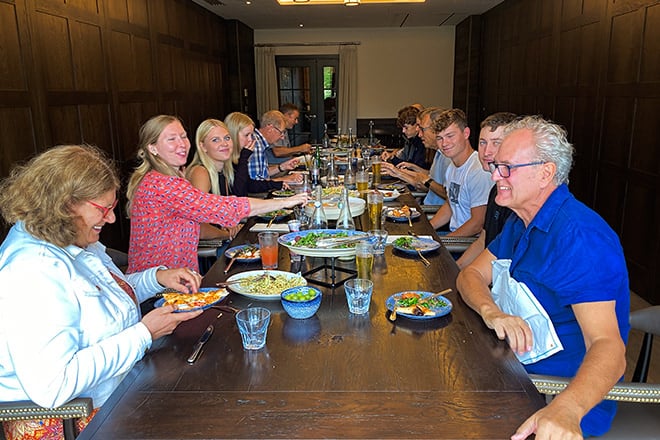 The Pure Boating team enjoyed a beautiful celebratory lunch last week at The Swan at Streatley as they exchanged anecdotes about their lively season manning the kiosks and dealing with many hundreds of day-boaters throughout the season.
Arriving at the get-together directly from a trip to the Netherlands, I was delighted to walk into a room full of smiling faces.
HISWA - A fabulous show, magnificent boats and wonderful encounters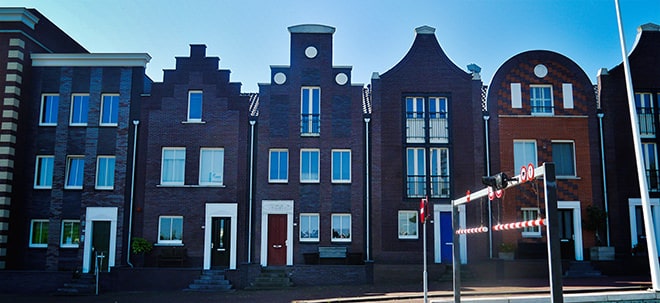 Our initial destination in the Netherlands earlier this month was a polder (and province) named Flevoland, more specifically, the city of Lelystad.
The Netherlands strikes any visitor as being highly populated and extremely organised. The ability to reclaim land from the sea allows man to create some new areas of countryside.
Flevoland took 17 years to create and now offers opportunities to live as well as walk, cycle, and sail in uncrowded areas where nature is all around.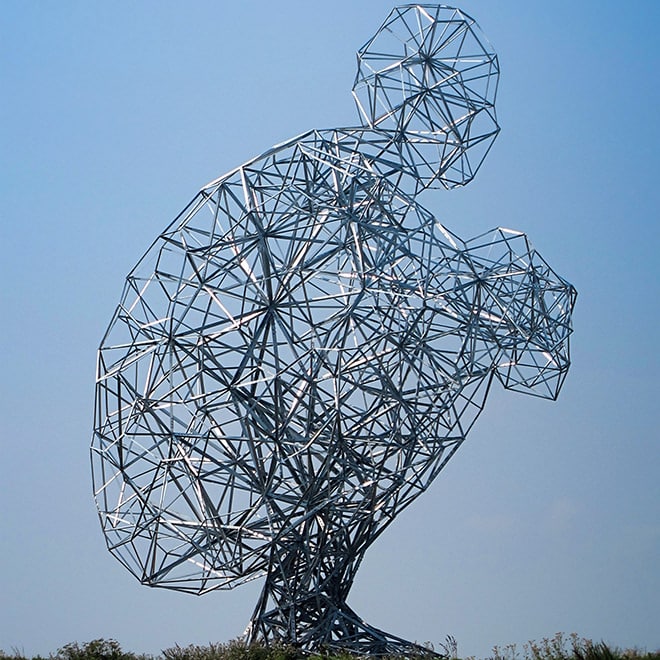 I was particularly taken by the sight of the 25m steel sculpture created for the dyke near the Houtrib sluices by Antony Gormley. Apparently he was inspired by the structure of the pylons delivering electricity across the Netherlands to its many homes and factories.
The reason for our visit to this area, just 40 mins by train from Amsterdam central station, was that Statement Marine were exhibiting a new model at HISWA, the main open-air show of the year for Dutch boatyards. Fortuitously the show was blessed with Mediterranean weather.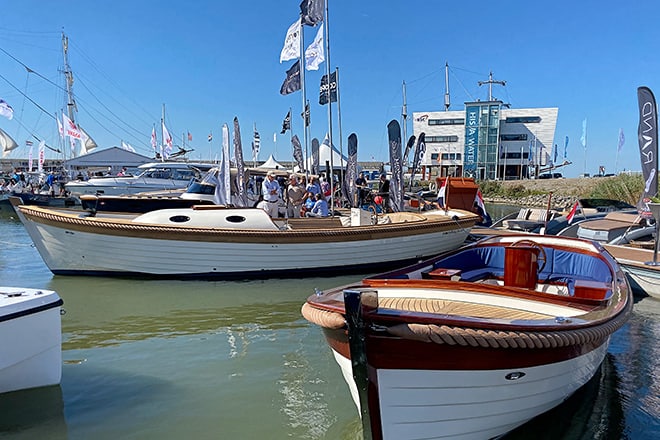 Electric boats appeared to be the focus of the Dutch boating federation. And it is true that some of the best propulsion kits are being produced by Dutch manufacturers.
As we walked through the entrance to the show, the first little boats we saw were named 'Faraday' and were built by Lisa and Anne to a design made by their father. The result was an exquisitely finished 4-seater classically styled boat, somewhat reminiscent of a Frolic 18.
They can only build 6 a year, so there would be little point in our promoting them in the UK. However the sight of Anne with a tig welder and her sister Lisa with the varnish brush made my little heart beat faster. Good Luck to the Zegers family.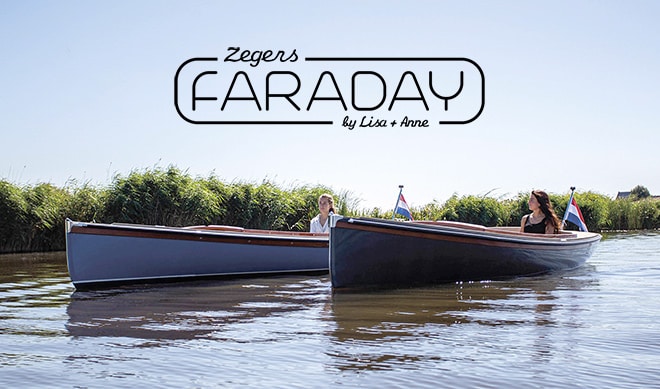 Our invitation to visit the show had of course come from Statement Marine, builders of the popular PTS range for which we are agents in the UK. As we walked down the steps onto the main pontoon, they had pride of place.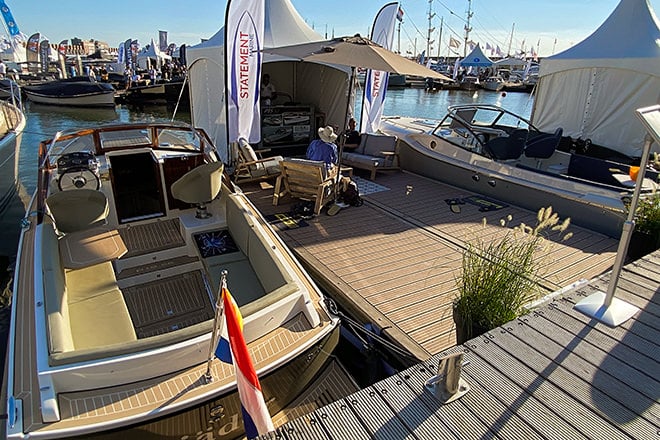 Their much anticipated new model to be known henceforth as the PTS 24lived up to my expectations, although its owner, who, like one of my customers, had ordered it off plan, chose a light grey palette throughout, which I found a little bland.
I look forward to the first PTS 24coming to the UK for the Paull family in Marlow, as their colour scheme and the varnished wooden windscreen will be very chic indeed.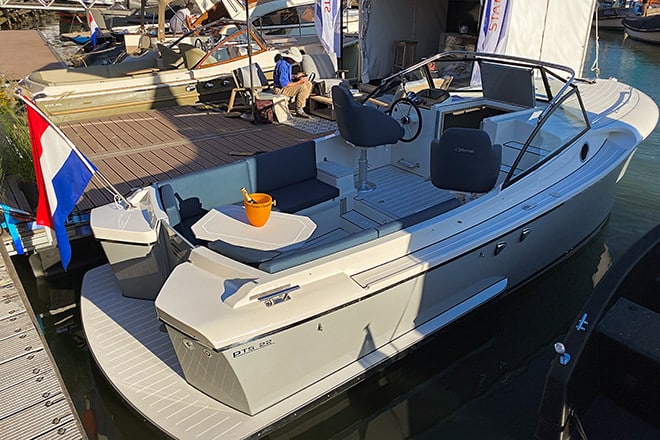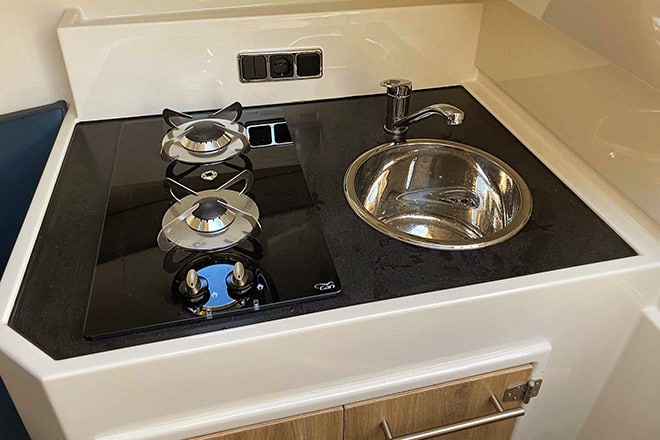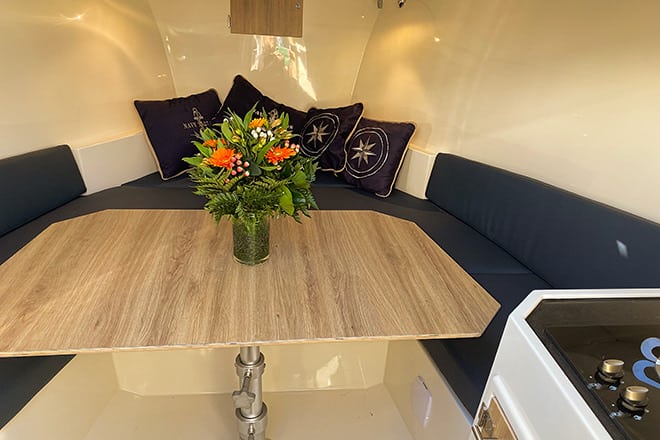 Please check our website for more PTS 24 photos.
While I was on Eurostar heading towards the Netherlands, I received a phone call from a PTS 26 owner who, for personal reasons, would like to find a buyer for his little-used late 2021 model. If you think this may be of interest to you or someone you know, please give me a call.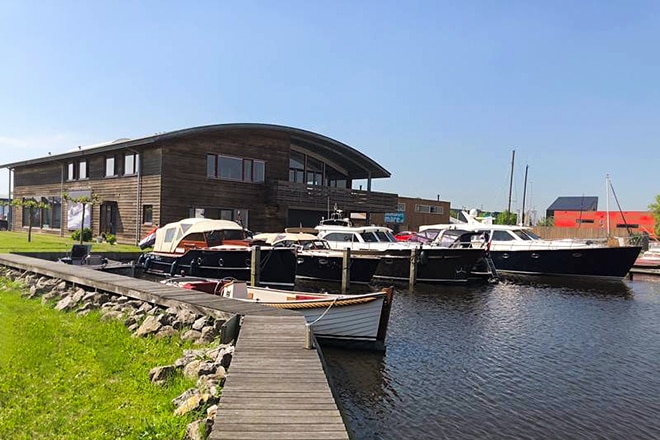 When I went to HISWA on my own (in the rain) about 15 years ago, I was scouting for interesting brands to represent in the UK. At that time the contemporary classic that caught my eye was a Rapsody.
I also visited the Prins van Oranjeboatyard, where I saw several classic wooden launches afloat in their amazing floating showroom. At that time, I was not in a position to purchase any of the classics that I saw there, but interestingly Prins van Oranje has since become agents for new and used Rapsody models as well as developing a 30ft open launch, which they have called Venegy.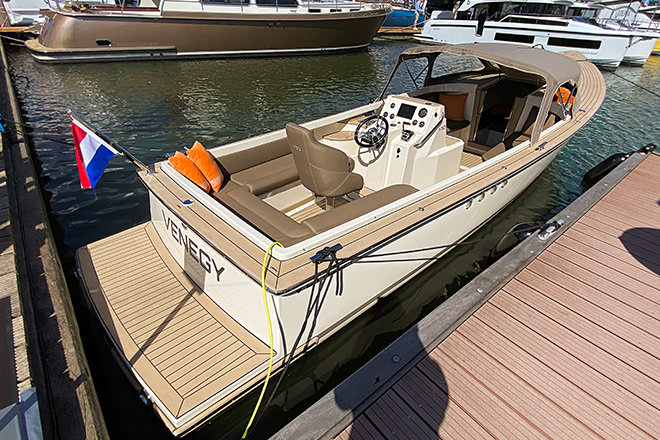 You can choose your motorisation, and while they were promoting fast Vetus diesels at the show, I think this boat could be a winner whatever your choice of propulsion.
The new V30 ultimately appeals as a contemporary classic, and I would love to import one to the UK.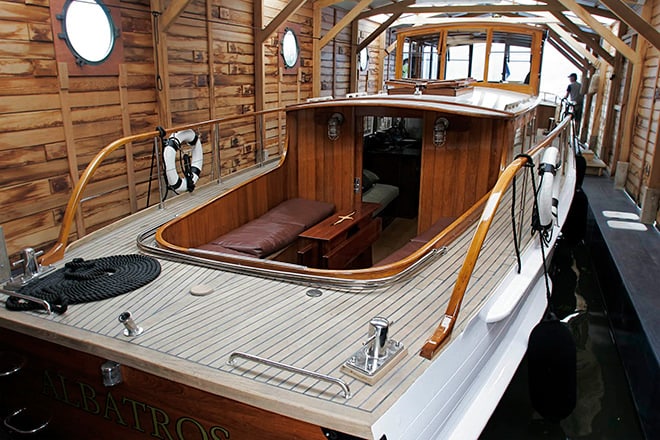 Steve and I left Lelystad, heading for the outskirts of Amsterdam, where we were to look at two true classics.
The first of these was the stunning 1928 German-built 'Albatros', which belongs to a serial wooden boat owner. You could hear the enthusiasm in his voice and see the love he has lavished on this very special motor yacht that I can only describe as exquisite!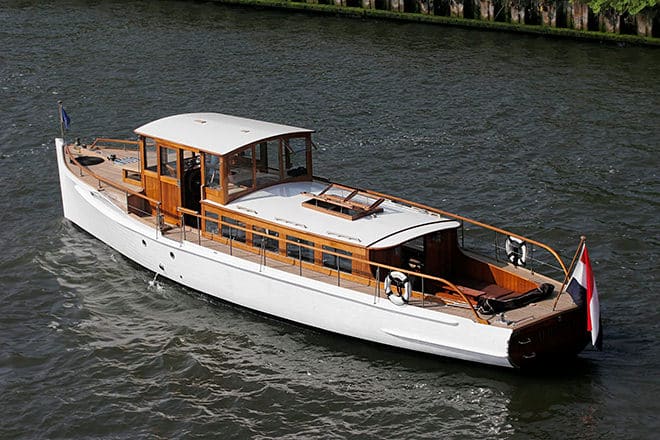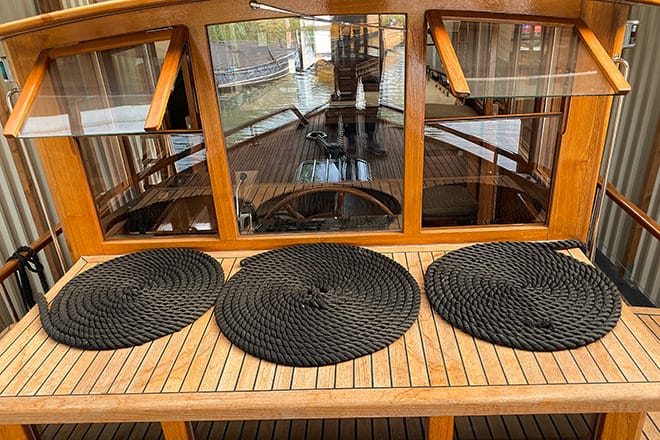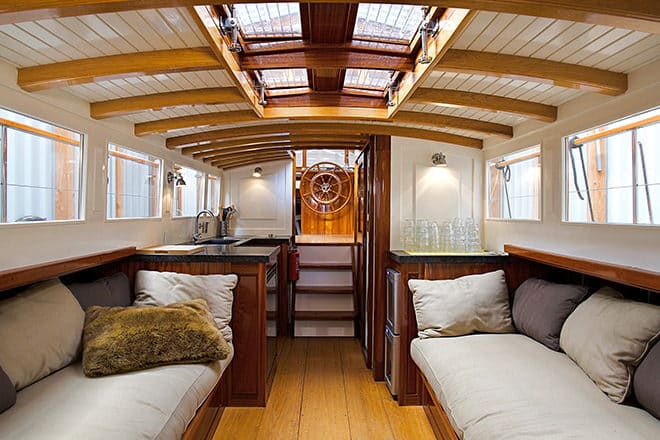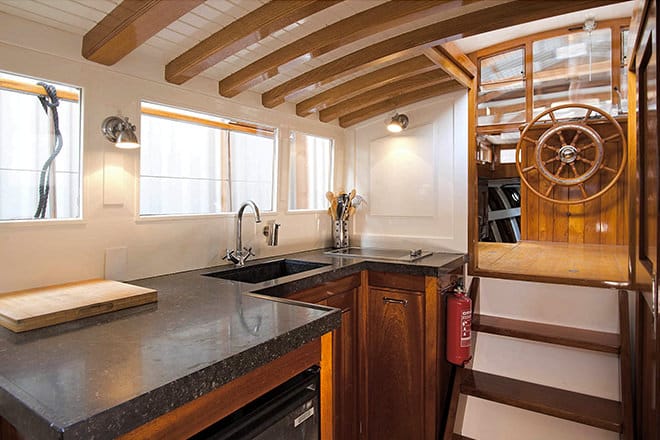 Michiel was about to take his employees out on 'Albatros' for the day cruising around the Amsterdam canals.
This boat is simply perfect for entertaining with its large aft cockpit opening into the capacious central saloon area. While we were there, the caterers came onboard to fill up the wine fridges and lay out the buffet.
We would have loved to have stayed, but there was still more to see.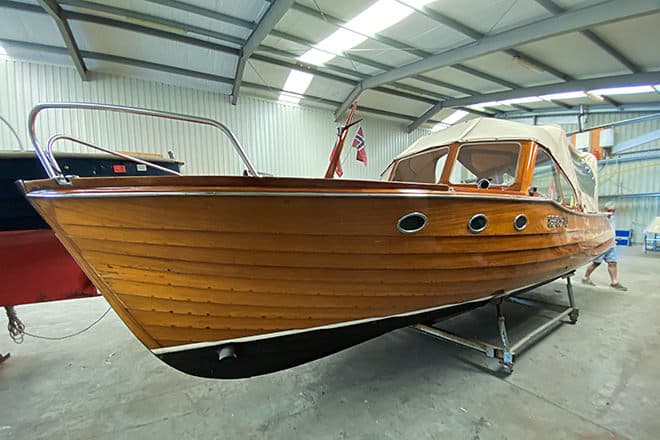 Before we left, Michiel showed us his 'Storebro solo', which I have been told I am also welcome to sell as Michiel prepares for a few years of comfortable travel exploring the world.
Don't hesitate to contact me for more info.
A busy month
September is proving to be a busy month with a lot more sales viewings than expected and several festivals, including St. Katharine Docks Classic Boat Festival.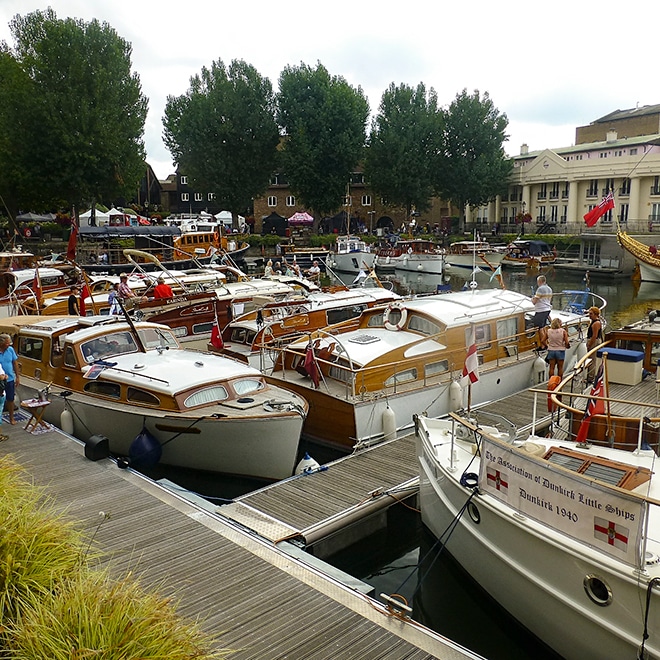 New on our website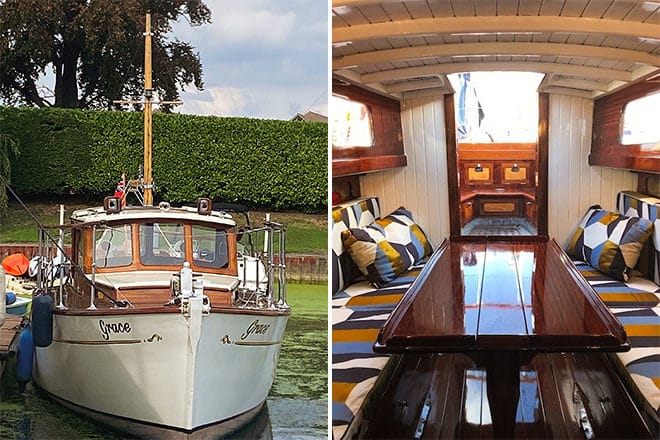 The beautiful Watson-designed 'Grace' arrived last weekend on the Thames and is now for sale on our website.
While I had seen photos of her when she emerged from a full refit at Dennetts I had not yet had a chance to go onboard. She is a thing of great beauty both inside and out.
Front row seats to the (unofficial) 'Thames-beautiful-boat-parade'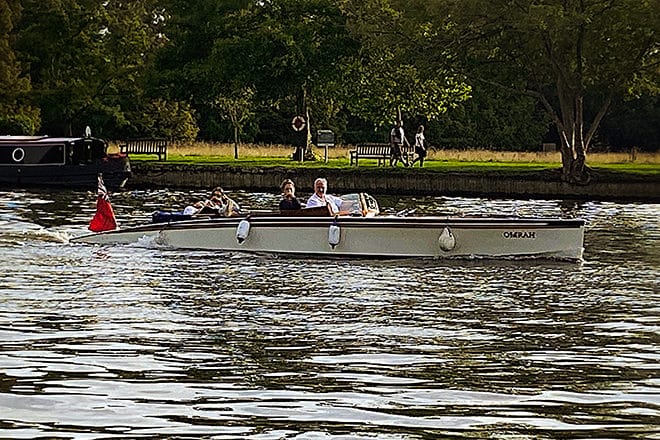 As the evenings draw in, I am still very much enjoying the new Henley Houseboat.
Last Sunday I spent the afternoon relaxing on the deck, watching the world float by. For a boating enthusiast there is an ever-changing parade passing my deck chair and keeping me amused. 'Omrah' slipped by with its new owner at the helm, followed shortly afterwards by 'Windsor Belle' returning from a full day of HSC charter.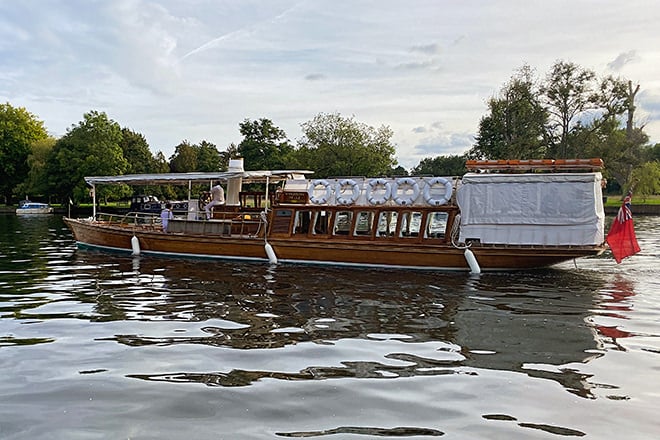 A fitting end ...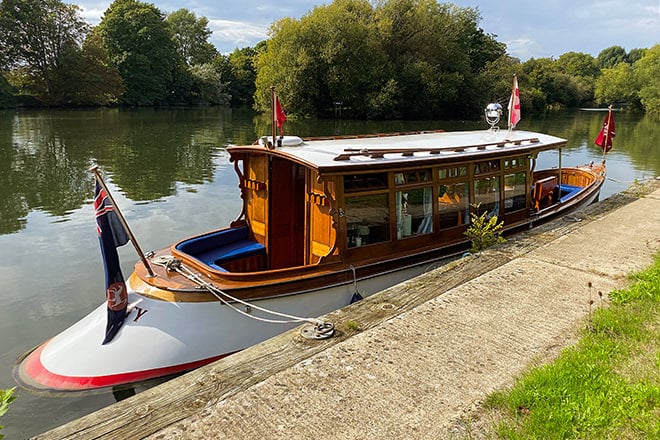 A few years ago, we sold a Saunders launch to a father and son charter operation in South Africa. A couple of days ago, we spent the day together viewing potential additions to their fleet.
Our last stop was 'Verity' proudly flying the Diamond Jubilee flag cruising past Windsor Castle - a fitting end to their trip to the UK as we paid our own tribute to a much loved and extremely hard-working sovereign, Her Majesty Queen Elizabeth II.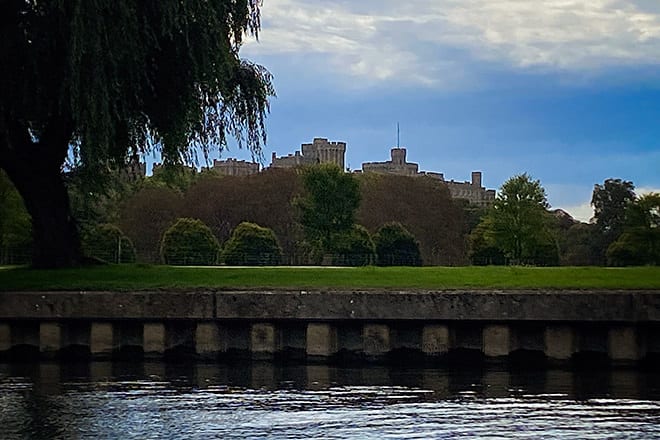 Looking to add to your hire fleet?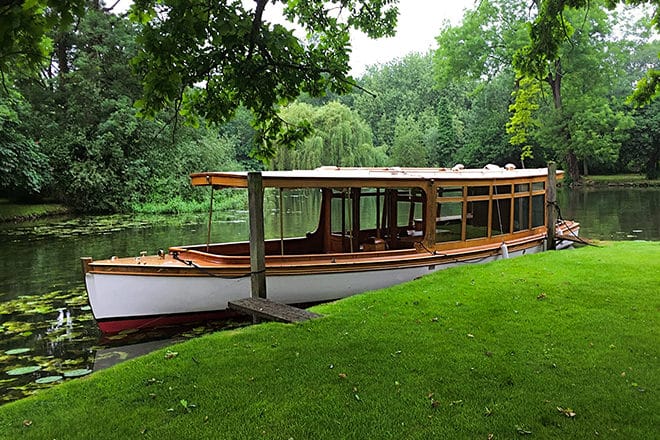 If like our friends from South Africa you might be considering adding a saloon launch, capable of taking 12 guests, to your fleet for next year, you might also wish to consider 'Lisbeth', 'Verity', 'Natasha', or 'Tarbes II'.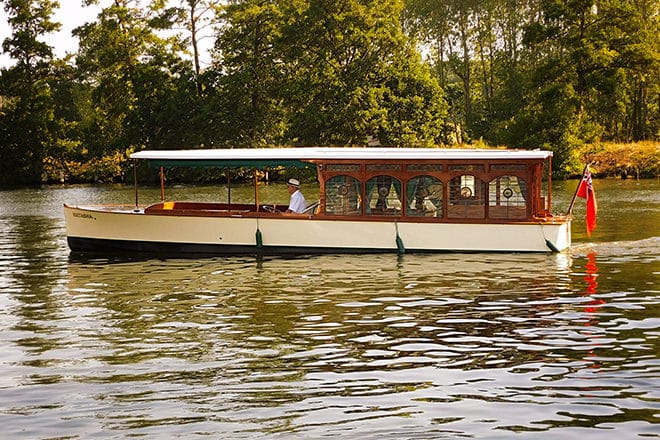 Feel free to give me a call if you want the lowdown on running a charter business as I have more than 30 years experience, which I'm always happy to share.
Extraordinary home with 90ft mooring up for grabs!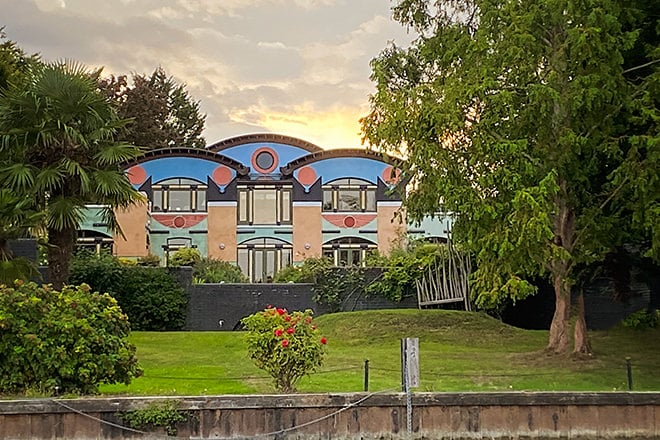 Moorings for business ventures or simply for pleasure are not easy to come by.
If you would like to own an Egyptian-inspired postmodern property, complete with an indoor swimming pool and a 90ft mooring (just moments from the Beetle & Wedge Boathouse restaurant) on a gorgeous part of the river, I can put you in touch with the vendors and certainly take you by boat on board The Preterist to appreciate the full impact of this unusual home from the river.
Winter storage?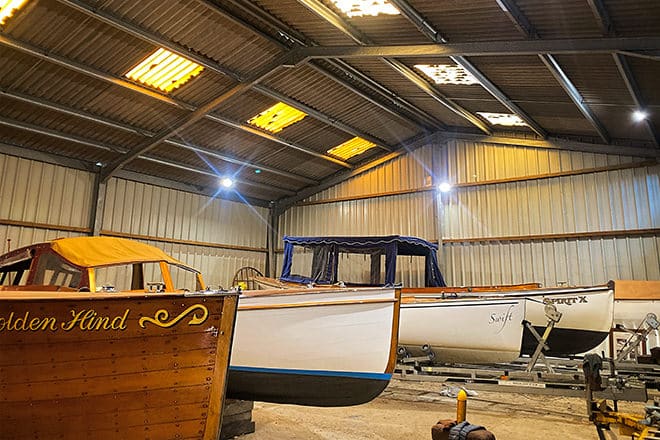 Looking forward as ever to the coming months as we enjoy the early autumn sunshine, it is time to let us know if you would like to reserve space for winter storage at our Beale Park facility.
Regine has already heard from a good many of our regulars, so do let us know in the next couple of weeks if it is your intention to store your boat ashore over the winter months.
Henley's first Illuminated Boat Parade
After successfully lighting up Cookham since 2015, tomorrow Saturday, September 24th, the Illuminated Boat Parade will take place in Henley for the very first time.
Registration for boat owners to participate is now closed, but there will be free viewing along the footpath from Henley Bridge downstream towards Temple Island and from the roadside pavement in New Street. Leander Club (bar & dining) will also be open to the public.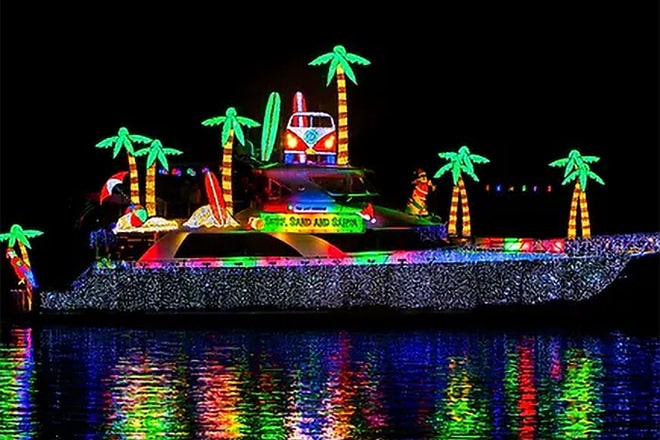 See you there!