With the river in spate, there has been plenty of time for reading because boating was considered to be too dangerous until recently. Now those of you who go to sea will obviously consider this ridiculous, but we law-abiding Thames folk follow the edicts of the Environment Agency to the letter (most of the time).
If only they were so respectful of the need to avoid allowing Thames Water to pump effluent into the Thames under cover of darkness, as we recently observed on a quiet evening stroll.
A majestic celebration!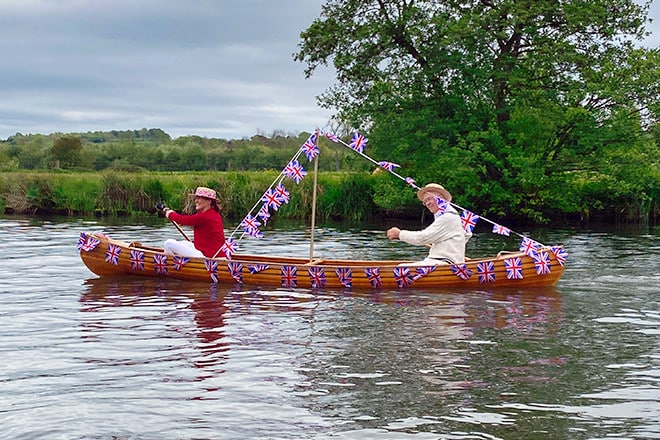 I was just wondering how to start the newsletter this month when Regine reminded me that we had had a very significant event only a couple of weeks ago, which saw a number of enthusiastic boaters taking to the river here in Henley for a Coronation Flotilla.
The weather wasn't quite as bad as it was in 2012 when hundreds of us paraded on the tidal Thames for Queen Elizabeth's Platinum Jubilee in central London on the coldest, wettest June day in living memory.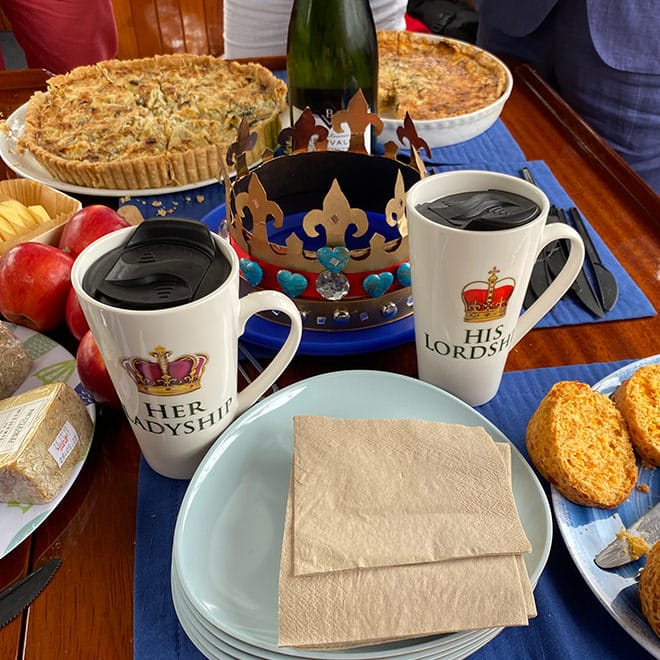 We joined the flotilla with "Tarbes II" to celebrate King Charles and were well armed with bubbles, a large flask and other essential picnic items which helped to lubricate the cruise between Hambleden Lock and Marsh Lock.
The crowds on the riverbank were very enthusiastic, and boaters too had gone to a lot of trouble decorating both their boats and themselves. What a joyous event it was.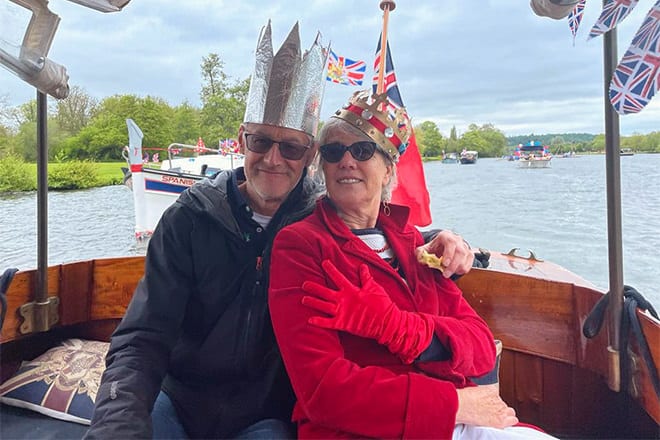 In the press
I left my crown behind on a recent visit to the House of Lords, where I bumped into our Pucci-clad local lady of the manor, Judy McAlpine. We were guests of the Telegraph media group celebrating their audacious takeover of a magazine publishing house, which includes the title 'Classic Boat'. As a long-term advertiser I was on the guest list which enabled me not only to enjoy some delicious canapés on a sunny Westminster terrace, but also to meet some very interesting people.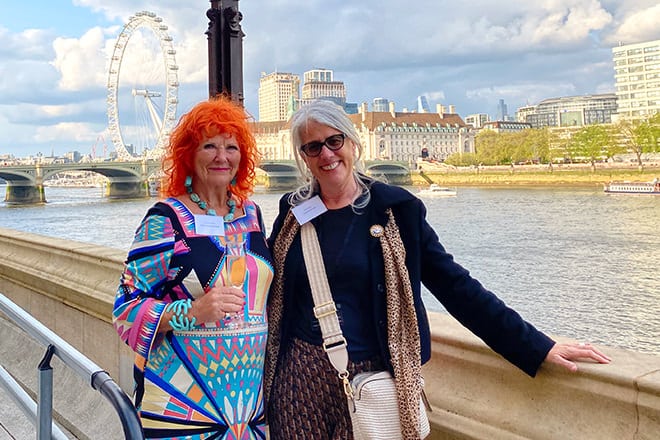 I was surprised not to encounter Classic Boat's poster boy for the June issue - one of our favourite octogenarians, Michael Dennett. A lovely article is dedicated to him and his many accomplishments.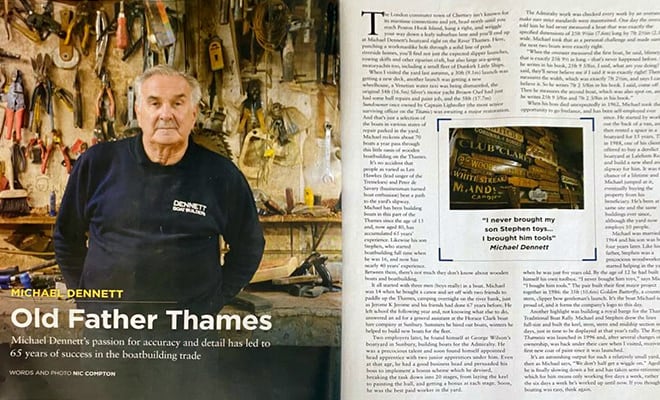 It was at Dennetts that another media star was trained, and she, Abbey Molyneux, was featured in Country Living magazine this month.
Boat building endangered!
The online magazine Marine Industry News reports that boat building has been added to the 'endangered' list of British crafts.
New findings from research investigating traditional craft skills on the brink of extinction in the UK reveal the urgent need to add traditional wooden boat building, canal art, and barge painting to the endangered list.
These invaluable skills now join a growing collection of endangered crafts, including rope-making, sail-making, fender production, coracle construction, and the art of crafting oars, masts, spars, flagpoles, compasses, and navigational instruments.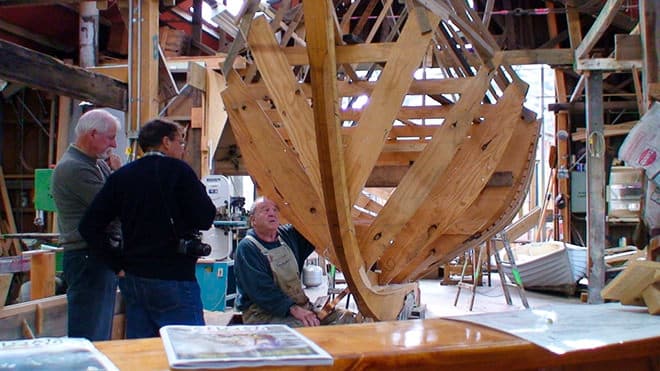 Heritage Crafts highlights a multitude of challenges facing the industry, one of which is the lack of self-investment. They caution that although there is a demand for qualified boatbuilders, the industry fails to invest in their training, and boatyards do not financially support the education of future boatbuilders. This absence of investment is the very threat that may ultimately lead to the demise of these cherished crafts.
From where I stand in the mid Thames, there do seem to be plenty of people in the industry but of course that is just a small snapshot from the UK as a whole.
Upcoming boat events and classic regattas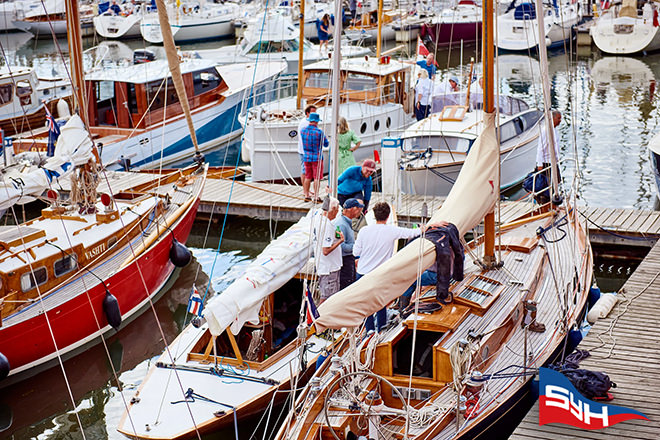 I'm not sure what is happening in boat building in the Suffolk area, but I'm led to believe that traditional skills are also thriving there as it is a magnet for classic boat owners.
If I can find the time in June, I may head to the Regatta at Suffolk Yacht Harbour between the 9th and the 11th of June, where both power and sailboats will be welcome. You can learn more about the Suffolk Yacht Harbour Classic Regatta on their website.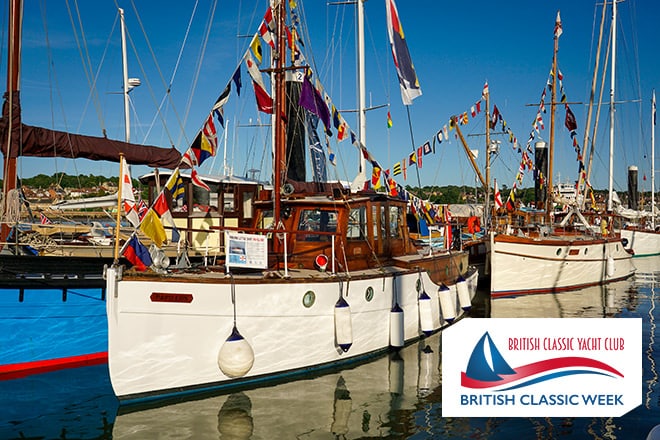 The British Classic Week in Cowes presents another opportunity to show off your varnish in July between the 15th and the 22nd. I am told that they welcome motorised classics and that several Dunkirk Little Ships attended last year.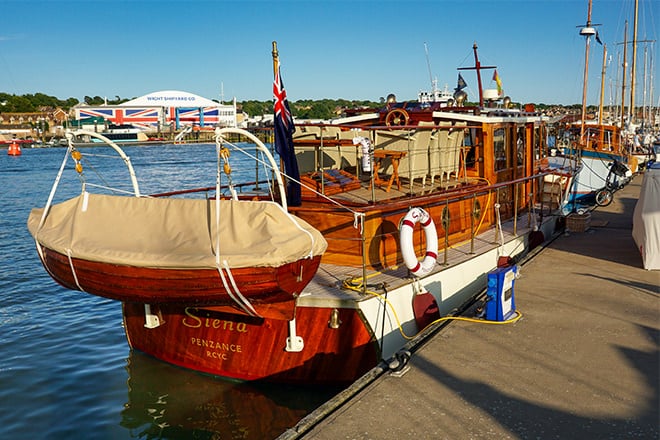 This is "Siena" at a previous British Classic Week. We sold her a few years ago to Peter de Savary who renamed her "Siena" from her original name "Moja". He has since passed away and she is now for sale again. The name "Moja" told the story of her origins in the USA so perhaps a new owner will rediscover the name and the authenticity.
I am determined to make it to British Classic Week myself this year, at least for the day, after the Thames Traditional Boat Festival here on the Thames, which takes place from July 14th to 16th.

The previous weekend during Cowes Classics Week includes a day on Sunday, July 9th, when vintage vehicles of all types are invited, and there will be a parade of historic motor yachts.
For more information on this, you can contact the organiser Mary Scott Jackson directly*.
* email [email protected]
Boats that send you on an intriguing historical journey
If you don't have a suitable boat to attend these coastal events, you might like to consider buying "Albaquila", "Albatros", "Thelmarie", "Grace", "Sunstar", or perhaps "Sheilana" (soon to be listed).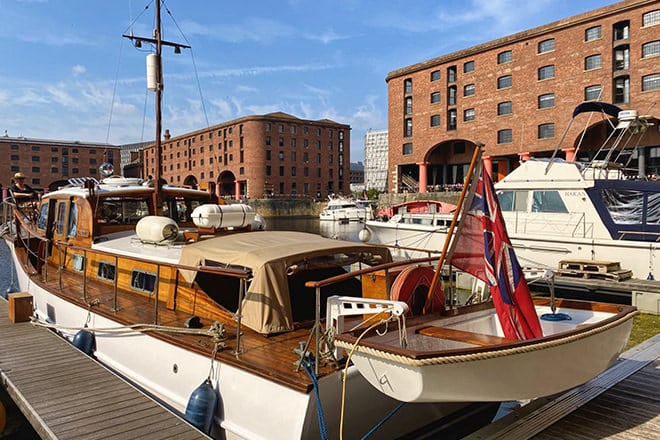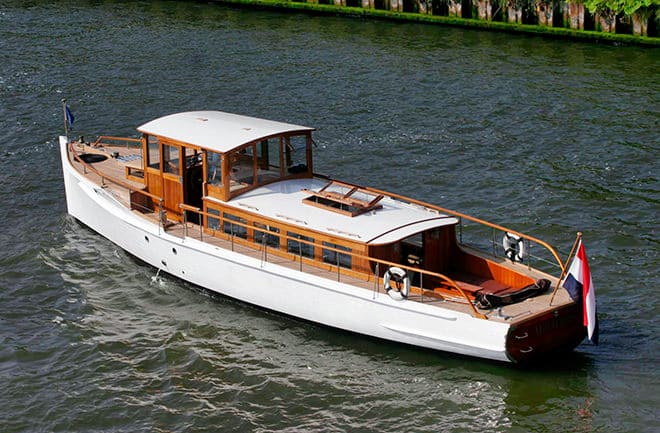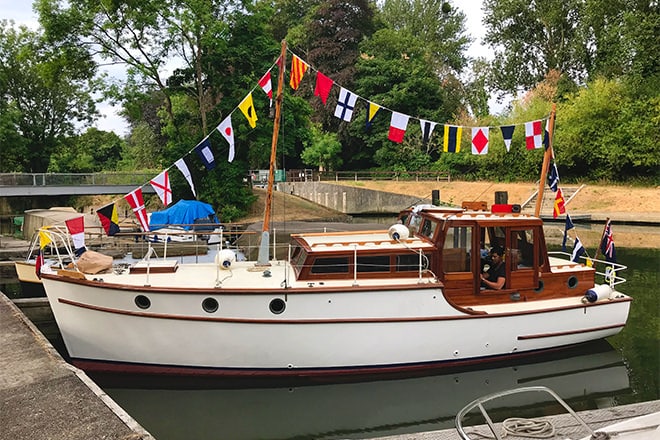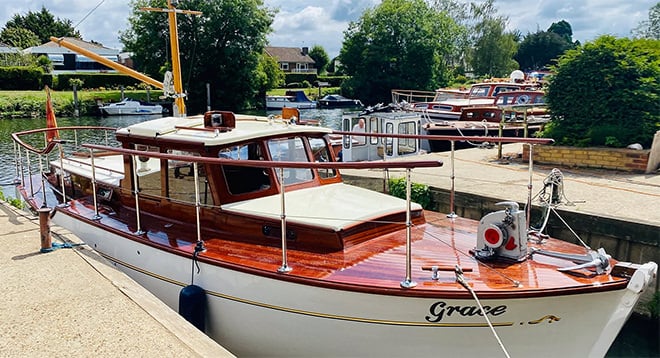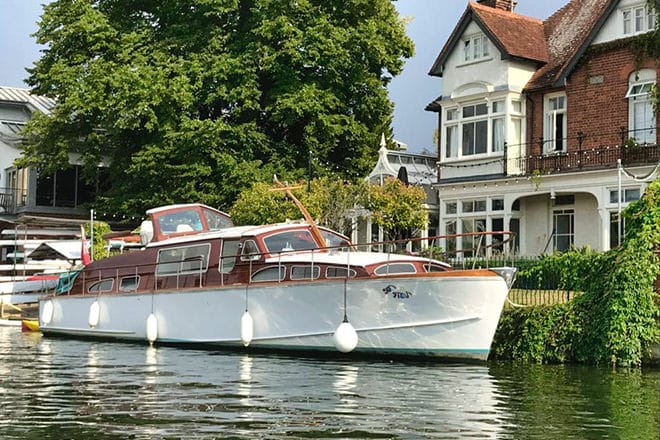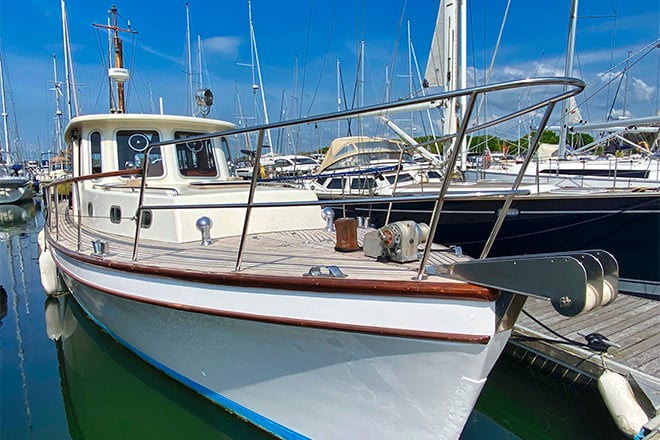 "Sheilana" was built for the admiralty right at the end of the war, and it is possible that she never saw active service. In any case she was purchased in 1947 by a gentleman from Sloane Square as I discovered earlier this week on a viewing expedition to Chichester.
She has the most complete dossier of any vessel I have had the privilege to visit. Just looking at the old bills of sale or indeed her French boat passport transports you to a different time and place.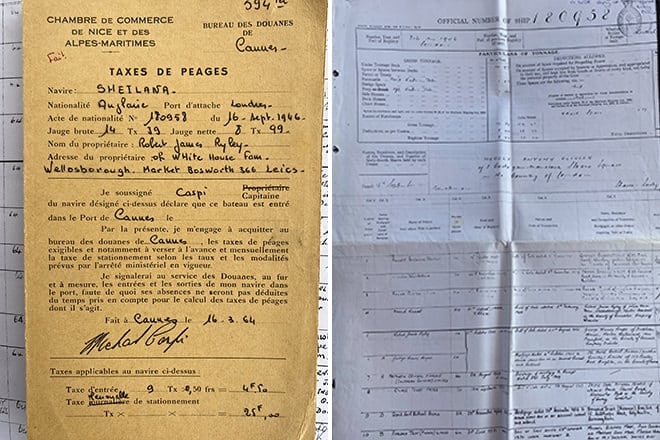 While flicking through one of the photo albums on board, I spotted a familiar face, that of a young Dave Cockwell, who rebuilt the boat more or less in its totality at the Underfall boatyard in Bristol many moons ago.
Sadly it appears that this boatyard burnt down earlier this month. We can only imagine what it must be like to stand back and see your entire business going up in flames.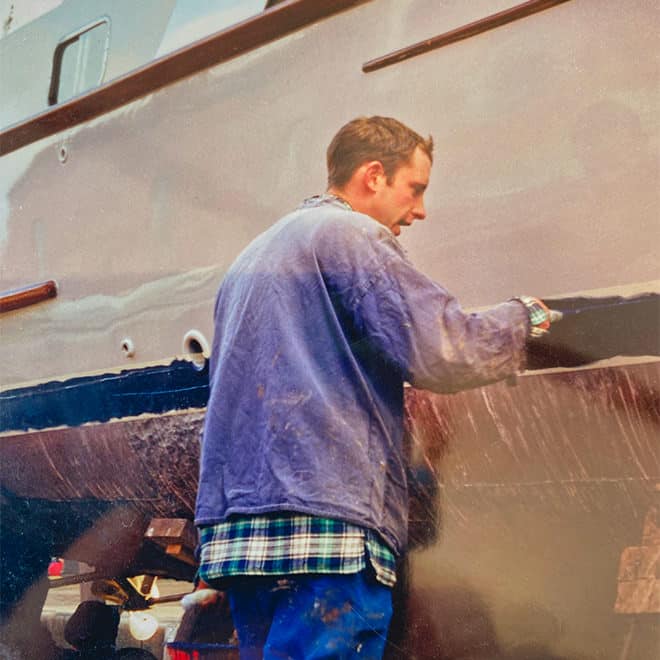 Dave now runs the prestigious Cockwells boatyard in Mylor Creek, building superyacht tenders and the contemporary classics range of Duchy motorboats. Over the years Dave has trained and retained many young boatbuilders, as has the nearby Pendennis shipyard - two success stories in the Southwest which counter any doom and gloom in our industry.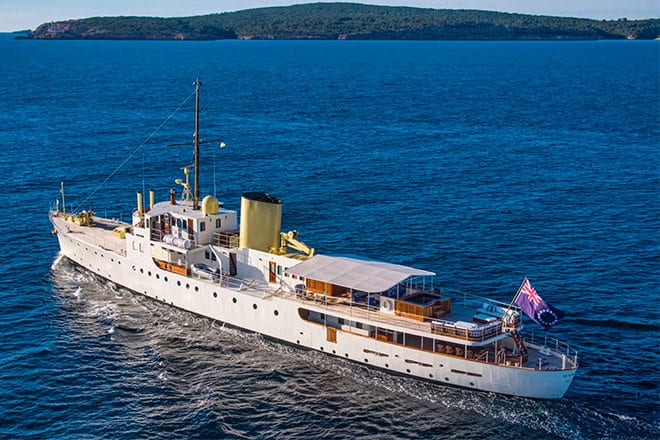 In this month's Classic Boat Magazine, you can read about "Marala", a recent Camper & Nicholsons refit completed at Pendennis shipyard. Like all old boats, she has a story to tell which includes iconic characters such as Salvador Dali and Frank Sinatra - one can but dream.
The Classic Boat article intimates that "Marala" will be available for occasional charter. (Note: I would happily come along as an unpaid deckhand.😉) 
From Paris to Monaco - ocean conservation and education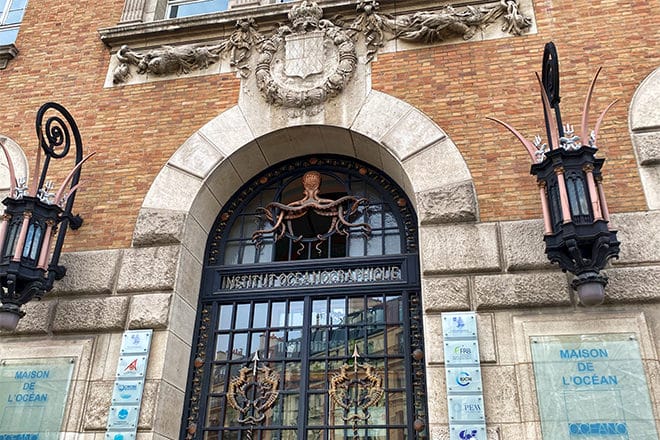 It turns out that the generosity of Albert I, Prince of Monaco, founded the 'Institut Océanographique' in 1906. It is a renowned organisation dedicated to ocean education. With a global reach, the institute actively advocates for the protection and preservation of the Earth's marine ecology.
It manages two ocean museums, one in Paris and another in Monaco. The latter houses one of the oldest aquariums in the world!
Another excuse to gear up and head to Monaco ...
You could combine a trip to the aquarium with a visit to Monaco Classic Week in September (13th - 16th).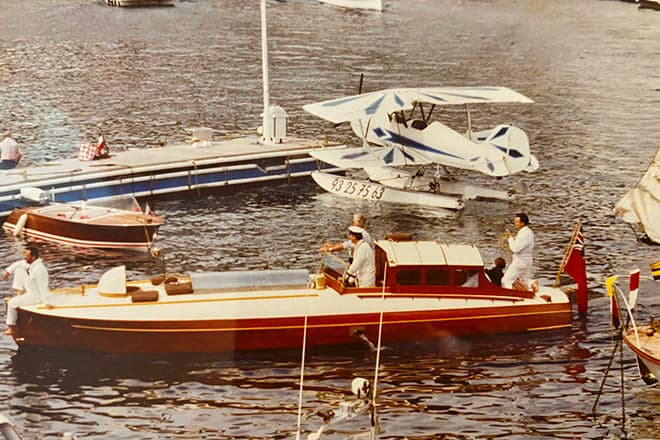 In 1994 I went to this event with some friends and had a marvellous time. I remember crossing the harbour in a historic motorboat by the name of "Sereia" (1928 Thornycroft hydroplane), which has subsequently been sold to a UK collector and came to the Traditional Boat Festival two years ago when I featured it in our summer newsletter.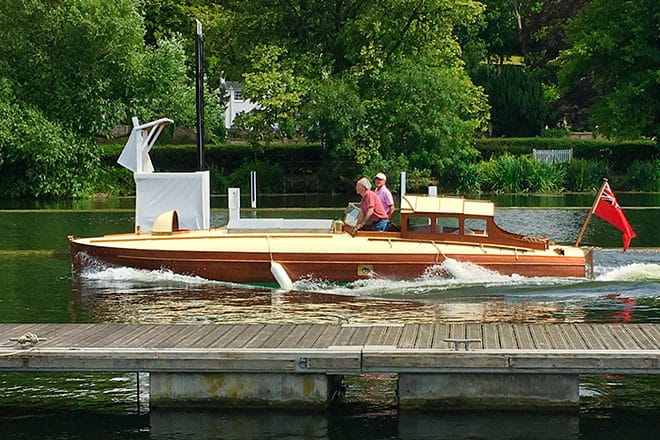 You could join Monaco Classic week this year as a participant in the 'Canots Automobiles' class with a classic Chris Craft. Both "Keuka" and "How's That" are on trailers and would be very welcome by the organising committee. They are available for viewing at Beale Park by appointment.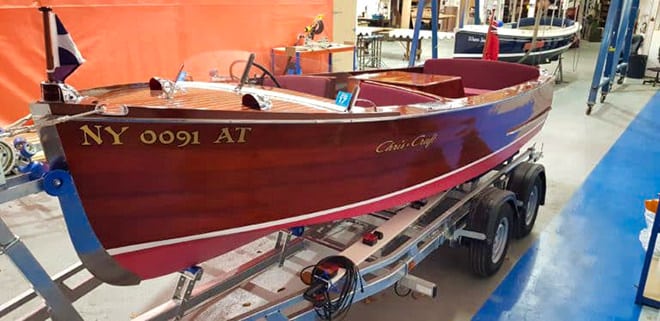 What's in a name?
As we learned in a recent newsletter, "Keuka" is named after a lake in upstate New York.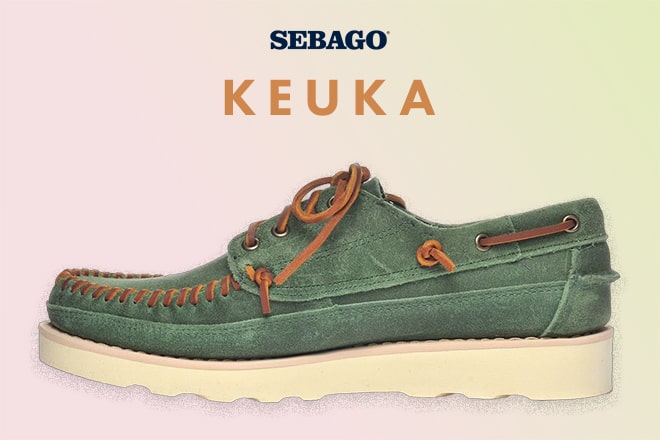 Now Keuka is also the name of a Sebago Moccasin available in "beige camel" and the rather fetching shade of "green agave", which would take you from boat to bar in great style until we meet again in next month's newsletter.