Thanks to the beautiful weather recently it feels like we have had an amazing season. However we all know that the weather will change and winter preparations are well on the way.
Comings and goings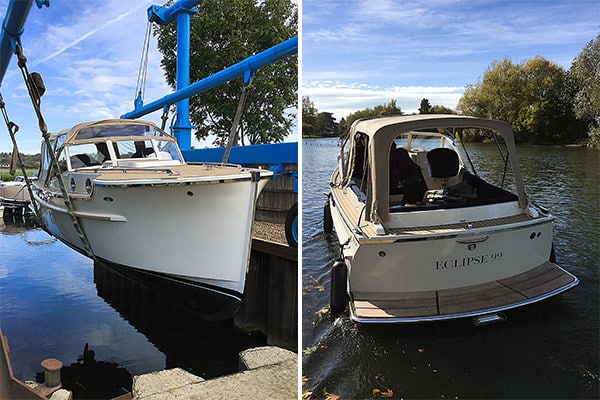 A newly acquired PTS 26 arrived in the UK one sunny Saturday this month. The owners are delighted with their purchase and would be happy to show "Eclipse 99" to any other of our customers interested in a PTS. She certainly has proved to be a hit this year and is in my opinion the perfect weekender. We currently have three more for sale on our books. 
If you prefer a new one, there is still time to order for spring delivery at 2018 prices. We are currently looking at a commuter/river taxi hybrid for central London complete with solar panels based on the PTS 31 hull.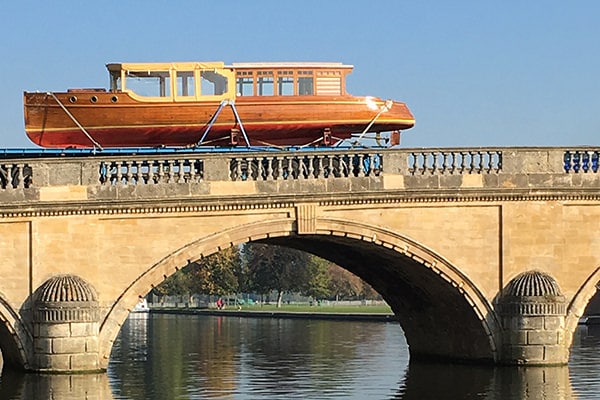 Talk about right place-right time, I jumped off my bike on a bright autumn morning to say "Hello" to Sir Steve Redgrave on board his 30ft Andrews slipper "Rosvic", which he bought from us about 3 years ago. After a couple of winters at Woottens she is looking much happier than when she was originally abandoned at Beale Park. 
In the space of 5 minutes I saw my beautiful old gentleman's launch, a 40ft Taylor Bates, crossing Henley Bridge as if it were an aqueduct.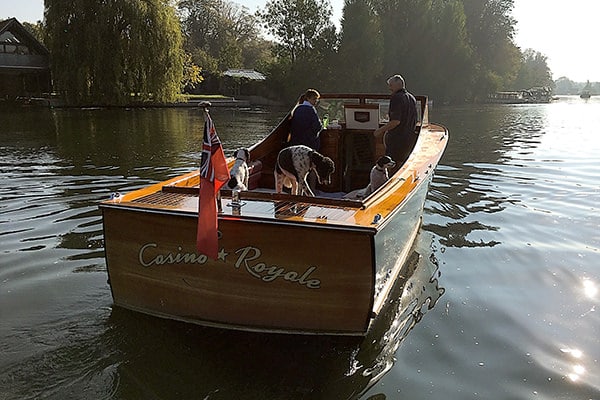 And then there was "Casino Royale", an electrified Chris Craft, turning downstream heading for Dennetts. 
The Dunkirk Little Ship named "Fleury II", which we sold in spring, is going all the way to Falmouth for new engines this winter at the fabulous Cockwells' facility in Mylor Creek. 
From the same stable we have the lovely "Luna di Miele", a Cockwells Duchy 21, coming to our new storage facility at Littlestoke Manor Farm.
HSC expands its storage capacity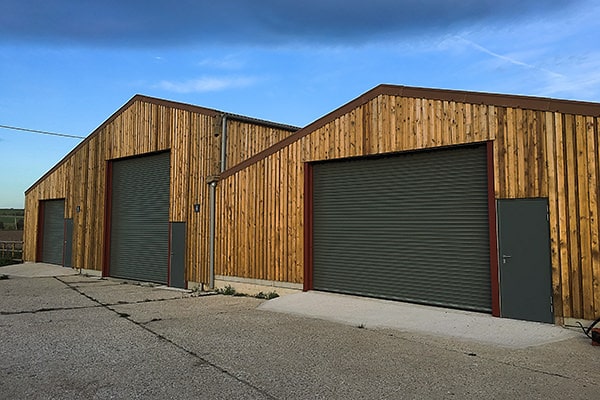 If you fancy a nice dry cosy corner for your boat this winter, we still have room, as we have taken on a rather special storage option with a socket for each boat. This will be year-round storage for electric boats, turning into a showroom in the summer.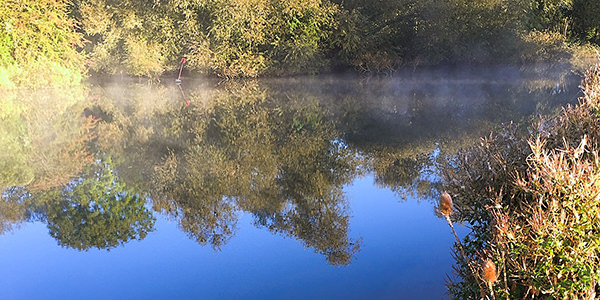 Renting out their barns helps Littlestoke Manor Farm to create more wild flower margins for wild life and more hedgerows as they prioritise environmental work in harmony with farming. Our support helps them create a sustainable future.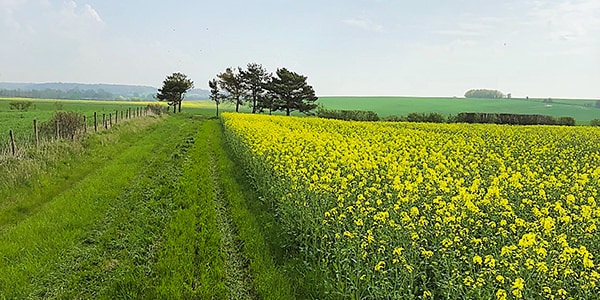 Simon, Ellie and Adrian will continue to work at Beale Park in our workshops where we have a number of interesting winter projects to undertake. 
If you fancy a project but you are really not handy, do feel free to ask for our advice on which shipwright or boatyard facility would suit you best. They are all different and we listen to our customers' feedback, which helps us to give sound advice.
Dunkirker in need of some TLC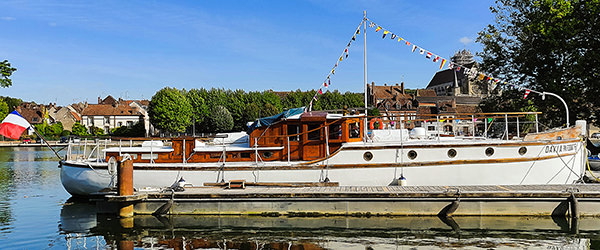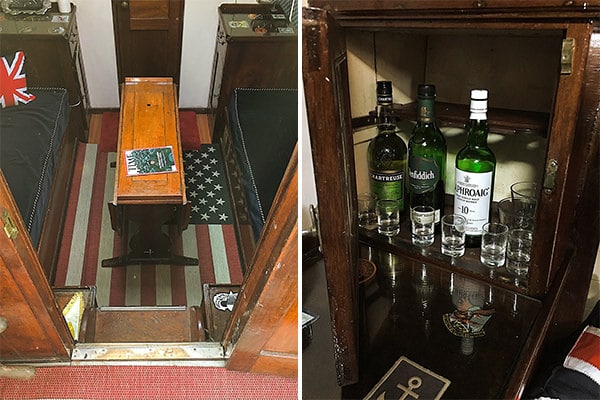 So earlier this week I schlepped, courtesy of the railways, to Villeneuve-sur-Yonne in Burgundy. What a peaceful and lovely stretch of river I found there. 
I had a very pleasant few hours on board "Davia" with its charming vendor Bruno. "Davia" is a 52ft 1929 Silver and a Dunkirk Little Ship to boot (for sale through HSC).
We agreed to drop the price to £65,000 as there is just 18 months to go until the 2020 Dunkirk return.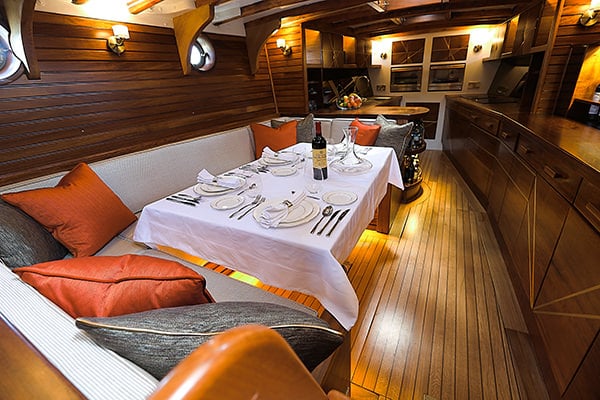 Bruno would like to crew for a new owner who has the means to bring the boat back to the condition of her sister ship "Wairakei II" which HSC sold in 2016.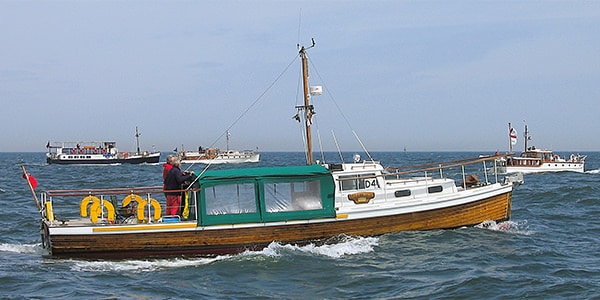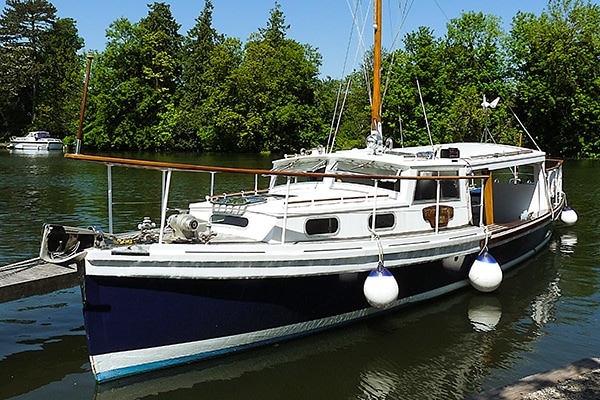 Each owner puts their mark on their boat. Here is "Ferry Nymph" another Dunkirker, when we took her on for sale and the way she looks now, complete with a very nice Thames mooring. 
The French envy us our choice of boatyards which still offer traditional skills. There is a burgeoning resurgence of traditional boat building, but it is mainly concentrated in Brittany and on the coast. France has a massive network of inland waterways, sadly devoid of interesting and skilled boatyards.
Another happy "couple"
While enjoying a glass of Chablis with lunch on the terrace and a sparkling view of the river Yonne, I had confirmation of the sale of "Esperance". 
When I last sold this magnificent 45ft Star Craft she was named "Asterisk*". I hope to crew her myself on a refurb trip downstream to Dennetts before significant lock closures limit our ability to navigate. 
Rumour has it that the owner, who also has a penchant for fast Italian cars of a similar era, will be mooring her in Marlow.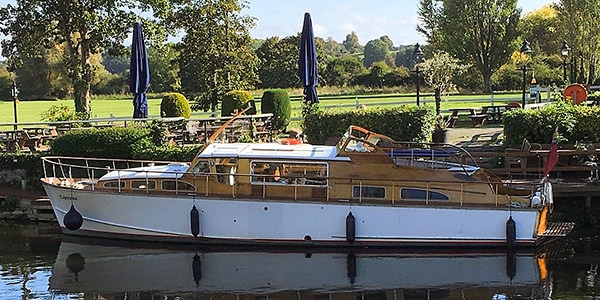 While vintage cars sell occasionally for silly money this has never been the case in the UK for vintage boats. Indeed they seem to me to be incredible value and particularly right now. 
We tend to sell boats throughout the year these days. So if you are thinking of changing your boat, please do get in touch.
Thank you!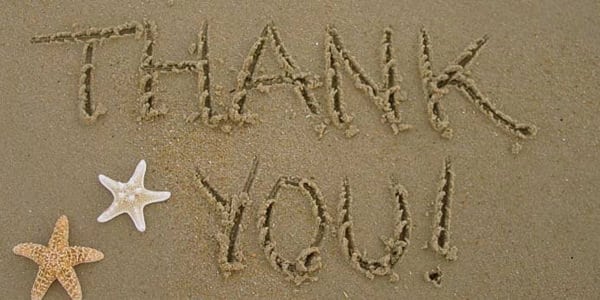 Thank you to all of our customers who have written testimonials and have recommended our services to other boaters, charterers and hirers, as it is you who are helping us grow and make our business so satisfying and enjoyable. 
This summer we have created happy moments for hundreds of people, with over 800 bookings through PureBoating and 40 boat sales through HSC. If you have a photo or an experience to share please send it to us so we can make our website more personal and interesting. 
And a big "Thank you" too, to those of you who have chosen to buy or sell your boats through us. HSC and EBoatique are like dating agencies as we work really hard to try and match each boat with her ideal partner.
Stuck for a Christmas Gift?
We have espied a superb, beautifully produced model of a slipper launch. The handmade model boat measures 60 centimetres and is presented on a fine display stand. 
The boat is made of cedar and is dressed with two coats of paint and 4 coats of varnish and really looks the part. All the fittings are metal and made bespoke for the slipper. The build quality is excellent and we reckon it would make a perfect gift for a river lover or someone who just appreciates fine design.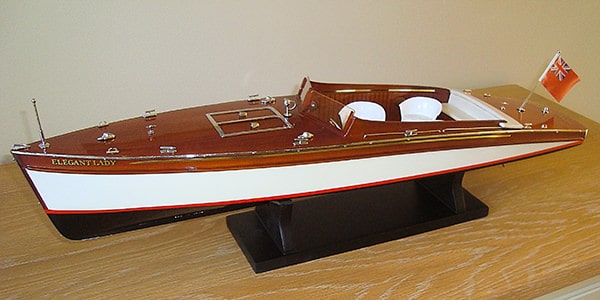 There are only twenty models produced and each one will come with a Certificate of Authenticity confirming the limited edition number. 
The model costs £495 which looks like good value (compared with the real thing!) and we have negotiated a special £50 discount for all HSC customers. 
Please make direct contact via [email protected] and quote HSC50 if you wish to order. 
We suggest that you order quickly as they will probably all be snapped up for Christmas.