March has been an incredibly busy month filled with travel, boat viewings, delicious food, a ceremony and a lot of hard work from the HSC team at the yard, who ensure all our boats are ready in time for the season.
A traditional Dutch boat in an historic French town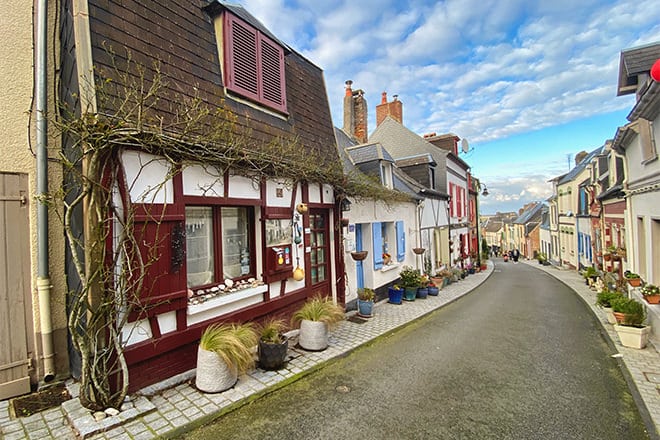 I have just returned from a delightful couple of days in St Valéry-sur-Somme which is a mere hour and a quarter from the Channel tunnel. Funnily enough, I realised I had previously bypassed this historic region while heading further west to Normandy.
The reason for my visit was to view a Dutch Backdekker, which we have on brokerage thanks to its journalist owner, whom I met several years ago at the Beale Park Boat Show. He rightly identified HSC as the ideal broker for his European classic as we have an increasing number of clients from all over what is now known as 'The Continent'.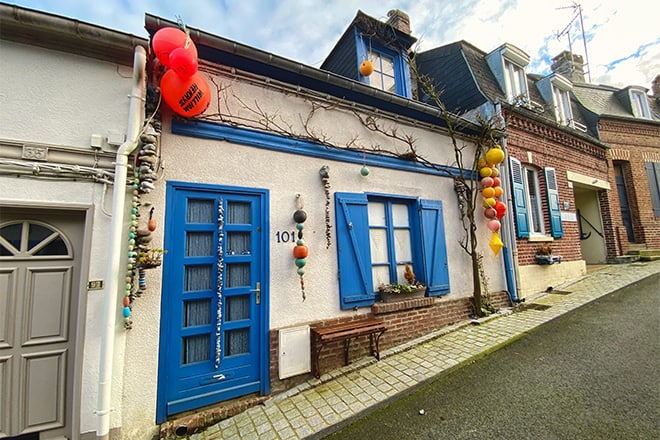 On checking in to a wonderful Bed & Breakfast in the medieval quarter of Saint Valéry, our host, Nathalie, presented us with a guide to the Somme region. As I flicked through it, looking for a restaurant recommendation, I spotted a Scoop! A couple of pages later, I came across a shot "Nauporos" gently cruising up the Somme river as the owner used to do some private charter work.
Unusually for HSC the boat has a steel hull with a wooden wheelhouse and interior. It is also 'beamier' than the late 1930s boats we built in the UK back then.
Frankly it would almost be a shame to bring the boat across to the UK as there are so many amazing cruising opportunities in mainland Europe where moorings are plentiful and extremely reasonably priced. The vendor currently pays 450€ a year in central Amiens, which has a very animated restaurant scene right by the river Somme.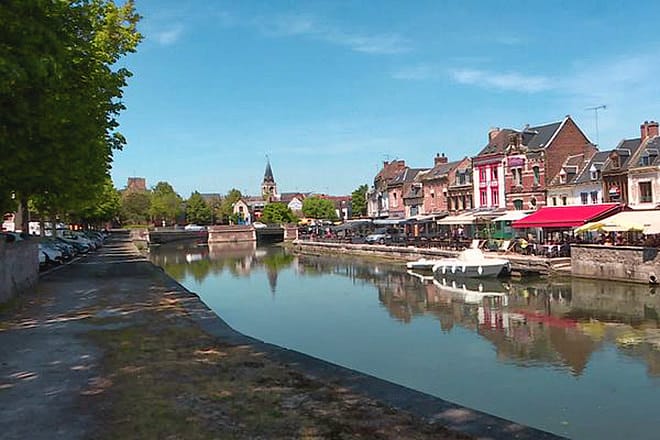 St Valéry is a two-day cruise from Amiens. It offers a very sheltered harbour which was presumably the reason that William the Conqueror rallied his fleet of 400 ships and 1000 barges as he prepared to invade England in 1066.
Some centuries later, Jules Verne was inspired to write his epic novel '20,000 leagues under the sea' while living in St Valéry where he also enjoyed a spot of boating. And I was transported back to my undergraduate days as a student of French literature with quotations from Victor Hugo's poetry featured on many lamp posts.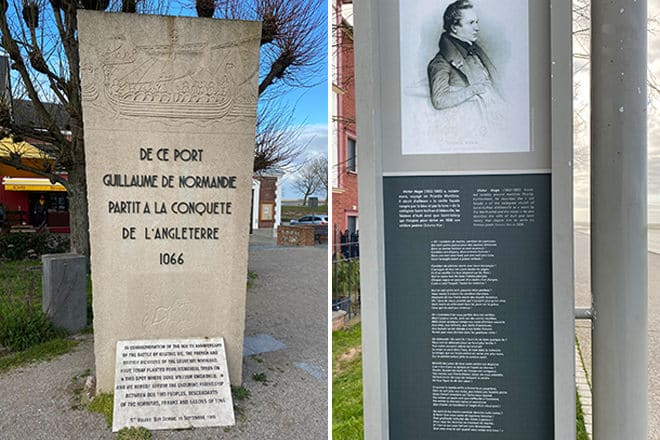 As you would expect, there are a number of holiday rental options. However, as we were only there for a short time, the B&B option appealed to us.
The accommodation at 'Au Vélocipède' consisted of nine individually decorated rooms and was enhanced by a delicious breakfast served with a smile by Nathalie and her husband Pascal.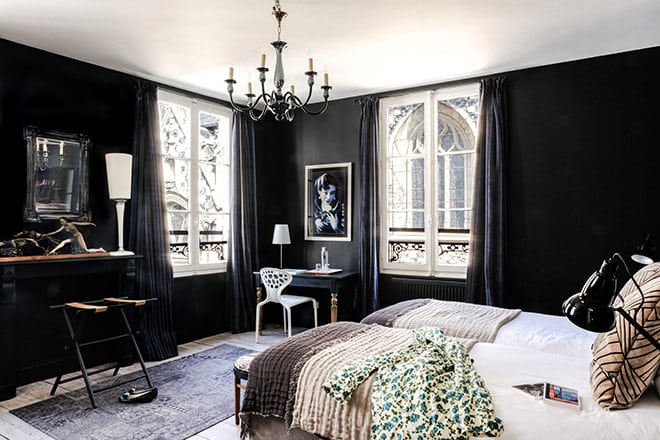 In his previous job Pascal had been a sound engineer in the film industry and a keen photographer.
We loved the black and white photos on the walls depicting Fanny Ardant, Brigitte Bardot and several other lovelies from the French cinema scene.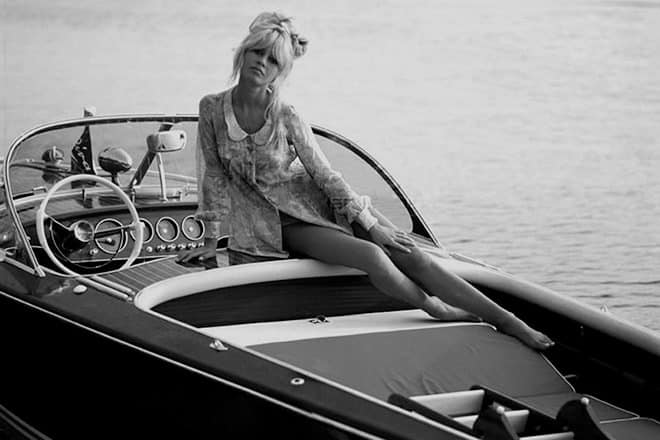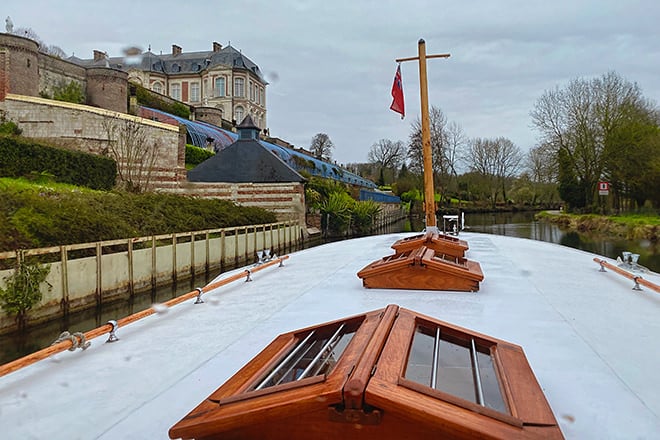 "Nauporos" has a longer forward deck than any Riva. On the day of our visit, she was flying a courtesy ensign to mark "the British delegation" who had come specifically to view "Nauporos" and to go for a short cruise. We were all particularly taken with the spacious and charming interior of this Backdekker.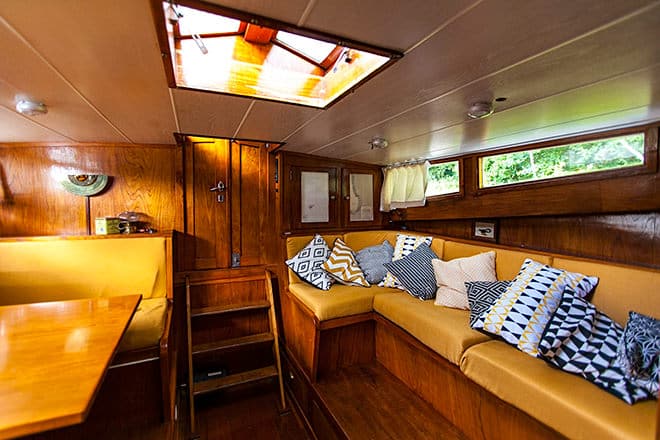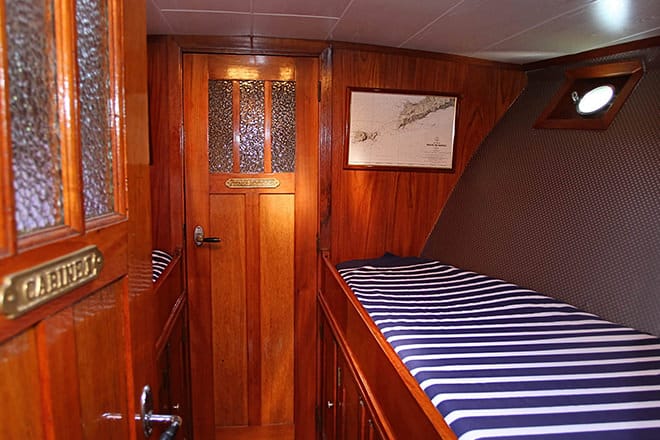 The previous Dutch owner of "Nauporos" was a member of the Dutch equivalent of the TVBC called 'Oude Glorie'. I was given a copy of their 2018 catalogue, which features a boat similar to "Nauporos" on its front cover.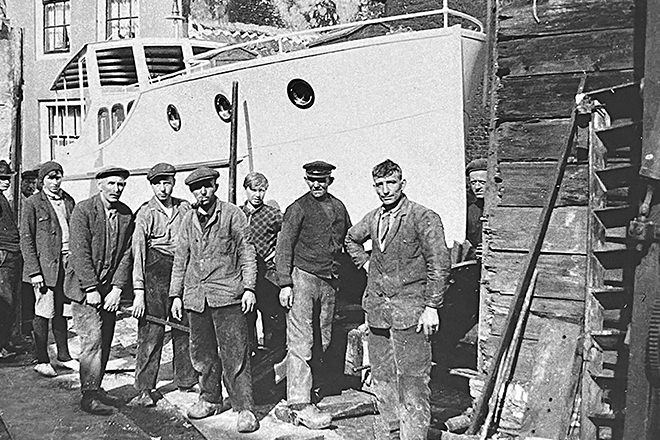 After the viewing, I took my clients to the nearest boat yard in St Valéry, where the manager greeted us in stilettos (only in France) while offloading a pallet of pots of varnish.
Were the "Nauporos" to stay in the area as a floating second home maybe, I feel reassured that any owner would be extremely satisfied with the service from this boat yard and particularly the traditional boat builder whom we also were lucky enough to meet on site.
Our favourite Norfolk boat builder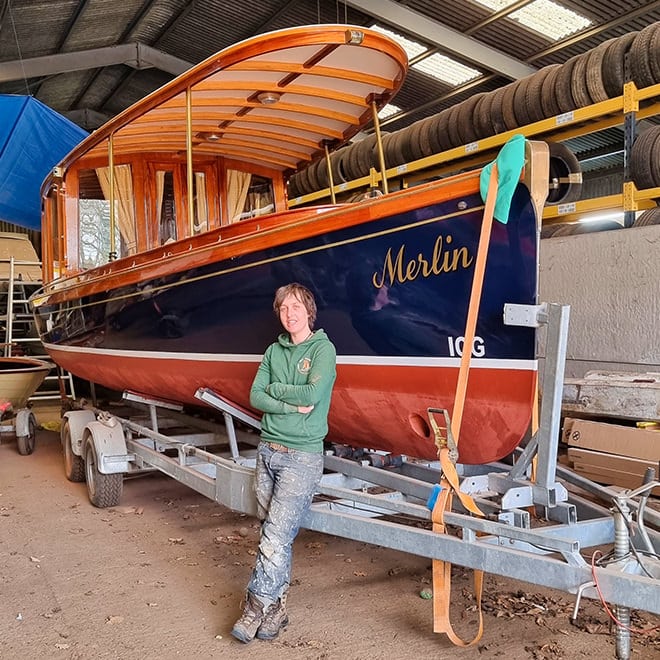 Our favourite Norfolk boat builder Abbey prefers 'Dr. Martens' to stilettos and is a dab hand with the varnish brush. She is currently smarting up the Frolic 31 "Merlin", which we have on brokerage at HSC.
When I asked Abbey what her favourite project to date had been, she said it was the total rebuild of the wheelhouse on "Ranoni". I last sold "Ranoni" to a couple of Thames boaters in 2018.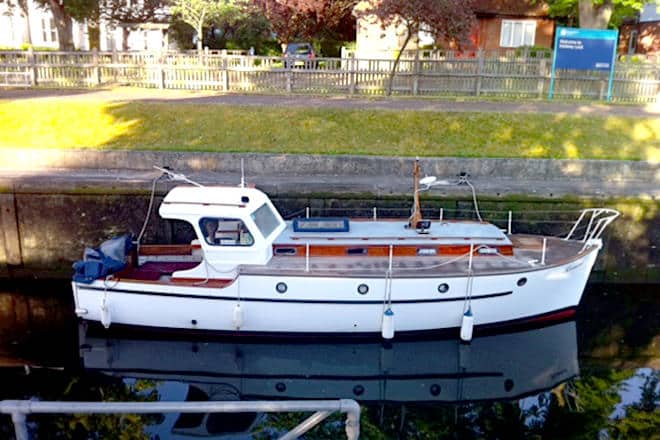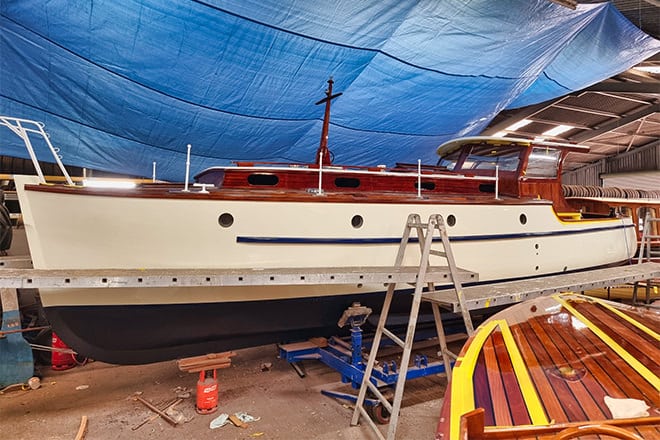 Abbey can be contacted by email at [email protected]. She is happy to consider any project as she now has a whole team of talented staff, and perhaps you would enjoy a change of location if you've never cruised the Norfolk Broads, as the area has so much to offer.
What is happening locally ...?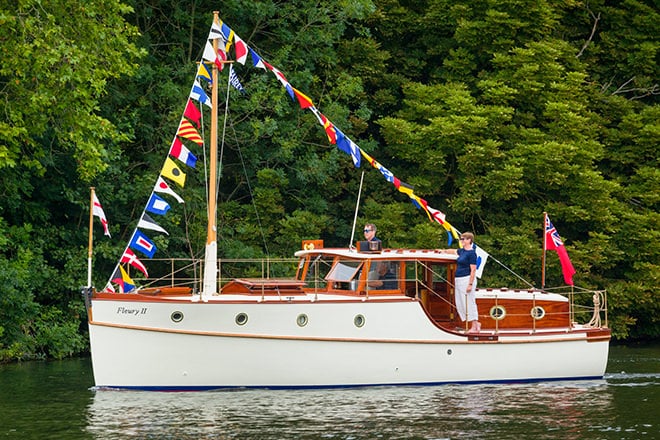 Here in Henley-on-Thames, a Coronation Flotilla is planned for May 8th. The indefatigable Lady Judy McAlpine has put her hand on the tiller yet again to encourage us river rats to gather in celebration of Charles III's coronation.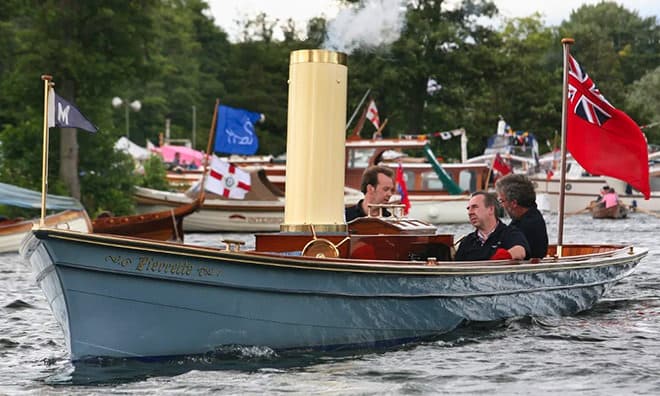 Other local news is that the Rose Toop Collection has finally received the go-ahead, and we wish Adam and Penny the very best of luck with this wonderful project. We will keep readers updated as it develops. It will be a marvellous addition to the classic boating scene in Henley.
Your chance to preserve a part of history ...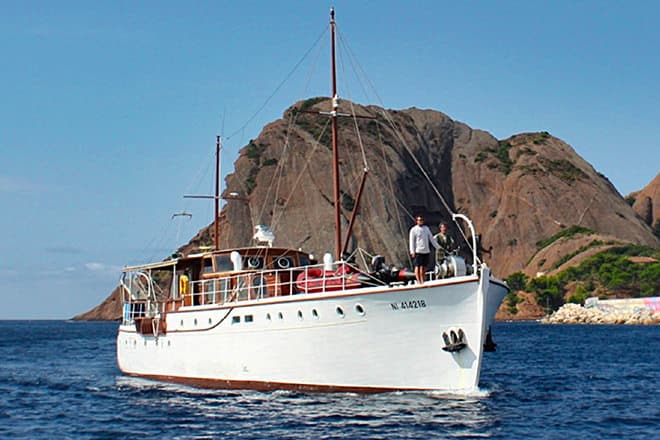 One of our readers, a retired yacht captain who enjoys the newsletter while sipping a glass of rose on his terrace in the south of France, alerted me to the existence of a Dunkirk Little Ship in need of rescue and subsequent restoration.
According to the Christian Brann book 'The Little Ships of Dunkirk', "Conidaw" played a significant role in the Dunkirk rescue. It seems therefore rather sad that we may lose this boat completely unless there is a willing saviour.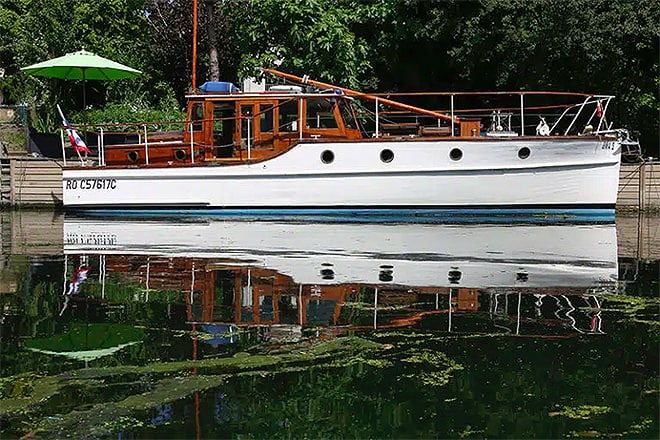 If you are not able to take on a project, there are some other Dunkirk options for you, history buffs, one being "Ona II" and the other "Deenar".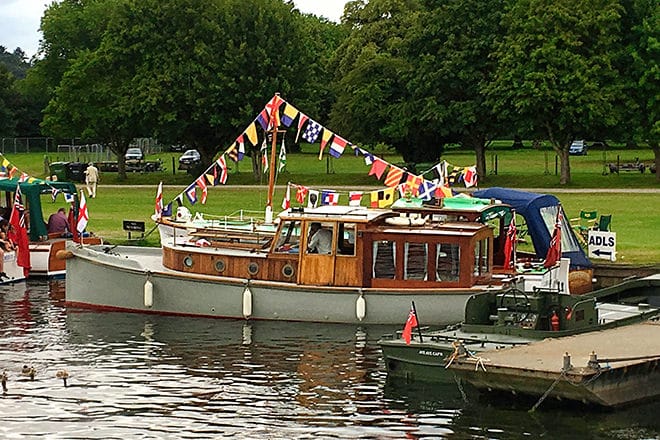 Received the Freedom of the City of London!
On March 9th, I was grateful to attend a ceremony at the Guildhall in London at which I received the 'Freedom of the City of London'. It was an interesting and moving occasion, and I felt very honoured. Until you become a Freeman, you can't be a full livery member; thus, my accession to the Freedom was essential. 
In the room where we were officially given our certificates, there were some amazing historical pieces, including a silver ship, courtesy of the Shipwrights. The workmanship is quite incredible. I loved the image of the pirates fighting on the aft deck. It reminded me of one of my maternal ancestors, Jack Hawkins, who I am led to believe was a bit of a rogue!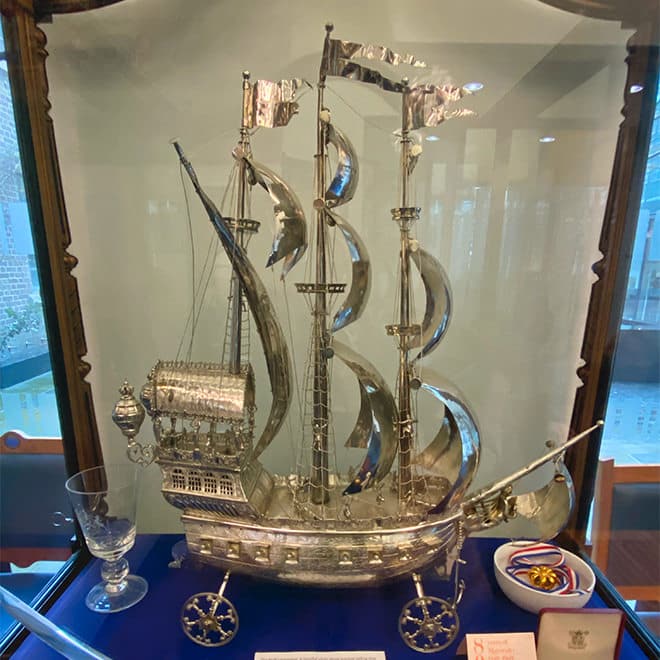 The Shipwrights' model barge, which is now in the National Maritime Museum in Greenwich shows a variety of animals being transported.
In fact the Shipwrights are not known to have owned a barge themselves for processions on the Thames in the olden days. However they would have supplied barges to other companies, being employed in building company barges among other types of vessels. Thus they would have been involved with all livery company occasions on the river.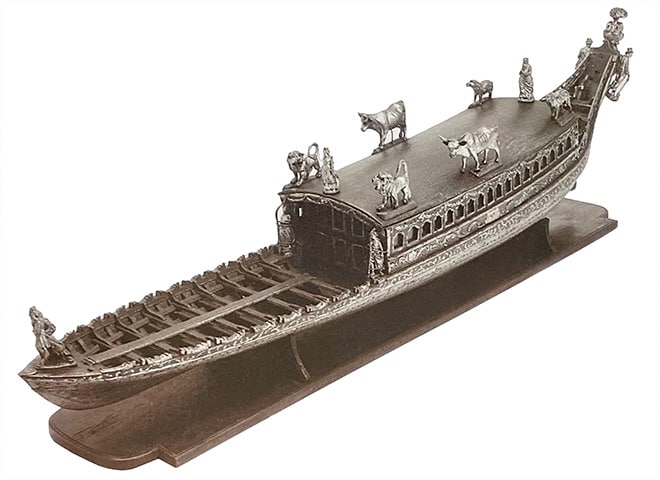 Back in our ceremony room at the Guildhall there was a letter on the wall written and signed in blotchy ink by Horatio Nelson who, having acceded to the Freedom himself, gave a sword belonging to Admiral Armand Blanquet du Chayla, second in command of the French naval forces during the battle of the Nile in 1798. When the French surrendered, the sword was given to Nelson who, in turn, gave it to the city of London.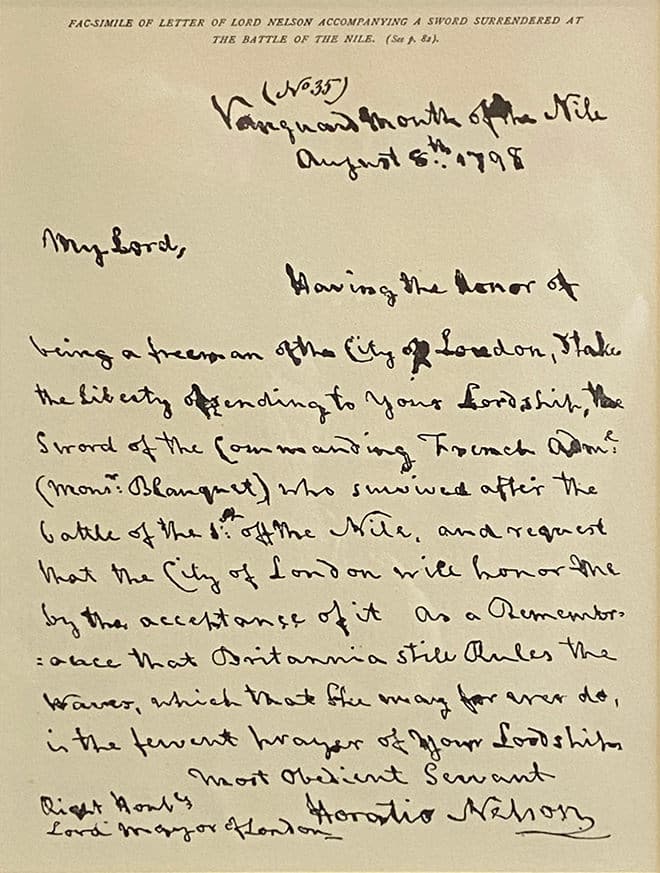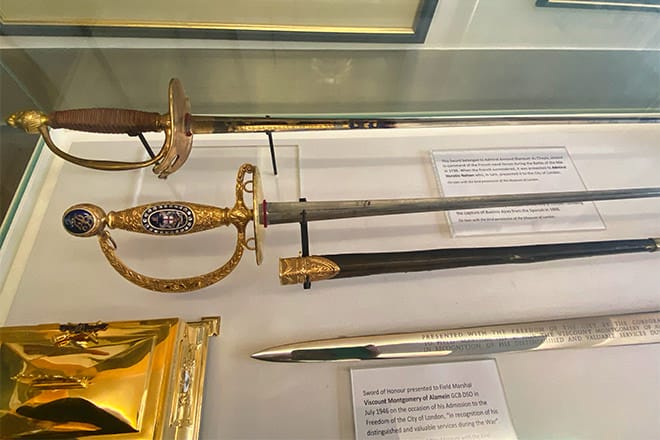 I am afraid I myself had nothing to offer other than a willingness to participate in the annual charity crossing of the bridge when you can pay for a sheep to be driven across London Bridge. It is hosted by the Worshipful Company of Woolmen.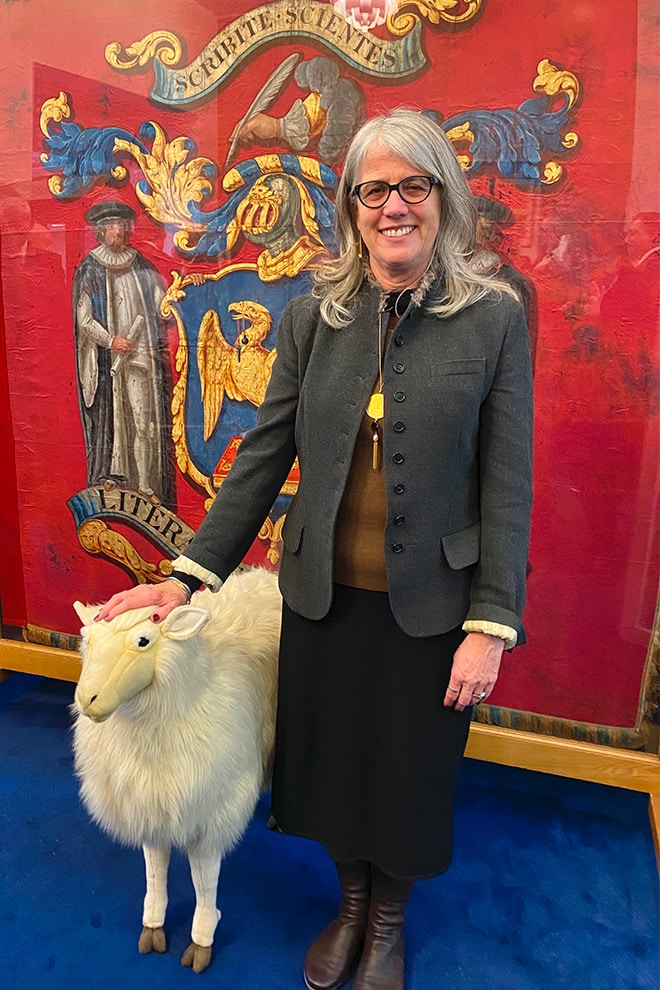 Following the inauguration ceremony we were treated to a splendid evening reception and dinner at Carpenters' Hall deep in the city of London. As someone who is passionate about wooden boats it seemed like a fitting end to an historic day, and I managed to sneak this photo between courses for you to enjoy.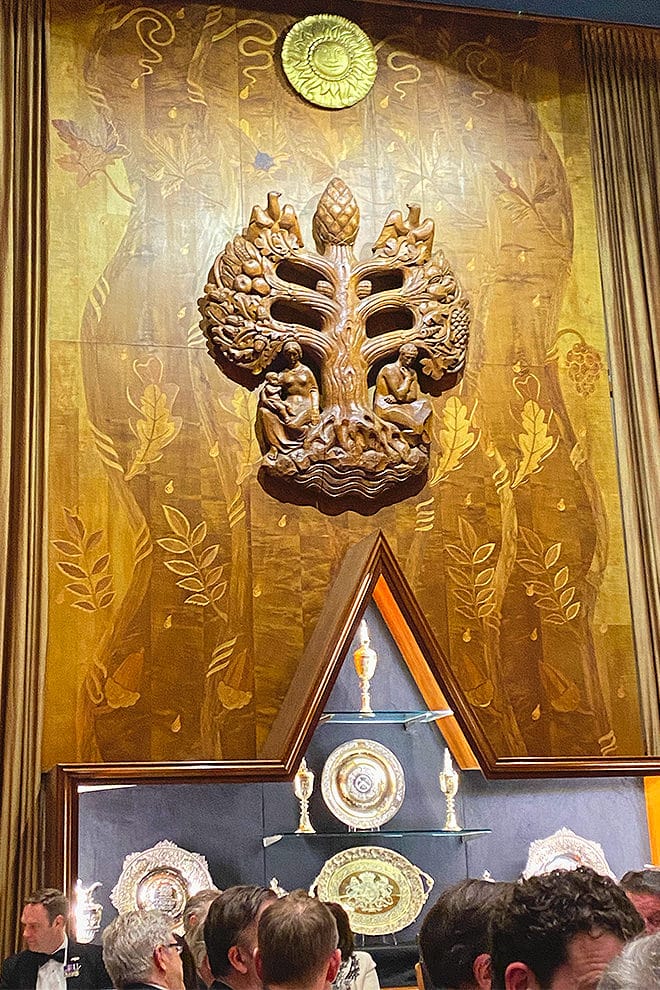 The Shipwrights' resident Honorary Historian Sean Gay wrote an interesting piece about the history of the river Thames, which he has kindly allowed me to share with you. You can find it here.
Lower your carbon footprint one chocolate at a time
Soon we will be in celebratory mode with our loved ones as Easter and Passover approach. Everyone loves a chocolate egg, whatever their religious persuasion.
There are companies now wishing to limit their carbon footprint by transporting the raw materials for your chocolate easter egg (and many other products) on a sailing cargo vessel.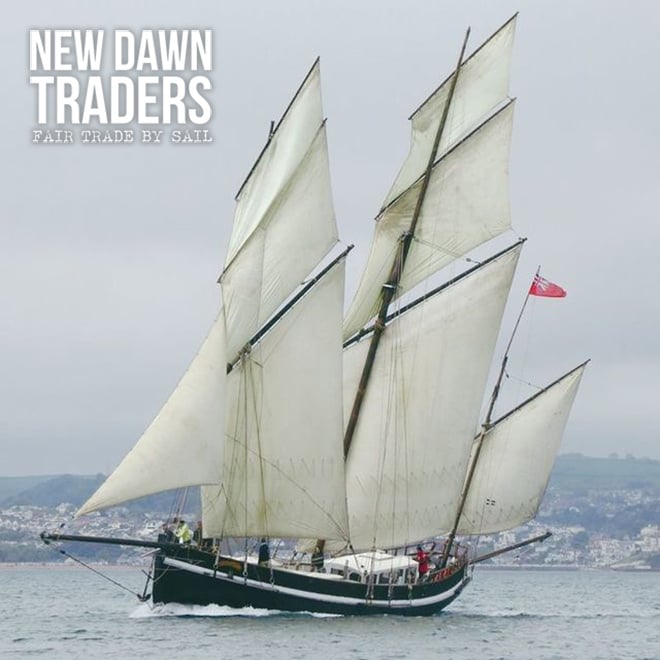 I saw an advert for New Dawn Traders in WaterCraft magazine, and I love the idea that I could pre-order my olive oil to arrive by ship from the Med. For more information, take a look at the brochure on their website.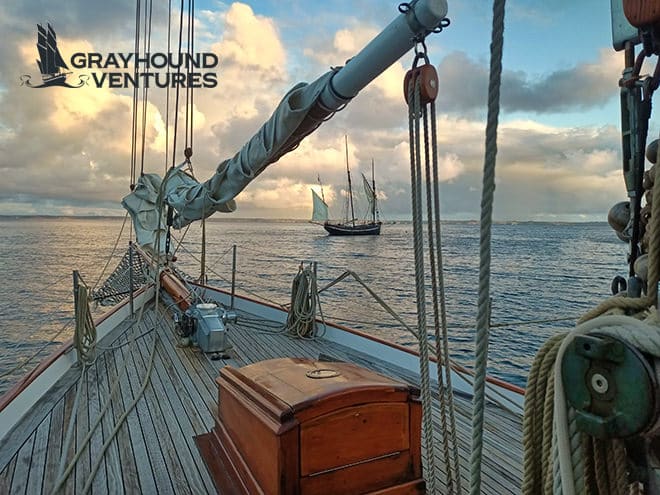 You could even hoist the main sail yourself by joining the team on a cargo run with Grayhound Ventures. They leave on April 2nd for a cargo run from Douarnenez (France), returning to Falmouth 2 days later. I imagine you could take the train to Brittany to join the ship making this a low-carbon adventure.
Local picnic hamper recommendation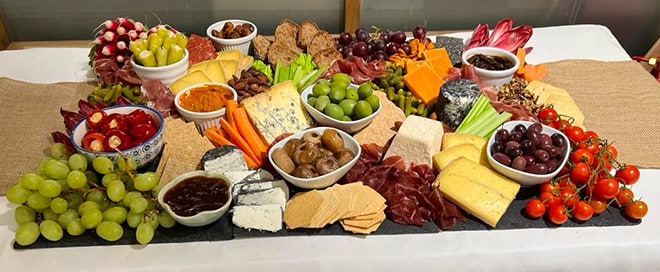 Last week Regine and I savoured a selection of delicious nibbles at Pavilion (located on the town square in the centre of Henley-on-Thames). 
If you are thinking of ordering picnics for your boat - they have trad-hampers and ingenious attractive branded cardboard boxes which become makeshift tables ideal for small space entertaining. I recommend checking them out next time you are in need of a picnic to enjoy on board or by the riverbank.
We love to hear about your waterborne adventures and your boat restorations, so please keep the news coming as we prepare to get afloat for the 2023 season.