This has been a really topsy turvy year in so many ways, and now we are experiencing a truly British summer with no certainty as to weather patterns and the need for a trusty brolly always on board for unexpected showers.
Nevertheless, many Brits have taken to their local waters to enjoy a summer holiday, and every time I find myself on or by a waterway, I see familiar faces afloat.
What has become of ...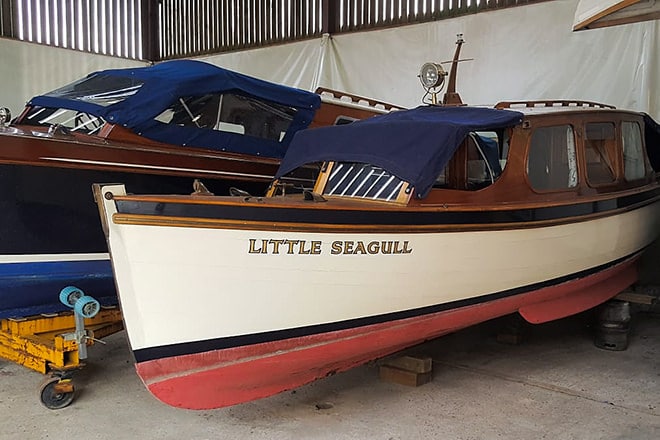 Some customers have been spending the long months of lockdown fettling their projects and upgrading their boats. One such is 'Little Seagull', which went to the Netherlands a couple of years ago and is now electric and thoroughly gorgeous in every way. 
I was delighted to receive a photo showing her in the workshop and just recently another one showing her afloat. I remember watching the boat disappear down the road behind a Landover Defender with a Dutch anglophile behind the wheel. What a beauty she has become.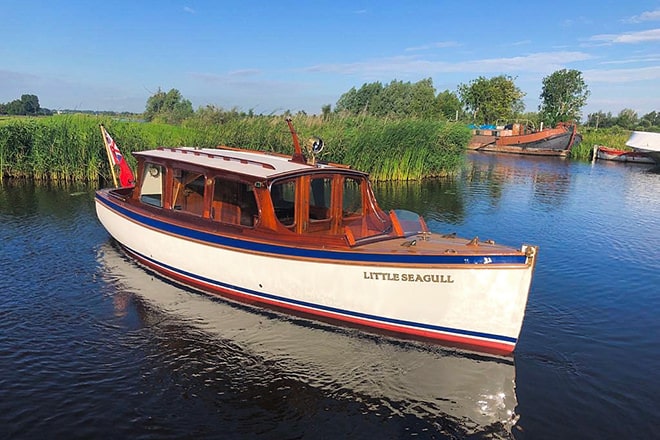 Coming to HSC soon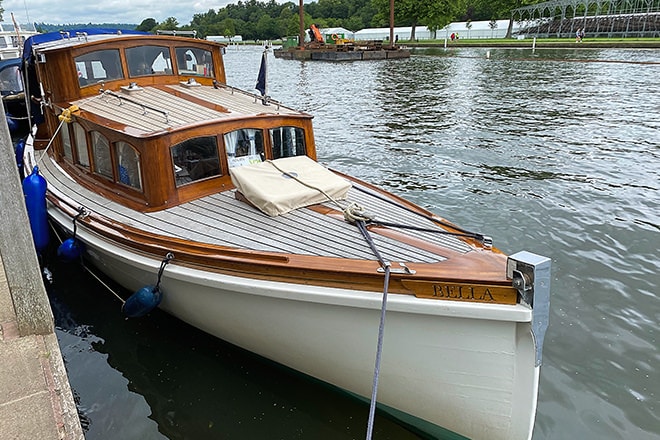 Closer to home and equally unexpectedly, I got a call from the delightful owner of 'Bella' who was enjoying his annual pilgrimage to Henley and is contemplating parting with 'Bella' for health reasons at the end of the season.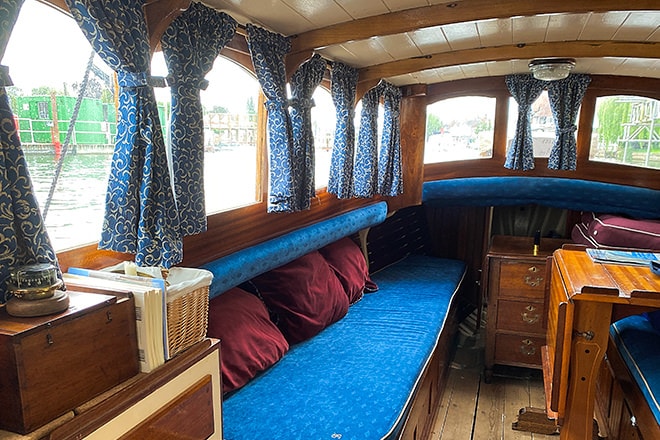 He has been enjoying her on his home waters in Kent and is currently moored in Bray marina in close proximity to 'Casino Royale', the dashing Chris Craft renovation with a purring electric installation that is already on our books.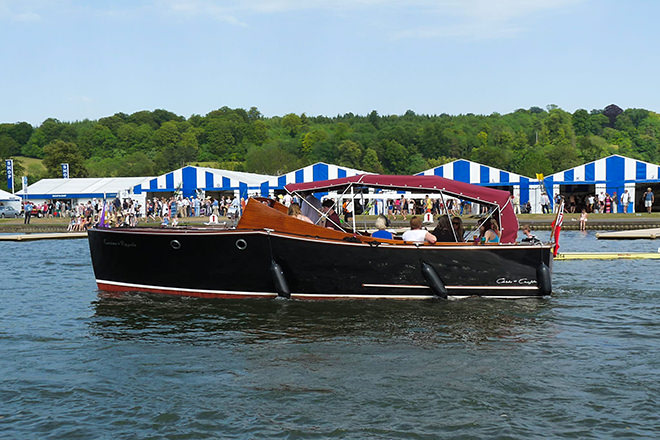 Boats WITH Henley MOORING!
Admirers of 'Le Ketchup', our orange Bahama 20 would hardly recognise her reincarnation as 'Lady Gertrude' with a smart blue hull. She is available right now with a Henley-on-Thames town centre mooring, so if you are wanting to go and tie up on the booms to spectate at our postponed Royal Regatta give me a call illico presto.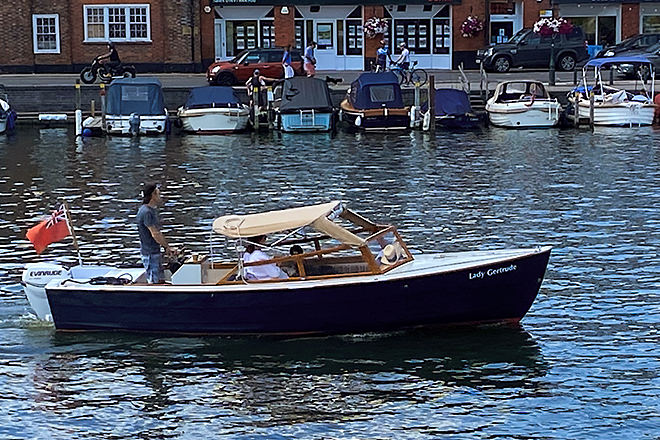 Henley Regatta is imminent, despite the many moments when we thought it probably couldn't happen. 
If you fancy a GRP slipper with a mooring on the Henley reach, then 'Henley Duchess' could be for you. 
Both 'Henley Duchess' and 'Lady Gertrude' (formerly 'Le Ketchup') have Henley moorings.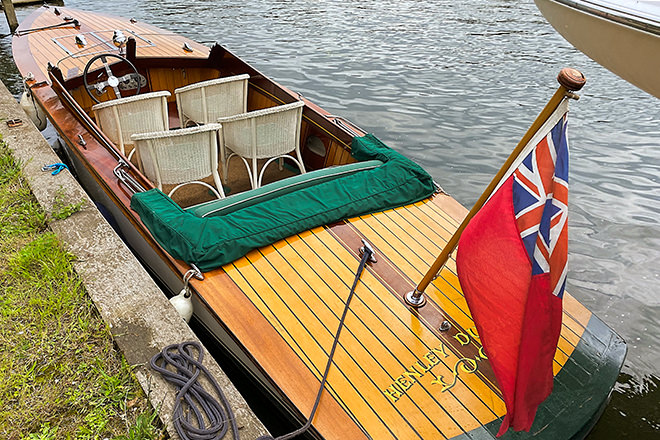 How to enjoy the river without having a boat
If you don't have a boat but would like to enjoy river life regardless, you could join the Leander Club in Henley with their spectacular new riverside terrace, which is excellent, not only for dining but also for people watching.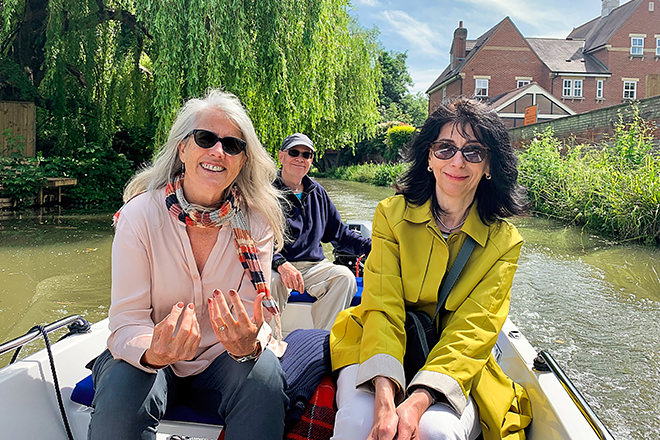 Or you could head up to Oxford as I did a couple of weeks ago for a day out with friends.
The city of dreaming spires offers many boating options: you can punt, hire a narrowboat (or take your own), or wander through the meadows to the Perch at Binsey.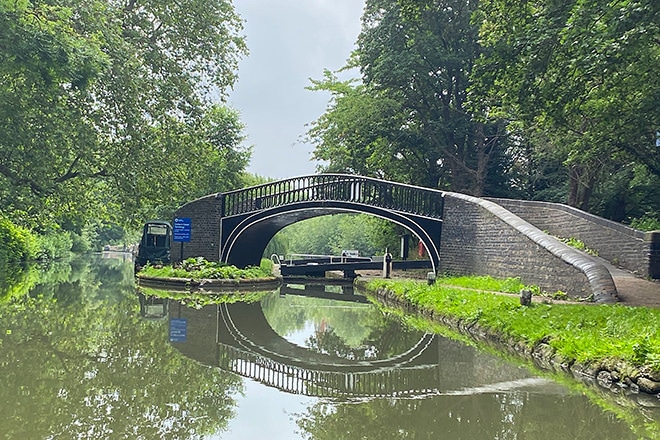 Narrowboats are not really my thing, but I found it interesting how the landscape changed from urban back gardens to meadows with grazing cattle as soon as we went through the lock leading from the canal onto the Thames. Equally stark was the contrast between the types of boats we encountered on our short journey.
I would thoroughly recommend walking or boating to The Perch if you are heading towards the reaches of the Upper Thames. 
Taking orders for Spring 2022
On the mid-Thames, PureBoating has been running smoothly despite more rainy days than we experienced last year. 

We have also been selling every new Scoop that we can get our hands on from the manufacturer near Nantes (France), who has experienced a bonanza year in terms of sales. Brexit has increased the cost of transport, and covid has caused unforeseen supply chain issues, so I suspect they will be putting up their export prices for 2022.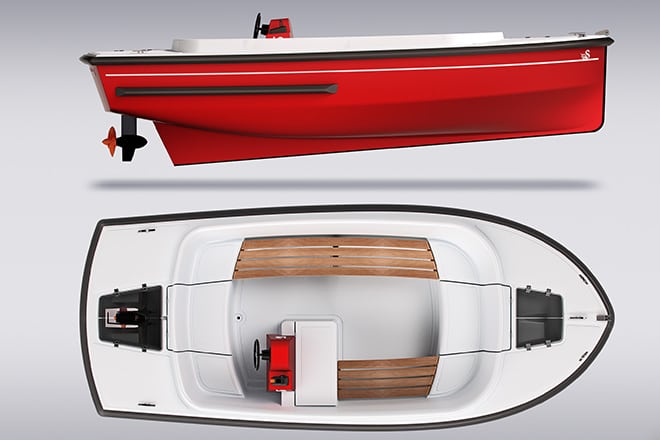 We remain confident however that we will receive two new models from our friendly suppliers in the next couple of weeks; the Scoop mark II and the 8-seater Elite. We are already taking orders for both these and the PTS 22 for Spring 2022.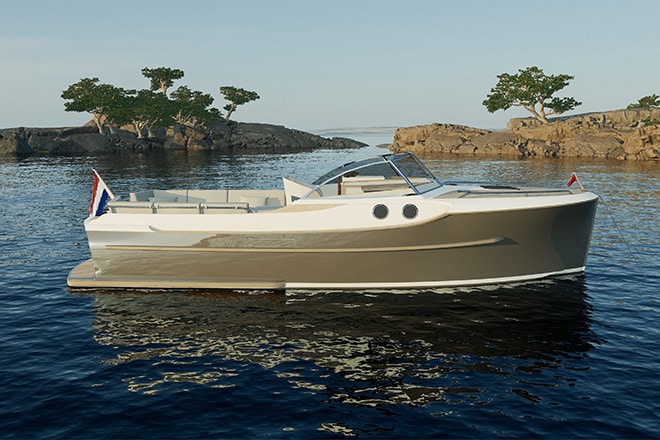 More charging points are needed for electric boats
As an electric car owner, one of my frustrations is the number of apps you have to have on your phone to access the charging network in the UK, which is run by a series of privately owned electricity companies.  

At least on our waterways, there are fewer players involved in charging point provision, but they are equally unenthusiastic when it comes to installing a decent charging point network.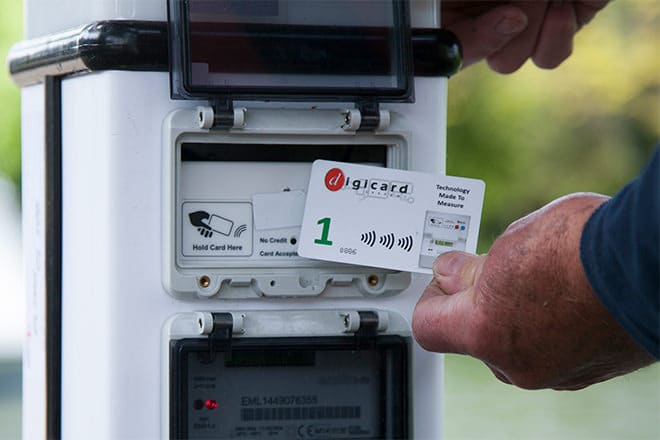 Why give electric boat owners a 25% discount on their river licence when that slice of their EA contribution could help fund more charging points? 
The Electric Boat Association, of which I was once Chair many moons ago, is keen to engage with the authorities in a renewed bid for action. Come and join us at the AGM in Lechlade in mid-September.
My Cumbria getaway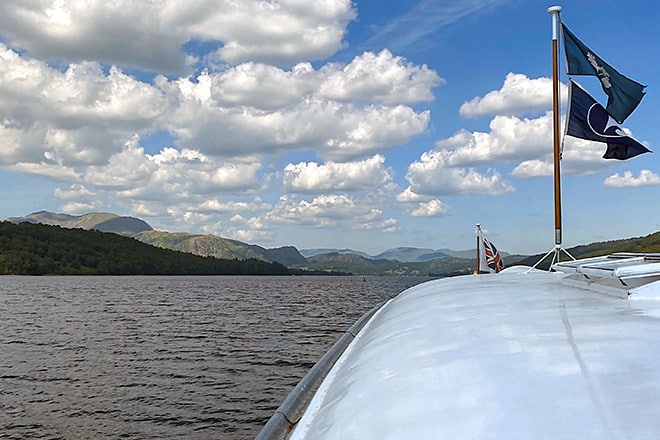 While mainly wedded to my desk and trying to be on hand for viewings most days, I did manage a short week in the Lake District when the weather was positively Mediterranean, and every meal was eaten 'al fresco' if not actually on the water.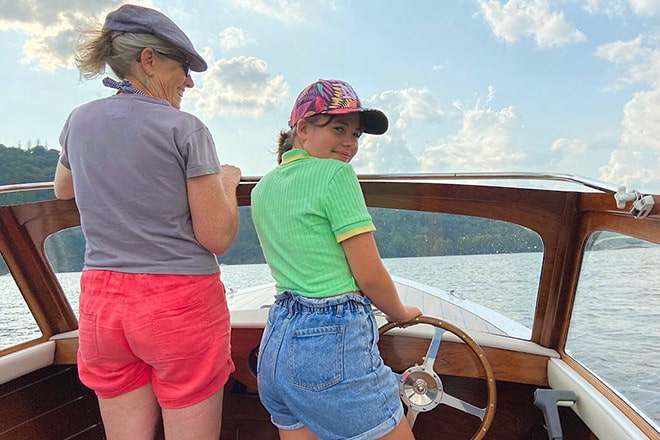 One sunny day we ventured south on Lake Windermere from our shady terrace to the Windermere Jetty (formerly The Steamboat Museum).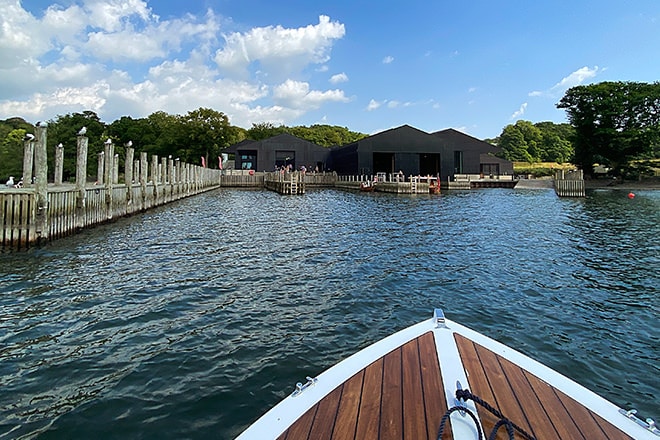 Each time I visit, I find something new to learn about, and the little motorboat 'Sylvie' caught my eye on this occasion.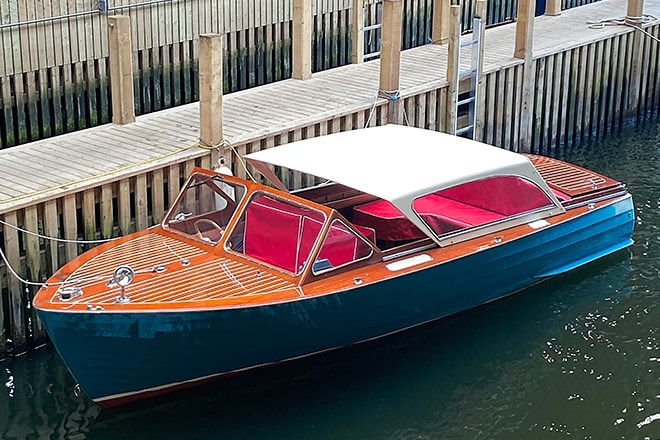 So many companies try building boats, and we often have little boats turn up with nostalgic builders' plates from yards which are now dockside housing developments or little known short-lived projects from enthusiastic car companies (Aston Martin tried a couple of years ago too !).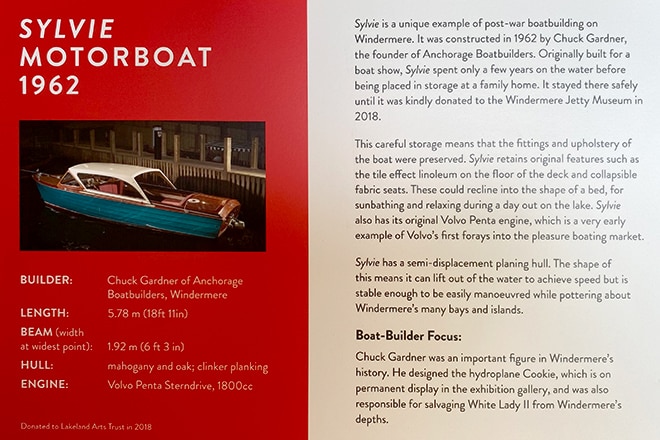 A true 1940s treasure of a yacht!
On our return trip from Cumbria, we had an appointment to view a twin-screw Osborne motoryacht moored adjacent to the Tate in the Albert Dock in Liverpool.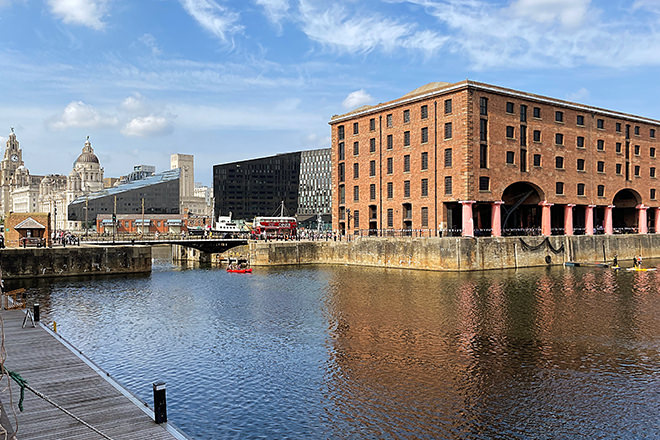 This is a suitable location for a seafaring vessel whose life began in Littlehampton just after WWII. Indeed 'Albaquila's' life story makes fascinating reading with many a titillating twist and turn when the boat was up in Scotland gently maturing. 
The current owners rescued the boat in 2008. They had her transported to a boatyard in Liverpool where David Jones, who had owned a boatbuilding business for 40 years, undertook a 10-year 'retirement' renovation project.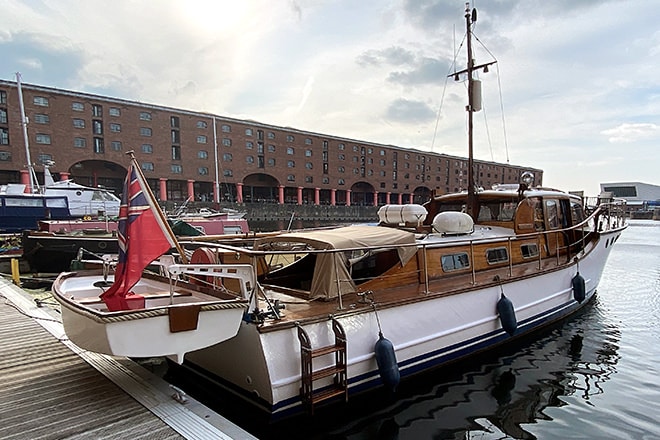 'Albaquila' is on the National Historic Ships Register and is a worthy reminder of just how magnificent some of the boats emerging from well-known shipyards nationwide really were. 
She was launched in 1948, having been constructed of double diagonal makore wood on oak frames. The current owners have, over the years of their caring ownership, been contacted out of the blue by people with relevant history pertaining to the 70 plus years of this fabulous vessel, so she comes complete with stories and ephemera aplenty. 
Please contact our office for more information on 'Albaquila'.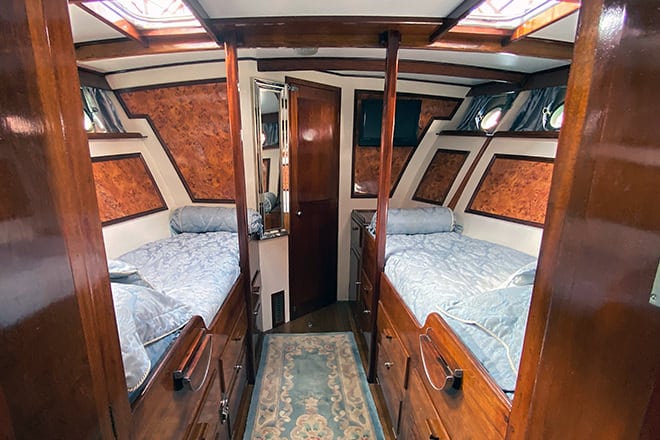 The TTBF - A party not to miss!
Back on home ground, the Thames Traditional Boat Festival is now scheduled for 27th - 30th of August inclusive and promises four days of extraordinary boats, riverside antics, boat jumble, music, food, and general messing about in boats.
The website describes it as "a quintessential English summer weekend by the river with bars and street food and The Crooked Billet pop-up pub with great music to turn each evening into the best Bank Holiday party". 
Please don't forget to come and keep us company in our usual spot upstream of the cut. What better way to round of the summer? 
Tickets are now available online, so visit the website, polish your boat and dig out your blazer.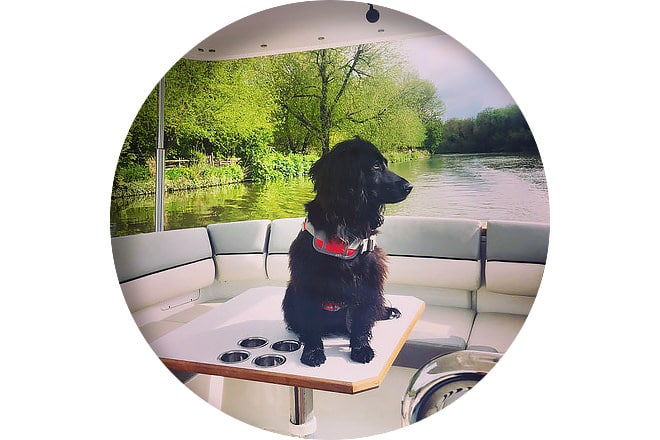 Perhaps Willow the spaniel will enter the 42nd Thames Traditional Boat Festival's Dog show. The boat is somewhat contemporary and most definitely not eligible; its resident canine captain most certainly is!