Finding a moment to put finger to keyboard has been challenging this past month as sales have continued to thrive and a record number of boats have slipped off our brokerage pages for new ownership.
Of course if you think about it logically this is not so unexpected, where better than open water to get some fresh air and rediscover the joys of British boating, and with social distancing so easy to achieve?
Most popular boat choice this season
The cabin launch and open day boat have been the most popular boat choice this season. I suspect that gents launches will come back next year as we all start thinking about entertaining again. For now, I can well understand that the option of having a little haven with sleeping accommodation and a galley of one's own is a very attractive proposition.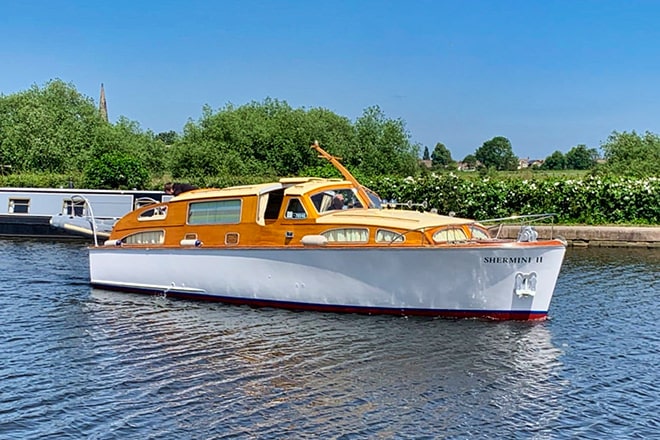 In the mid twentieth century boating was a major holiday choice for many families in various parts of the UK.
How lovely now to see so many Starcraft afloat and being enjoyed in the same way with children learning to appreciate and enjoy the simple pleasures associated with the riverbank or sea shore.
A blast from the past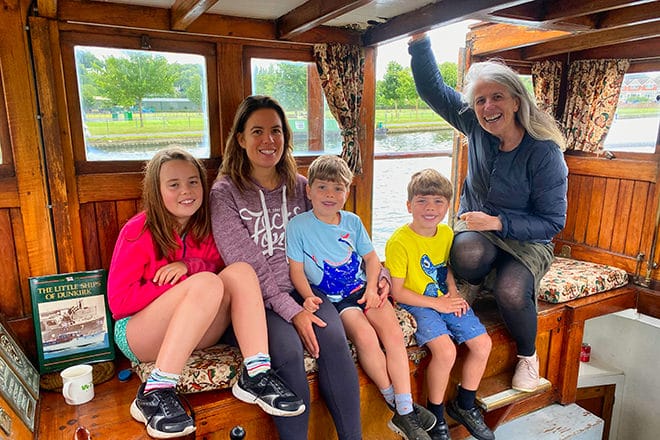 Last Sunday, quite unexpectedly I found myself and my four grandchildren on board "Sundowner" with a new and enthusiastic boat owner called John. He has recently acquired two boats and is rapidly building a collection!
"Sundowner" is a Dunkirk Little Ship with a fascinating history, including the fact that one of its previous owners was Charles Lightoller himself, as in 'he who did not go down with the Titanic'!
Ten years after his ordeal he and his wife Sylvia purchased "Sundowner" which had been built in 1912 as a steam pinnace for the Admiralty. You can read all about the boat and Lightoller on Wikipedia.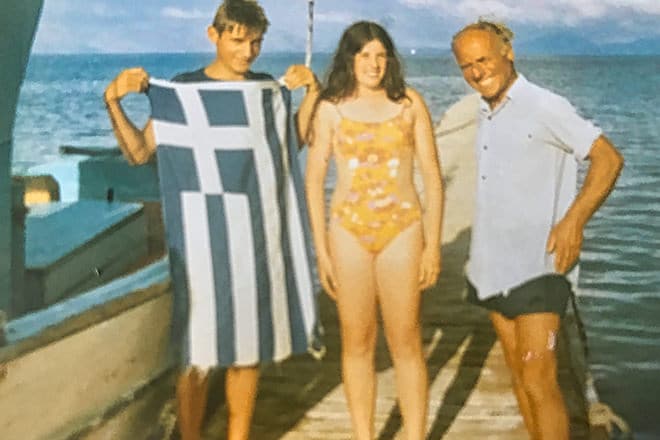 The ship is now powered by a trusty Gardner engine and as I stepped on board I reconnected with my teenage self, and the time my love for boats began:
A fortnight's summer holiday on the island of Corfu, aged 13 and 14, with my parents; my older brother, then at university spending summers hitch hiking with very long hair, a beard and zero interest in hanging out with his kid sister, introduced me to a guy just a year older than me (and several years wiser!), whose father had a converted fishing boat on which he would take out tourists from the hotel where we were based. I had a very welcome new friend and a new interest.
Ever eager and always keen to work I got myself a job as galley slave, cutting up local potatoes and cooking them in olive oil on a primus stove. We served them with fresh lemon juice and a glass of Retsina, as we explored the empty and pristine coves of the Corfiot shoreline.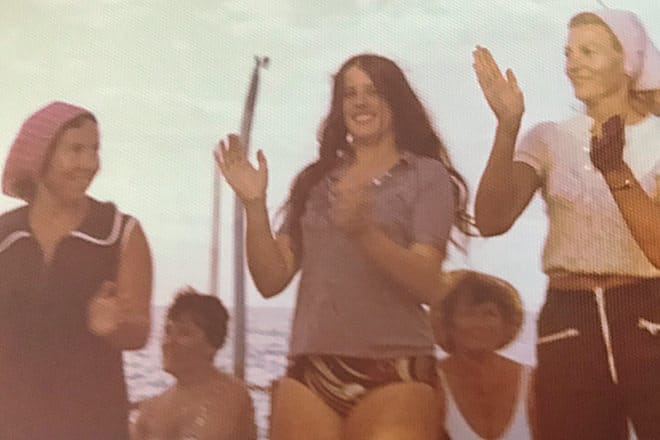 One night we set off very late to watch the fishing boats way out at sea with their lamps, drawing to their nets the unsuspecting fish, rendered completely helpless by the dazzling glow.
The second year Yorgos had taken charge of his dad's little boat as he had built a bigger one over the winter for the growing number of tourists. Suddenly I was second mate and sailed with the boat every single joyful day of my fortnight's holiday.
I remember crying on the plane on the way home and just thinking how dull school life would be after the freedom of the high seas.
I stayed in touch with Yorgos into adulthood as he trained to be a maritime lawyer and I found myself with child and job in Geneva's private banking sector.
In the early days of my charter business I often thought back to that primitive primus stove and those carefree days afloat. The oily bikini was long gone though with lobster and champagne replacing the crispy chips washed down with retsina.
For so many boat owners there is an element of nostalgia in our choice of hobby and even vessel.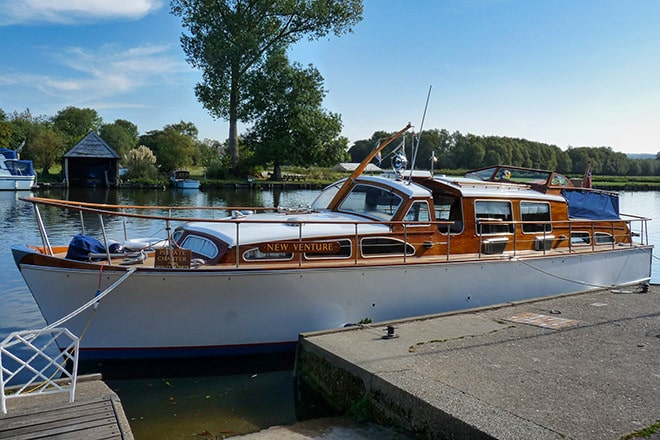 I remember the purchaser of "New Venture" recalling his happy childhood on the Great Lakes in North America, where his Dad taught him to fish. He was able to enjoy using "New Venture" with his kids, and particularly his son, who showed the same interest in fishing as he had as a boy. "Forget the IPad": he said, "the rod is much more fun".
"Neptune" hand-over day
Being a skipper on or owning a historic vessel is quite a responsibility and recently there seems to be a growing appreciation of the skill required to build and repair wooden boats.
I am truly thrilled to be introducing a whole cohort of passionate new owners into the world of classic boating year after year.
Although hand-over day can be emotional, for the buyer and the seller, and sometimes tricky too, depending on the reliability of the engine of the purchased vessel, it is usually accompanied by humour and joy.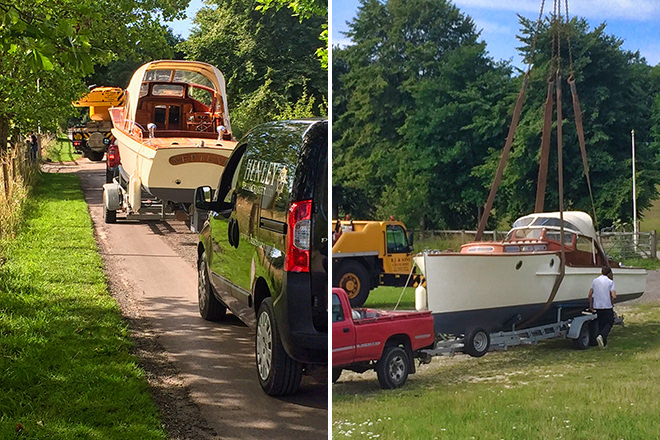 Recently a customer not only brought gifts to say "Thank you" for finding their new love, but also presented me with a handmade card featuring "Neptune" and cooked bacon butties for our staff on board his new boat.
I am not sure the stove had been used for several decades, but it didn't fail in its calling on that momentous morning on Beale Park lake.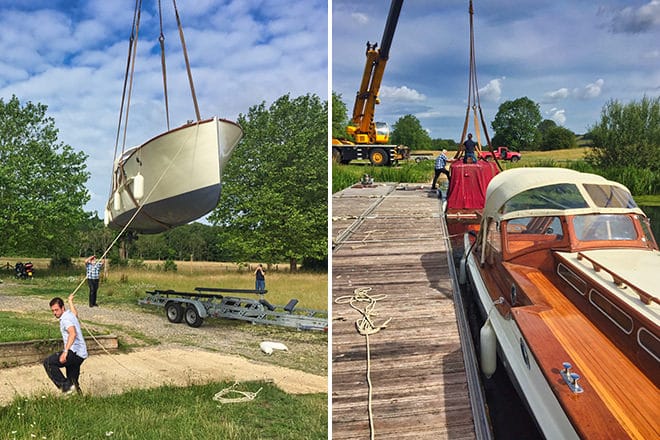 The arrival of a new luxurious PTS 26
I spent an eerie night in a hotel on the 5th of July, just one day after hotels and hostelries were permitted to reopen post lockdown.
I was on Hayling Island early on the morning of July 6th, in anticipation of the arrival from the Netherlands, of the latest, most luxurious PTS 26 ever built.
It was in fact the tenth PTS to be imported by HSC.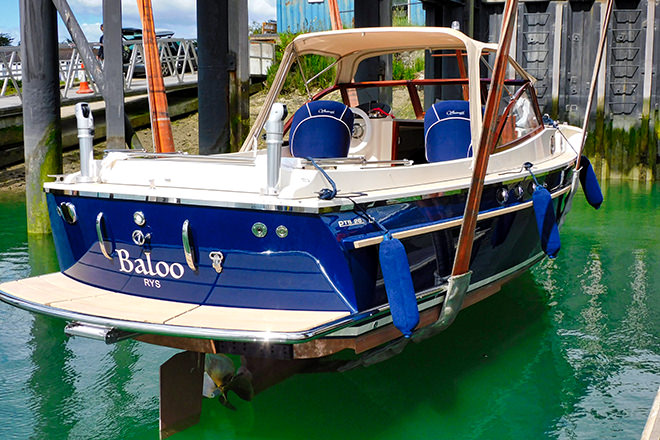 We had had a huge amount of input from the customer which was not surprising, considering that he is one of the leading interior yacht designers of our era. However on this occasion Andrew Winch was actually having a say in the design of his own boat, rather than having to take into consideration the whims of the super rich, as they configure their personal vision of perfection afloat.
"Baloo" is a bijou and will be based in Emsworth Harbour within the beautiful Chichester harbour area.
If you would like to see some of Andrew's work take a sneaky peek at www.winchdesign.com and dream ...
PureBoating - Our day-hire venture is expanding!
If full time ownership is not for you, then please come on down to Wallingford Bridge and take out one of our fleet of six electric boats.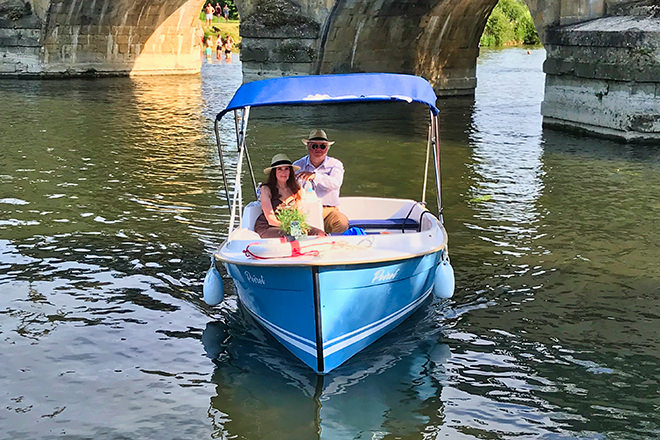 We are expanding to Moulsford for August where there will be the much anticipated "Sapphire Rose" for skippered charter, plus "The Wedge" and "Beetle" as well as the new ferry running between South Stoke and Moulsford.
All these boats can be booked via www.pureboating.co.uk.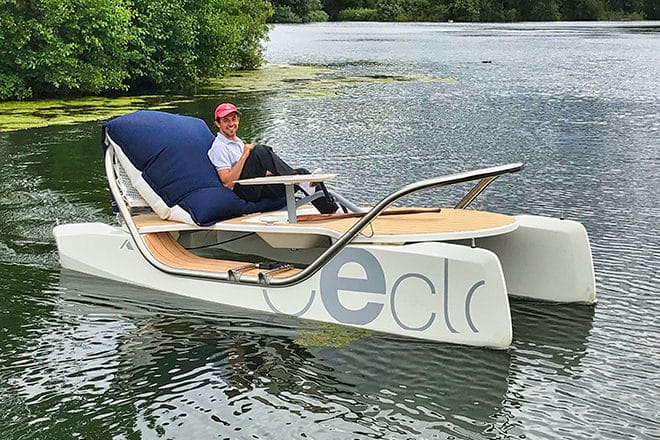 I am immensely proud of our young team who have been operating the boat hire business 7 days a week from 10 am to 8 pm to satisfy demand.
As I drive over Wallingford by-pass bridge I often see one of our fleet on the mostly deserted Stoke reach of the river; only yesterday some women were stationery on board "Poirot", admiring some cygnets and clearly enjoying each other's company. It's been a real pleasure to have the means to enable others to share our love of river life.
"The Wedge" will be available for hourly bookings with the companion and libation of your choice.
Recently added to our books
It's never too late to buy a decent boat. We are adding weekly to our brokerage listings.
This week I have enjoyed photographing "Bee", "The Lady Anne P" and "Water Witch X" as well as "Cutlass", "Natasha" and "Evensong".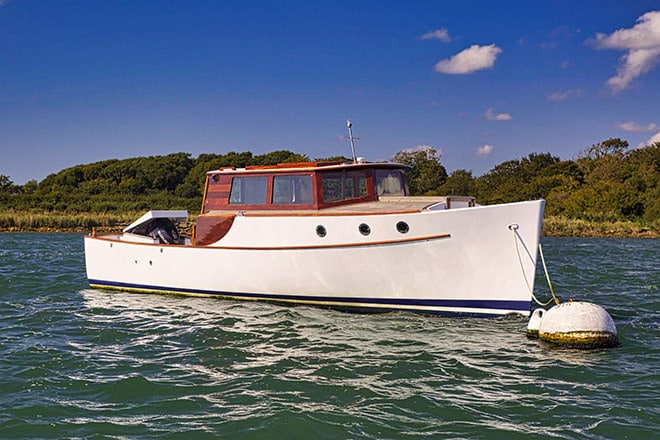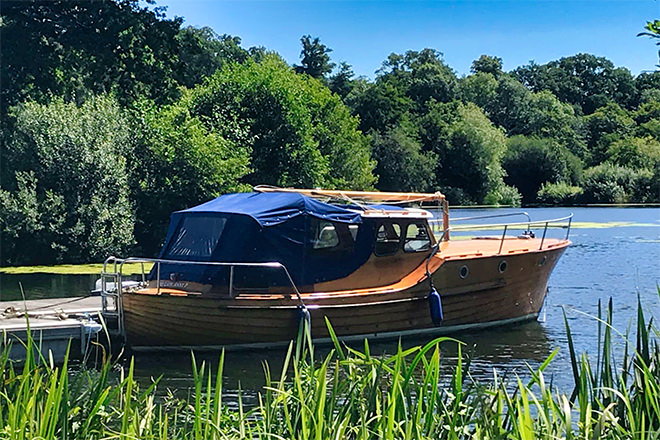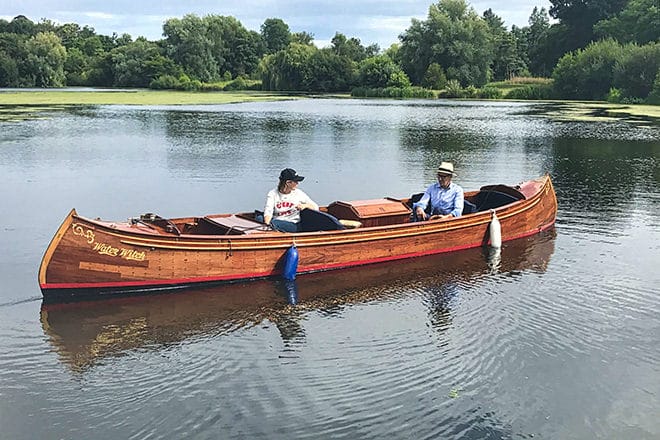 Each boat has its own story to tell and boats like "Cutlass" and "Evensong" have been family members for many many years. Their owners are keen for someone else to continue the saga and to take custodianship of the boats and the memories imprinted in their very fabric, so that another generation or two may in turn add their personalities to the mix.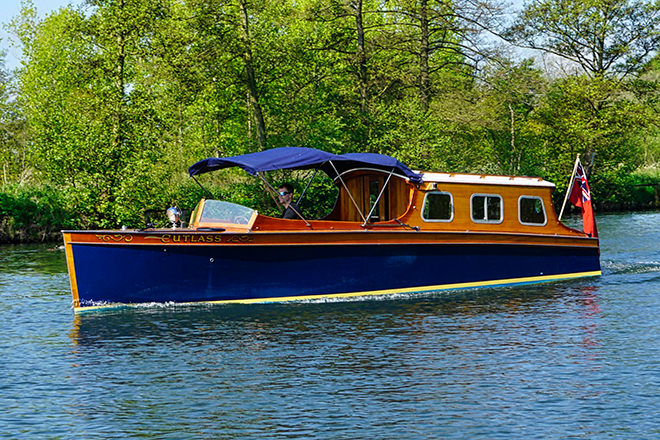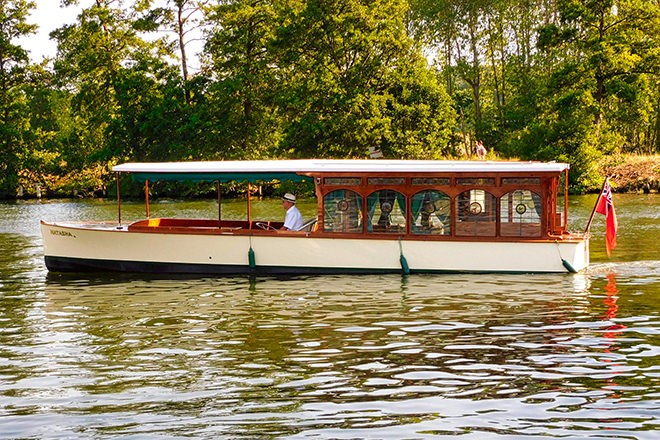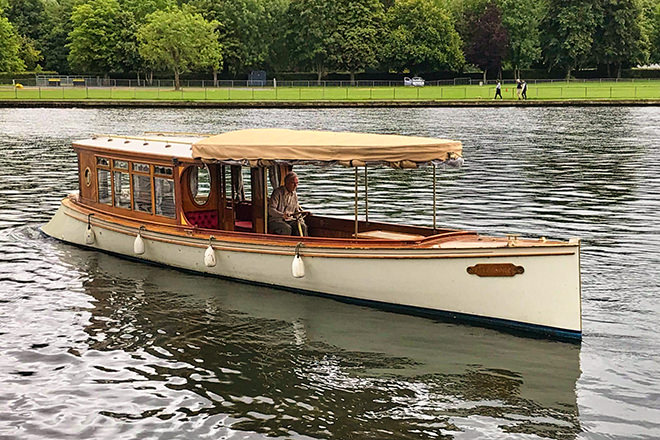 August newsletter break
I hope you have enjoyed reading our newsletters over the recent months. Reactions have been heartwarming and positive even though the past few months have been trying for some of you, and emotionally challenging for others.
For me and my crew they have been busy, and as in past years the yard, the charter operation and the boat sales remain active and open throughout the summer season while one or the other of us takes a break.
As ever, please keep your stories, memories and pictures flowing in my direction.
I'm taking my yearly newsletter break next month, but will be back with more news and views in September.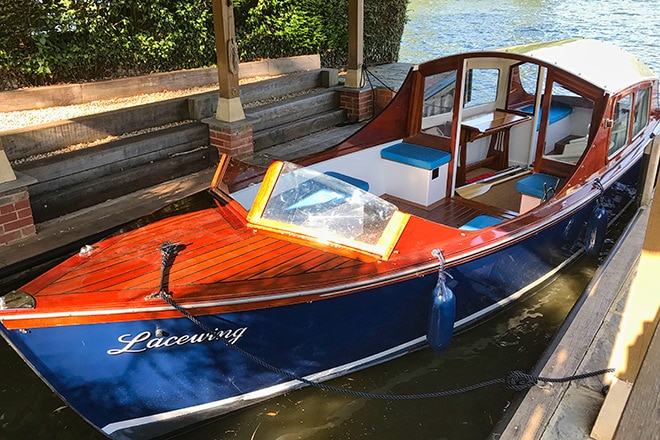 Until then I leave you with this image of "Lacewing", which emerged chrysalis-like from our yard after many many many hours of patient labour and love.