After working mainly from home for the past few months I can feel the pace building and with it, a certain sense of anticipation and excitement as the country revels in the opportunities offered by the vaccination program. 
Being a woman 'd'un certain âge' as the French so delicately describe women over 50, I am edging towards a healthy outlook and greater freedom in the months to come.
An update on local events
Our resident Olympic oarswoman (lodging in the apartment above our office, aptly named 'Upper Thames') assures us that Henley Royal Regatta will take place at Dorney Lake. This is hardly a secret but it is nice to get it confirmed. We are happy the event can go ahead even if it is not in Henley.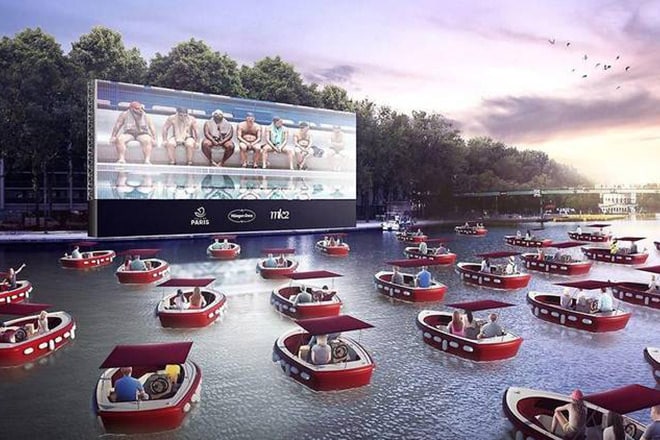 River rumour has it that there will be some kind of music and entertainment on the Henley riverbank in July this year, which sounds like a wonderful opportunity to get out there and boogie on board whether on your own boat or on a private charter.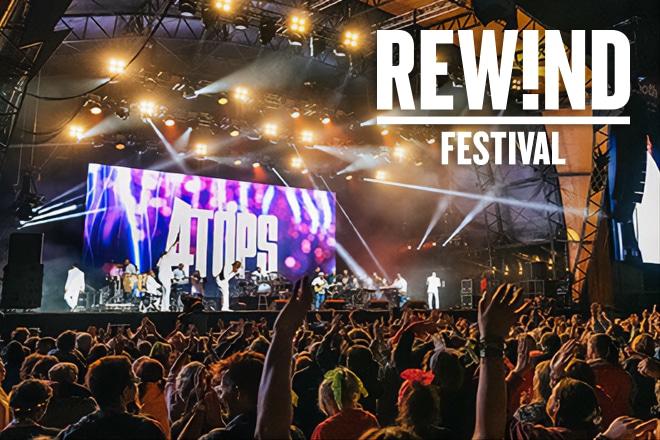 There is good news too about our annual Rewind Festival: August 20th - 22nd will see the usual suspects strutting their stuff once again in Henley; so if 80's music is your thing don't miss out as there are still tickets available.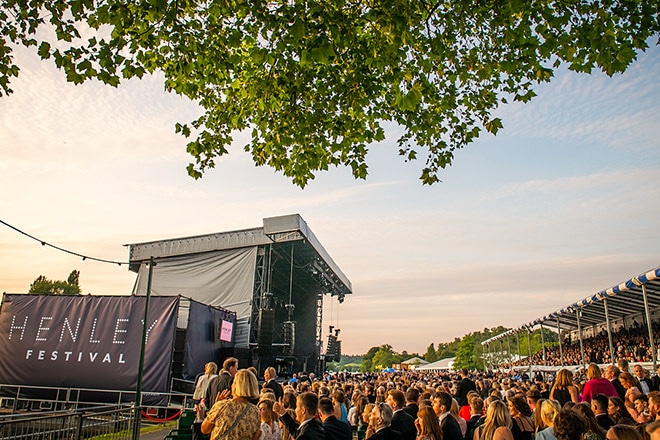 The Henley Festival is moving to September (15th - 19th). 
The weather is often still really good in mid September and for once we can be sure that the fireworks will actually go off in the dark to light up the night sky. Hopefully our wellingtons can stay in the cupboard! The usual ladies' risqué outfits may need to be complemented by a faux fur wrap (non-edible) with a hot toddy as a chaser.  
No, but seriously, it's really good news that the Henley Festival organisation has managed to withstand the financial rigours of the pandemic.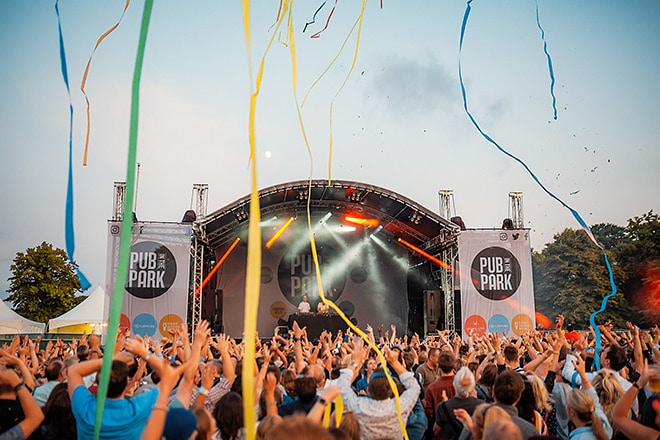 Marlow also has an event in mid-September; Pub in the Park was launched a couple of years ago by local celebrity chef Tom Kerridge featuring a mix of food demos, catering options and music.  
I think it is encouraging that other riverside communities are developing events as we all need something to look forward to and it is absolutely true that water always enhances any event.  
Apologies to readers who find our newsletter somewhat mid-Thames centric; we would love to hear from you about events taking place on your local waterways. Good photos are always welcome, too.
Is 'Lorita' coming full circle?
While we have become used to living with uncertainty and changing boundaries, one thing that seems certain is that you will all be out entertaining family and friends on your boats this summer.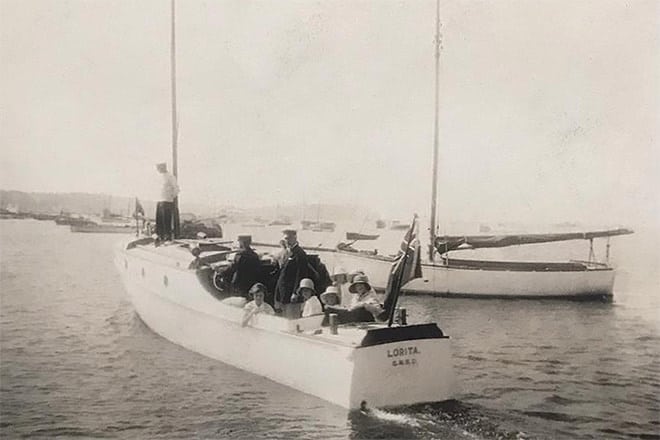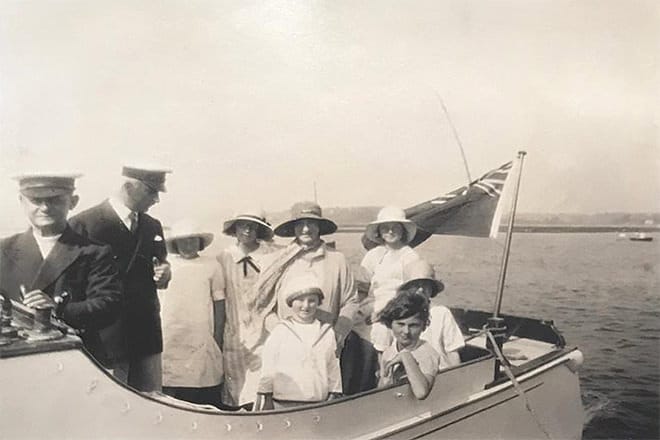 As I write this month's epistle, my inbox has just received some amazing photographs of family picnics with 'Lorita' in Poole harbour in the early 1930s.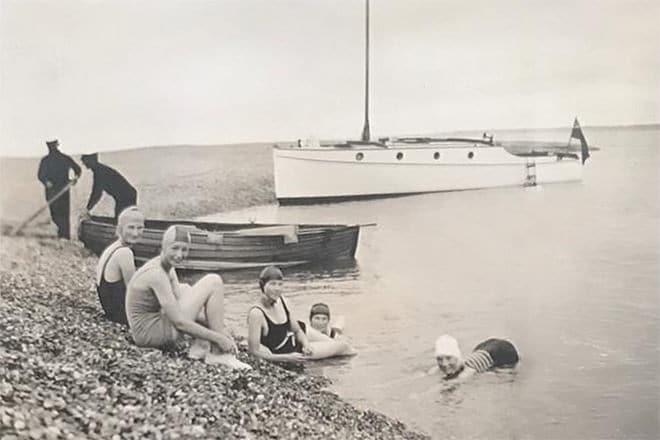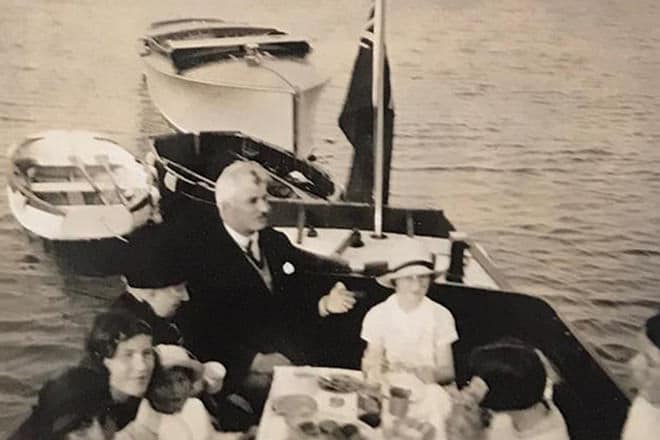 In the 1932 photo you can see a Brooke Seacar in the background. 
Those were the days when British companies were building innovative craft, not only for the home market but also for world-wide export.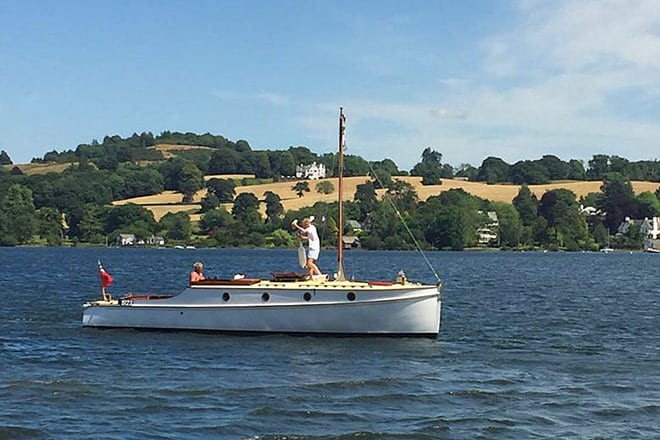 Since then 'Lorita' has been on Lake Windermere for many years and there is talk of her returning to the family whose grandfather was the first owner of 'Lorita' back in 1930. However for now nothing is certain so if you fancy taking 'Lorita' into the next decade then please get in touch for more information.
A chance encounter ...
I really love this aspect of my job where history comes alive, and people and their past connect seemingly by chance. 
One such occasion occurred last year when I was introduced to a gentleman at my cousin's house. The usual conversation openers came across the table "So where do you live?" followed closely by "Ah, and what do you do for a living?" And after joining the dots, we realised that I had sold his family boat on several occasions. 
Duncan and I are now buddies having bonded through a shared interest in this early 1930's slipper launch which was named 'Fifty-Fifty' back then presumably in homage to the delicious blends of grapes making up many a vintage champagne. Fifty-fifty was built by Hobbs for his ancestors who had a riverside house.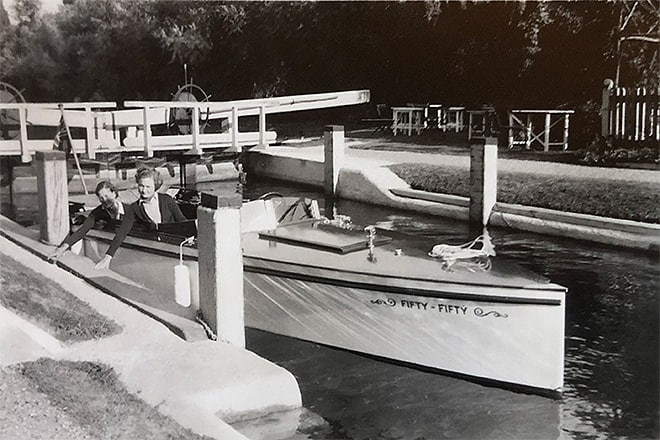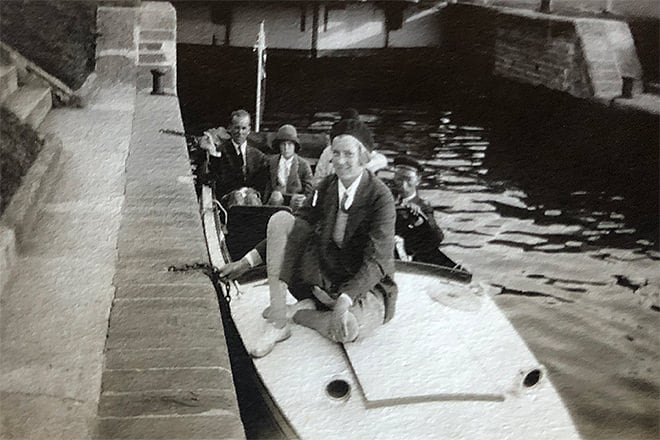 When the boat was rebuilt in the mid 1990's by a talented blind boatbuilder, it was renamed 'Foxglove' and was brought to me to value and eventually to sell. Since then, it has had several owners in and around Henley.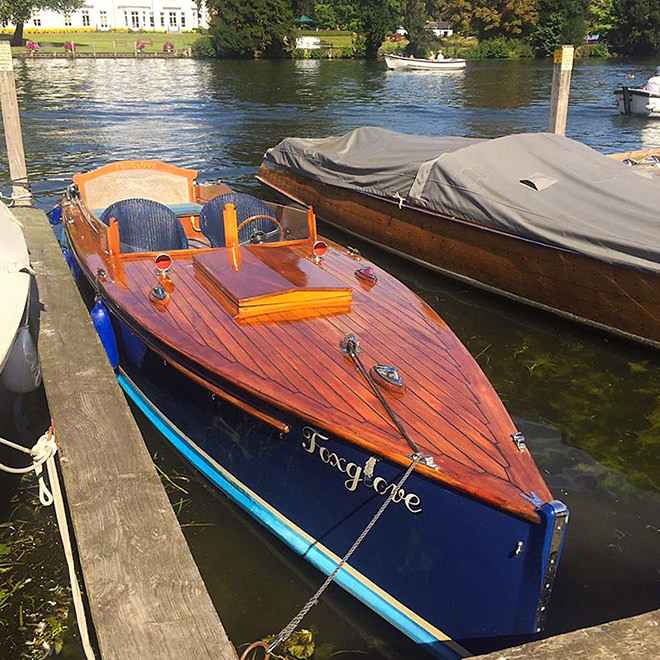 They say every picture tells a story. I find this to be true and in my case stories are abundant and often fascinating.
'Phoenix' has risen!
In the same vein I've recently been contacted by the owner of a Saunders Roe. He sent a wonderfully thorough historical overview regarding his boat and covering nearly 90 years of history. 
It appears that 'Phoenix' was built on the Isle of Wight in 1934 by the marine division of Saunders Roe whose business began in Goring and Streatley in the late 1800s, and about which we have written before.
Her original purpose was as a high-speed tender to a 178 ft Camper & Nicholson motor yacht named 'Vita' built for the aviation pioneer Tommy Sopwith.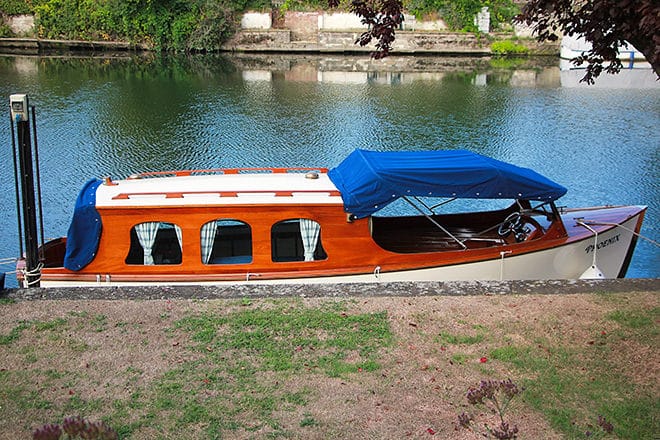 And here is how she looks today after an extensive rebuild by Stanley & Thomas. She could be yours complete with trailer for £30,000 with plenty of day accommodation including a loo and small galley. 
Whoever buys 'Phoenix' will of course enjoy ownership not only of the boat but also of this interesting historical document.
When to book winter works for your boat
I hear that all the traditional boatyards have been super busy with winter refits and spring launch is just around the corner. At our boatyard in Lower Basildon life is busy and we look forward to welcoming customers in person as lockdown eases.  
Viewings have been tricky, but vendors and purchasers have somehow managed to communicate via WhatsApp which has enabled sales to take place regardless throughout the winter lockdown.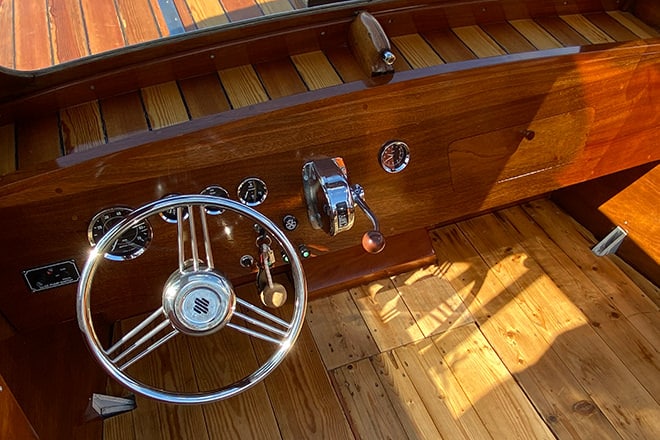 Understandably there is a certain element of 'out of sight out of mind' and customers often leave it rather too late to request refurbishment tasks on their cherished boats. How could we refuse the following request from the owner of 'Cutlass'? 
"Gillian, what do I have to do to convince you and your fantastic team to do the foredeck of my Cutlass? 
I am prepared to kneel in front of you, my bare knees on rock salt. I will wash your feet with perfumed Egyptian soap and dry them with a white linen cloth. If necessary, I will do the same to Ellie, Gail, and perhaps even Andrew. 
I realise I did not ask you in the first place: in my arrogance I thought I could do it myself. Of course I still could, but I have seen the quality of your work and there is no comparison with what I might be able to achieve. 
I want my beautiful Cutlass to look beautiful: this summer, not the next." 
Alas multiple coats of varnish do not happen overnight and there are no skilled crafts people available at short notice. So while the appeal of an exotic perfumed footbath is clearly most attractive, we have had to disappoint the silver tongued Dr. Fumi on this occasion. 
The moral of the story is therefore to book yourself in at the end of the season rather than right before the start! 
Staycations are the new normal (for the time being)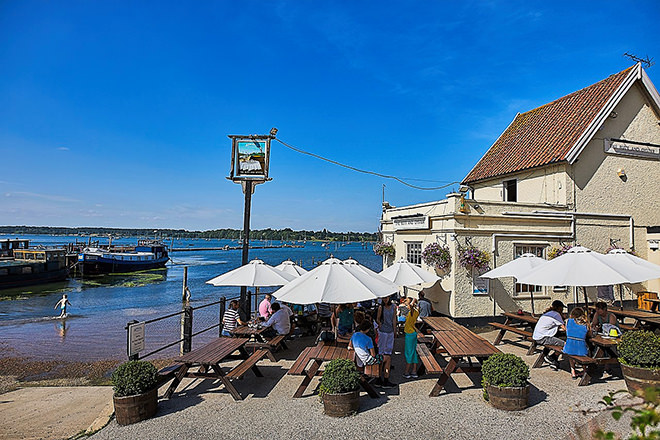 While we all accept that we are going to be spending the summer in the UK, it is great news that we can now book ourselves a staycation. 
As a family we will be going to Pin Mill in Suffolk in late May, to enjoy a seaside pint and some low-tide crabbing. This is a lovely peaceful spot just a few miles away from the busy port of Felixstowe. 
I have fond memories of a sailing weekend when we cruised from The Butt & Oyster to Woodbridge on the river Deben.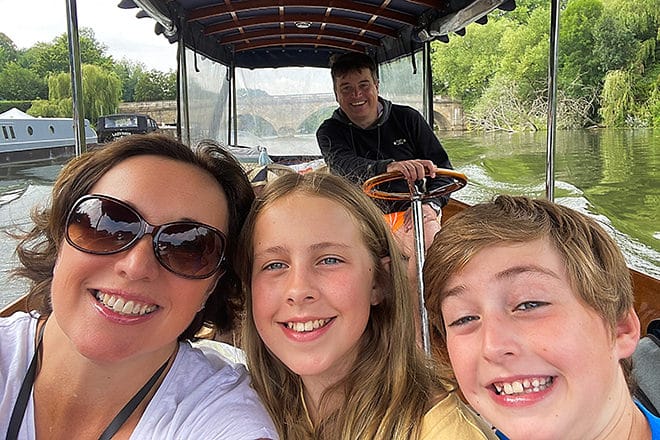 Gail and her family enjoyed a lovely self-drive staycation in Goring and Streatley back in August last year using the Swan at Streatley as their base for bed and board. Even getting out and about close to home can be a real treat and feel like a vacation.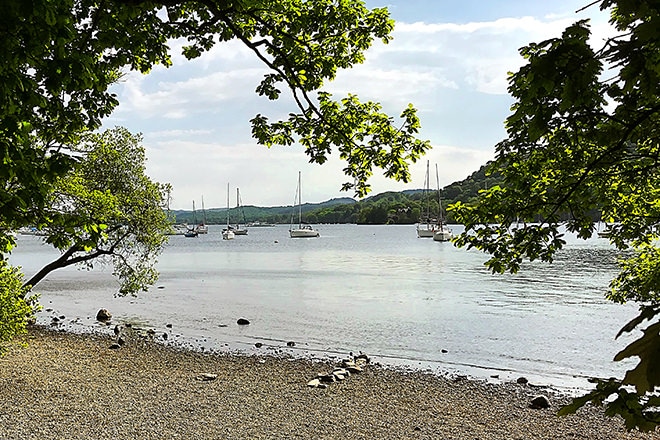 If lakes and mountains call to you for summer 2021 there is an attractive cottage in Ambleside (The Lake District, Cumbria) available for self-catering from mid-April which belongs to some dear friends of mine. 
Ambleside is a great jumping off point for river cruises, old fashion rowing boat hire, or taking your own boat and launching it at Ferry Nab for the duration of your stay. You can get a temporary lake licence from the warden when you arrive and there is room to leave your trailer on site by the slipway.
Upper Thames boat hire open for business again!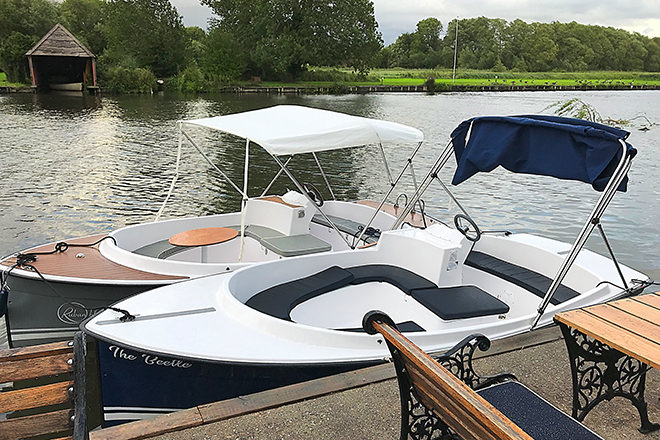 Closer to home our electric boat fleet is already open for booking at www.pureboating.co.uk. Providing the weather behaves we shall be welcoming our first family groups on Good Friday April 2nd.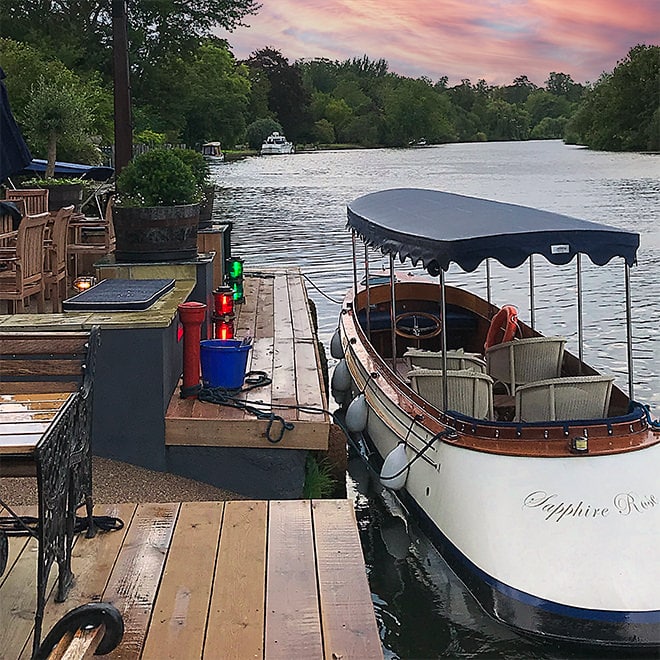 In addition, from the middle of April we will be renting out 'Sapphire Rose' from The Beetle & Wedge (Moulsford) on a self-drive or skippered basis. 
You can book self-drive on 'Sapphire Rose' via the PureBoating website, while skippered charter for any of our boats should be reserved by calling our office on 01491 578870.
Job vacancy!
If you know someone who is 'boaty' and would like an outdoors job in a buzzy environment, then you might suggest that they apply for this job at The Beetle & Wedge, which has been advertised recently in the Henley Standard.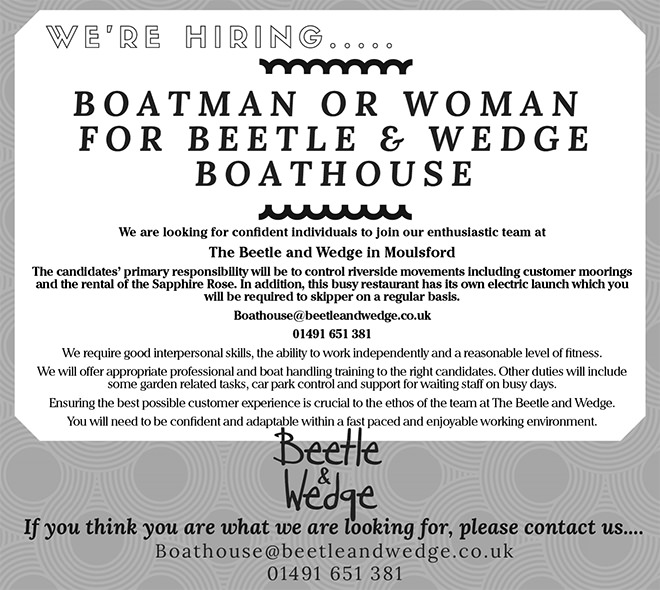 They need a roster of competent staff to cover the post 7 days/week, 12 hours/day, so it is not too late to apply.