Winter has definitively arrived and the most useful boat to own right now would be an ark. However, the countryside has a special kind of beauty despite the absence of suitable river craft. The photo above was taken in Oxford by one of our readers – thank you Anca Bossons.
Not just a Houseboat
Another avid reader and serial boat owner sent us a link to a piece of film shot in 1965. The middle section of the video shows floating homes on the Thames in the mid 60s, including the famous (or could it be infamous) houseboat "Astoria" which belonged to Fred Karno.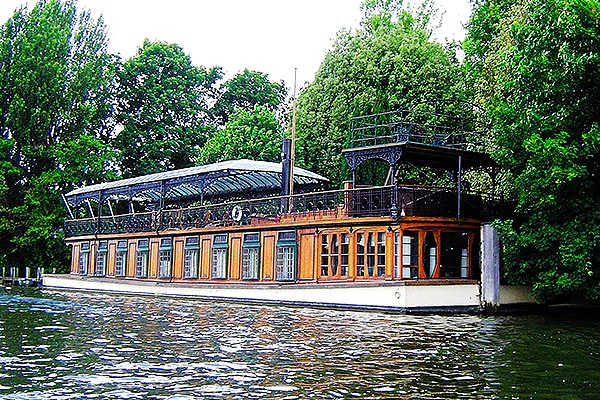 This grand 90ft houseboat was built in 1911, is moored on the Thames in Richmond (London) and is now owned by Pink Floyd guitarist David Gilmour. He bought the boat after seeing it advertised for sale in a copy of Country Life magazine in his dentist's waiting room, just a short while after admiring it while being driven past its moorings. Although rumour has it that Karno used the boat as his casting couch, Gilmour turned it into a recording studio in the 1980s. Parts of each of the last three Pink Floyd studio albums were recorded on this boat. 
Today, the modern day equivalent of this boat will set you back a little less than 2 million pounds.
Our Boats starring on the Big Screen
During the past few months a couple of our boats have been cast in films without a need for the casting couch experience as I acted as both impresario and skipper on both occasions.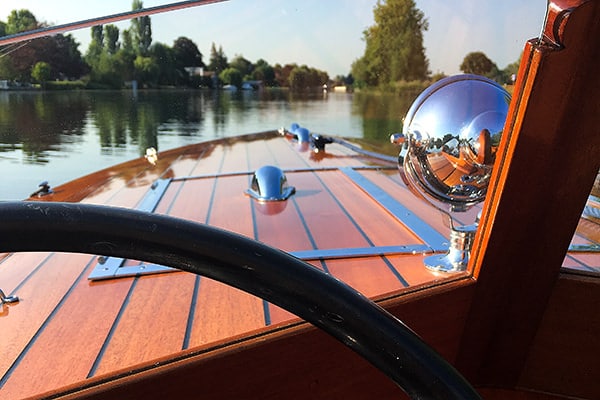 "Ballroom Slipper" will be starring in a remake of the film "Blithe spirit", which will be out in cinemas across the UK in the spring of 2020. I had a very interesting, if somewhat steamy, experience on the hottest day of the year while shooting the film at Cliveden. 
Downton Abbey star Dan Stevens and I are now best mates. I so admired his stoic approach to 43 degrees centigrade. He was dressed in Harris tweed from head to foot with a waist coat, brogues and socks, while the supremely elegant actress Leslie Mann, who plays the lead role opposite him, was an hour late coming onto set because she had had her feet in a bowl of iced water. Thus Dan and I had plenty of time to bond over a flask of cool water under the shade of a benevolent sycamore.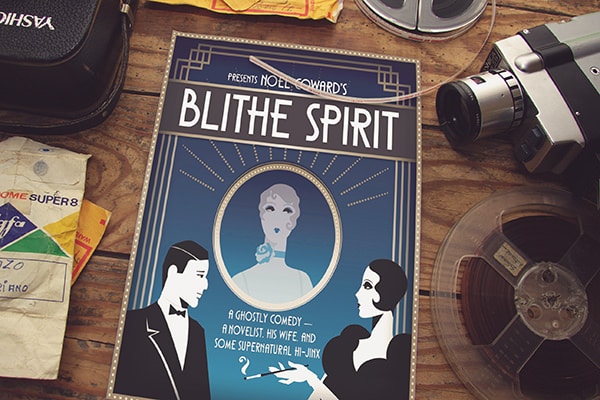 However eagle eyed you may be you will not spot yours truly driving "Ballroom Slipper", as in one take I have my hand on the throttle with Leslie steering while kneeling under the dashboard (me that is, not Leslie). In the other scene I am fully clothed from head to toe in black nylon while driving the boat at full speed between the island and the mainland at Cliveden, playing the ghost of Elvira (the first wife), only to be edited out with the true image discarded on the cutting room floor.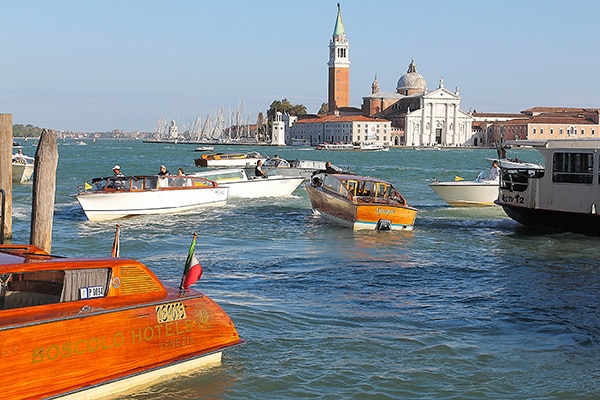 Last week an eerie atmosphere was replicated in an autumnal setting on the riverbank at Mill End just downstream of Hambleden lock. "Little Seagull" was taking part in a TV drama series as a substitute for a Venetian motoscafo of the type you may have used to speed between Marco Polo airport and the city of Venice. 
Apparently, the film crew had not realised that they were in fact on a river and not a lake as they stretched fog making equipment between the two banks entirely closing off the river. They then had to remove the cabling so that a narrow boat could proceed without impediment along our royal highway.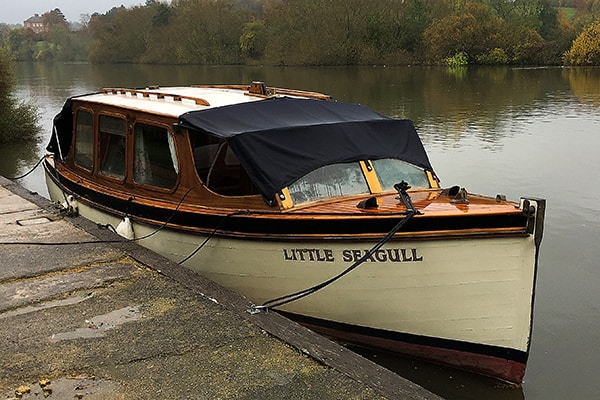 Just a few days later Hambleden lock was in fact closed to all river traffic for a month while the EA had work done on the layby. We were fortunate enough to be able to persuade the lock keeper to reopen for a couple of hours so that "Little Seagull" could return to base in Henley.
Precarious River Conditions
Lock closures are presenting a problem this year. The early unprecedented river levels have delayed moving boats to storage facilities, and some of our winter storage customers are still stranded on their moorings. With the help of our logistics team we have been able to use some lesser known slipways such as the ones in Cholsey, Whitchurch and Purley to bring boats into safety. 
It is well worth checking the Environment Agency's website for their winter work schedule updates and for river conditions.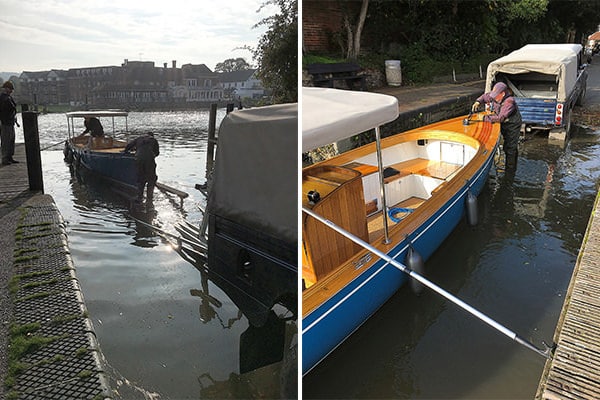 I had a pleasant but slightly hairy trip up stream with the 25ft Windermere launch, "Blue Duck", when its owner and I headed for a Marlow slipway with a four knot flow speeding under the hull. Owner, boat and skipper arrived unscathed and with rosy cheeks to be greeted by Andrew Adams and his crew at the excellent St. Peters street public slipway. She is now safely stored at Beale Park Boat Store. 

If your boat is too large or you simply prefer to be afloat over winter, we are now offering floating storage on the lake at Beale Park. Please call Gail in the office for more details.
The Upper Thames Patrol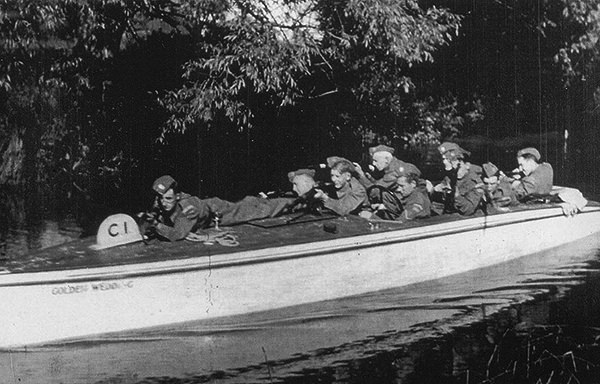 Did you know that locks and weirs were strategic targets along the Thames during the war years? I went to a fascinating talk at the River & Rowing Museum just a few days after Remembrance Sunday. The subject was "The Upper Thames Patrol". 
On the 14th of May 1940 Anthony Eden, the then Prime Minister asked for men aged 15 and above to volunteer for the LDV (affectionately known as the Look Duck and Vanish Brigade). The LDV was later renamed the UTP (up the pub) and was a recognised and valuable part of the home guard. 
Although women were barred from enrolling as Local Defence Volunteers, the ones who insisted on driving their own boats did join as unofficial Auxiliaries.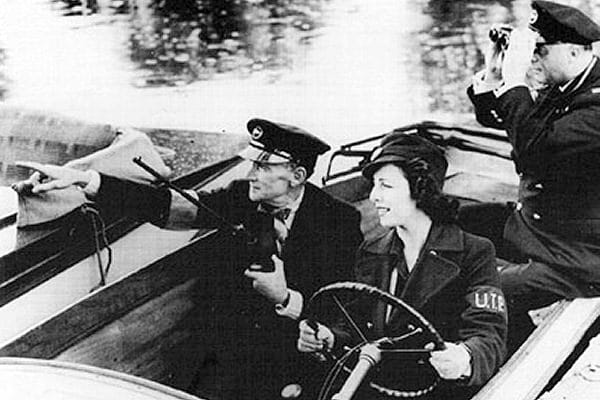 The river was divided into 7 sections comprising of 4500 men in total as there had to be two members of the brigade on duty day and night every single day of the year. The main job of the UTP was to protect the weirs and locks with particular emphasis on river crossings.

There are 47 bridges in total along the non-tidal Thames. Each bridge was fitted with a demolition chamber in 1940 and most are still intact today. Obviously in the case of an invasion the bridges would have been blown up to prevent Rommel and his troops invading north across the Thames. The approach roads to the bridges were also fitted with anti-tank blockades. Most of the pillboxes, which were judiciously located to have sight of the bridges, weirs and locks, are still in place.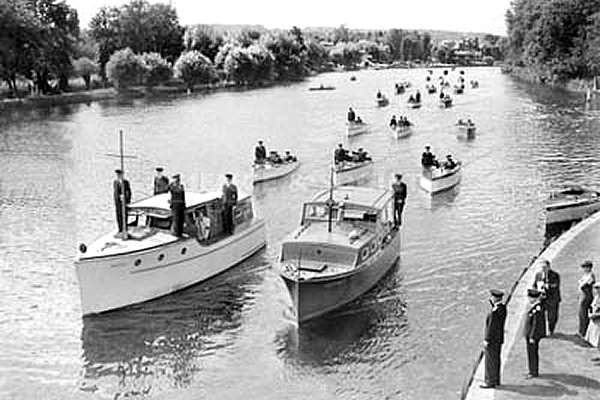 In June 2020 there will be a living history re-enactment using period guns and blank ammunition to test the lines of sight between Shillingford bridge and Wallingford, where all six pillboxes are still in position.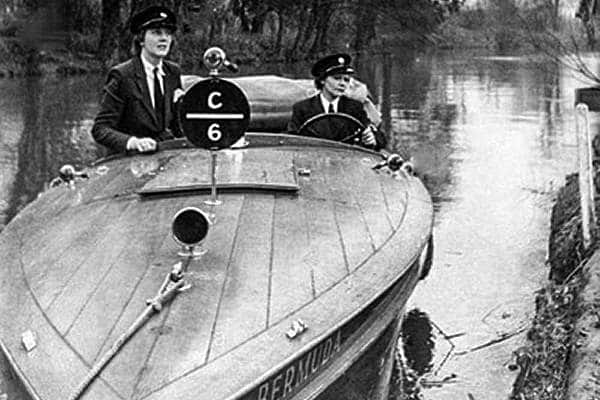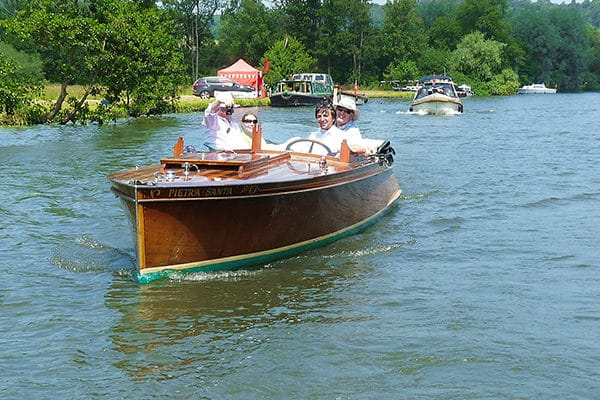 What a shame so many boats change their names. Clearly though some of the boats we sell played their role as patrol boats for the river-borne Home Guard. 
How lucky are we and subsequent generations to have never experienced the horrors of living through a war and losing our loved ones?
More War Heroes
On the subject of war heroes, last week I spotted "Brown Owl" on the slipway at Dennetts. In this photo you can see that she is having her bottom repainted in anticipation of the 80th anniversary return to Dunkirk (May21-25th 2020).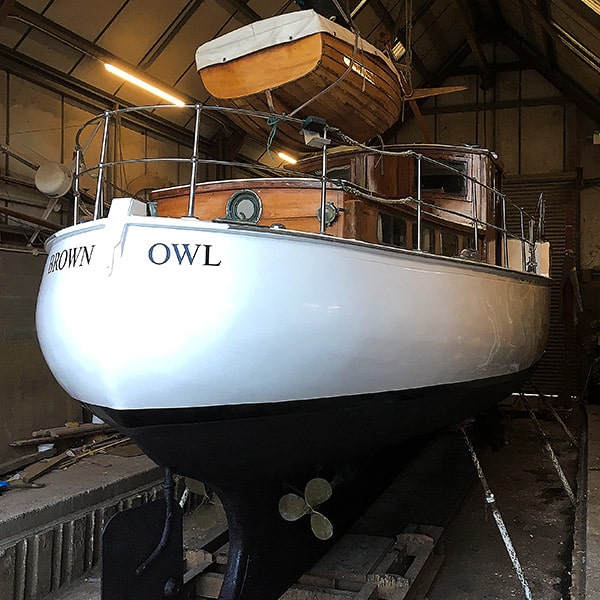 The Association of Dunkirk Little Ships is expecting at least 50 Little Ships to take part in the return. All Little Ships are privately owned and tend to be very well maintained by their proud owners. Earlier this year we sold "Elsa II" and look forward to greeting her in Dunkirk on her arrival.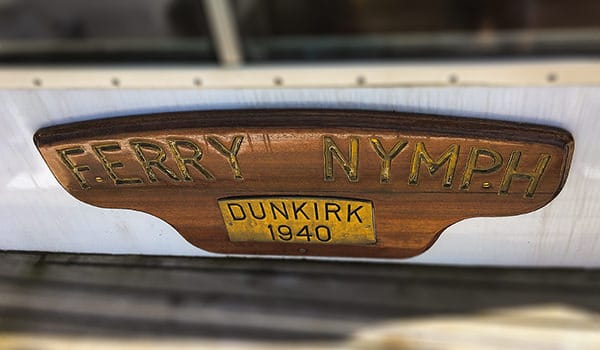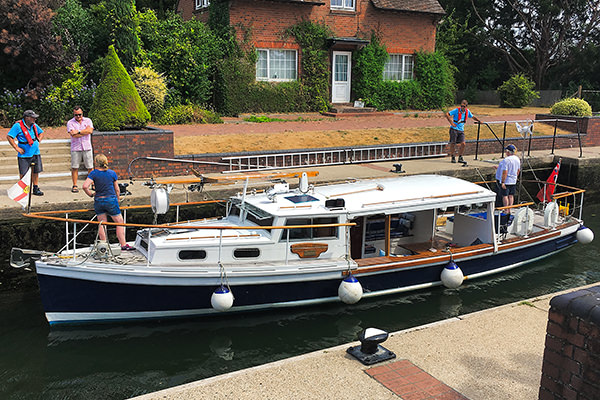 If you yearn to be there on your own boat it is not too late to get a Dunkirk Little Ship in time for the 2020 return and our "Ferry Nymph" is keen to find a new owner. Feel free to contact us for more information about this cabin launch with a fantastic war time history.