A special family birthday took me and my incredulous and excited granddaughter Heidi to Paris recently. While she was disappointed that she couldn't actually view the sea from the train as it passed through the Eurotunnel, she was totally enamoured with Paris itself.
Mixing business with pleasure in Paris
I was happy to be surrounded by water as we stayed in my favourite hideaway hotel on the Isle St. Louis, which meant that every day started and finished with a dreamy view of the Seine as we crossed the footbridge onto the island. 
For the first three days, the weather was a little grey and frankly quite cold, but our visit to the Musée de l'Orangerie, where we gazed in awe at Monet's paintings of his garden at Giverny, gave us a taste of the spring weekend ahead.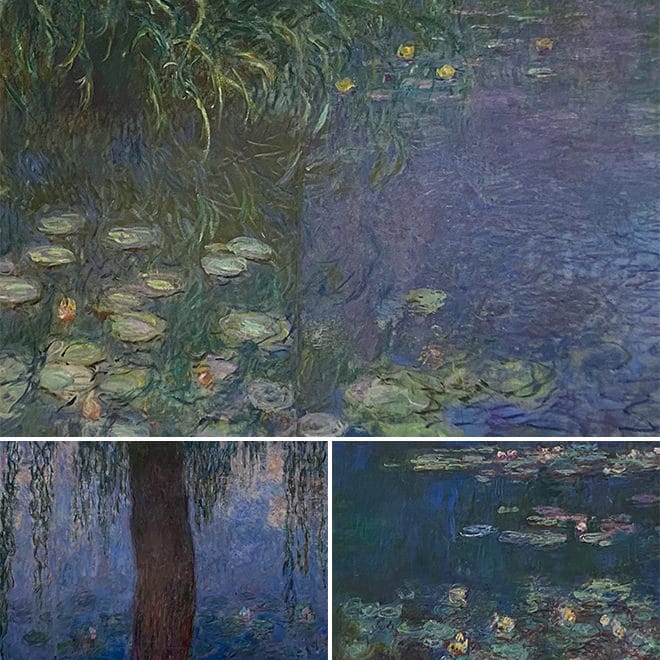 Unusually I didn't get to go on a boat trip, Heidi preferring to explore the city on the top floor of the double-decker tour bus; however after she and her mum had departed for their home in the Pyrenees, I did get to explore the sylvan banks of the Seine an hour out of Paris. What a completely different world, and I would not have been surprised to see artists lining the banks while having a lazy picnic lunch in striped blazers.
'Ona' is looking for a new owner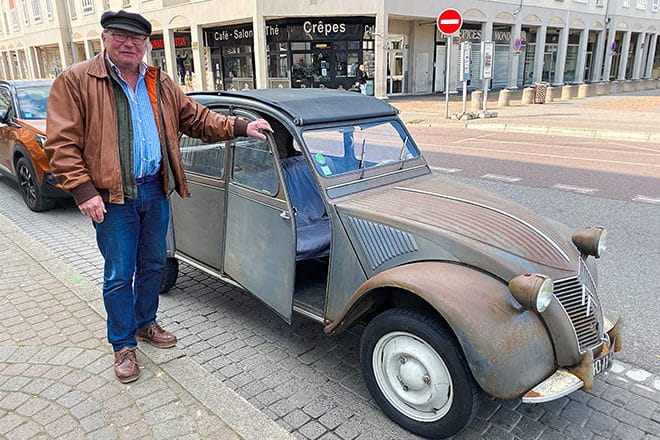 It was a little chilly to picnic al-fresco. Nevertheless, my host had a couple of treats in store for me when he collected me from the station near his idyllic riverside home in Villennes-Sur-Seine.
I felt very much at home in a 1957 series 1 2CV. I was born in 1957, and like this vehicle, I am showing signs of wear, although my colleagues tell me that I still have plenty of go in me, as does this venerable icon of French post-war automobile history.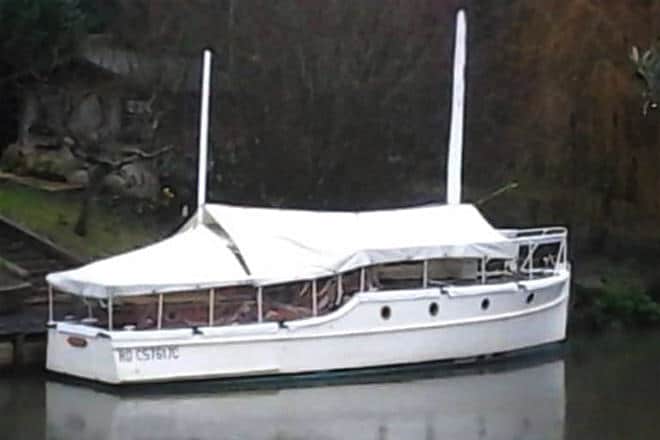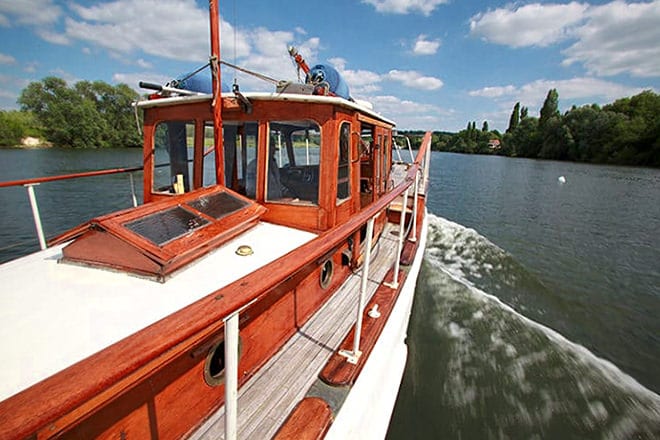 The reason for my visit was in fact to view monsieur Fainac's 1931 Dunkirk Little Ship named 'Ona II'. 
If you wish to view her I will be doing accompanied viewings over the next couple of months. Thanks to Eurostar, it is possible to go to Paris and back in one day.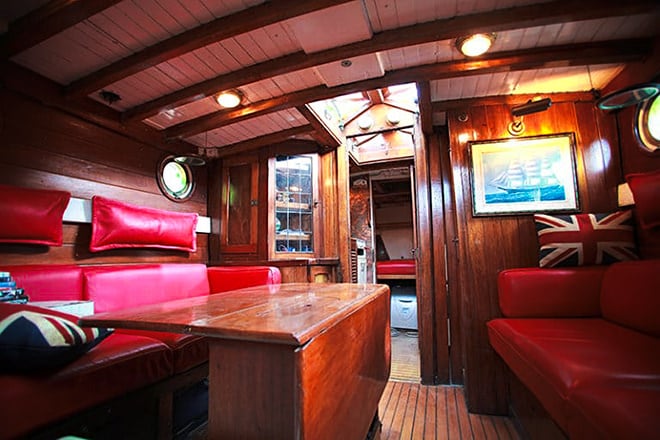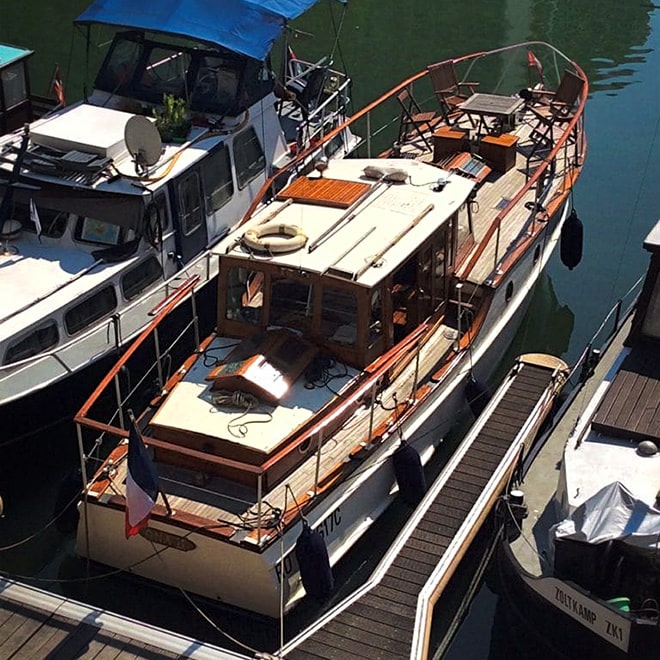 We are putting up new listings weekly at the moment, so please keep an eye on the website or give us a ring in the office if you are seeking something in particular. I know moorings are hard to come by, particularly on the Thames, but bear in mind that some boats already have a mooring which can be transferred.
Another PTS 26 delivery
Another PTS 26 arrived in the UK on a sunny Saturday recently.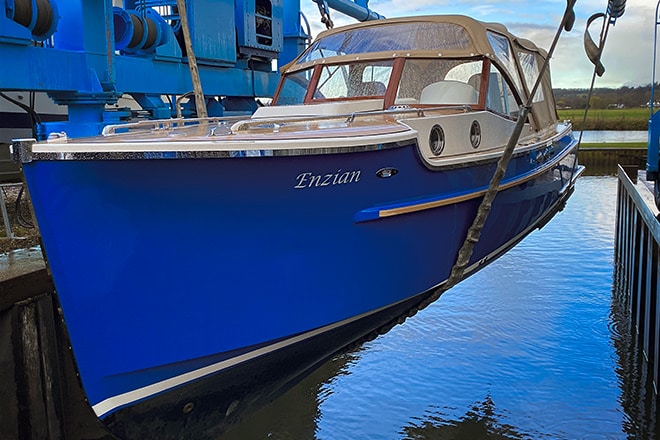 The next PTS 26 to arrive, currently in build, will be fitted with electric propulsion. This is an exciting option for Statement Marine, HSC and above all for the new future owners.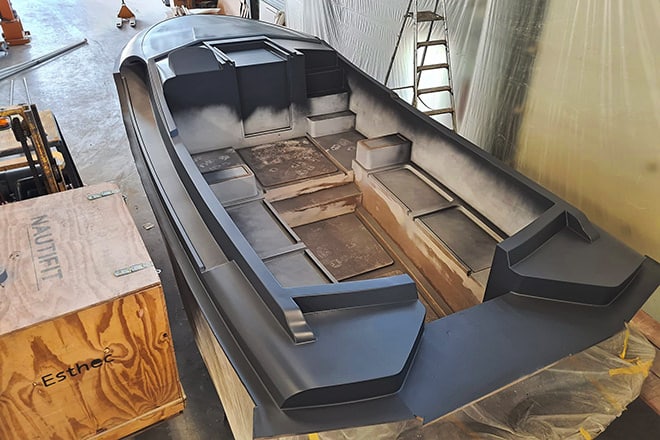 As I write, the first PTS 22e is also being built, and we expect to launch one in the UK in August.
Come see us at the Horning Boat Show!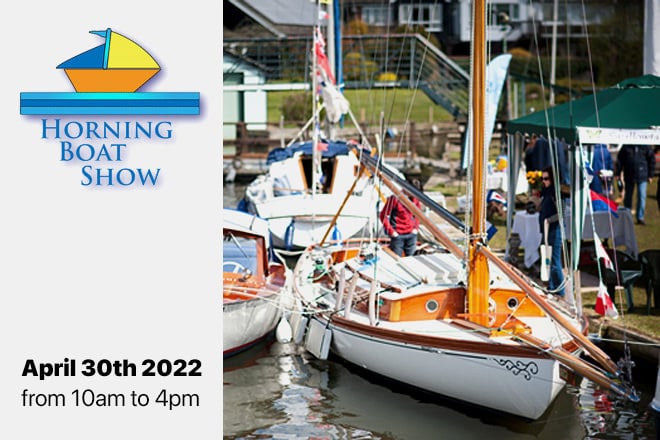 We will be showcasing a PTS 26 at the Horning Boat Show on Saturday 30th of April. This is a one day show which, considering its location, a picturesque Broads village, punches way above its weight. 
We also plan to take an electric boat under the E-Boatique banner.
Norfolk is worth a visit
I am looking forward to my weekend in Norfolk (for the Horning Boat Show), a charming area of the UK that holds many memories for me, as my early career with The Steam & Electric Launch Company and the trusty Frolic range began there in 1987.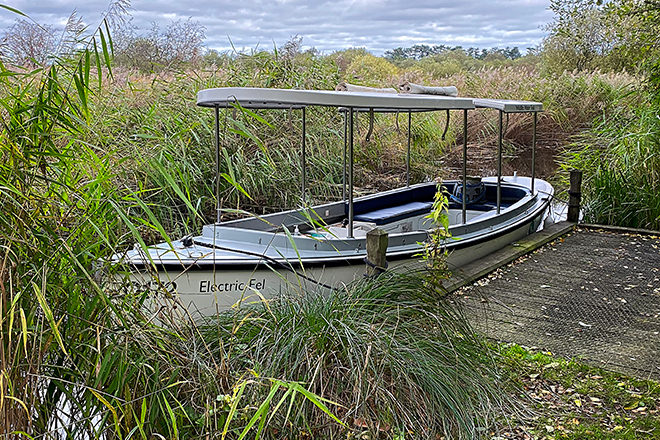 Thirty-five years later, 'Electric Eel' is still running tours in How Hill National Nature Reserve. We booked her last autumn with the family, and everyone had a lovely time.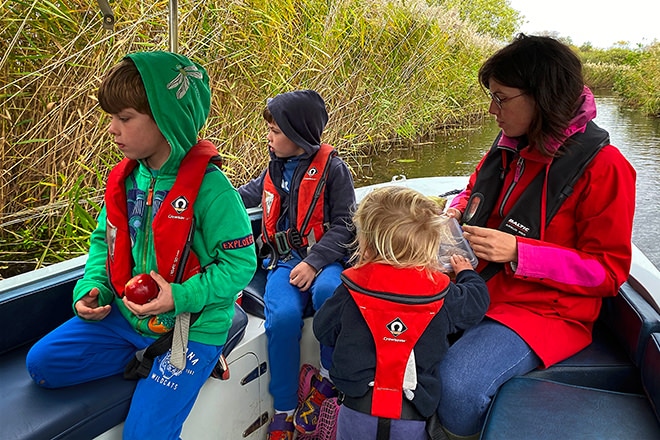 Meanwhile at Pure Boating and the yard ...
Meanwhile, back at the boatyard, spring has sprung with a vengeance. The first boat has been returned to its owners, who must be congratulated for their meteorological foresight as we appear to be experiencing some fantastic early spring sunshine.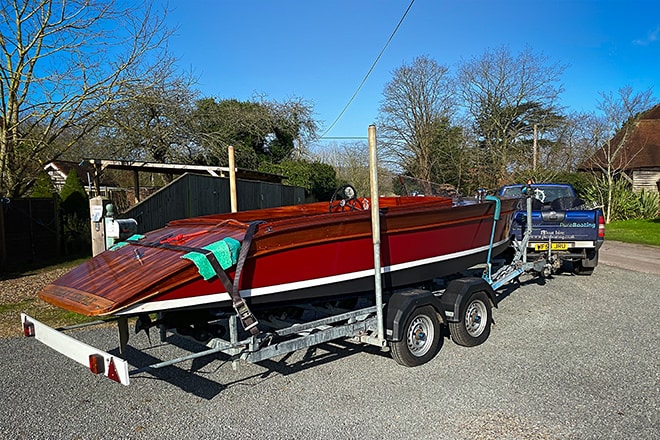 We have not been so quick off the mark with our Pure Boating relaunch, but then we are still awaiting a delivery of new boats from SaviBoat in Cognac, France, which will be based at The Swan at Streatley.
Boaters have started to book online, so don't miss out if you have a particular date in mind. Would-be hirers are making contact daily and unfortunately we have to disappoint them as we are not ready to open the season just yet despite the weather. Happily from April 15th some of our boats will be available for hire, and can be booked already on our new Pure Boating website.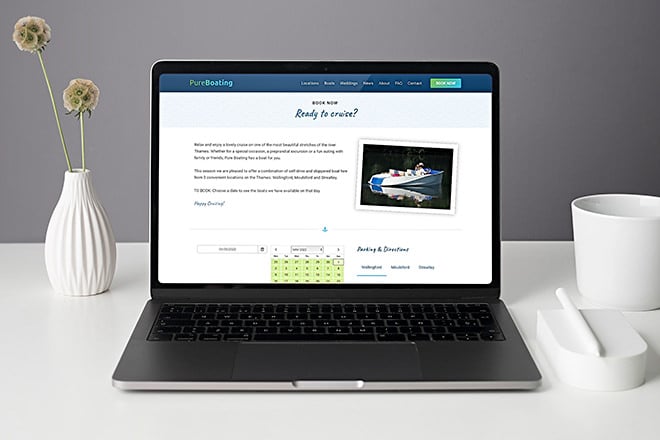 The yard is as busy as ever, and we now have five staff there most days beavering away on various projects as well as preparing boats for relaunch.
Managing expectations
Every day we receive phone calls in the office about boats on the website, so viewings are filling up my diary both for sales and for prospective vendors.
I must reiterate the fact that we do not guarantee to take every boat offered to us. I like to think of our website and brokerage selection as an edit of interesting and varied options for budgets over £10,000, with most boats priced well in excess of this. Due to the time involved in assessing, representing, marketing and obviously carrying out viewings, I simply do not have the bandwidth to take on every boat we are offered.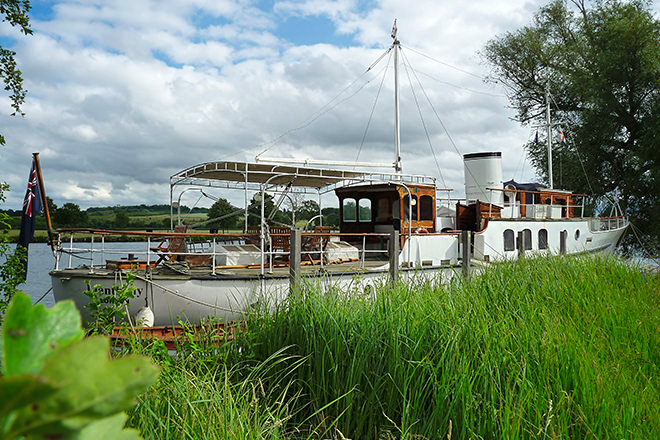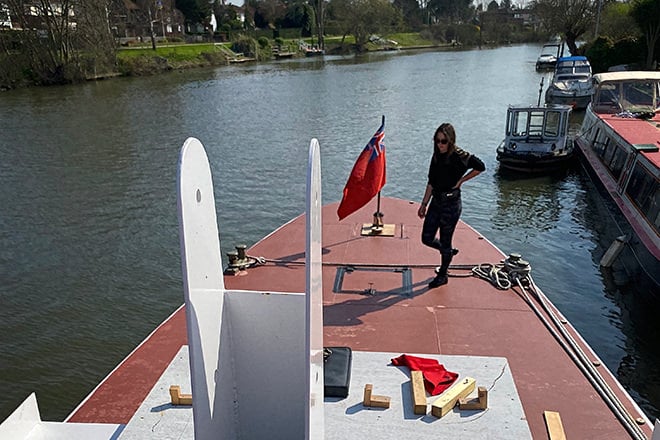 I also attend boat shows and like to keep abreast of ongoing projects, such as 'Llanthony', which I sold three years ago, and which is undergoing a massive restoration programme. 
Please do not for a minute think that I am complaining as I love my job and often am invited to delightful events such as the launch of the 2022 Thames Traditional Boat Festival, which took place this year at the River & Rowing Museum (note: both these institutions require our ongoing support to survive).
An exciting new event in Henley this year!
Henley Festival returns to its original July slot freeing up September for other activities. My friend Chris Taylor has come up with a really excellent late-season event which I hope many of our local readers will attend. 
There will be prizes for illuminated boats, houses will be illuminated along the route, and Chris has involved both Phyllis Court Club and Leander. He inaugurated a similar event in Cookham in 2015, so we are incredibly fortunate that he is promoting a bumper edition in Henley this year on September 24th.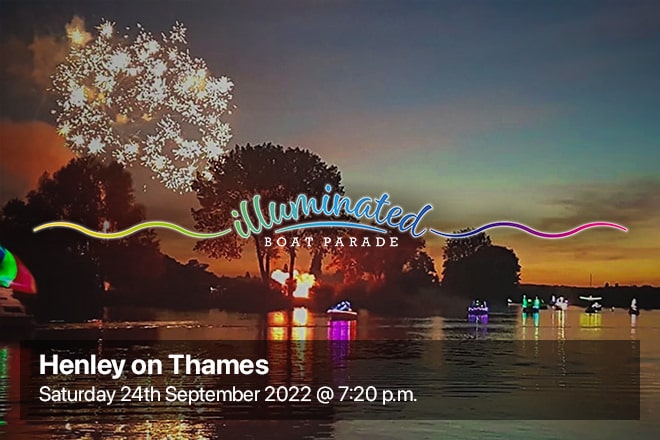 You have several months to think about how you will decorate and illuminate your boat, and I look forward to some exciting photo opportunities. You can register for the event online.
Ten of our boats survived the casting couch!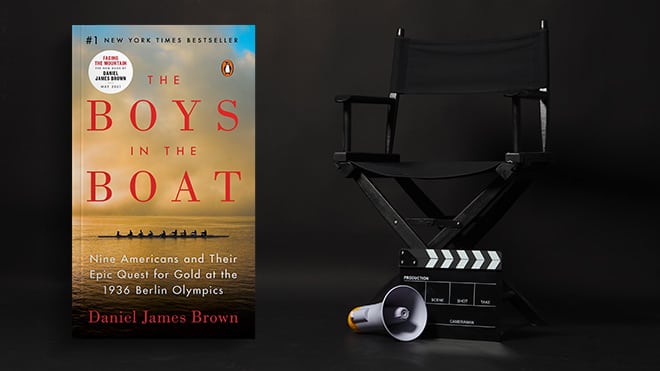 Twenty-two customers offered their boats for inclusion in the filming of "The Boys In The Boat", for which I thank them very much indeed. Ten survived the casting couch and will feature in the final film, providing they survive the rigours of the editing suite. Having signed an NDA, I am forbidden to say more, hence my lips are now sealed ... 
The owners of the selected vessels will be hearing directly from Regine, who joins our team here in Henley at the end of this month. Regine will also be dealing with charter and promises to be an extraordinarily efficient administrator, leaving me free to wander the banks of the Thames and generally concentrate on sales and business development.
The Henley Houseboat coming soon!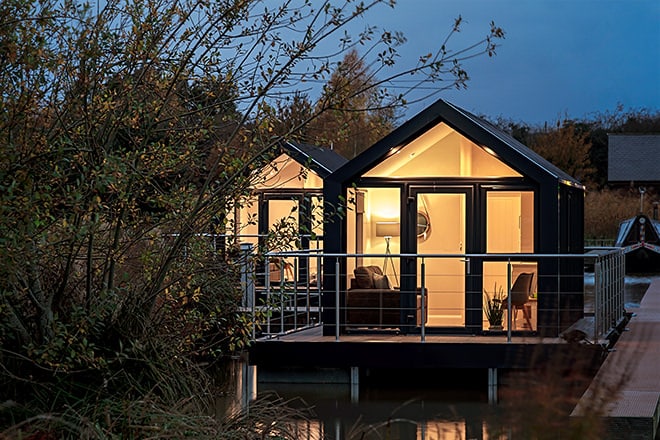 Regine will also be managing Houseboat bookings once it is in situ and has been furnished and all onboard systems tested etc. It is my intention to add our houseboat to the charter page of the website for extended stays on board. 
The location on the water so close to Henley town centre should be an attractive holiday option, with the electric tender providing an easy shuttle across the river for restaurant visits and shopping. 
Mooring for sale between Goring and South Stoke!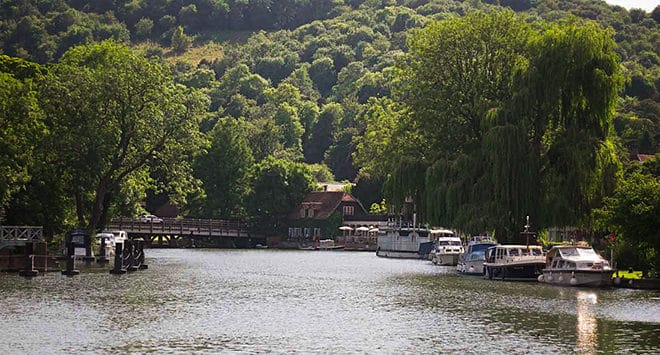 If you want to buy your own houseboat I have just heard about a mooring for sale with electricity and water in a stunning location between Goring and South Stoke. 
Please give me a ring if you wish to know more.
Before you go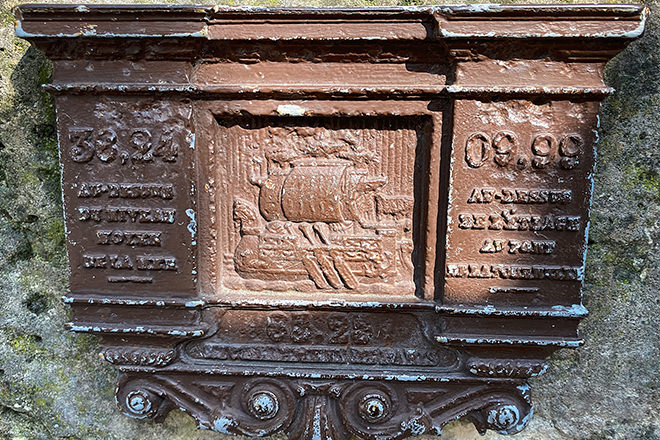 Does anyone know anything about this plaque I spotted on a wall above the quay in Paris? I'd love to learn more about its origins.