As the year begins, in optimistic mode, we look forward to the return of light and sunshine and, above all, to future boating events.
A few dates for your diary
Henley Royal Regatta, now six days rather than the traditional five, will take place from June 22nd to July 2nd. We will be running 'Tarbes II' and 'Windsor Belle', so do get in touch if you fancy a day out with friends and family to enjoy the rowing from another perspective.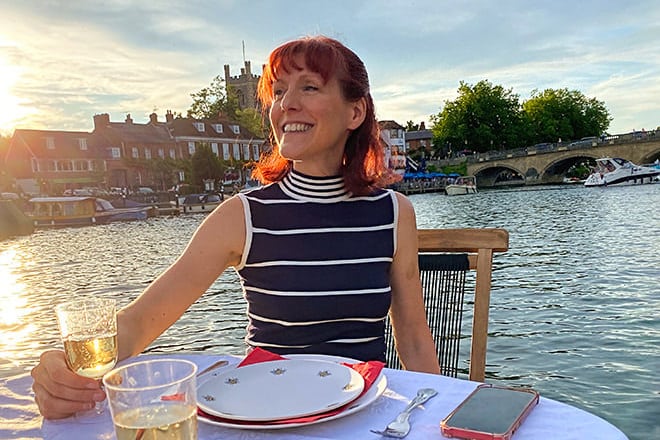 Hot on its heels, we have the usual arts and music jamboree, which is Henley Festival from the 5th to the 9th of July.
Here is this year's lineup: 
Wednesday 5th July - Rag'n'Bone Man
Thursday 6th July - Westlife
Friday 7th July - Nile Rodgers & CHIC
Saturday 8th July - Ministry of Sound Classical
Sunday 9th July - Sunday sessions: Kanneh-Mason Trio, Ronnie Scotts, Boney M, Jack Dee
We still have limited availability for a cruising charter if you fancy listening from the river. So phone a friend and contact our office as soon as you can.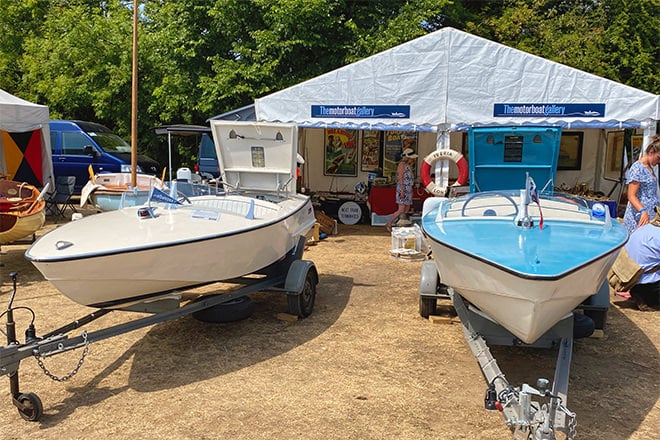 The Traditional Boat Festival is everyone's favourite gathering whether you have your own piece of shiny nautical history to exhibit or simply wish to enjoy the spectacle, dine at the Crooked Billet, dance the night away or pick up an old Albatross.
This year the festival takes place from July 14th to July 16th. We hope to see you there.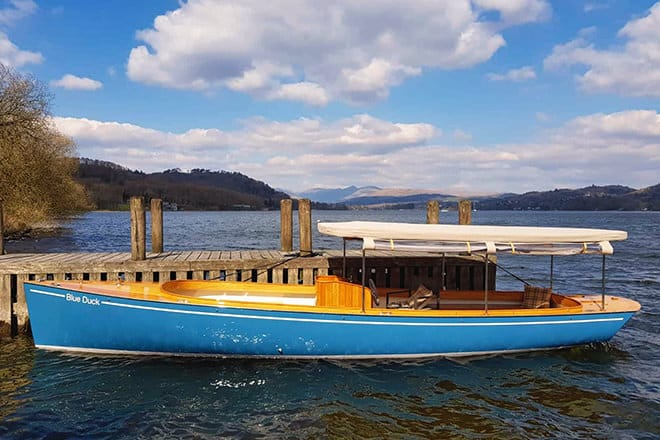 For electric boat owners the following dates of 2023 rallies might be of interest:
April 27th - Lechlade Marina, Upper Thames
June 12th - Tamesis Club, Teddington , Lower Thames
July 14th - Harleyford Marina, Marlow, Middle Thames
August 21st - Landamores, Norfolk Broads
September 8th - Bridge Marine, Shepperton - Lower Thames
A true gem with lots of history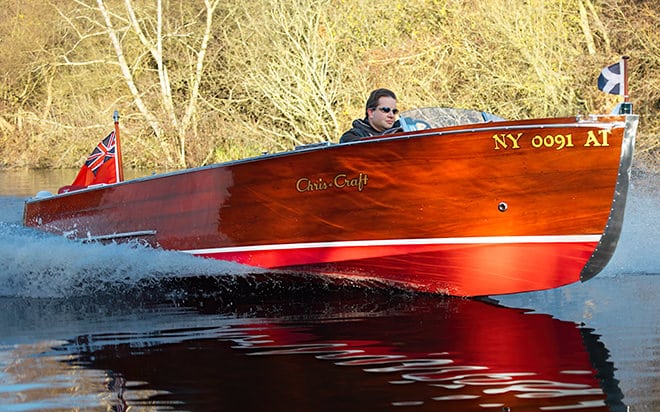 While we are on the subject of natty little racing boats, I should mention the latest addition to our HSC website - the simply gorgeous Cris Craft 'Keuka'. She was imported to the UK by a resident of East Anglia, whose father had owned the boat for many years on Lake Keuka in upstate New York.
After a painstaking restoration at Landamores in Hoveton, we are now proud to represent this 1941 beauty. The hull number, still legible, is C81352 and the NY registration is NY0091AT. The owner has sensibly requested a new survey so a buyer can be reassured that they are buying a true gem.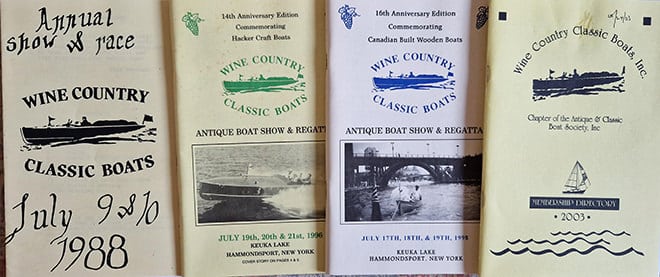 While investigating the history of 'Keuka', I found the Wine Country Classic Boat Show, which I am now following on Instagram.
Then lo and behold, the vendor found photos of his father at this very show in 1988, where he carried off the Dockmaster's award for showmanship. How splendid is that! He must have been a very happy chappie, given that he had bought the boat just the previous year.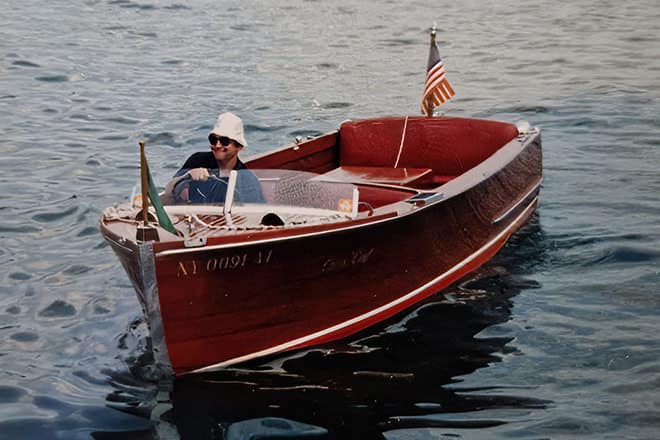 'Keuka' deserves to go to a special new home where the owners will appreciate this boat's history and fine finish.
If any of our readers have been to the Keuka event, please let us know.
I have no idea which wines a new owner should be drinking from this area, but that is for another time, and no doubt there is an erudite oenophile reading this who can add to the story...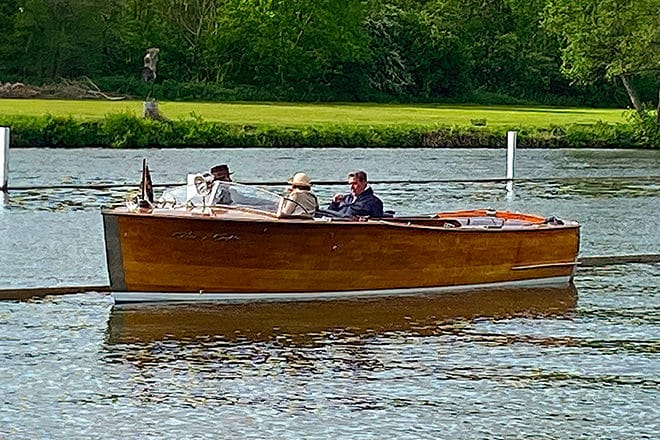 The last time we sold a Chris Craft to the Thames we changed the propellor and elongated the rudder to make it more manoeuvrable at low speed. Fear not therefore if your cruising ground is less forgiving than a large open lake.
The owner of 'Sans Peur' tells me that he and his friends adore this nineteen-thirties Chris Craft Utility for its beam and comfort. So many customers come to the yard looking for a Thames slipper stern launch only to realise that they need more than five seats on a regular basis, and they need either a bigger (than 25ft) slipper or a completely different model of river launch.
These beauties are almost ready for sale
Also from East Anglia comes 'Merlin', an early Brooke original I have written about before that is now fitted with electric propulsion.
She is currently in our Thames workshop, getting her final coats applied by the talented Gareth Lewis.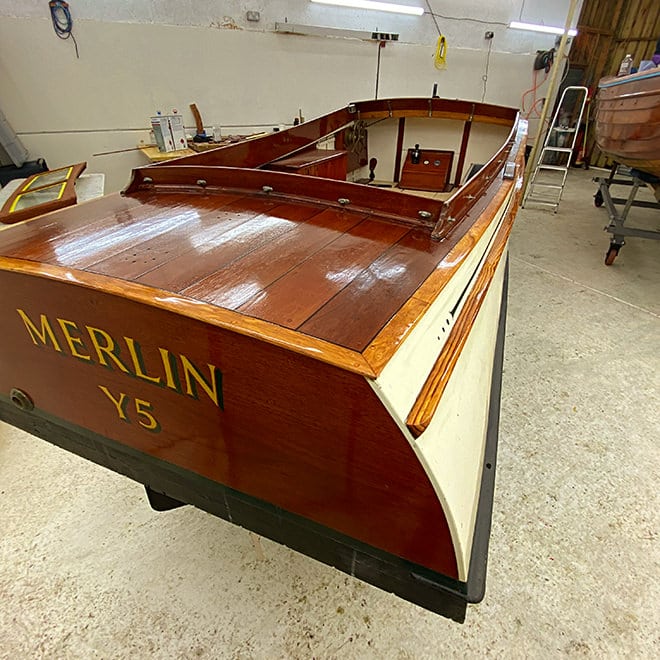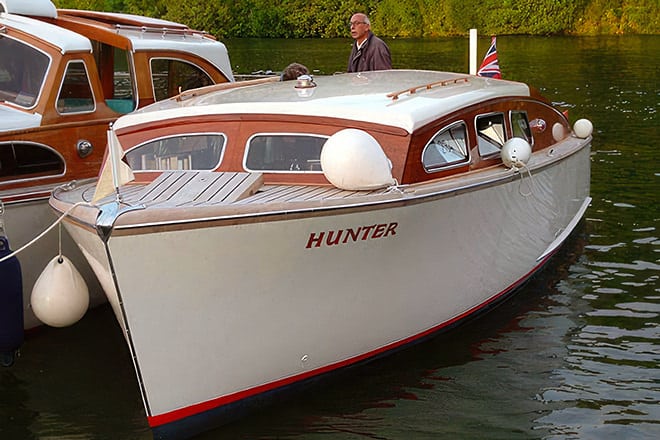 This particular owner, who is now selling Merlin due to his age (sad but true), used to own 'Hunter' which he had remodelled by Colin Henwood about 20 years ago. I remember organising the relaunch party, which was a great success.
Some 10 years ago, HSC resold the boat when Bernard left the Thames to move to their glorious thatched home on a Norfolk Broad, where he acquired an indigenous craft, swapping Bates for Brooke.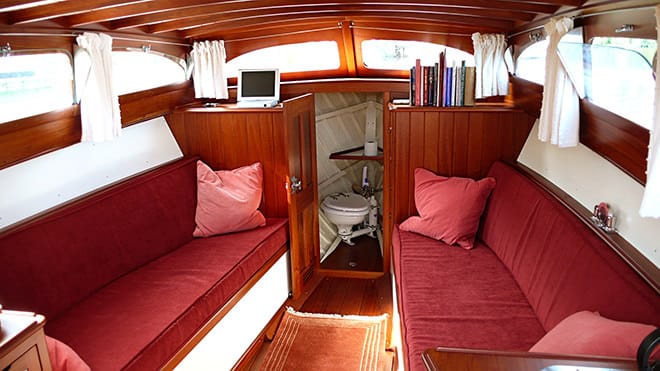 'Hunter' will be listed with HSC once it returns from winter storage. In the meantime please let us know if you wish to register your interest.
On offer at Pure Boating this season!
By the time you read this, I will be at Europe's major boat show in Dusseldorf, where I will see our Ruban Bleu builders with their full range, including the delightful 9-seater Legend, which has loads of space, a large table and room for your paddle boards.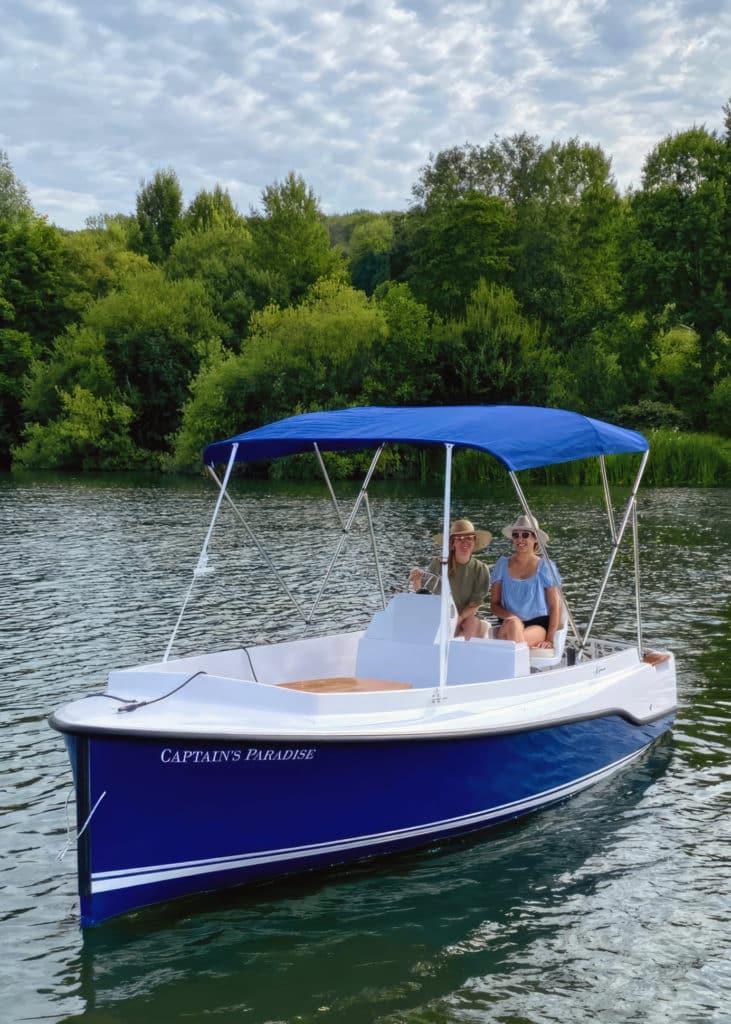 We currently don't have a Legend in the Pure Boating hire fleet but maybe next year.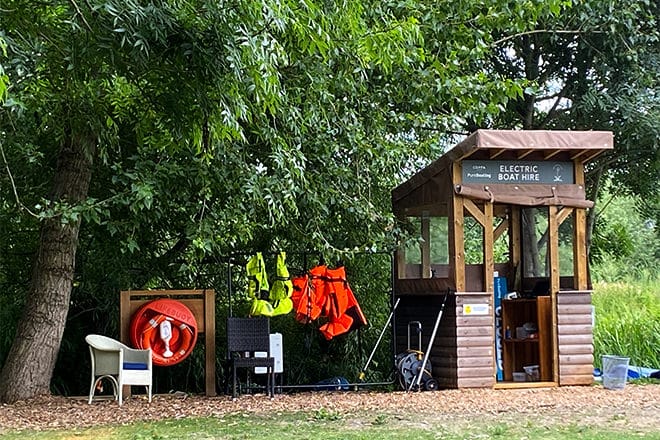 In the meantime, we are having a new 12-seater built, which you can already book with a skipper on the Pure Boating website from The Beetle and Wedge in Moulsford, Wallingford Boat House Pub and The Swan at Streatley.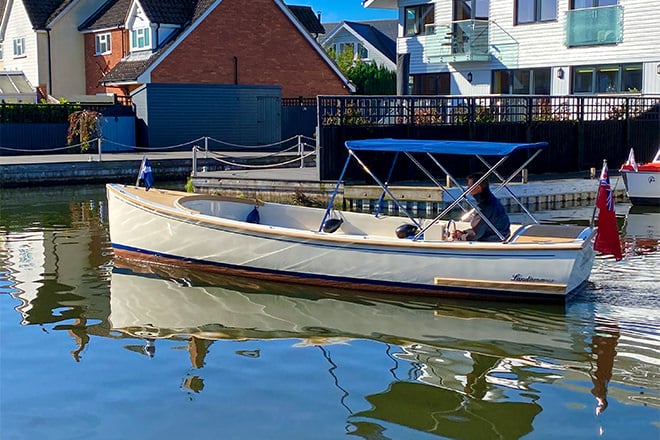 There is also a choice of self-drive boats - Scoops, Derbys and a Most in Streatley and Wallingford (although we may have to delay opening our Wallingford location due to renovation work on the Boat House Pub).
Our MiniBoats, who some of you may recognise from our 2021 summer season on the inner boating lake at Beale Wildlife Park, will once again be available to hire, at The Swan at Streatley during this year's summer holiday break.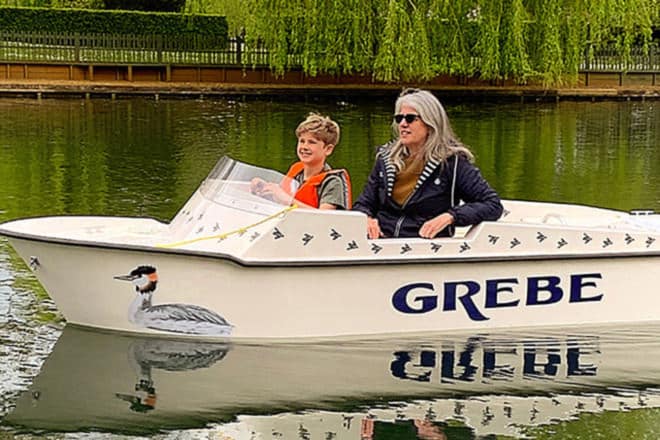 'Sapphire Rose' was very popular last season and will be attending weddings and skippered outings from April 1st, which is the date we have chosen to open at the Swan (Streatley) and the Beetle (Moulsford).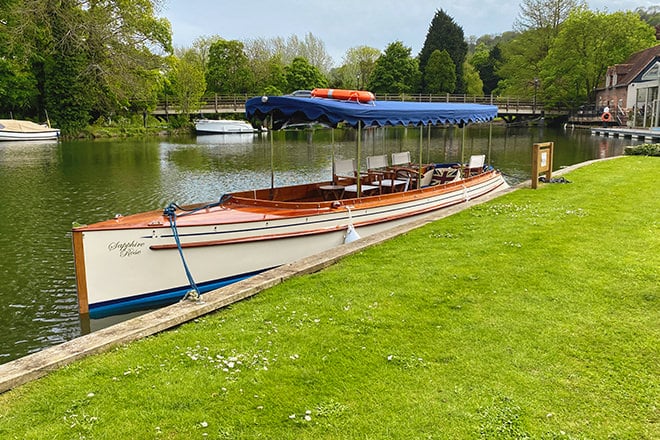 Gillian - coming to a city near you!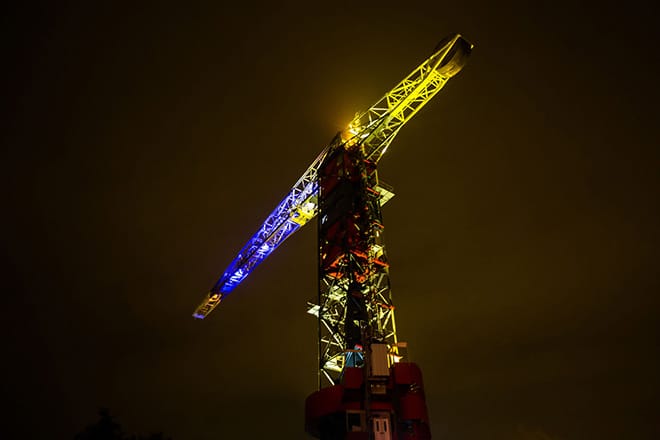 Where other than Dusseldorf will I be heading in the next few months?
We have a couple of boats in build in Schagen (the Netherlands), so I imagine I will be jumping on the Eurostar in the direction of Amsterdam, where I may treat myself to a night in this extraordinary monumental 50-metre-high crane, which has been fully renovated to house three hotel suites and an actual TV Broadcasting studio, or I could stay in a more edgy location just outside of the city centre in a true Botel on the IJ!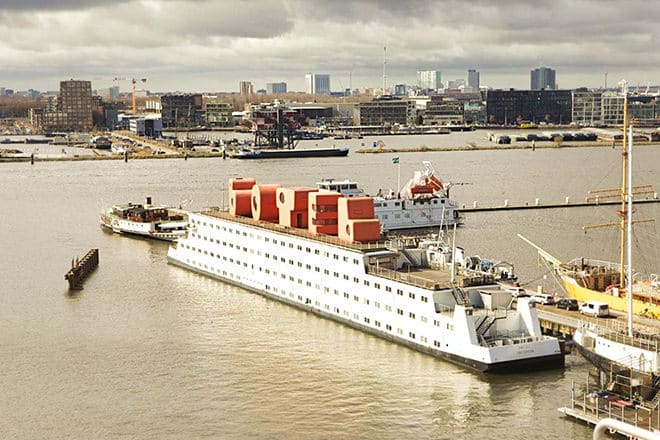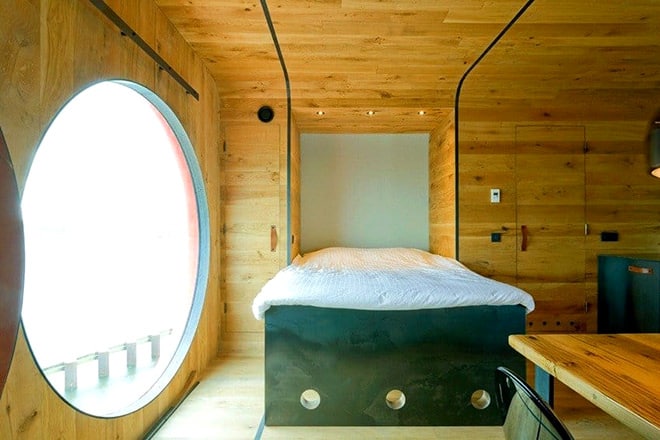 A more bucolic location might be the new De Durgerdam opening in March, just 15 minutes outside of Amsterdam; certainly the website makes you want to book right away, and I suspect that once you have arrived, you will be reluctant to head back into the city. As this boutique hotel is located lakeside, why not take a private taxi boat and arrive in style?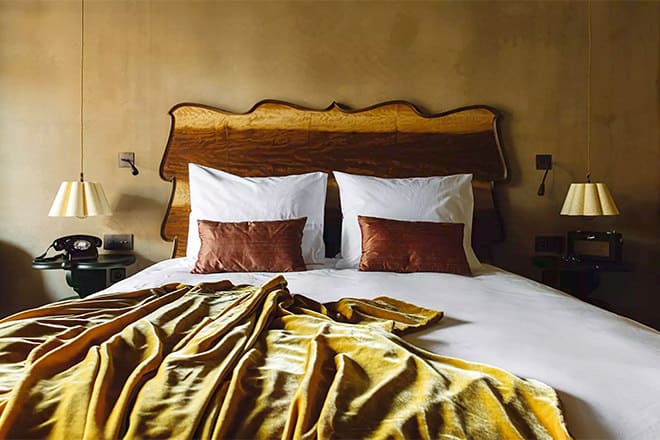 Maybe on the way, I should take the opportunity to visit Antwerp (Anvers in French), as the Eurostar usually stops there on the way north. 
There is an intriguing museum known as the Museum Mas perched alongside the old docks in Antwerp. It purports to be a centre for ethnography, anthropology and maritime history with a very varied offering covering a wide range of subjects in its exhibition halls. According to the website, "You'll encounter a new tale about Antwerp, the river and the port on every storey. The collection boasts over 500,000 museum pieces. Permanent and temporary exhibitions offer a refreshing look at the city and centuries of contact with the world. At the top, on the tenth floor, you'll enjoy a 360-degree panorama of the city, the port and the river."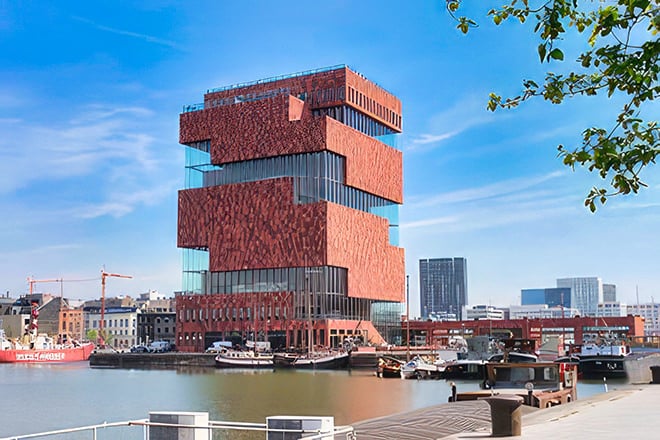 Perhaps a more obvious option in Belgium would be a visit to 'chocolate box' Brugge (Bruges), where I had a somewhat alarming experience back in 1988 when I was working for the Steam and Electric Launch Company attempting to open up an export market for their electric boats.

I took a Frolic 21 on the back of a trailer and launched it into the canal that runs through the centre of Bruges. The city at the time was suffering from excessive wake and noise from old diesel-powered passenger launches. 
I had invited the mayor on board but was not expecting him to bring along the whole town council, comprised of about a dozen well-padded burghers who clearly enjoyed the local cuisine to the full. My poor 21ft Frolic had about 2 inches to go before it would sink without a trace! 
Bruges is now 100% electric. I would like to think that my outing finally bore fruit once electric propulsion became more mainstream.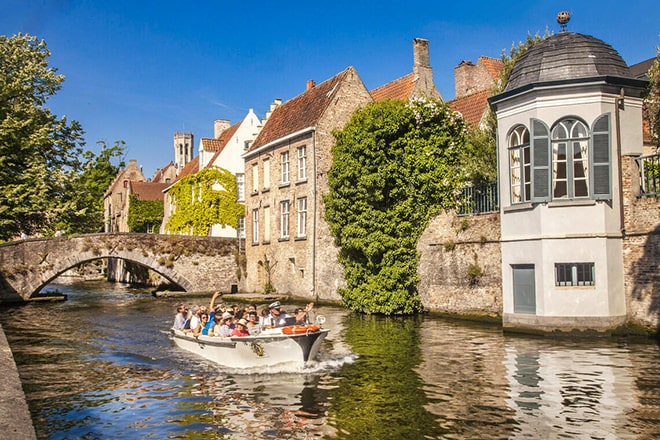 How different then 30-odd years later it was to visit Friesland, some 4 hours north of Bruges in the north of the Netherlands, during a consultancy trip to that area on behalf of a UK customer looking for a specific type of Dutch classic. 
The owner of the boat I was viewing happened to work for the equivalent of the Canal and River Trust in that area. He is a proud patrol officer of the waterways in Friesland and wanted to show me the new electric sustainable inspection/patrol vessel, the PW10, which he drives on a daily basis from their futuristic HQ.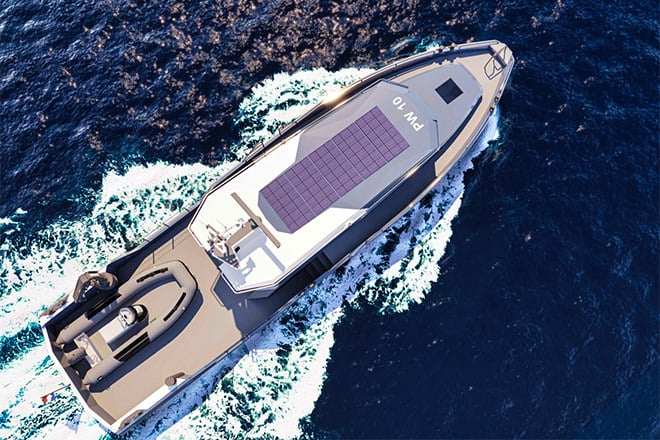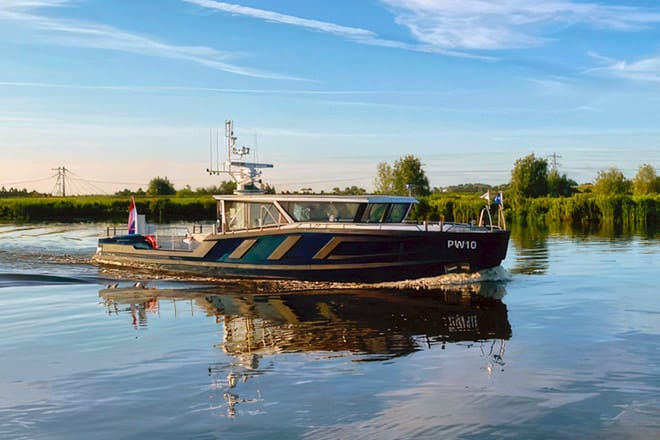 When I visited it was a very grey day, and I could see that the officer appreciated the onboard coffee facilities as much as the solar panels and performance capability of the PW10.
Fun fact: The architects of the PW10 are the same architects used by Statement Marine for the PTS range.
Classic electrics for sale!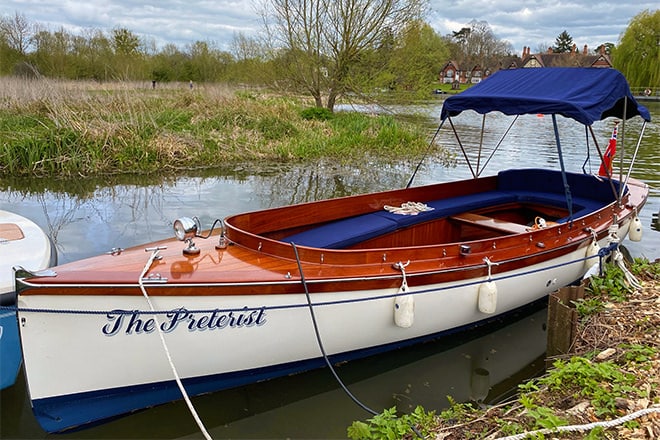 Returning for a moment to my early career as an ambassador for electric boating, and my long association with the range of contemporary classics designed and launched with the visionary Rupert Latham, you can understand my attachment to certain models, including the iconic 8-seater (!) Frolic 21 'The Preterist', which we have for sale at £25,000 with two covers and new batteries (2022), varnished wooden decks and interior, on a GRP hull.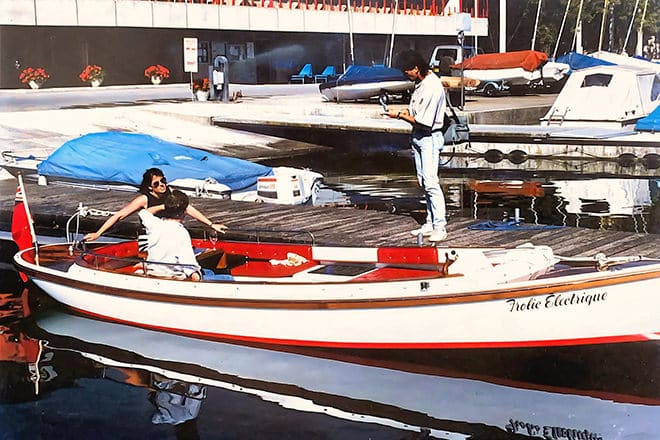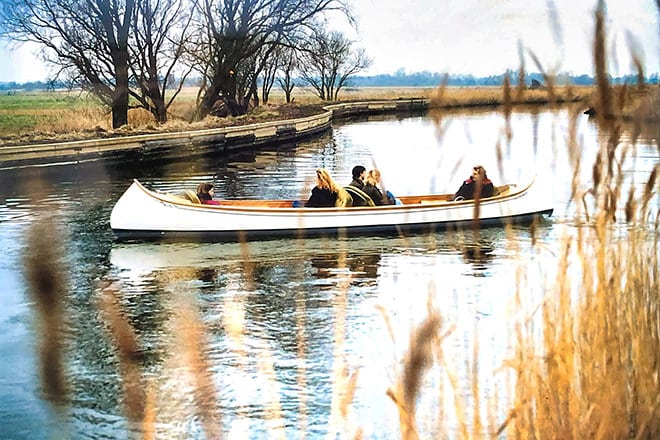 If you have always hankered after an electric canoe, this is another of STELCO's contemporary classics which we launched in the early 90s; 'Otter IX' is available for sale with us and has a storage trailer included in the price.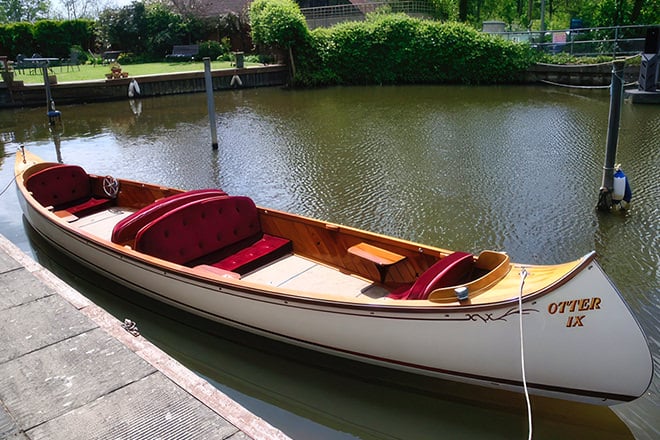 2023 promises to be an exciting year! 
Please send in your stories and let us know about any events which you think our readers would like to visit.