As ever in and around Henley-on-Thames, July has been action-packed. Firstly with the Royal Regatta, now six (!) days of top-level competition bringing record numbers of both competing crews and visitors to the town. Followed by Henley Festival and finally the Thames Traditional Boat Festival.
40 Years of Henley Festival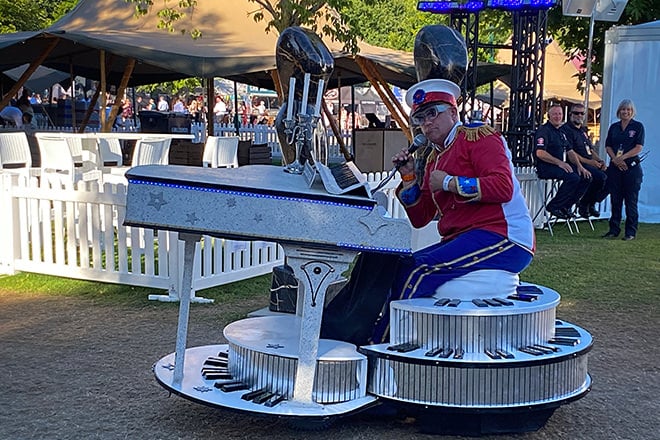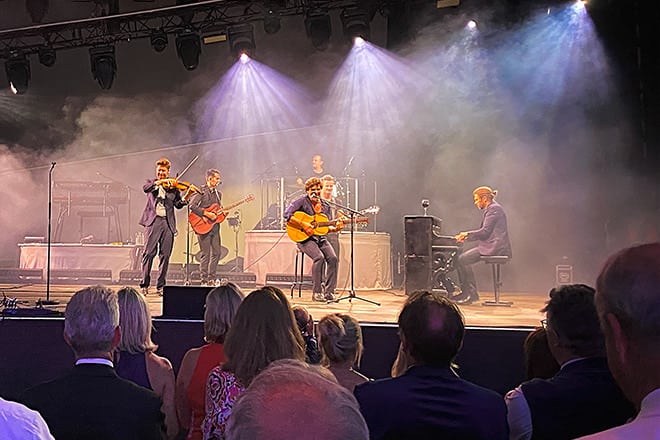 Henley Festival 2022 marked 30 years in business for me and 40 years of Henley Festival, which we celebrated in style on the Sunday evening featuring Kathrine Jenkins and Jack Savoretti.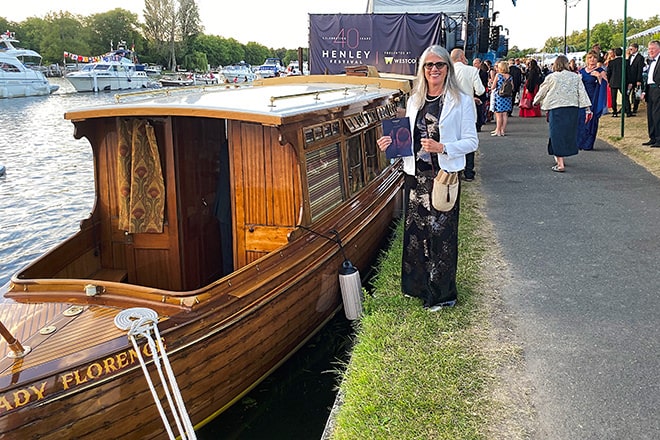 For me, this year in particular, there was a mix of nostalgia, fun and a hefty dose of eccentricity combined with delight at seeing the small boat pool once again in full swing.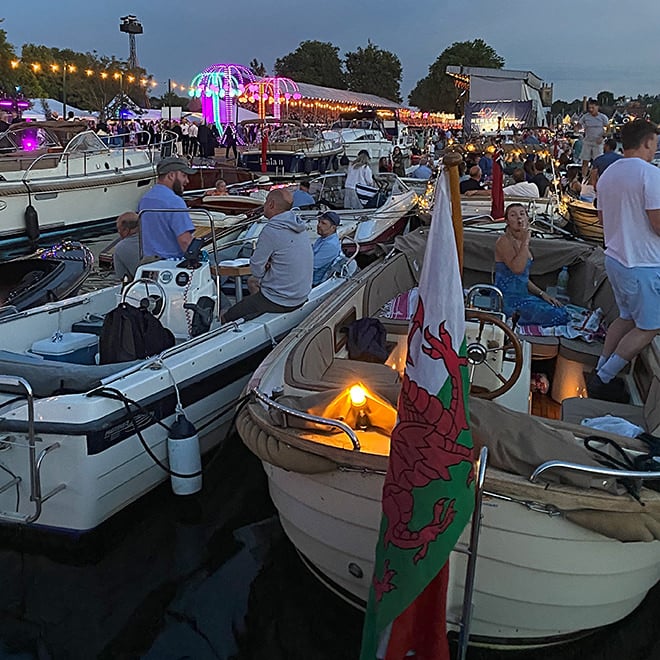 Two days earlier, we enjoyed hearing Tom Jones from a floating dining table owned by friends moored in the small boat pool.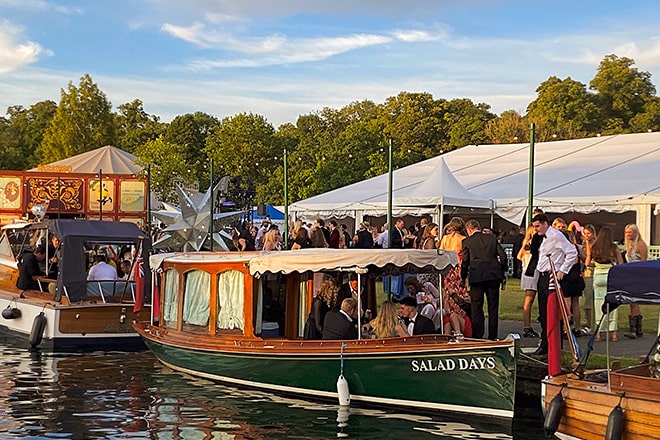 'Salad days' was first sold by me at the London Boat Show to Cameron Mackintosh in 1990 and then a couple of times since, including most recently to a lovely local family. And here she is at this year's Henley Festival.
A record number of vessels at the 'TRAD'!
At the Thames Traditional Boat Festival so many people came up to tell me how much they enjoy our newsletter and that they forward it to friends. On this occasion you may want to tell them to settle down in a comfy chair with a large glass of something cool as it's not a quick read!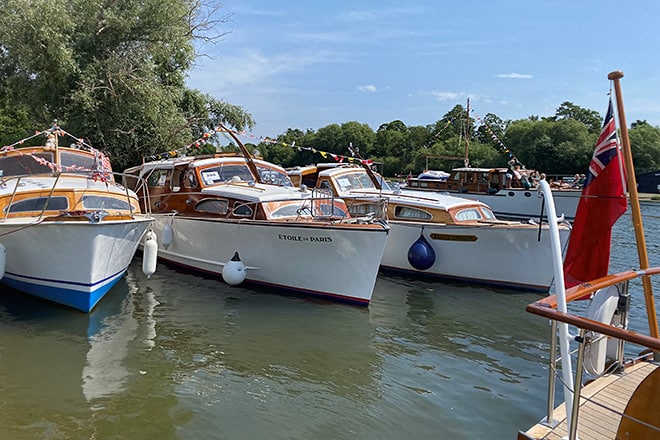 HSC had a small stand this year featuring the lovely 'Omrah', one of several slipper launches we currently have for sale (update: just sold!).
On the water there appeared to be a record number of boats in all classes for the visiting public to enjoy under the searing summer sun. Well done to the organisers for squeezing them in!
What a picture the endless stream of gleaming varnish presented as proud owners joined in with the various sail-pasts. I counted 13 slipper launches, lots of Dunkirk Little Ships, and an array of Bates Star Craft with members of the Bates family also in attendance.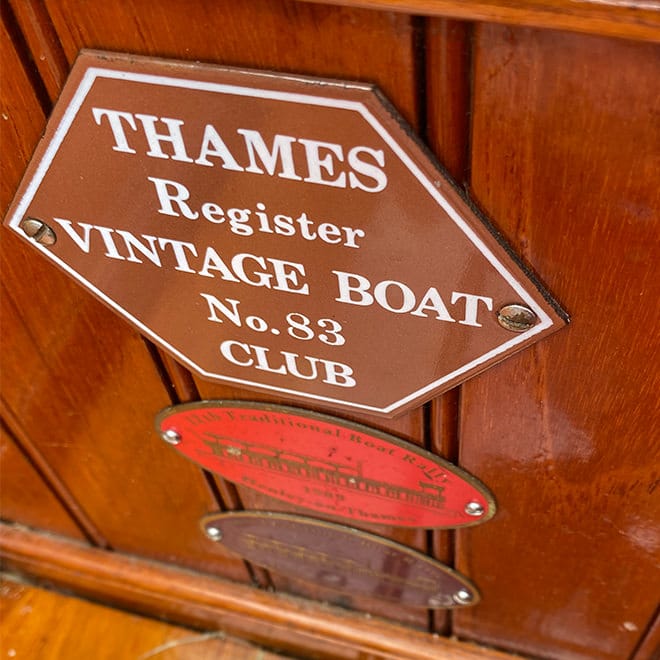 The festival is run by a small committee of truly committed enthusiasts who appear to have boundless energy.
Thanks to all of you for facilitating this annual event with such patience and grace!
This film star is up for sale!
At the 'Trad' I saw 'Tarbes II' passing by on her final run for the season as she is now actively up for sale after a starring role in the film 'The Boys in the Boat'.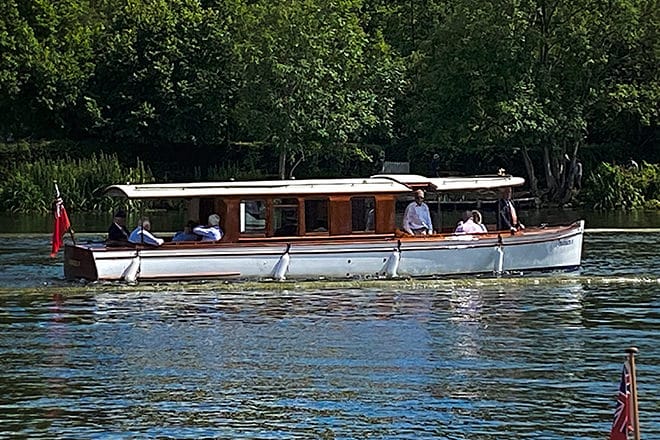 I haven't had a chance to thank individually all the owners who loaned their boats for the filming. Thank you very much those of you who took the time to write and express your appreciation of Regine's management over the past six months. At times it was a Herculean task and particularly for a new member of staff.
Regine has also recently taken the skipper course, helps out when needed at PureBoating and most importantly, covered for me while I was away on a once-in-a-lifetime cruise on the Baltic.
A most incredible cruise!
Remember in the last newsletter; we closed in haste as a massive crane gently lowered our new houseboat into the Thames just a few hours before we departed for Helsinki to board our cruise.
Depart we did, and many more cranes would cross our path during our Baltic adventure, the first of which can be seen in the photo below, right next to the ship that would be our home for the next couple of weeks.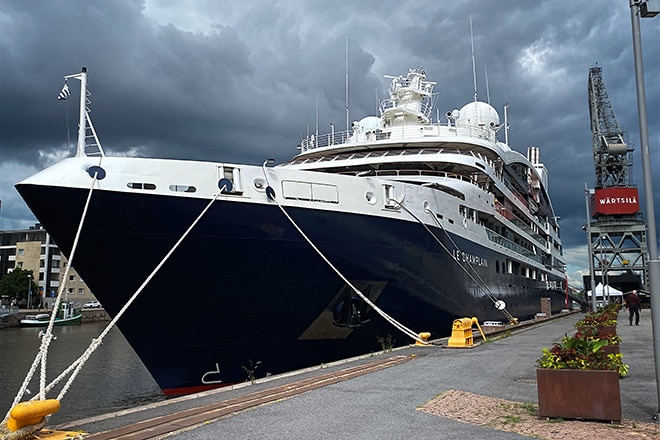 My 'journal de bord' recounts in great detail the amazing encounters we had with staff and guests, mainly French, on board our Ponant ship 'Le Champlain' and ashore on our meanderings in Finland, Estonia, Lithuania, Latvia, Germany, Sweden and finally Denmark.
I read no emails, and I took no calls, but frankly there wasn't time to even think about work as wide-eyed I indulged in every opportunity to see, meet, and experience so many perfect moments.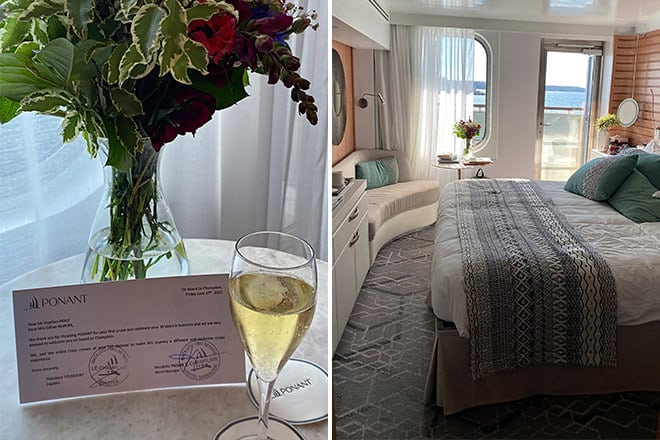 Indeed the very first happy tears I shed came as we were greeted in our cabin by two glasses of Charles Heidsieck Champagne, a bunch of flowers from a well-wisher and a card from the crew of the ship, congratulating me on 30 years in business.
That level of attention to detail continued right through the 13-days until we descended the gangplank for the last time in Copenhagen.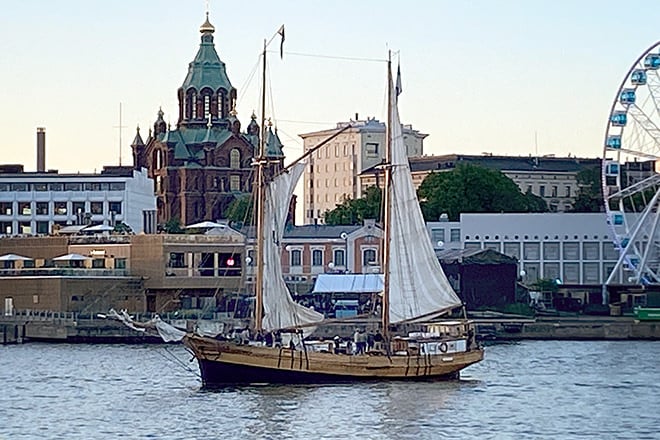 From the first night in Helsinki we were surrounded by a flotilla of fascinating historic craft and people having fun.
I soon became known among the other 78 passengers for my enthusiastic ship spotting from the observation deck.
Everywhere we went during our trip, people were celebrating mid-summer, and crane spotting on shore became our nerdy trope.
I could bore you for hours with my anecdotes and photos, but there isn't space even in a bumper summer issue of this newsletter, so a few highlights will have to suffice.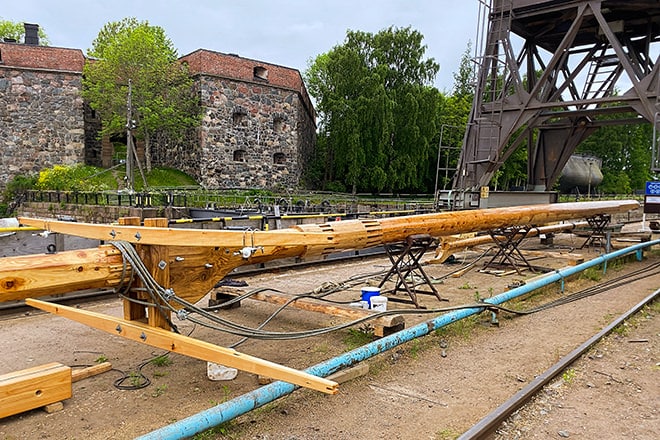 On Day 1 of our Ponant adventure, we found ourselves standing by another crane, this time somewhat more historic, on Suomenlinna. We were lucky enough to see it in action, just by chance.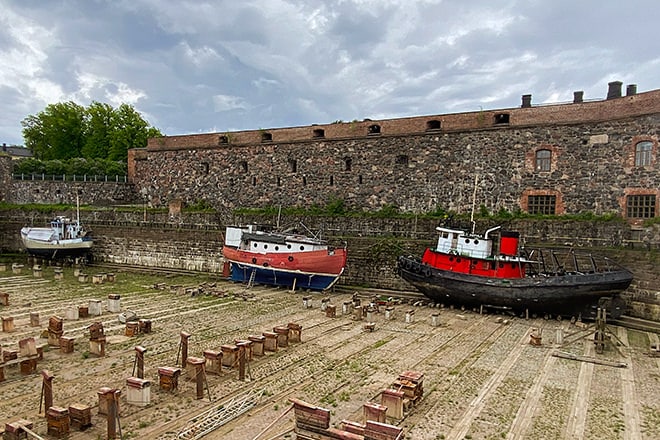 Suomenlinna is an island just a short ferry ride from the Finnish capital and was developed as a fortress in the 18th century. At that time Finland was a sparsely populated country with just 300,000 inhabitants. Sweden owned Finland then and was constantly fearful of a Russian invasion. (So nothing new there.)
The Finnish navy was based out of Suomenlinna, and during the Swedish King Gustaf 3rd's war against Russia 90 vessels were built in this massive shipyard featuring an enormous galley basin and many accompanying workshops and equipment, some of which are still in place.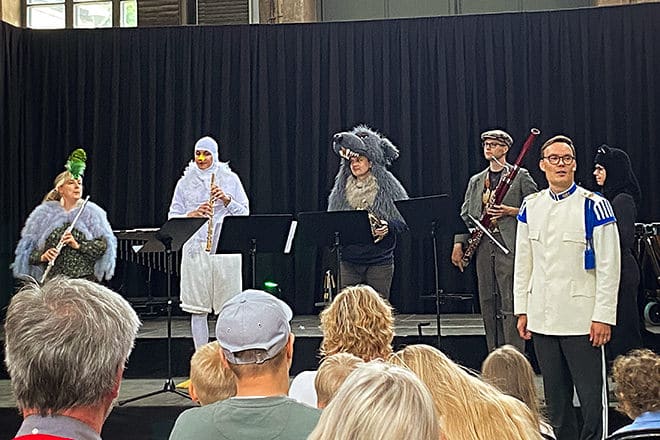 Please do not think that I am so single-minded that when I go on holiday all I do is think about and seek out boats, far from it.
In fact our first lucky encounter occurred just as a rainstorm appeared to threaten our boatyard meanderings when we stumbled upon a free concert as part of the mid-summer celebrations, and so we entered into the world of Prokofiev's 'Peter and the Wolf' superbly performed in an old seaplane factory by the Finnish naval orchestra.
13 days later we would have had so many astonishing and wonderful musical interludes and serendipitous encounters that it would take a lot more space and time to recount than we have here.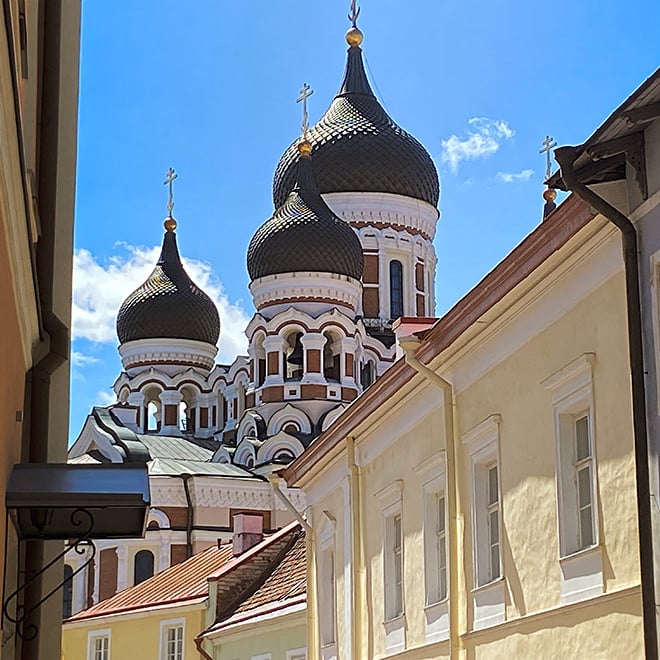 One of the things that was so interesting on our cruise was visiting former member countries of the USSR; so diverse in their cultural narratives and languages.
We were privileged to be able to spend time talking to people of different ages about their experiences and came away with a much deeper understanding of what is at stake for these minority populations.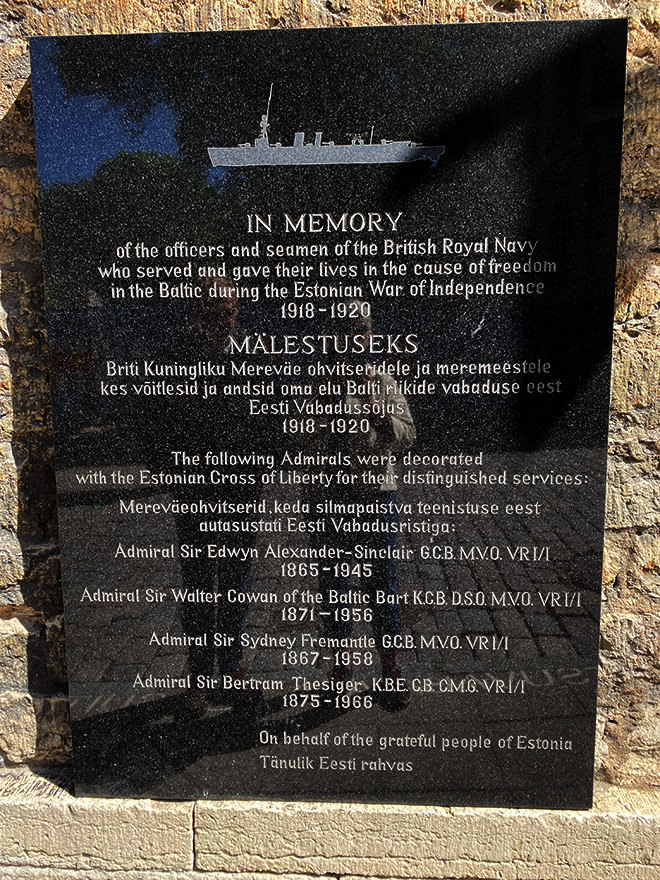 Who knew that the British Royal Navy defended Estonia during its war of independence following the first world war?
Our guide, Kadri, Estonian for Katherine, filled us in on our walk through Tallinn on life since the latest liberation from the USSR in 1991.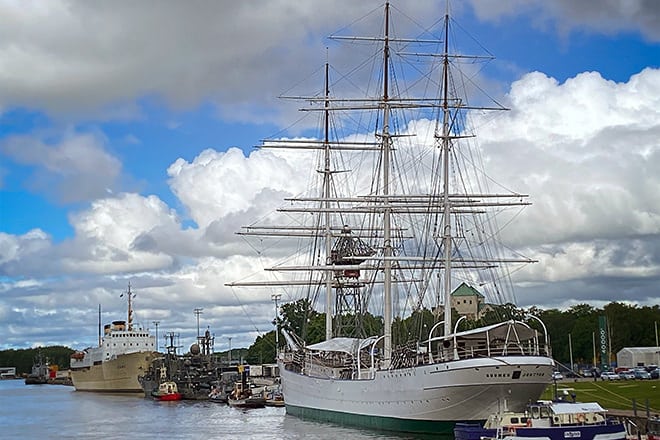 From Estonia we sailed back to Finland, Turku to be precise, the former capital and oldest city in Finland.
We were right alongside another crane when we opened the curtains in our cabin on June 20th. How many uses can you think of for a derelict crane? This particular one houses an actual restaurant.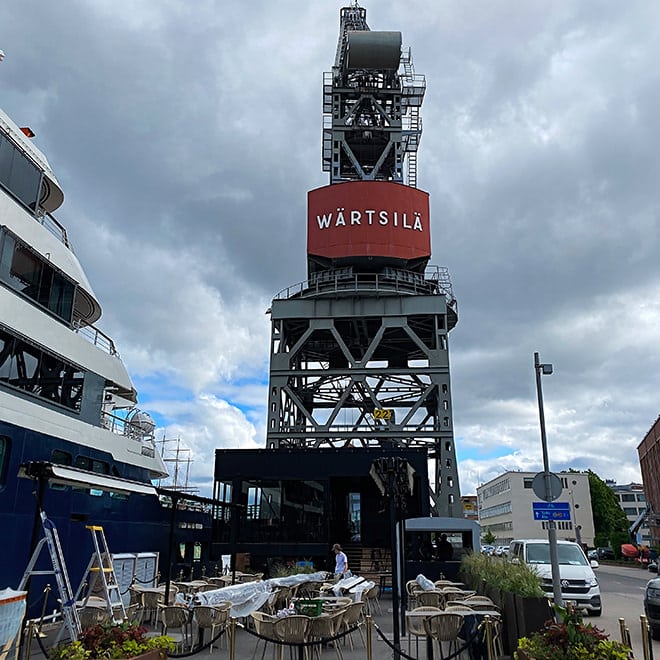 And how many uses for a boat, for that matter?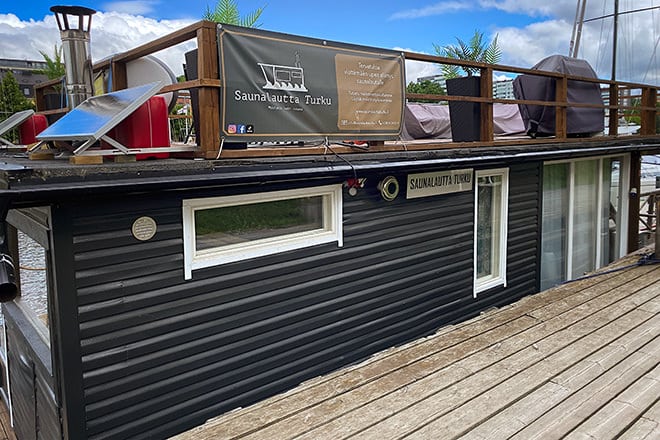 The ability to take the ship right into the centre of Turku was phenomenal, and to wake up surrounded by historic ships was even more exciting.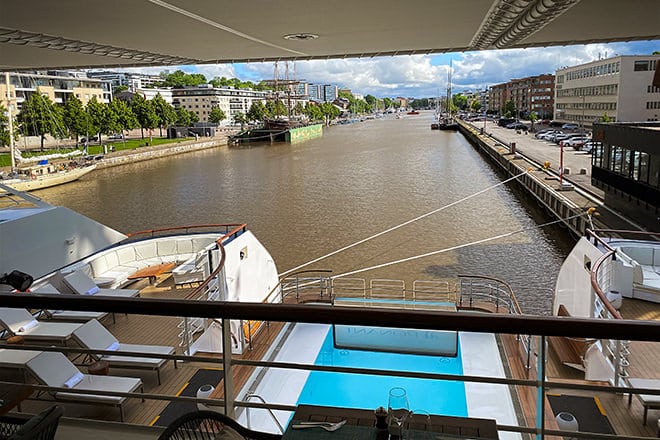 As an alternative destination to St Petersburg, Turku had a lot more to offer than you might imagine, including a wonderful museum dedicated to life as lived by tradespeople in the 19th and 20th centuries.
It may not have the world-class art we had originally scheduled to see at the State Hermitage Museum in St. Petersburg but so many other charming opportunities came our way here.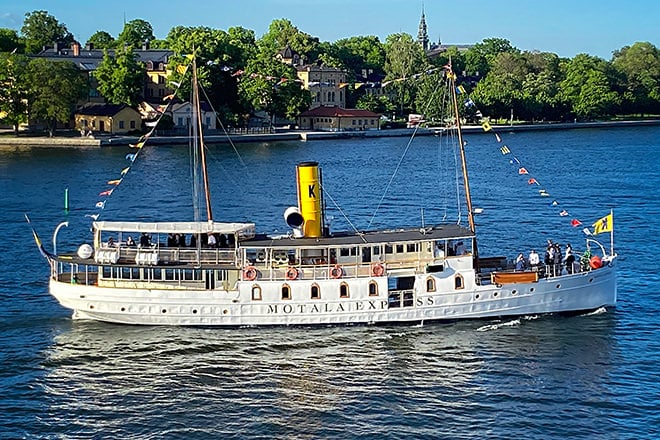 And thence to Stockholm - known by many as the Venice of the north, and rightly so. The mid-summer celebrations were in full swing, the weather was a balmy 25 degrees, and the Swedes were thoroughly enjoying their aquatic environment.
Stockholm's most popular attraction is the Vasa Museum. I last visited it 42 years ago. At that time having been raised from the seabed, the ship was being sprayed in a shed. Now decades later, it has its own sophisticated museum building containing hours of amazement and education.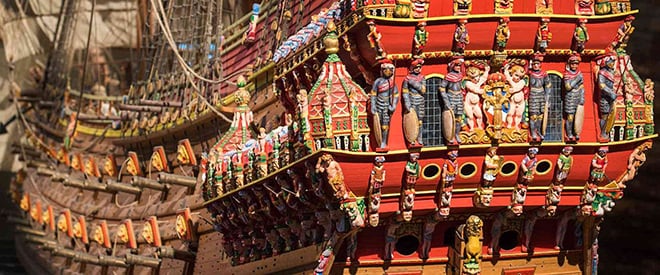 Quoted directly from my 'journal de bord':
"Sweden was clearly uber powerful at that time, although in commissioning this ship, Gustaf II Adolf let hubris get the better of him. Dutch shipwright Henrik Hybertsson took care of the plans with the help of 400 craftsmen and huge amounts of wood and iron. The bosun said that the tilt test suggested that the design was top heavy, and he was proven right when it sank on its maiden voyage in 1628. Without this error we would not have 'Vasa' today with its unique and precious history from which we can glean so much about the life of the craftspeople, the sailors on board the ship and the shipbuilding techniques of the time."
If you go to Stockholm this museum is an absolute must, but if like us you are feeling slightly overwhelmed, then may I suggest a gentle cycle ride across the island to Thielska Galleriet.
Housed in a large waterside family home is an impressive collection of paintings which includes some works by Munch, Lautrec and the Swedish folk artist Carl Larsson.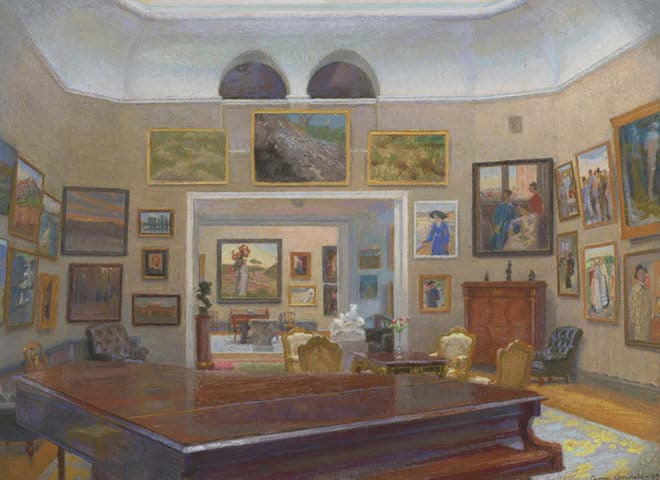 The next day on leaving Stockholm we were on the bridge with our captain, commandant Théotime Tissot. The atmosphere was hushed and slightly tense as we navigated carefully through the shallow waters of the archipelago past scenes resembling the paintings of Larsson viewed the previous day.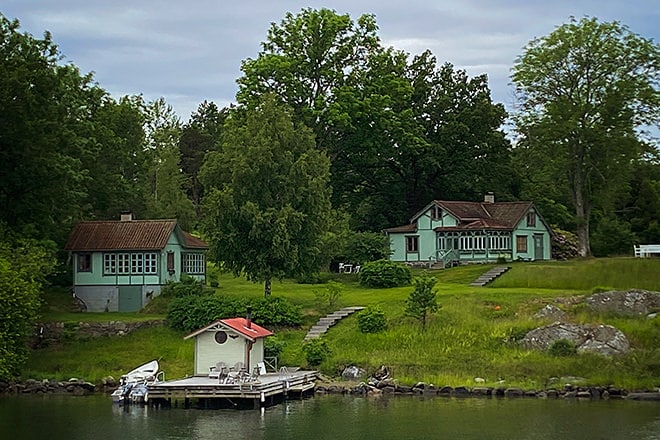 After a day and night at sea, we arrived in Latvia's capital Riga and disembarking after breakfast, Steve and I spotted a row of wooden boats in an adjacent harbour. The gate was open, so in we went.
There in front of us was a business called 'Riga by Canal', whose owner had contacted me pre-covid with a view to buying an additional traditional gentlemans's launch. What are the odds?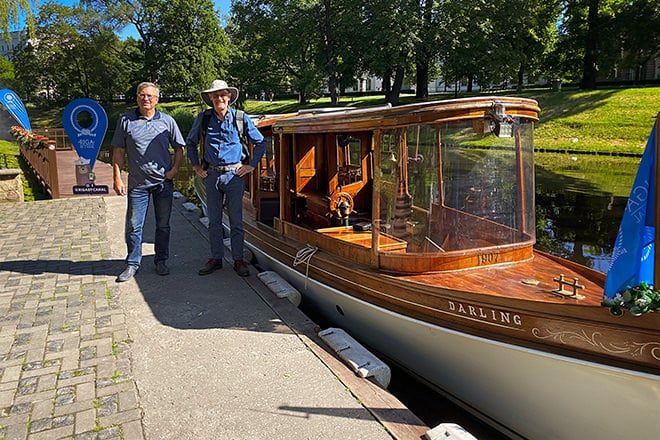 There we made a new friend in the skipper of a Swedish centenarian gentleman's launch by the name of 'Darling' (the boat that is). His name is Arnis Berzins, and he took us on our very own private cruise through the centre of Riga, talking as we went about his passion for old boats, which he used to admire in communist times as a young man when he became official harbour master at the port.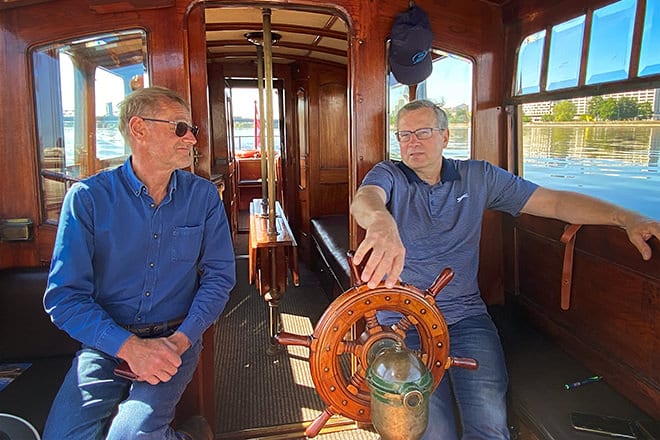 The next stop on our trip was Lithuania. In Klaipéda it was high summer and the ferry across to the isthmus, where we were going to cycle, was absolutely packed to the gunwales.
If we had cycled far enough we could have crossed the Russian border just a few kilometres away. We chose instead to have a beer in a friendly seaside cafe!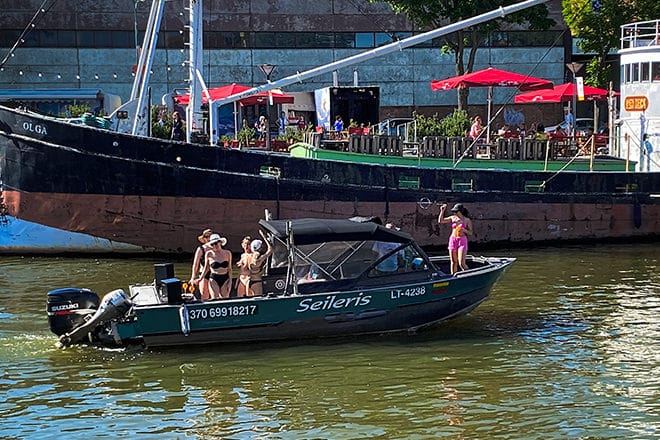 And then on to Gdansk, which was so much more picturesque than I had imagined and blisteringly hot.
We had only half a day to explore this historic city which has been subject to a great deal of postwar renovation, both in terms of rebuilding the historic quarter and modernisation with lots of interesting cutting-edge contemporary architecture.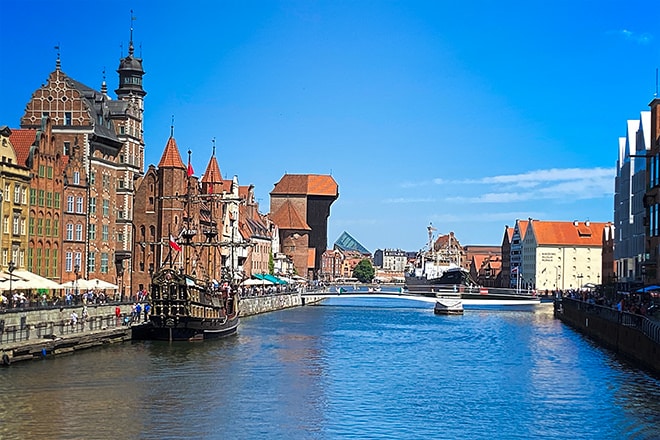 In the middle of the photograph (the black building), you can see a medieval port crane which at one time was the largest working crane in the world. It could lift 2 tonnes to a height of 25 metres and was constructed in 1444.
The crane is one of the defining symbols of Gdansk and represents what little is left of the city's great trading era.
If only we had had the time to visit the National Maritime Museum, of which it is now an integral feature. We promised ourselves that we would return.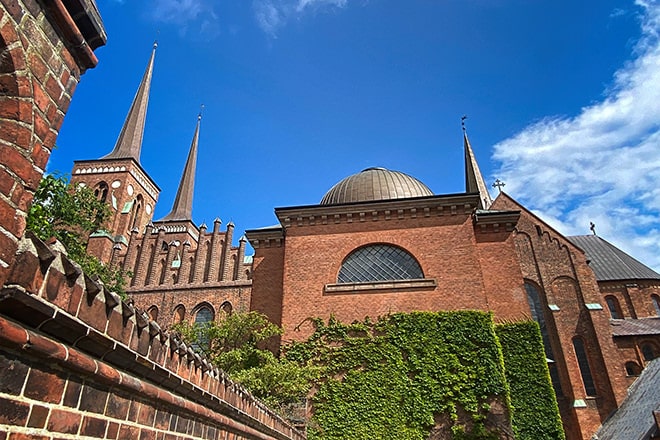 We visited Roskilde with its beautiful cathedral and fascinating Viking Ship Museum (of which more in a future newsletter). The streets were decorated for the arrival of stage 2 of this year's Tour de France, which was to happen three days after our visit.
Consequently, arriving in Copenhagen was bitter-sweet. An exciting and vibrant city it is, yet our cruise had come to an end. We said goodbye to the crew, and the new friends we had made as we disembarked 'Le Champlain' re-energised, and with a backpack full of memories we will never forget.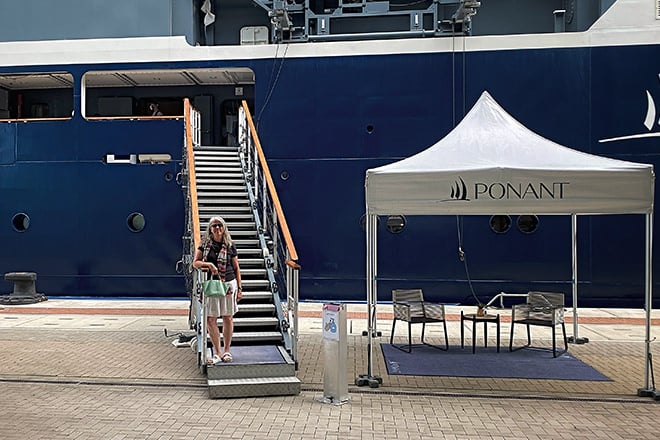 These are just some of the highlights of what proved to be a truly life-enhancing experience.
If you are interested in cruising with the same quintessentially French company, founded in 1988 by three captains with a mission to open up some of the world's more unusual and remote destinations to sea-faring enthusiasts, then get in touch with Ponant in Marseille.
When you mention that you have been recommended by a previous passenger, i.e. me, you will benefit from a €500 discount on your first cruise.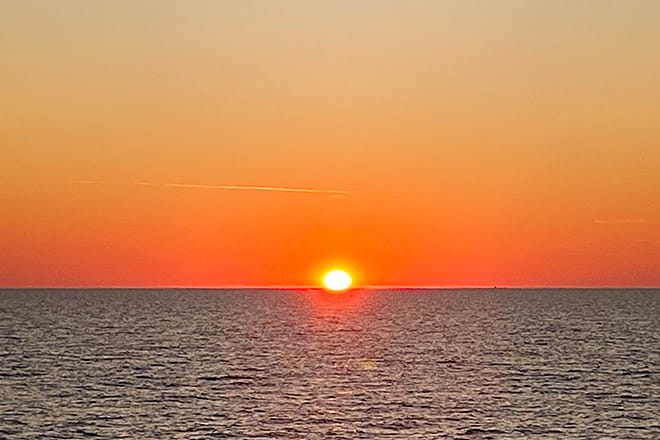 Rebuilt in time for Summer
While we were gone Ellie did not rest on her laurels at the boatyard.
She finished the rebuild of 'Thames Kestrel' in time for its owner to get afloat again, as she does every summer with a sleeping bag and a doggy companion for her holiday on the water.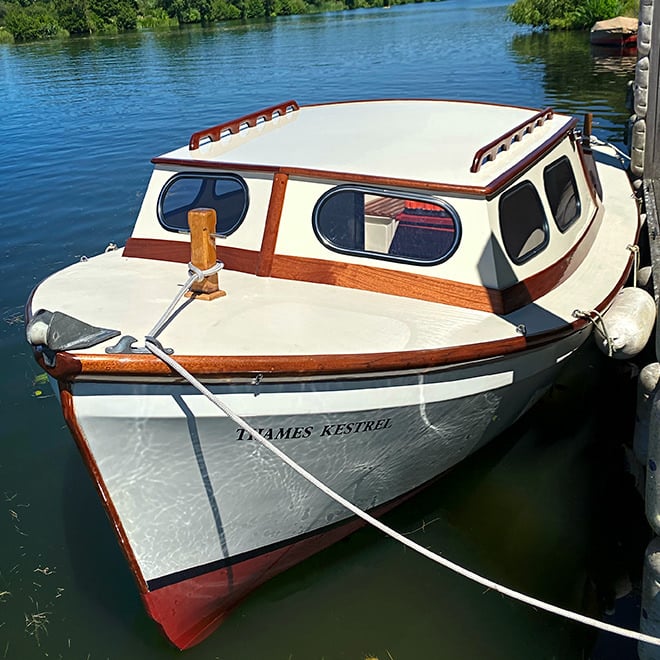 The sea is not for everyone, so fortunately the rivers, lakes and shores in the UK (and worldwide) also offer abundant opportunities to get afloat and explore.
Our very own floating 'home away from home'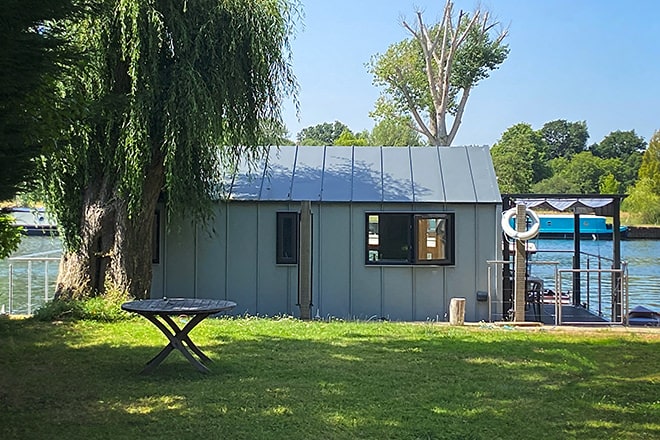 As The Henley Houseboat was furnished during our absence, we were delighted with the result upon our return. Thank you to my amazing friends Bridie, Andrew and Guy for making our floating home (and future holiday rental) look fabulous!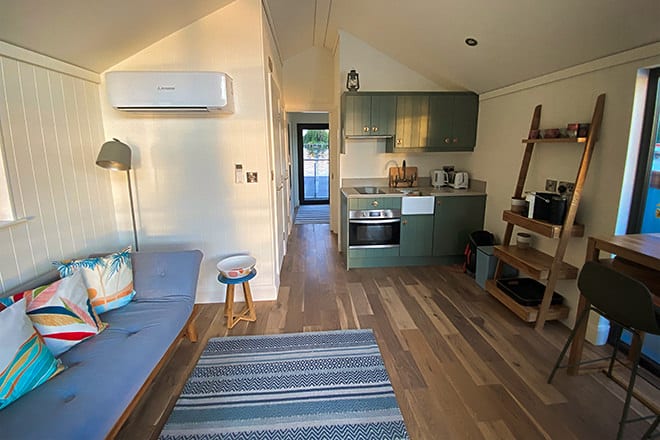 Having had an early summer holiday and sharing the mid-summer celebrations with the Baltic nations, we are now looking forward to enjoying our local riverside scene for the remainder of the season (and beyond) from the deck of our Henley Houseboat.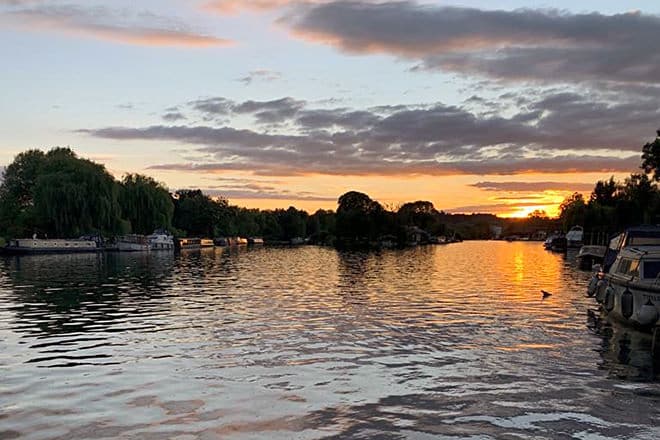 Wishing you all a wonderful summer!