In these unprecedented times the great outdoors is probably what everybody is hankering after. Certainly if last week's enquiries are anything to go by, boating enthusiasts are spending more of their spare time online looking at boats and dreaming of a summer of freedom.
We had a record week in sales at the very beginning of this month and a very pleasant launch party for "Grebe" on the lake at Beale Park in the sunshine.
How to successfully sell boats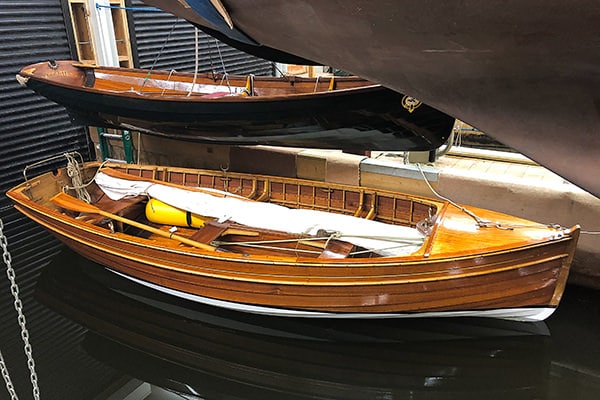 Occasionally we are lucky enough to have vendors who really understand the importance of preparation prior to putting their boats on brokerage.
Granted this is a lot easier if your boat is a small open launch like "Grebe" or even "Pandora".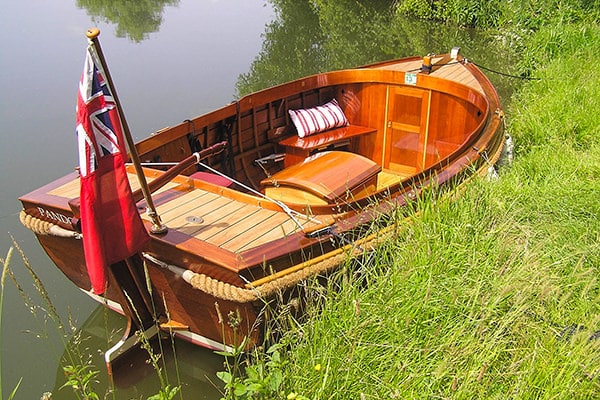 With the larger boats, besides a general deep clean, I always suggest removing any personal clutter, making sure cupboards have been cleaned out, and that the yard, where we aim to keep boats that we are presenting for sale, is clean and tidy. We will on occasion also dress boats with additional scatter cushions, or we might set the table on a gentleman's launch to evoke comfort and conviviality.
Some vendors have kept every maintenance invoice which is great. It is even better if you collate these into a single page document (as the owner of "Tamesia" has done) giving us dates, and amounts spent. Often new owners like to use the same trades people and are keen to know which paints and varnishes have been used.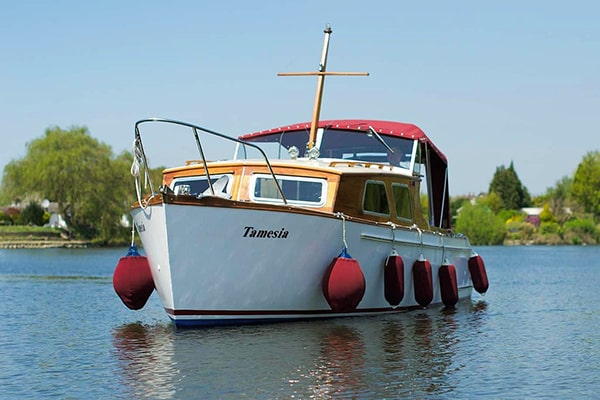 And if you have a beautiful photo of your boat (especially when selling in the winter when it is hard to take good well-lit pictures) then please do send us a file.
So declutter the boat, but feel free to clutter up my inbox with documentation about your boat's past history (before and during your ownership).
An accident waiting to happen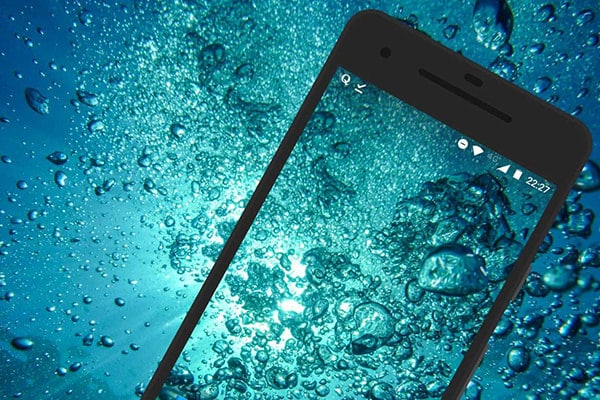 Recently during a viewing, unfortunately my phone slipped out of my HSC anorak pocket for the second time only in 15 years. Last time, which was about 3 years ago, if my creaking memory serves me correctly, quick as a flash I stripped off to my underwear and leapt in to retrieve the very same phone, which yet again headed for the depths a couple of weeks ago.
This time I changed tack, retrieved the waders and headed down the slipway. However the additional metre of water currently flooding the lake would have required me to dive rather than grope, hence I sensibly retreated and as last time carried on with the viewing as if nothing had happened.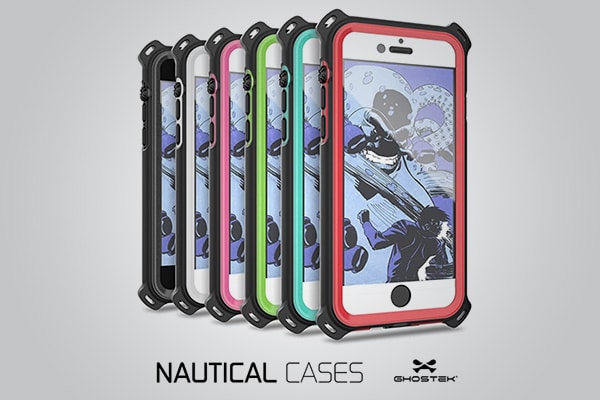 As I write, our in-house techno wizard is reconnecting me to the world at large so you should have no difficulty contacting me in the coming weeks on my spanking new phone complete with waterproof case.
Now if this could happen to me it could also happen to you and probably has done already. I am sure that there are many phones, cameras, keys etc lining the bed of our lakes, rivers and oceans. The case I chose is the nautical waterproof case from Ghostek. It is an impressive piece of kit. However as yet it is untested!
A canoe for you?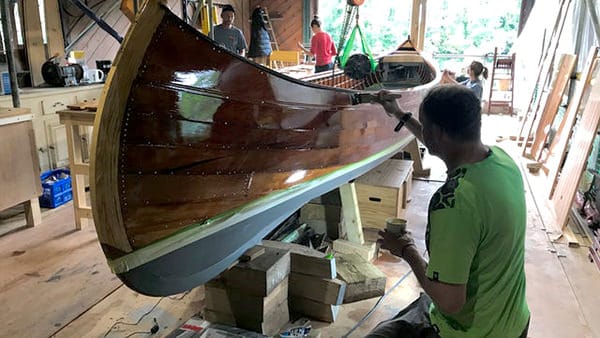 I was interested to read the Classic Boat article on "Liddesdale", a 25ft clinker mahogany electric canoe built for the Astor family at Cliveden between the wars. "Liddesdale" has recently been restored for the National Trust at a cost of £150,000.
When the curator at Cliveden, who was in charge of the project, commissioned me to value the boat for insurance purposes during the rebuild project, she told me that visitors to Cliveden were sufficiently fascinated while observing the boat building team at work in the old boat house, to contribute generous donations which helped with the overall cost.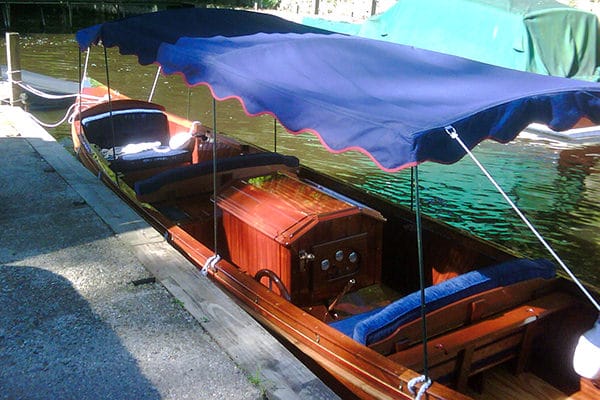 I know the plan is to bring "Liddesdale" to the Thames Traditional Boat Festival in July (fingers crossed it will still go ahead) and if at any time in the future you visit Cliveden, you may be able to book a short river charter on board the boat.
If 6 figures is a little heavy for your wallet but you do fancy an elegant motorised canoe, we have two for sale on our website, one being "Water Witch X" and the other "Minnie Shoo Shoo".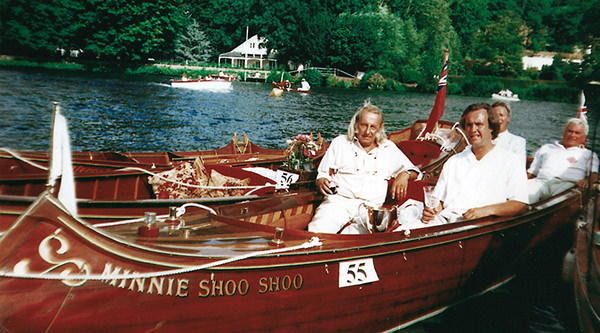 One of our customers owns "Cymba" and can be seen around Henley having enormous fun most weekends in the summer. Theirs is a clinker electric canoe, slightly larger than "Liddesdale" in which they venture a couple of times a year to Cliveden for an overnight stay, and in the other direction to The Beetle & Wedge boathouse restaurant (now under new ownership).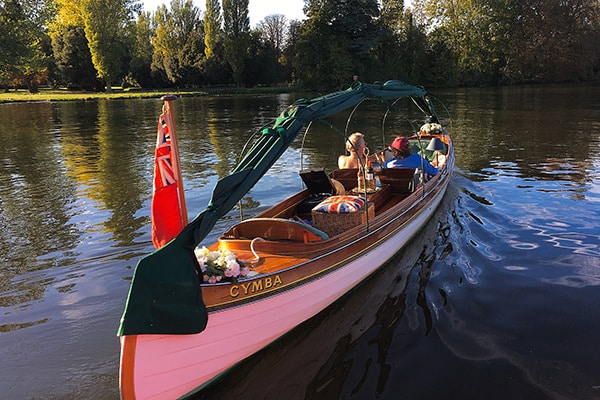 While both the canoes we have for sale at HSC are petrol driven, Henley Technical Services can give you a quote for electrification, if this is your preference.
Our in-house craftmanship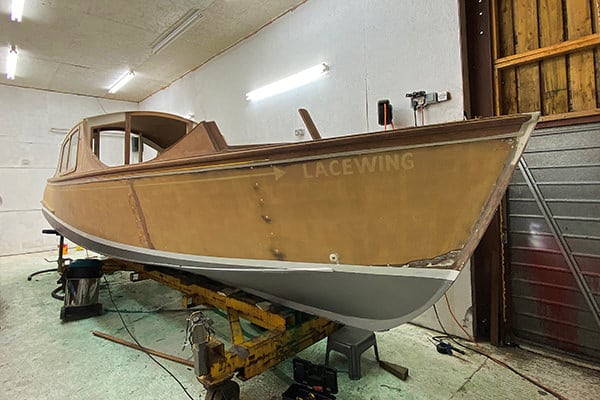 Most wooden boat owners have neither benefactors nor the nation at large to fund their maintenance and rebuild projects, so at our Beale park boat yard premises we have some slightly more modest projects underway at the moment.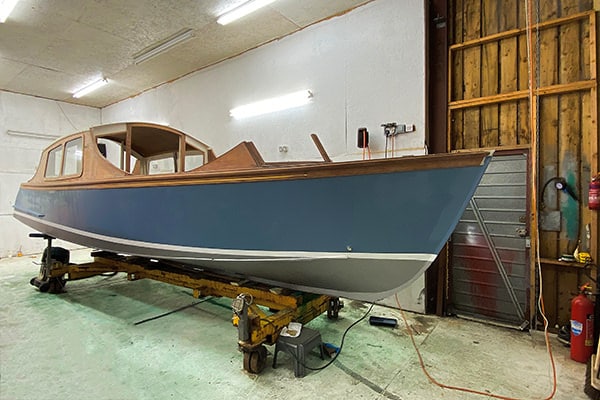 One example is the "Lacewing" project currently in Ellie's workshop and about a third of the way from completion. The scope of works includes: a new forward deck in solid mahogany, bevelled glass windows, new cabin lights, a change of hull colour, upgraded propulsion unit, endless coats of varnish, new seating in the bow, new cushion covers and more.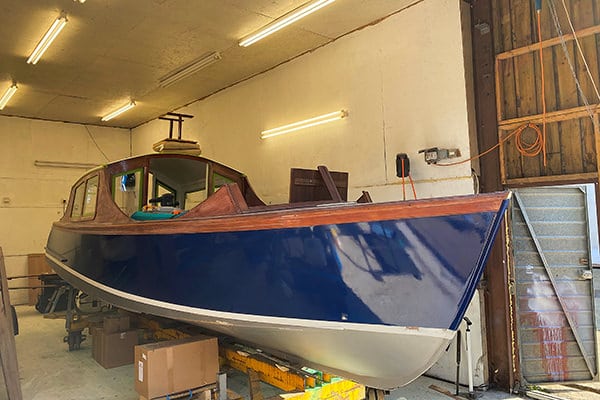 I would like to think that our clients enjoy collaborating with us on these projects. The owner of "Lacewing" has been dropping by on a regular basis, not only to admire Ellie's craftsmanship, but also to contribute to decision making.
Owner input serves to encourage our team, so please feel free to drop by the yard any time between 8.30 -16.30 on weekdays and other times by appointment (once we reopen).
A new start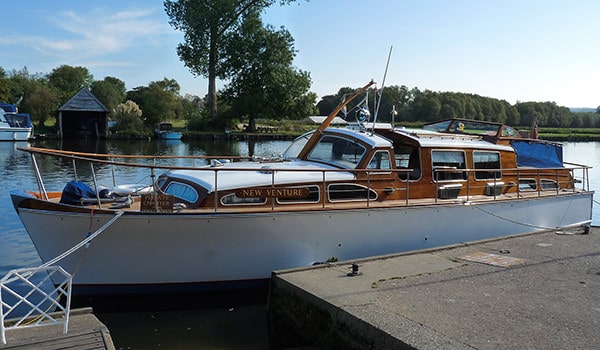 These are worrying times for customers in the hospitality industry and particularly those who are reliant on tourists coming from abroad. As I mentioned earlier The Beetle & Wedge in Moulsford (South Oxfordshire) has a new proprietor (Ben Smith). Many of our PureBoating customers head straight there from Wallingford to enjoy a quiet pint.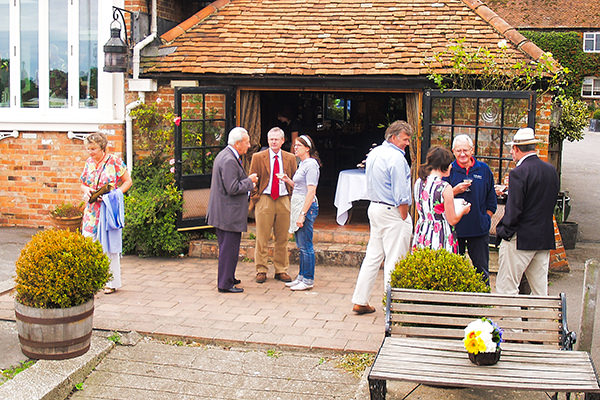 According to the website this historic inn is being refurbished and the new owner is determined to turn back the clock and reinstate "The Beetle & Wedge" as an inn, which was its original purpose. We look forward to visiting once the works have been completed.
Famous riverside landmark reopened!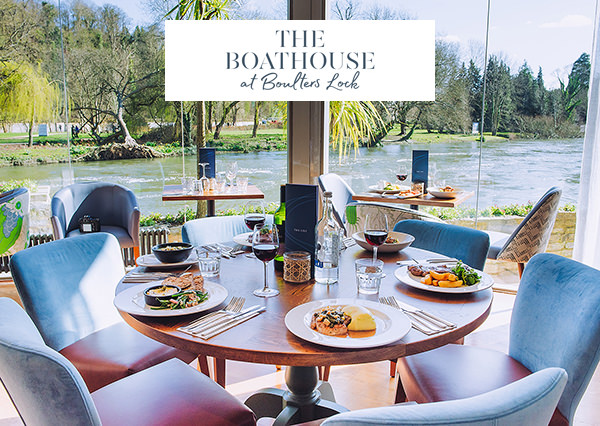 How exciting it was to hear that the famous riverside landmark "Boulters Lock" near Maidenhead reopened to the public as "The Boathouse at Boulters Lock" on March 20th. However Peach Pub's latest acquisition is currently closed in line with government advice.
If the food is as good as the new manager assures us it will be, no doubt many boaters will enjoy dropping by on a Sunday afternoon, much in the same way that Victorian boaters appear to have flocked there in the late 19th century as depicted in E.J. Gregory's famous painting of Boulters Lock.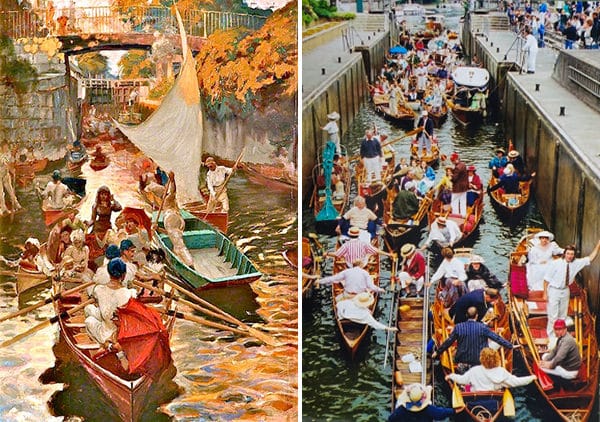 In 1995 I was part of the crew that reproduced the river scene (see the result above).
Unfortunately the river is a lot less crowded these days. We are lucky in this area in that we can choose between a number of places to go and eat if we are feeling peckish at the helm.
The Boathouse is set to be a popular watering hole for boaters as it has plenty of welcoming moorings.
The world has lost an incredible chef
We have lost "perhaps the finest pastry chef this country has ever had" (as The Observer Food Monthly describes him).
I have been fortunate on a couple of occasions to eat at the famous Waterside Inn in Bray, revitalised by Michel Roux when he brought his brand of charm and inspirational French cuisine to the riverside in Berkshire in 1972.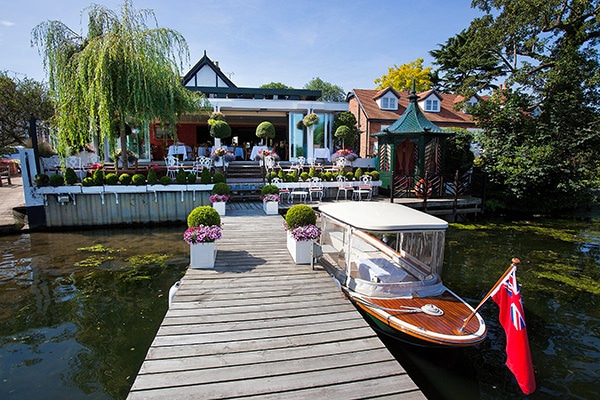 We first met in 1988, when he ordered a smart electric Frolic 21 from the Steam and Electric Launch Company.
It is with great sadness that I learned of his passing the week before last.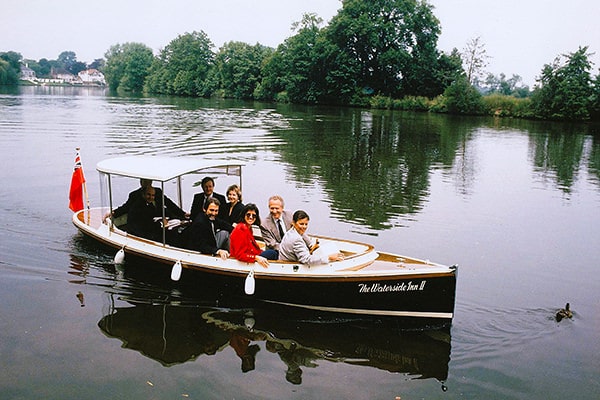 Last year we delivered a Scoop to their bistro on Maidenhead bridge known as Roux at Skindles. You can rent their Scoop"Valbonne" from Roux at Skindles and their Frolic 21 from The Waterside Inn.
Coronavirus update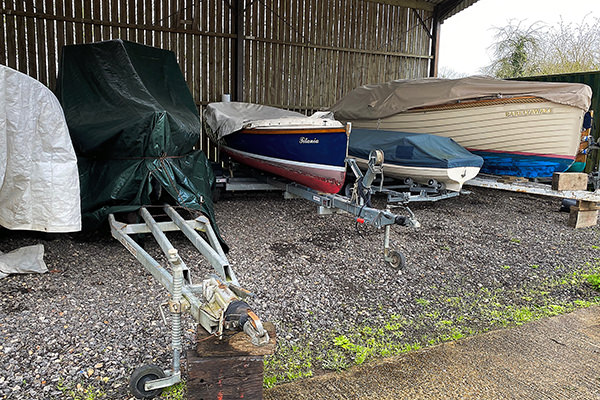 Our team has been working hard at the yard in order to complete tasks including antifouling, cleaning tasks, restoration etc. with certain restrictions and protocols in place.
We have now decided that the time has come to stop work at Beale Park until travel restrictions are lifted.
We will endeavour to resume all ongoing projects including our relaunch schedule, as soon as we can safely do so.
I will be in touch with yard updates as appropriate. In the meantime stay healthy and let's look forward to better times ahead.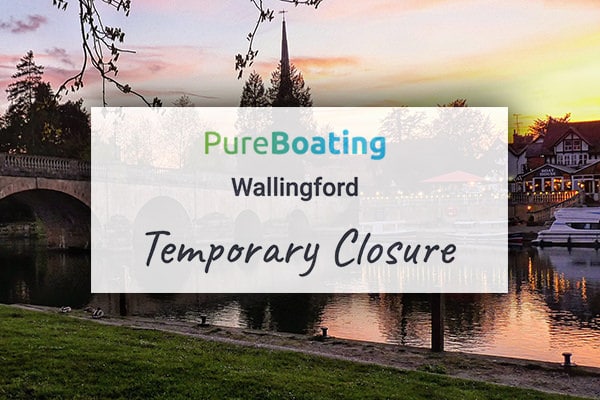 Despite everyone's desire to get back on the water, we obviously have to postpone our Easter opening at PureBoating in the light of the current restrictions in place due to the coronavirus.
Depending on the advice from Public Health England we hope to re-open for the season as soon as possible. Please keep an eye on the PureBoating website or call us at any time for an update.
If you have a booking for the early part of the season, we will of course offer either a reimbursement or an alternative booking date.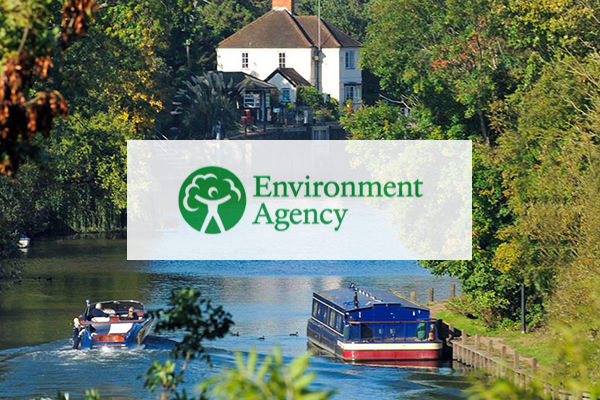 On that same note, the Environment Agency states it has been working hard to make sure their response to the COVID-19 pandemic is compliant with Government advice and so following last Monday's lock down announcement from the Prime Minister, the EA has taken the difficult decision to introduce limits to the use of our waterways to stop all non-essential travel.
Please find more information about all this on the Environment Agency's website.
Get in touch ...
I recognise that this is one of our longer newsletters and some readers may already have dozed off. I also know that many of you are working from home at the moment, and hopefully this newsletter is a welcome distraction. Enjoy it with a cup of coffee or your favourite tipple.
If you have any stories you would like me to mention in a future newsletter, please get in touch.
P.S. We have just heard that both of the big events of the summer (Regatta and Festival) have been CANCELLED. However many of you who have reservations for charter boats have chosen simply to defer to next year. Thank you for this act of generosity - There will be extra Champagne for everyone in 2021!