After a busy summer I finally get to enjoy some hobby time on and by the water. By coincidence the acronym HSC also stands for Henley Sailing Club, where I was on the bridge on Sunday officiating at a mid-morning race. The club welcomes new members of all ages and abilities. Do visit their website for more information.
Motor yachts with history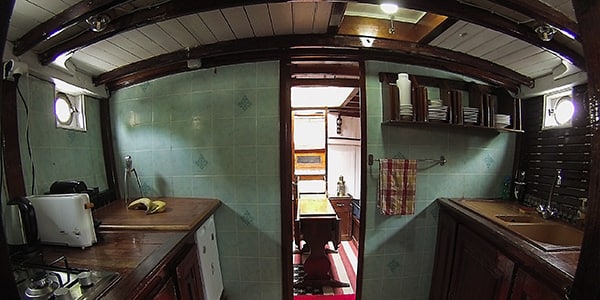 A dream of mine has always been to go and sail somewhere warm on a classic yacht. Many of the boats that I covet come from the 1920s and 30s. How lucky then are we that we now have three serious gentleman's motor yachts on brokerage. Last month we wrote about "Davia". She is now joined by another Dunkirk Little Ship, named "Llanthony".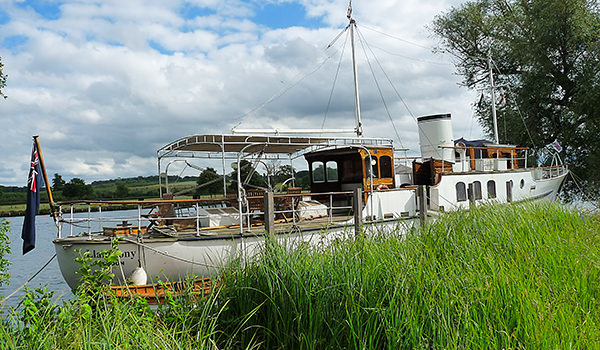 Anyone cruising the Henley reach this summer will surely have stopped to admire this splendid little ship moored upstream of Henley Business School. She was built of steel in 1934 by Camper & Nicholsons, who also built some absolutely splendid sailing vessels, including the G Class yacht "Endeavour", which was built in the same year.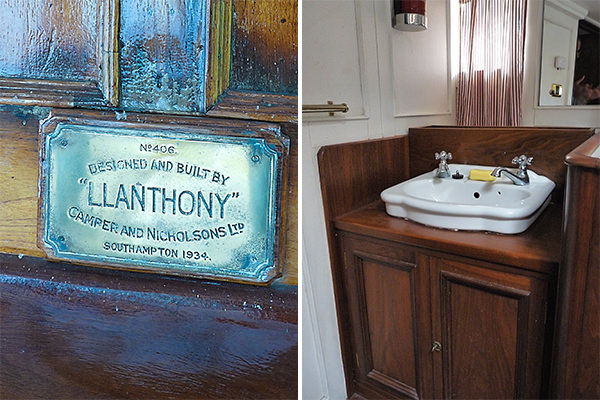 "Llanthony" played a very important role in the Dunkirk return, which you can read about in any of the books about Dunkirk Little Ships. Subsequently at a much later stage in her history she became a charter boat in Cyprus operating around the Greek and Turkish islands. 
If you are actually looking for a boat that could become a business "Llanthony" would be eminently suitable. The area forward of the wheelhouse has been converted into staff quarters and could be kept as such, or converted into a large and private owner's suite.

If you don't have room for a 77ft5incher in front of your "des res", then how about the 52ft "St. Joan"? Another thoroughly British little ship, built in 1929 by JW Brooke and now moored in Teddington, where she has been operating for several years on the tideway as a luxury charter vessel.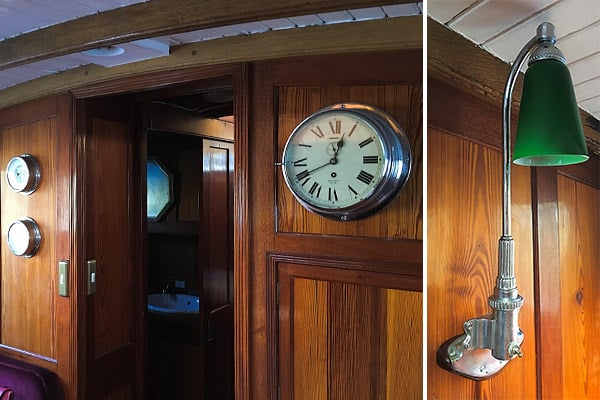 I love all the period features on this boat, which underwent a massive restoration in the mid 1990s at South River Marine in East Anglia. Some of the original fittings remain, including the compass and the clock.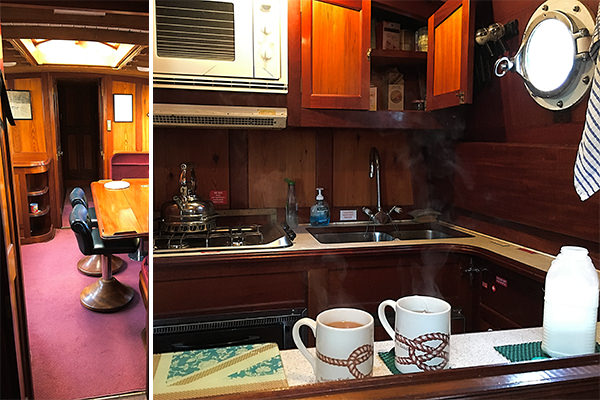 This summer St. Joancircumnavigated the UK in order to celebrate 100 years of the RAF. Her current owners Tony and Janet covered an estimated distance of 2150NM. 
Her RAF history is equally significant as that of the Dunkirk little Ships as she too was used for rescue duties between 1940 and 1948. As such she has national flagship status on the UK's national historic ships register.
What have we been up to, you ask...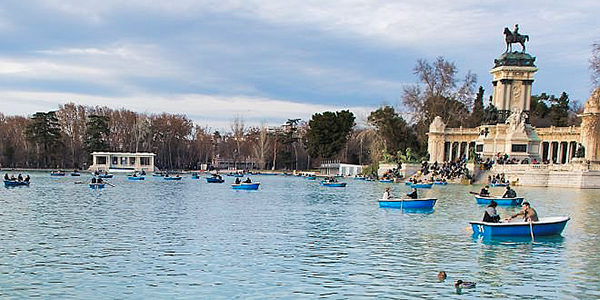 And now for something completely different. I have had two trips recently, one to Birmingham and another to Madrid! 
While in Madrid I was frustrated at the lack of boating opportunities, and given the icy cold wind opted to stay ashore rather than to go boating on El Retiro Lake.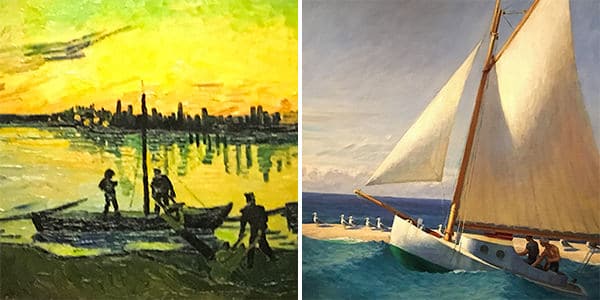 The closest I got to any boat was during a visit to the fabulous Museo Nacional Thyssen Bornemisza where a magnificent and varied array of paintings from early Renaissance works to recent masterpieces were on display. We were completely wowed and would recommend a visit to this collection if you are lucky enough to be passing through Madrid.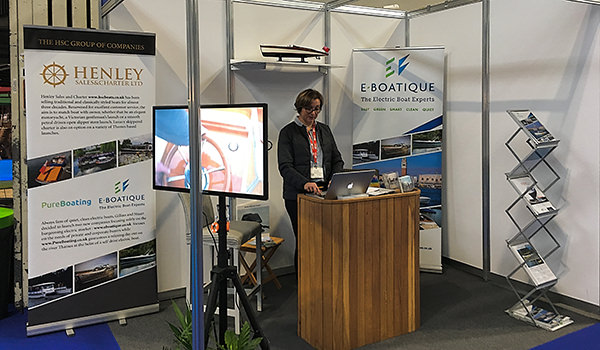 And now to Birmingham where Gail and I were prime exhibits at the NEC. The aim of the game was to entice the owners or managers of theme parks, castles and sundry watery environments to consider purchasing an electric boat for tourist related activities.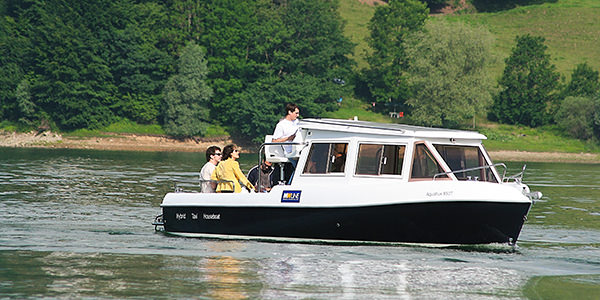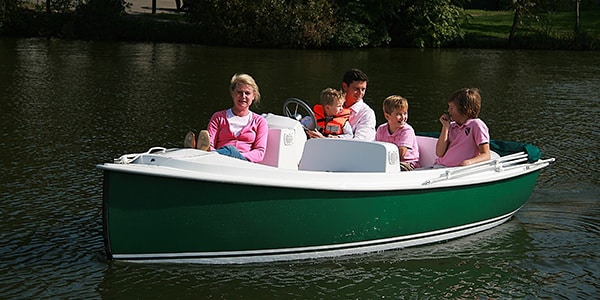 Our film occasionally tempted visitors to talk to us but it has to be said it somehow lacked pzazz compared with the following advertisement, which was forwarded to us by a Californian reader of our newsletter. She is the proud owner of a pair of electric boats including a Victorian gentleman's launch (purchased from HSC) and a Duffy runabout. 
Were it not for Mr. Trump's 25% import duty on recreational craft, we would also be happy to sell you a new Duffy via our burgeoning business, E-Boatique.
Visit Venice in style
You may remember that I mentioned that we had had some interest from charter operators in Venice, one of whom has now purchased Lady Betty, a Victorian pinnace which he may electrify to replace the current modern diesel, and the other a Swiss national now resident in Venice, who is thinking of buying "Lisbeth" for an exciting charter operation on the Canal de la Brenta which links Venice to Padua. 
Mentioned by Dante in the Divine Comedy, and visited apparently by the likes of Casanova and Byron, you too could enjoy visiting one of the luxurious riverside villas along the banks of this fashionable waterway. I believe that the original boats, called Burchielli, were rowed on some reaches and then pulled along by horses.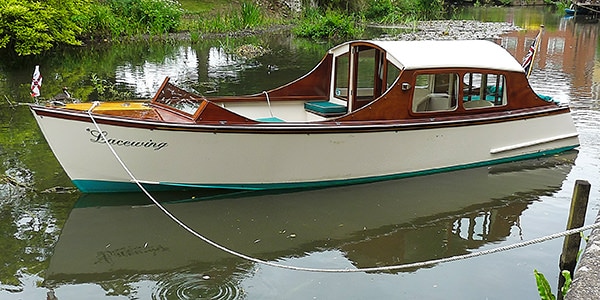 If you fancy a little slice of Venetian style which combines minimal horsepower with maximum chic, you could consider purchasing "Lacewing". This mid century Gibbs launch combines a small cabin area, comfy chairs and outdoor space for 8 in just 23ft. She certainly would not look out of place next to your palazzo on the Grand Canal; or on one of our beautiful UK waterways for that matter!