As summer fades into autumn and I reflect on the long days spent afloat, with a record number of people enjoying spending time in the UK, I feel an unexpected sense of joy.
Clearly many people have rediscovered the simple pleasures whether it be camping with the kids, canoeing, paddle boarding, or any other form of "messing about on boats".
My simple pleasures this summer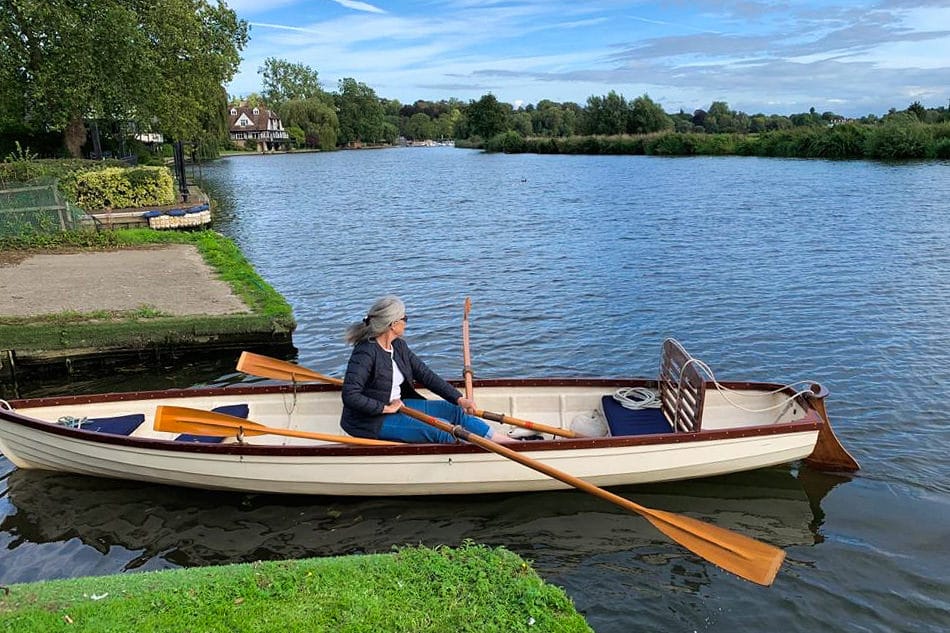 Over the summer I refreshed my rowing skills thanks to my daughter's skiff aptly named "Gramps" and I also spent time with two and four legged friends on the lovely "Sapphire Rose", an electric Sapphire launch.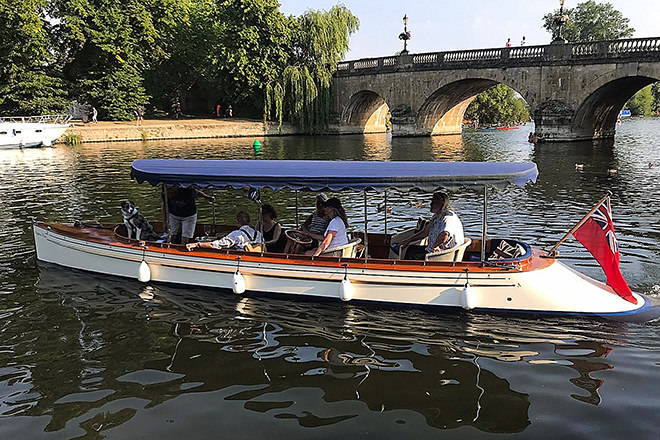 Thereby hangs a tale, since my very first job for Neptune Yachts in Teddington in 1987 was to oversee the moulding and marketing of this Edwardian replica beaver stern launch. The boat followed me to The Steam and Electric Launch Company, my second employer in the boating business, and since I set up on my own in 1992 these elegant river craft have cropped up over the years. 
This year "Sapphire Rose" is adding to the waterfront scene at The Beetle & Wedge Boathouse in Moulsford and will, I hope, be a feature there for many years to come.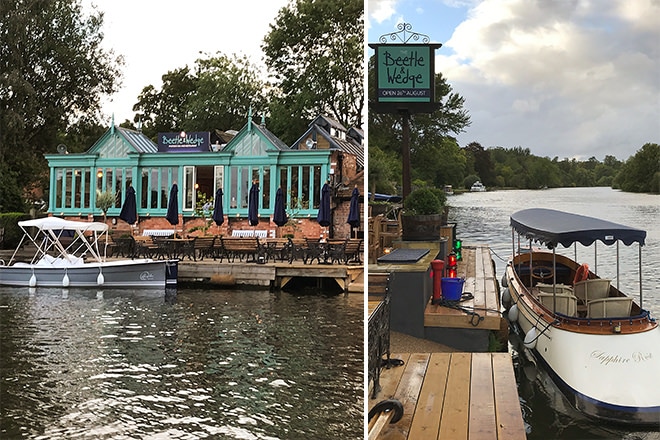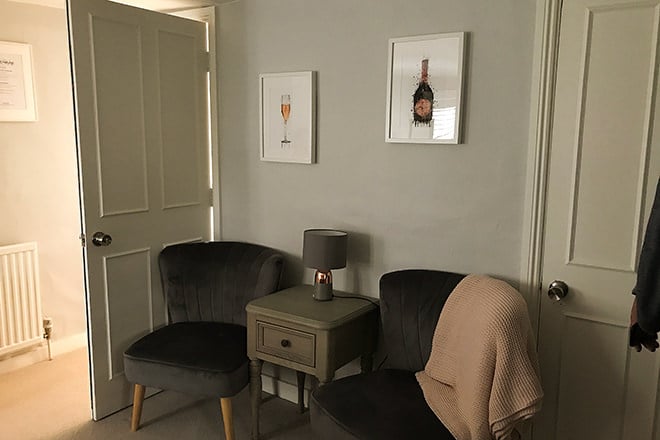 I was lucky enough to be invited to the opening night at the new Beetle & Wedge back in late August, two days before leaving for my summer holiday in France.
A most welcome summer break!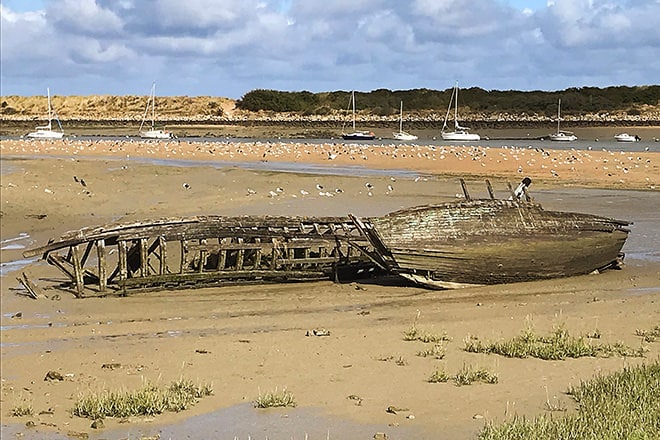 From one gastronomic location to another, we started our first day with breakfast on board in a Brittany Ferries cabin followed 5 hours later by lunch in Normandy. 
It is many years since I set foot in on one of the Normandy beaches, where there is so much poignant history, fantastical architecture and of course interesting boats.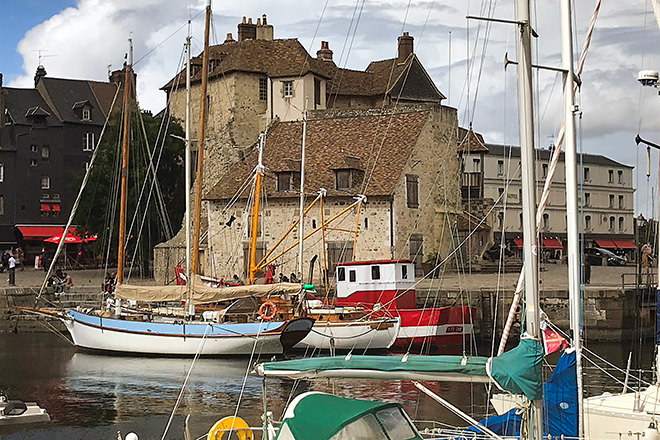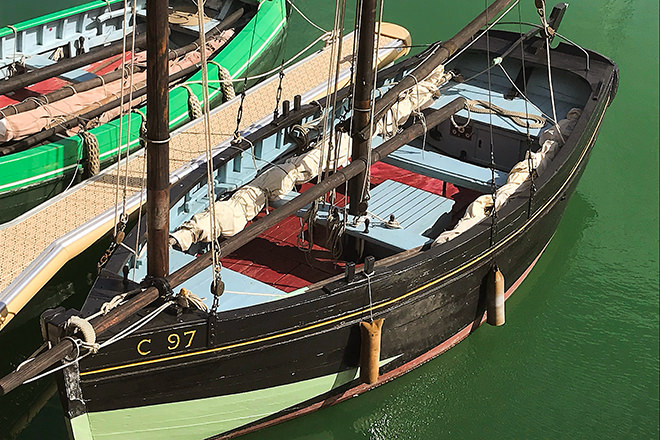 After that we were landlocked for the rest of our holiday although being a piscean I always seek the water, so swimming pools and mountain streams were extremely welcome. 
On our return journey heading up through central France we stopped in the Spa Town of Vichy where there is little sign of its political past, as the headquarters of the Petain administration during WWII. 
However, the elegance of the old buildings and the town centre with its parks and its Belle Epoque architecture was a pleasure to behold. I was almost tempted to stay and take the "waters" as I know my grandparents did in the 1930s.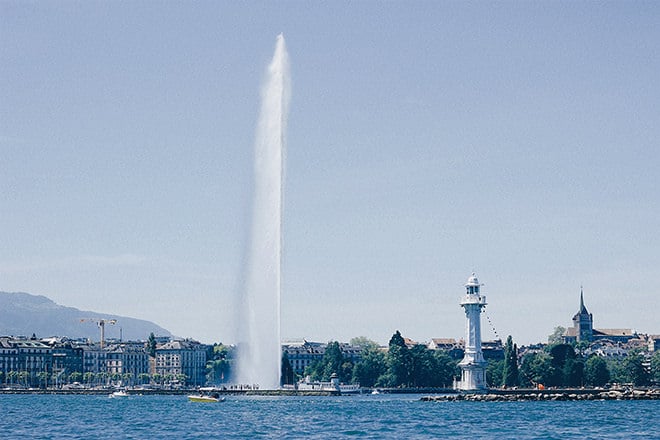 People get in touch with us with all sorts of family history, and Geneva is a little bit of my own history, as I used to study there some decades ago. 
Who would have known that after all these years I would be back for the sale of a solar electric passenger boat, which we are going to build for a client on the south coast.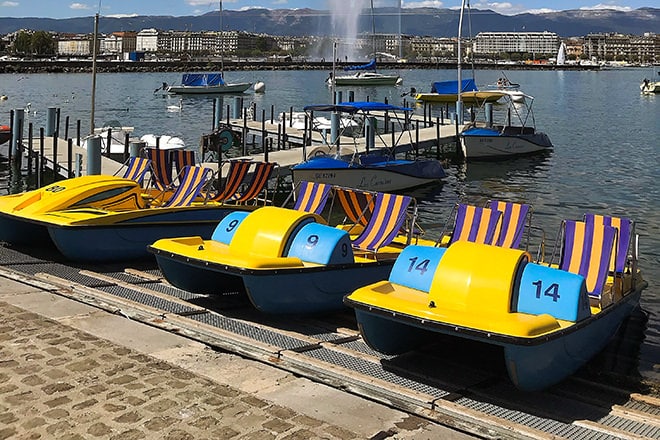 The skipper who took myself and my clients out on a trial run in the stunning surroundings of the port of Geneva, turned out to also be the owner of a boat hire base called "Les Corsaires" (the pirates). While we had lunch at the adjacent café we observed his little fleet of brightly striped pedalos, electric scoops and saviboats coming and going from his base. 
He was also experiencing exceptional levels of business with the Swiss population suffering the same travel limitations as we were. 
PureBoating in unchartered waters
Back home in Wallingford our boat hire crew registered a phenomenal number of electric boat bookings – 1639 individual bookings to be precise, which is 3x more than last year.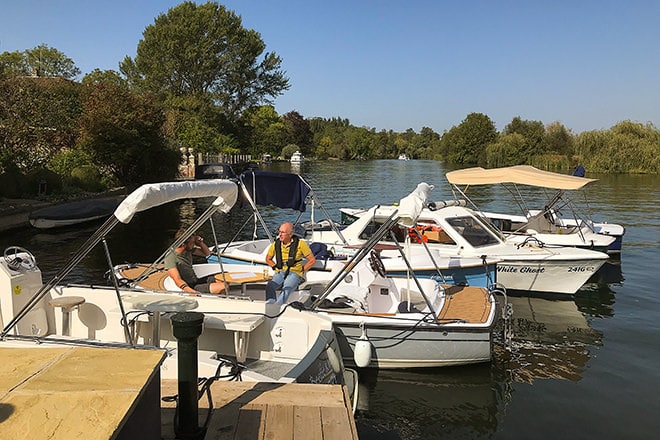 We have now brought all the boats back downstream to Beale Park and our season for self-drive day-hire is over for 2020. 
Thank you all very sincerely for your support and thank you to our crew as well, who were courteous and professional, managing to run a public facing business while observing all the additional measures we had to put in place to keep our customers safe and secure.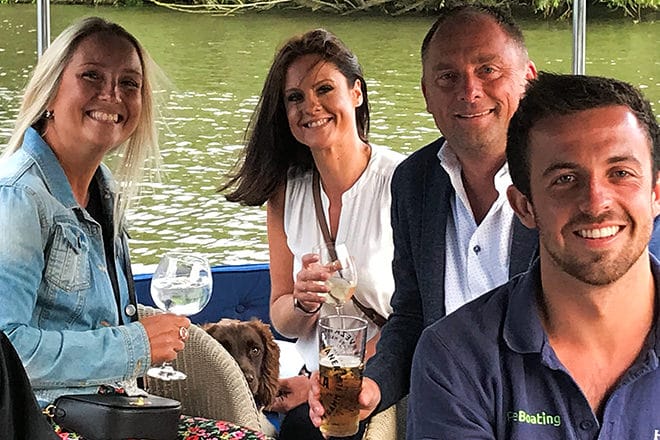 Obviously skippered charter was much reduced this season but "Sapphire Rose" is still available at The Beetle & Wedge until the weather turns; so book a table, grab a glass of something nicely chilled and enjoy the last rays of summer sun.
Our winter works diary is filling up fast!
The word on the block appears to be extremely positive for all sectors of the boating industry. To date this financial year (i.e. from October 1st, 2019 to the end of September 2020) we sold a record number of boats of all shapes and sizes. 
Way back in March we feared for our future and now we are counting our blessings. 
September and October are always busy times for boat yards, as customers think ahead to next spring, envisioning their next boat or indeed their first ever boat.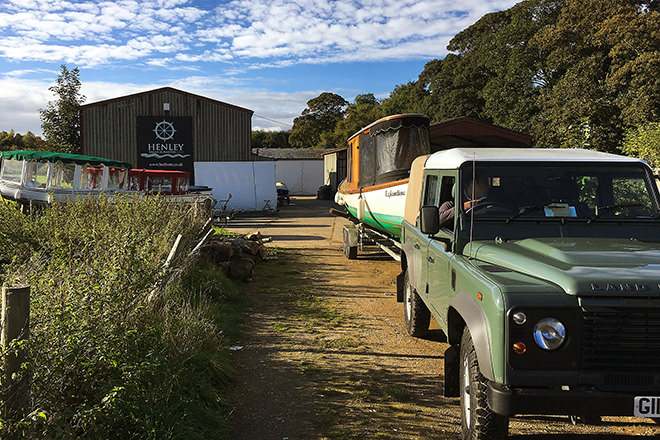 Regular customers and new owners are fast booking up our storage at Beale Park and the maintenance diary is filling up for the whole winter. 
Please call us or even drop in to talk to Ellie and Andrew at the yard if you would like us to quote for storage and/or maintenance.
Fresh on our books
We are adding to our brokerage inventory every week at the moment and are hoping that new enquiries will continue to flood our phone lines.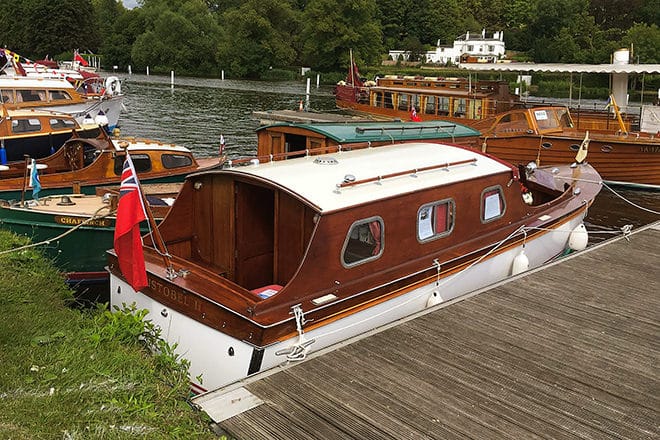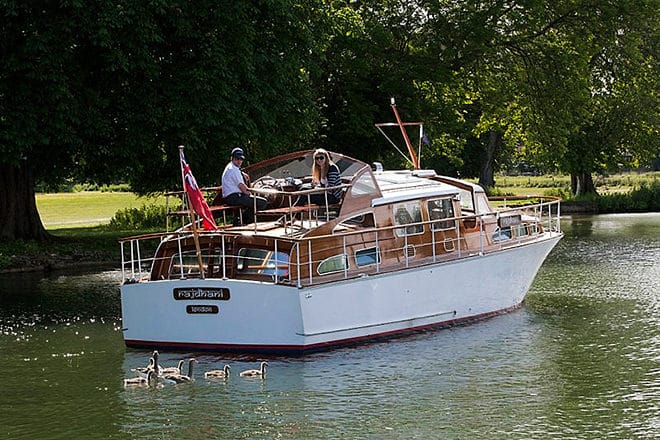 A couple of old favourites have returned due to the onset of old age or simply a desire for change. "Cristobell II", an Andrew's day launch and a regular attendee at recent traditional boat festivals returns, as does "Rajdhani", and on the other end of the scale we have "Little Janet" and "Miffy".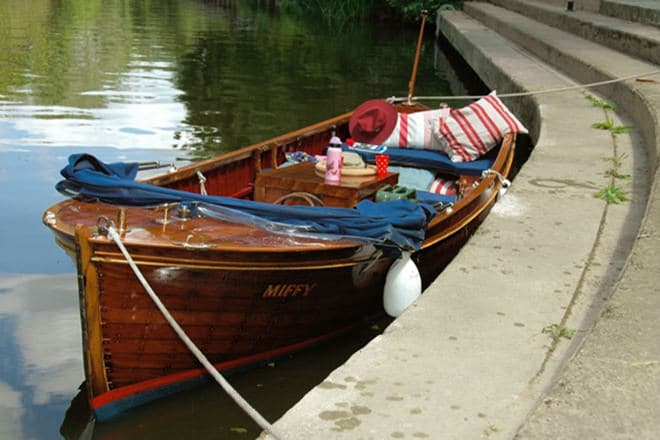 Family boating has been very popular this year and at times you could have been forgiven for thinking it was the 1950s with so many wooden boats crowding the locks.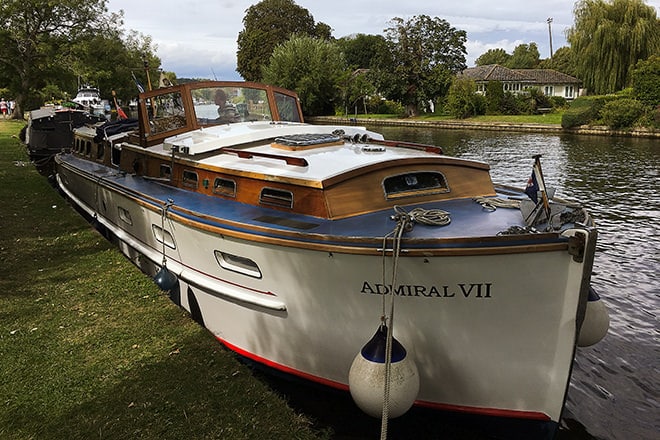 It has been particularly nice to see so many families on boats like "Admiral VII" (now on brokerage with us) and "Jamarc" (recently sold by us).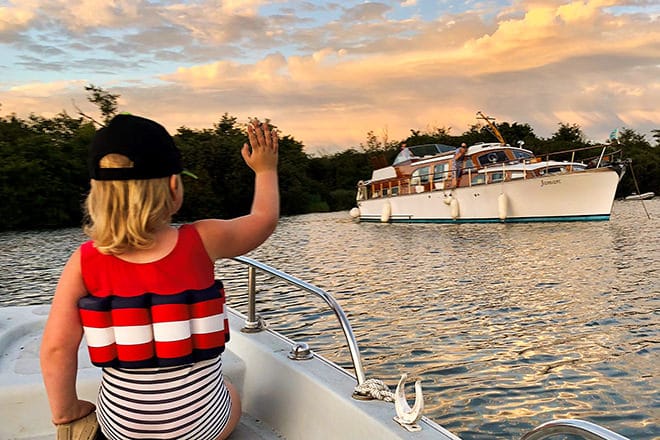 Let's not forget our "gents"
We all missed the razzamatazz and conviviality of the Thames Traditional Boat Festival this year and we also missed the opportunity to entertain friends on the beautiful gentleman's launches which are such a part of the boating scene, whether you live in the Lake District or by a river in the UK.
We obviously have our fingers crossed very tightly for a safe return to festivals and entertaining in summer 2021.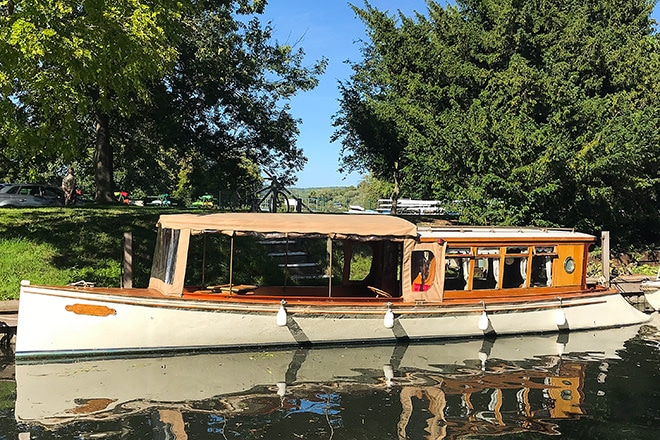 This time last year "Lady Genevieve" was the star of the show at the Festival the Loire at Orléans. She is now for sale as is her sister gents launch (a contradiction in terms) "Evensong". Pictured above on her home mooring in Henley.