The past month has been very productive here at Henley Sales & Charter Ltd. and included a meet-up at The Relais Henley with Kit Richardson on his latest visit to the Thames. In addition to some sociable 'boaty' intercourse, many viewings have been conducted; there has been a great deal of travelling to meet vendors, potential purchasers, and interesting boatyards. Oh yes, and an important milestone was celebrated in style.
30 years in business called for a celebration!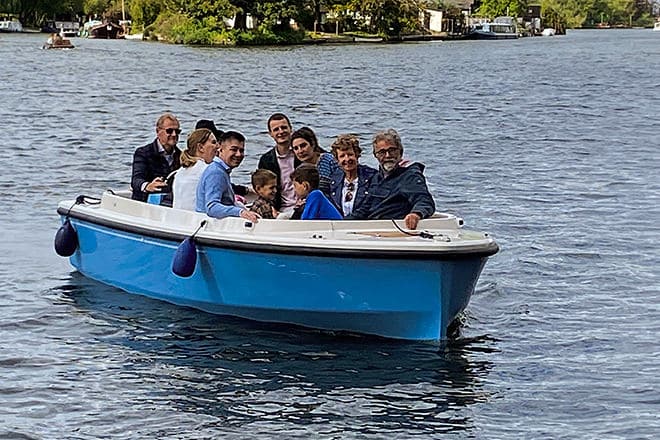 Thirty years is a very long time to be working in the same job. However when you look back over those three decades, you realise that the job has evolved dramatically and grown to the point where I now work with a super team of people across several boating fields of interest.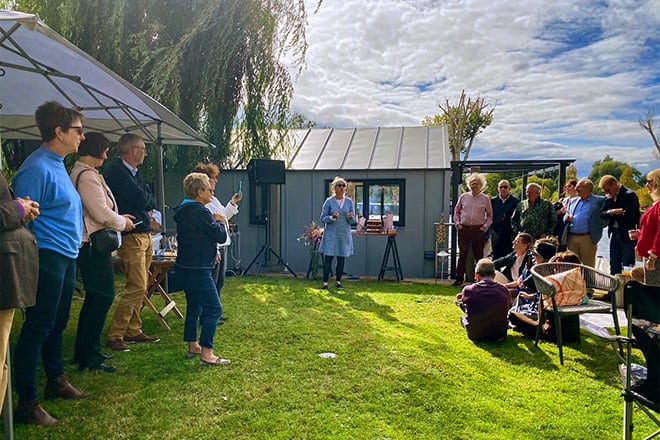 Brokerage remains at the core of our business, with new boat sales having added another strand in the past 4-5 years.
I also really enjoy working with a small handful of quality builders. My interest in manufacturing stems from my days in sales & marketing at The Steam and Electric Launch Company. I loved visiting the workshops when the team was building boats which I had sold to customers both in the UK and abroad. For example, what had begun as a casual conversation at the London Boat Show was now taking shape on the workshop floor, and some weeks later, a new owner would take possession with a satisfied grin on their face. The smile was the icing on the cake as far as I was concerned, and this continues to be my motivation in every transaction to date.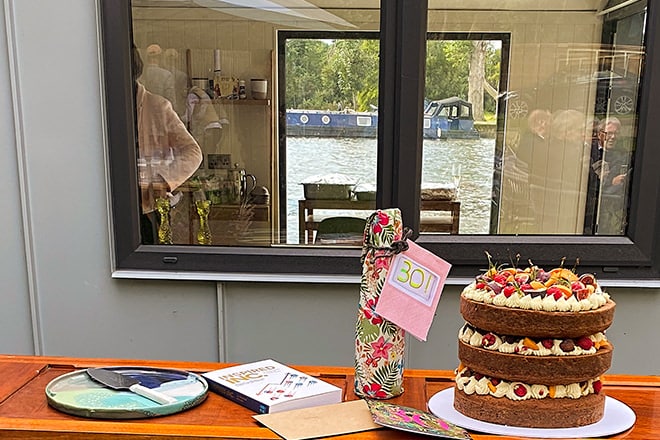 On a breezy Sunday, we ate large gooey slices of delicious cake by the river, adjacent to the new Henley Houseboat. I was surrounded by both present and past colleagues who have helped me to shape Henley Sales & Charter into the company that it is today. The conversation flowed as freely as the Champagne as we embarked on another decade.
Silent 'River Breezes'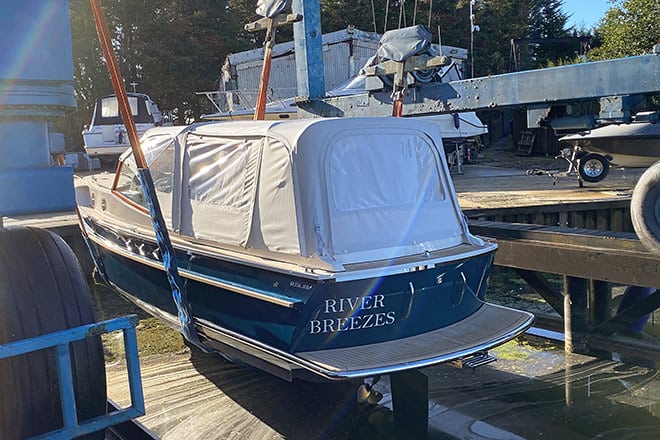 I am particularly enjoying our relationship with Statement Marine in the Netherlands.
Last weekend Harm and Jaap appeared on schedule as always, ready for craning at Racecourse Marina Windsor. The two purchasers of the first PTS 26E (electric) were on hand to sail silently away downstream to their mooring in Shepperton.
It was a joyous occasion, and we observed other boaters and passers-by staring incredulously as 'River breezes' slipped in and out of Bell Weir/Runnymede lock on its way downstream with barely a murmur from the electric motor.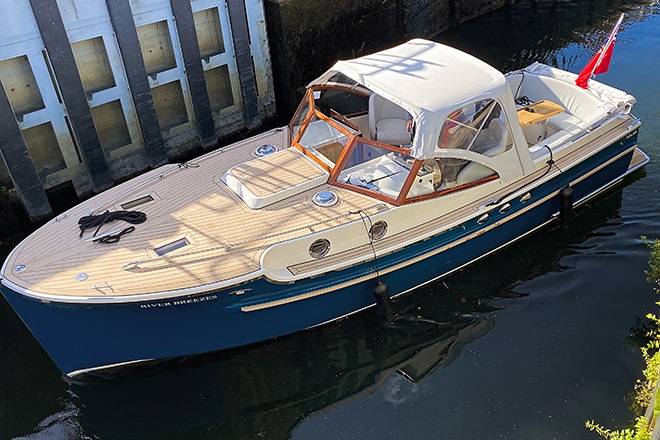 I feel sure that this will be the first of many electric boats from Statement Marine to roam the British waterways. We already have a PTS 24E in the order book for delivery in early 2023.
It is an honour ...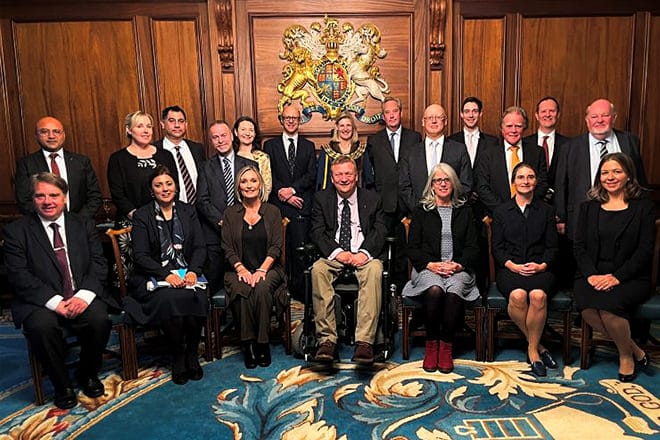 Established in 1387, the Worshipful Company Of Shipwrights livery instructed its members to build sound ships with fine materials and to train and encourage apprentices.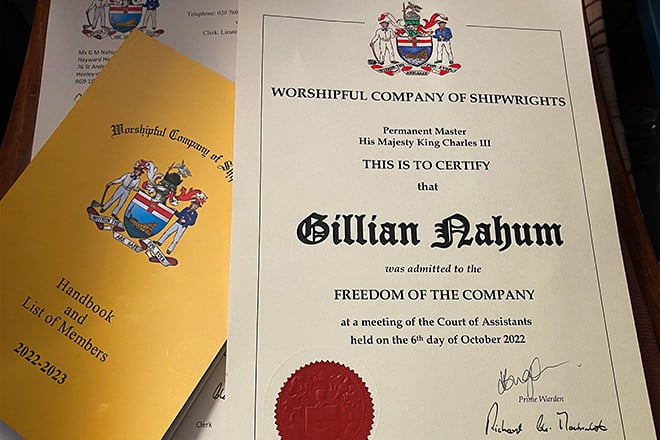 Last week I was granted the honour of becoming a member, which was poignant for me for two reasons. One being the recognition by peers in the industry that I am worthy of being a member of the livery, and the other that it was thanks to a grant from this company that our Ellie was able to train as a boatbuilder.
Being part of the evolution of a great British tradition as a member of the shipwrights at a time of change when more women are being admitted as freemen and liverymen, with the companies' first ever female prime warden in post, feels extremely special.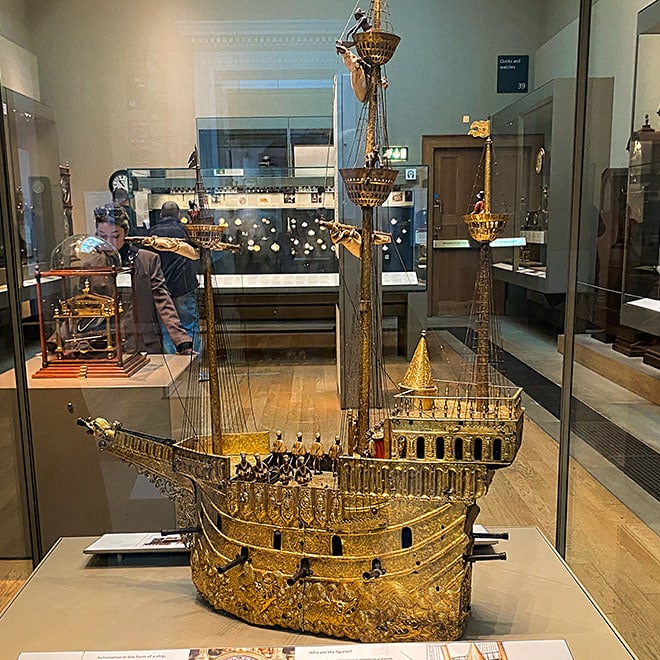 The following morning, after the previous evening's pageantry, I had an hour to spare, and interestingly I somehow stumbled upon this symbolic exhibit (see photo above) in the British Museum. How appropriate.
"This spectacular machine, in the form of a medieval galleon, was intended to announce banquets at court. The entertainment began with music from a miniature organ inside the hull, drumming and a procession. Afterwards, the ship would travel across the table. When it stopped, as a grand finale, the front cannon would automatically fire, lighting a fuse that would fire the other guns. At the base of the main mast a small clock shows the time. Sailors high up in the crow's nests use hammers to strike the hours and quarters on inverted bells."
Ellie is moving on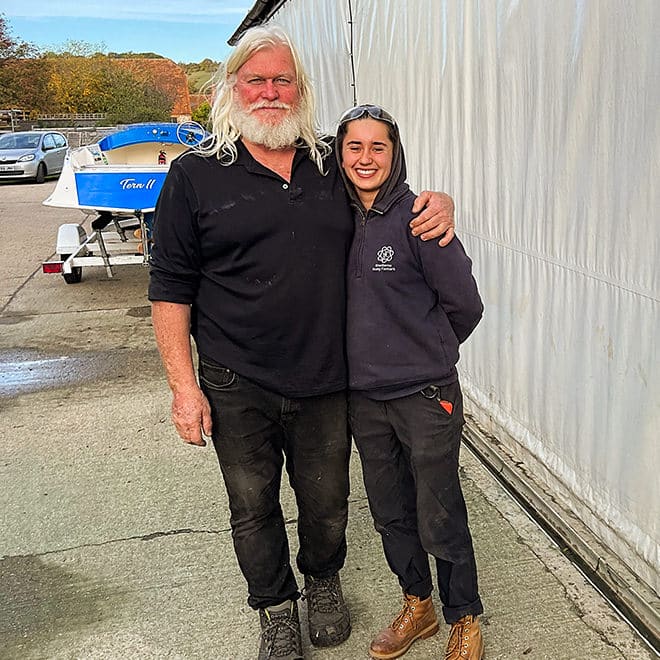 HSC offered Ellie her first job five years ago, but now it is time for her to move on. And while she will be very much missed as a member of the yard team, we wish her well as she takes a sabbatical to travel with her partner Charlie initially to South Africa and after that to a different part of the UK. I'm sure Ellie will stay in touch, and I will pass on tales of her adventures in future newsletters.
The fabric of life (and business)
While Ellie moves on, we firmly stay put at the Beale Park boatyard and at 29 Station Road in Henley, which remains the central advisory bureau for all things 'wooden-boatish'.
We encounter a great deal of enthusiasm but also sad tales of death, illness and old age, and I feel that one of my roles is to ensure satisfaction for both vendor and purchaser, whatever the circumstances.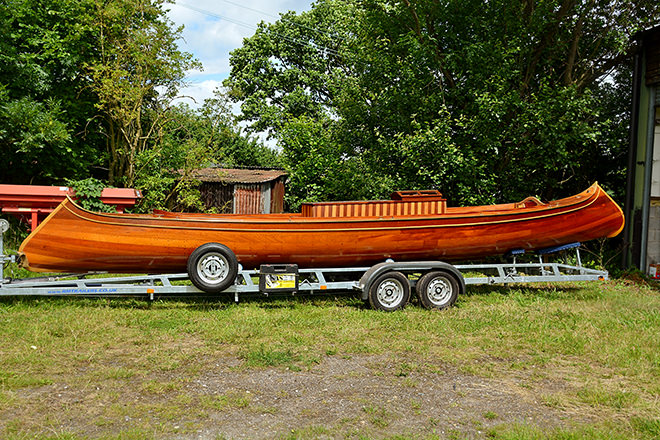 'Ceome' was built by Hobbs of Henley whose office is but a stone's throw from my desk. Unfortunately Hobbs themselves moved away many years ago from boat building and are principally a moorings and boat hospitality operation under the current Mr Hobbs.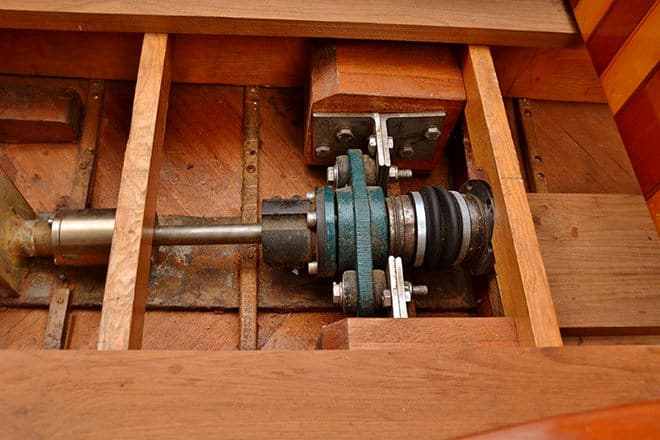 If there is anyone out there who would like to put this boat back on the water, complete with electric or steam propulsion (as this was the original idea of the vendor), please get in touch, and we will pass on your details.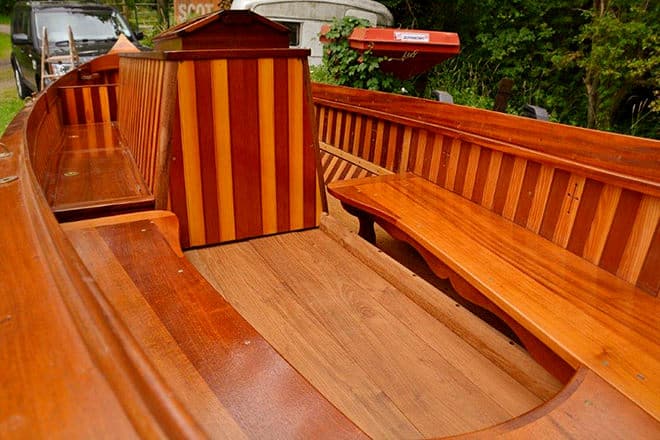 Your chance to enjoy The Henley Houseboat!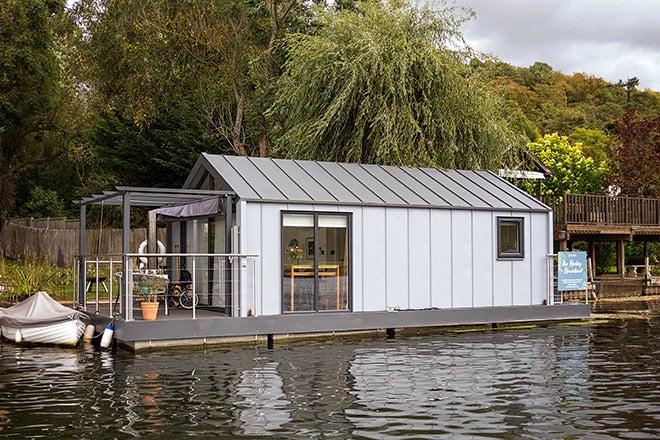 Last Friday I spent a day with a professional photographer setting up The Henley Houseboat at our Thames riverside plot 'Ondine' (where we had the celebratory party just a few weeks ago).
The photographs will serve a dual purpose as we are agents for the houseboat builders, and we also will be offering the houseboat for holiday rental from next Easter through the Canope & Stars website.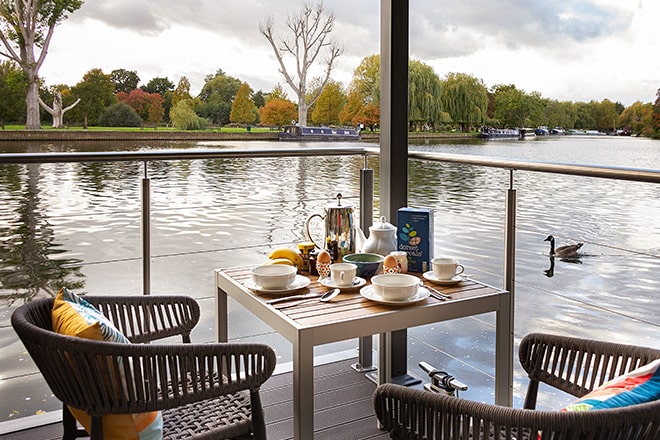 Canope & Stars specialise in quirky accommodation, often in fairly remote locations.
Our location is far from remote, being just a 10-minute walk into Henley town centre, but it feels a world away when you are onboard.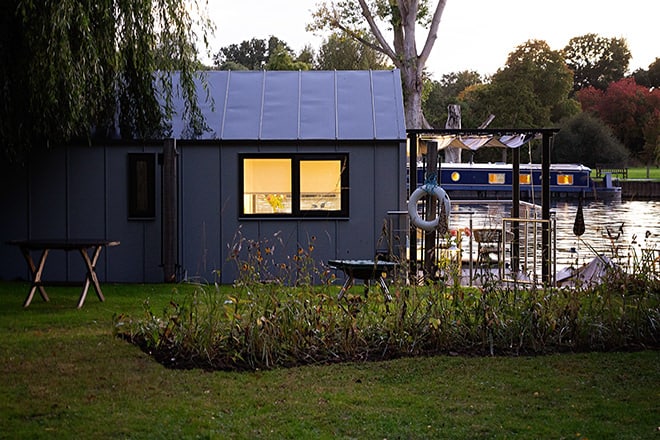 The Henley Houseboat will be available for rental through Canope & Stars from next spring, other than during July when we are offering it directly to customers to stay there and perhaps to moor their own boat alongside for the big Henley events.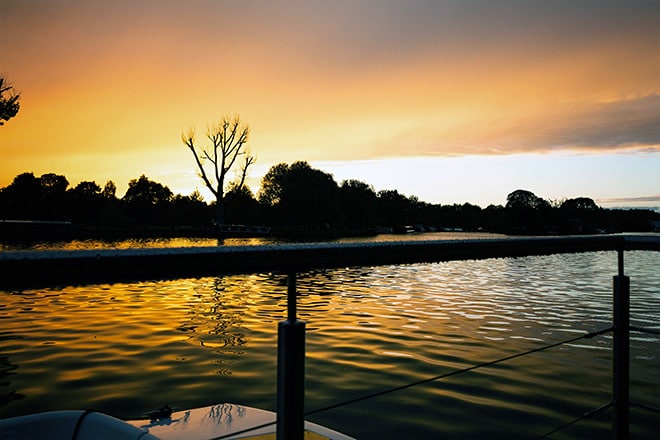 To avoid disappointment, please do get in touch soon if you are interested in a July 2023 rental.
Handcrafted, award-winning footwear - Fairfax & Favor
Talking about photoshoots, although these Fairfax & Favor models look very serious, Regine, who was in charge that day, tells me that everyone had a riot during the shoot on 'The Preterist' and 'Sapphire Rose'.
Both boats looked their best, and apparently, the shoes and handbags were also quite lovely.
The client, Fairfax & Favor, even makes deck shoes to the delight of our skipper Michael who has bagged a pair in dove grey.
Selling 'The Preterist'!
'The Preterist' has been in my life for 30-plus years in one way or another, as it was the first boat I saw when I started working with the Steam and Electric Launch Company reviewing their marketing (which was almost non-existent at the time).
Through a twist of fate, I was able to purchase it last year when the owner moved abroad, and 'The Preterist' has been working happily all summer with a skipper at the Beetle & Wedge Boathouse in Moulsford as part of the Pure Boating fleet.
However, I made an impulse buy last week on seeing an exciting new electric 12-seater canopied launch which I have purchased (expect more news about this acquisition in the months to come). So now I must be sensible and regrettably sell 'The Preterist'.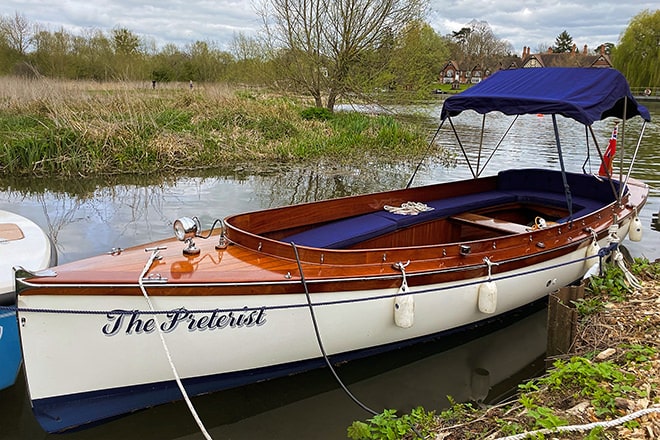 She is a bespoke version of the ever-popular electric Frolic 21 with solid mahogany decks and interior cladding, smart blue cushions and a matching aft pramhood. We added a lightweight, full-length summer cover in spring 2021. For this special 8-seater, we are asking £29,950.
Please give me a ring if you would like to see the boat afloat before we bring it to the yard for winter storage.
First dibs on our Autumn clear out!
It's time for a bit of autumnal clearing up. Some people sweep leaves, squirrels gather nuts, and we ... look at our inventory.
On close inspection, we realised that we have a couple of boats at the season's end which are surplus to requirements and we would love to offer our regular readers first dibs.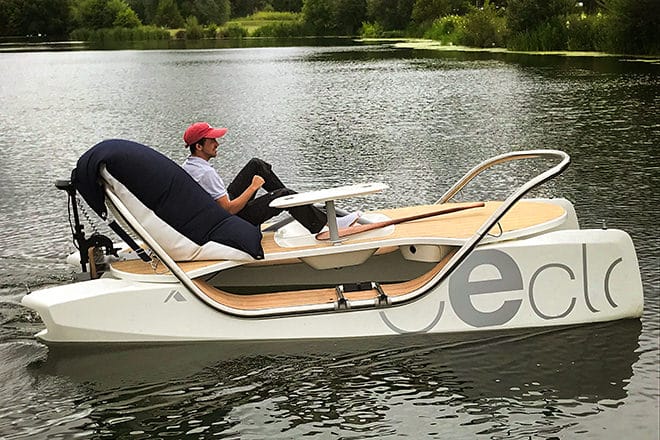 Who fancies a fun boat for two with a bimini? We have a catamaran, which has an electric outboard and pedals (for one) - the Ceclo.
We bought it the first year of lockdown, thinking it would be rented out at the Beetle & Wedge. However, life became topsy-turvy, and this never materialised.  
Please make me an offer if you are interested.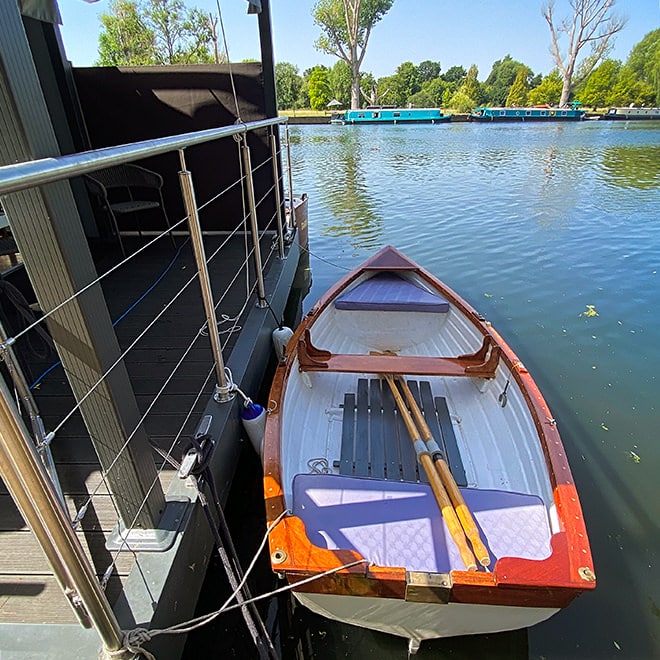 We also have a dinghy with a new cover, a trailer, decent oars and varnished thwarts bow and trim available for immediate delivery (£1950).
I bought this as a tender to the houseboat only to learn from Canopy & Stars that it would be a better idea to tell people to bring their own paddle boards, kayaks etc. or let them rent for the day from one of the local dayboat hire companies. The reasoning was sound - if people don't want to use the boat, they may request a refund!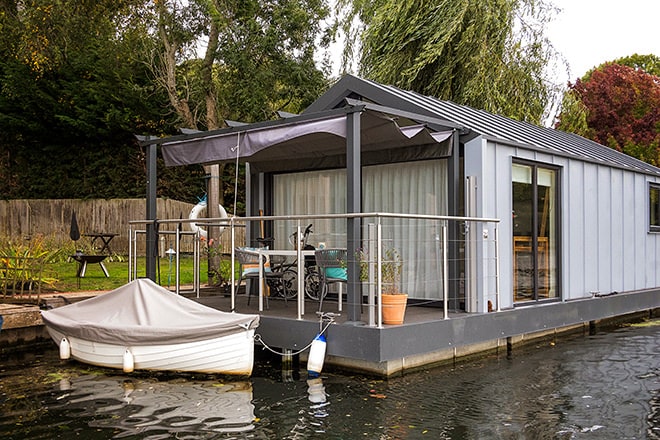 So please let us know if you fancy buying a little dinghy.
The Elite was a great help this summer in Wallingford, and again in Henley as a ferry for my '30-years-in-business' anniversary celebration. It seats 10, is super stable and would make a great electric ferry or practical 'jump in and go boat'. She has a self-baling hull, navigation lights, new batteries and a new Torqeedo outboard. We are varnishing the woodwork on the seats and storage fore and aft, so it looks good as new, having been barely a season in the water. (£19,950 inc VAT)
Stop Press!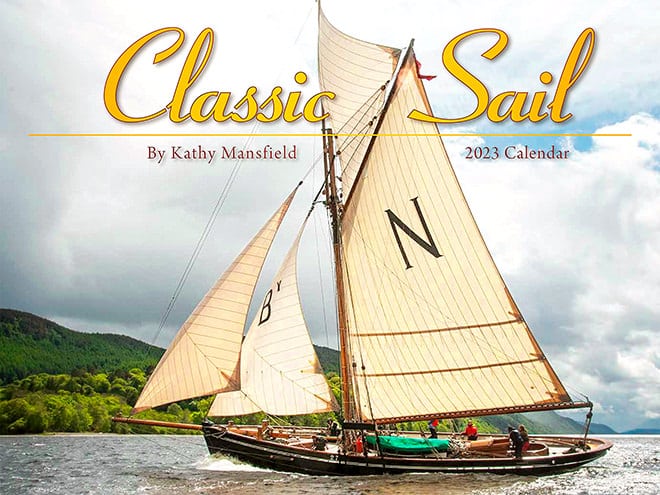 She has done it again! Kathy Mansfield has come out with another beautiful calendar this year, brimming with fantastic images of classic sailing boats taken from various precarious RIBs during classic sailing regattas.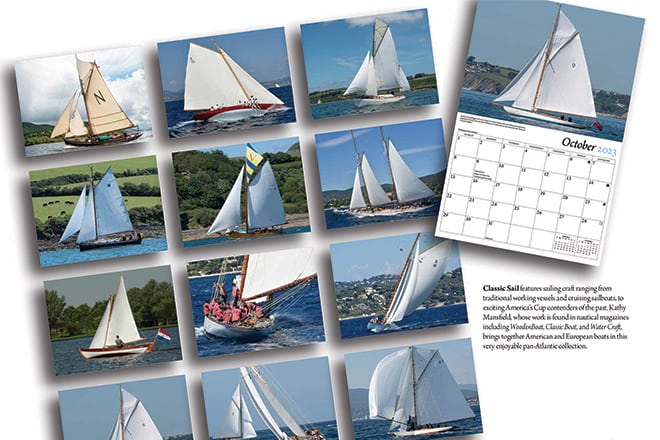 It can be purchased online from bookharbour.com or ordered direct from Kathy by emailing [email protected] for bank details.