Our friend and professional photographer extraordinaire (Kathy Mansfield) spotted the above on a walk through Docklands, which she said was quite magical as the river bends towards Greenwich revealing many interesting sights, both natural and man-made.
Return of the houseboat culture to Henley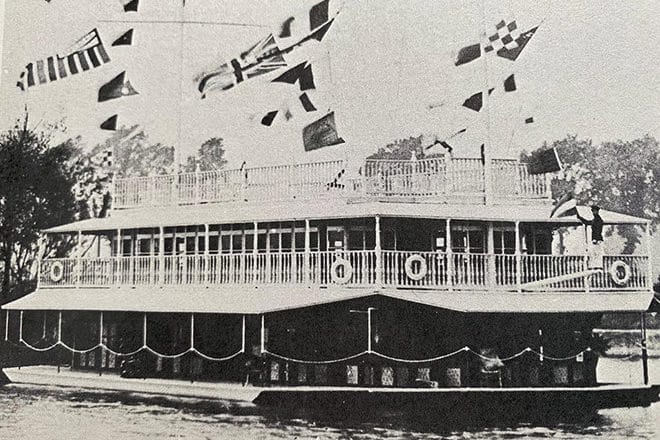 There was some very positive reaction to the piece last month about the Henley Houseboat. As I write, it is in build in Northern Ireland, and I was fortunate to meet the architect and main builder a couple of weeks ago when we discussed the all-important issue of paint colours!
I jest of course, although I am puzzling over the exact shade of white we should use. Its first residents will be the architect and his wife, both former rowers and competitors at Henley Royal Regatta. For once they relish the thought of a bed rather than a roll-up mat in a campsite. The Henley Standard also got hold of the story, devoting a whole page of this award winning local paper to the return of the houseboat culture to Henley.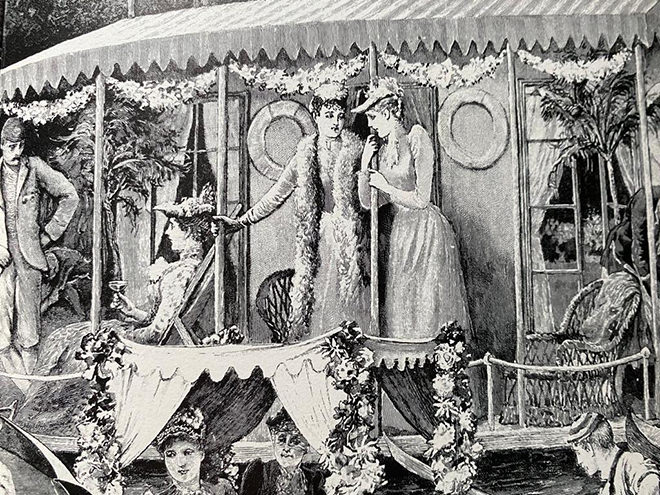 The book 'Victorians on the Thames' by RR Bolland is a beautiful pictorial record of the Thames as a place of recreation in 19th century. 
It mentions that gossip and events among the community of houseboats lining Henley Regatta course in Victorian times were recorded faithfully by The Lock to Lock Times and I quote 'The houseboats were today seen at their best. The ravages made by the rain of yesterday amongst the numerous exotics have been made good, and a roaring trade was done early in the day in flowers, the lion's share of custom going to an enterprising Reading dealer, who has a big barge full of flowers on the water. I have heard a good deal of gossip as to future movement of the principal houseboats; but this will keep, and I fear I have already exceeded my limits of space.'
This year's Festival and Regatta
July is going to be a big month again this year, first with Henley Royal Regatta back in its usual spot and for the first time ever now a six-day event ... beginning on Tuesday June 28th and ending on July 3rd.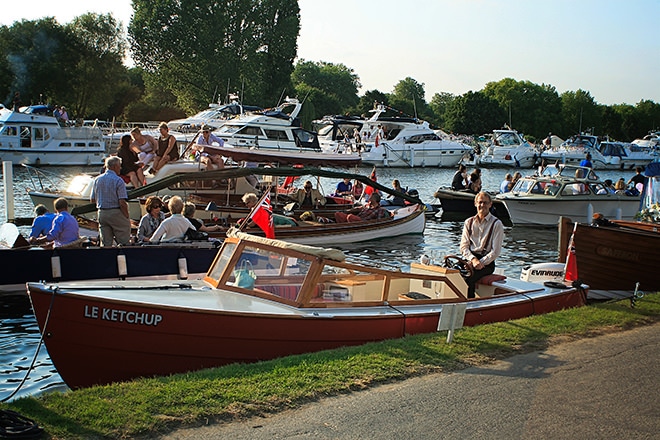 There follows the 40th Henley Festival, and appropriately the organisers are pitching some big names onto the floating stage this year, including the venerable Tom Jones. Tickets are apparently selling fast for all nights.
You will see us on a deckchair on the Sunday listening to the dulcet tones of Katherine Jenkins while eschewing Saturday night's disco party - I know we are party poopers, and while dancing is great exercise and Steve is a snappy mover on the dance floor, I love the fact that on the Sunday evening you can actually sit and listen to the more interesting musical offering in the bedouin tent or find a spot to hear the comedian.
It is the 40th anniversary of the Festival so please do buy some tickets and come on down. The river scene promises to be magical.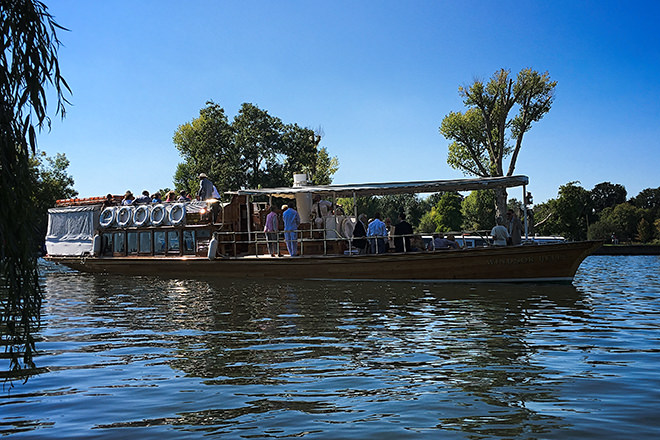 There is just one night left on Windsor Belle if anyone fancies being on board the most extravagantly gorgeous boat on the reach. Tickets are available for the Thursday and a mooring can be reserved if you jump in quickly and give us a call.
There will be no 'breaking with tradition' at the TTBF
We just have a few days to polish our boats and retrieve our striped jackets from a dusty couple of years at the back of the wardrobe (or dressing up box) before the stunning sight of a couple of hundred varnished beauties converges on the riverbank at Fawley Meadows for the TTBF (Thames Traditional Boat Festival).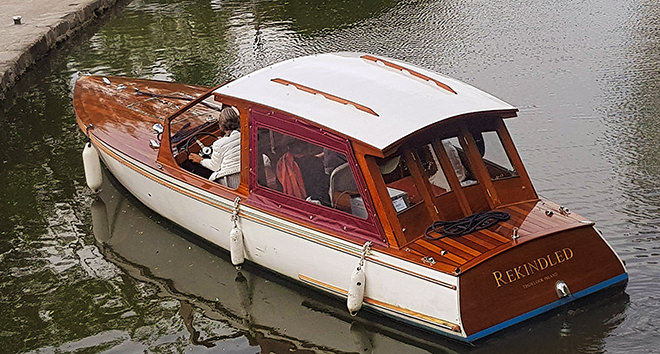 At this time in the year, I have no idea yet what boat we will be taking as it all depends on what is on brokerage at that time. If she is still with us, I would love to take 'Rekindled' as she has a particular resonance for me personally.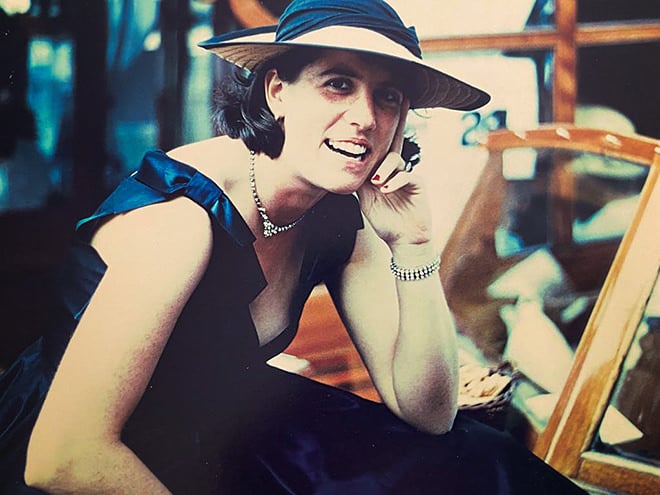 I was photographed many years ago (1989) sitting on the forward deck of 'Francesca', as she was then so aptly named, by kind owners who took pity on a struggling boating journalist (as I was that evening) in a borrowed Laura Ashley frock. I had no idea then that 'their world' would one day become mine.
Don't miss our launch party at The Swan at Streatley!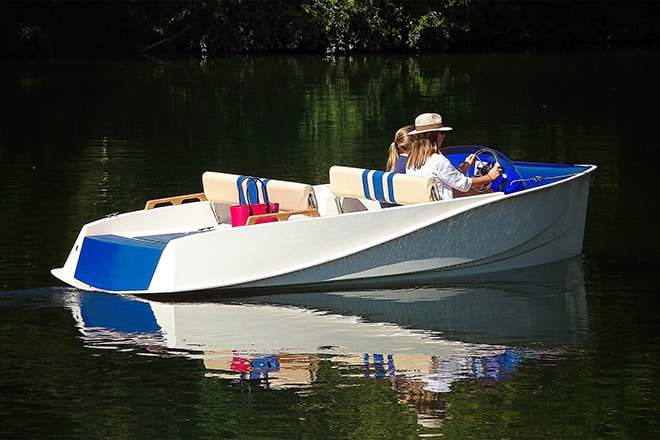 And another event to note in your diary - a little more low key this time - is our splendid little launch party at Coppa at The Swan at Streatley to celebrate the return of Pure Boating's electric boat hire to the Swan following all the renovations.
On Friday 6th May from 5pm until 8pm, you will find us riverside where we will be taking small groups out on the river for taster sessions. Free of charge, all locals are welcome, we just ask you to please register your interest via the booking link on Eventbrite, so we know to expect you.
May and June film dates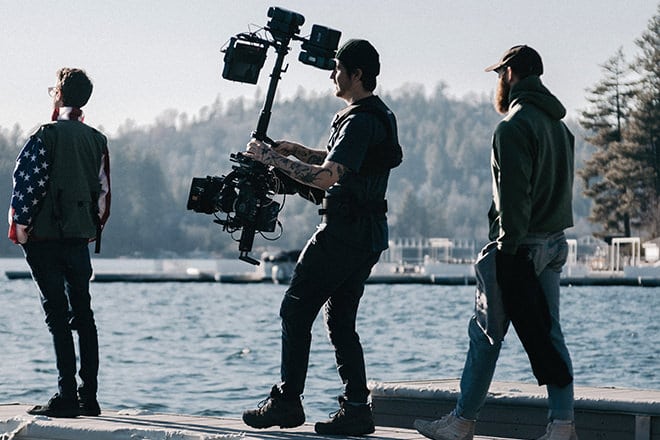 In the January newsletter, I wrote about the exciting new film which a Mr Clooney of Sonning-on-Thames is planning. Some of our readers very kindly offered to let us add them and their boats to the list of suitable support artists for filming 1930s scenes for 'The Boys In The Boat'. 
Our new colleague Regine is collating all the boats and liaising with the film company so bear with us if you have written in as we will be in touch once we have our final instructions from the film company.
A 30s beauty on brokerage shortly
We have a 30s beauty coming in shortly for brokerage all the way from California. An enthusiast who was previously domiciled in Bray took home 2/5ths of her fleet when she was repatriated a few years ago. She has now decided that these Thames heritage craft should be returned to their roots.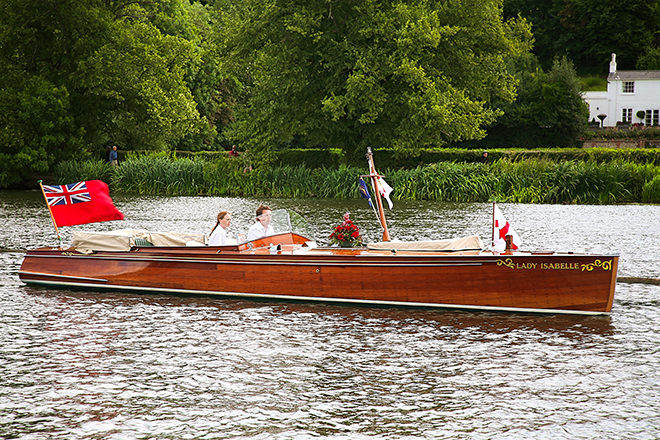 One is a former member of the Thames river patrol, the waterborne Home Guard, and the only one of this fleet to have made it all the way to Dunkirk. 'Lady Isabelle' will be on the website in the next couple of weeks. The photo of her (above) by Mike Phillips from the Thames Vintage Boat Club collection. Many thanks Mike!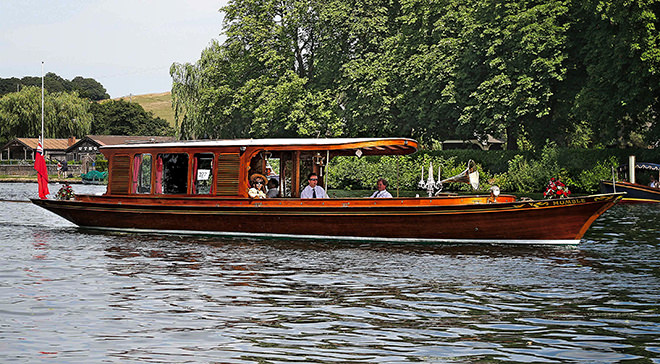 The other boat is a Victorian beauty that regular visitors to the Henley Festival or the Trad may recognise. Not many Victorian vessels have traversed the Atlantic not twice but three times! 'Humble' is being prepared for her homecoming this summer, and I would ideally like to have a buyer waiting on the quayside once she docks. There will be more information on 'Humble' next month.
BoatLife show saved!
The HSC/E-Boatique team has just returned to base from a less than glamorous setting - namely that of the storm-battered NEC where the inaugural BoatLife event took place last week.
Andrew and I set up the stand last Tuesday only for me to be struck down by Covid two days later, and indeed I write from my quarantine office as Andrew heads up to retrieve the boats from our E-Boatique branded stand in hall 19.
Day 1 of the show was a complete washout as the Met Office warned people not to travel, but the next three days were good and brought in several enquiries from potential purchasers, both commercial and private.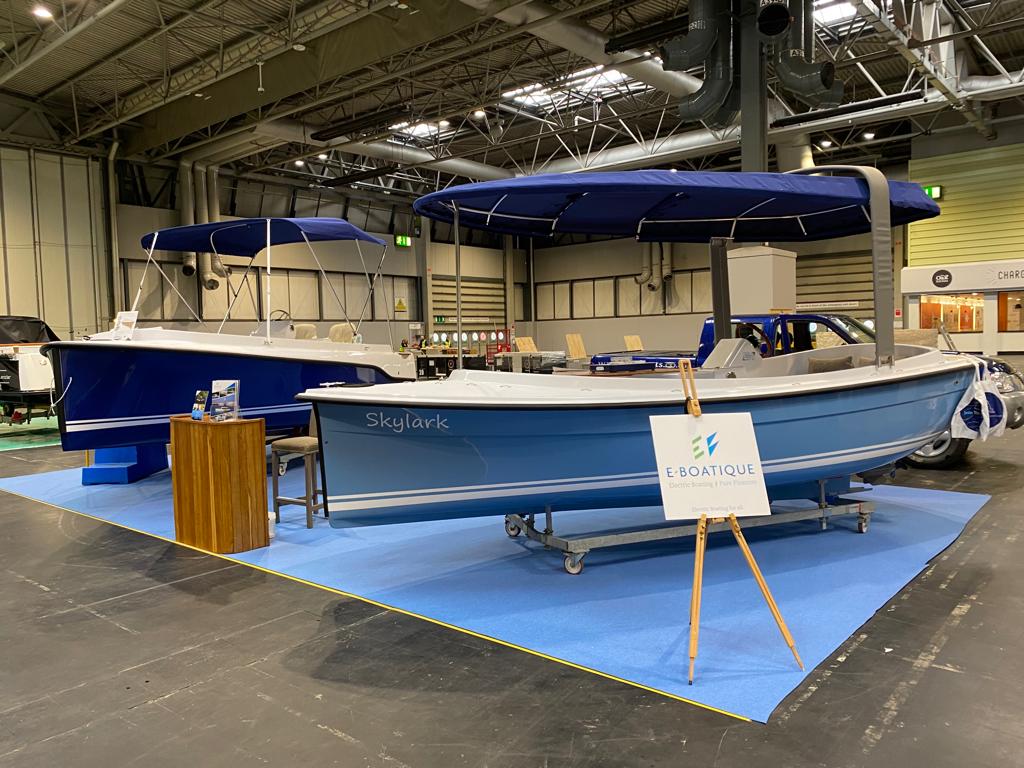 We have a brand new Legend for sale at the yard, complete with folding transom, removable helm seat for a wheelchair-bound skipper, large forward picnic table, bimini etc. It's a really attractive boat, seating 9 and available from stock.
Any other boat from Ruban Bleu cannot be delivered before June as their order book is bursting at the seams.
Exciting new listings coming to our site in March! 
As I sign off from this shortish newsletter (February being a shortish month), I am packing my bag to head for Paris and the Seine once more, where I am going to be viewing a Dunkirk Little Ship. More on that next month.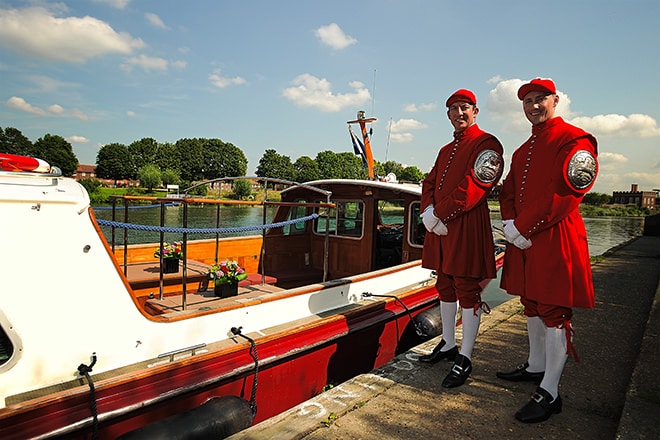 In the meantime keep an eye on the website as there should be some new listings arriving in the middle of March, such as 'Windrush 46', erstwhile river launch for HRH Queen Elizabeth, now for sale through HSC in time for the platinum jubilee!