October is upon us and there appears to be little sign of mellow fruitfulness this year. Political wrangling aside we are busy looking forward to the 2020 season with plenty of interest from UK boat hire companies wanting to electrify their fleet. In addition, there is the usual steady flow of boat sales enquiries.
A great show for Cockwells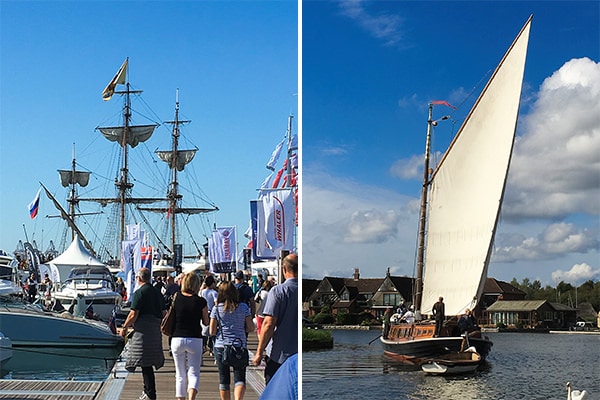 We closed our last newsletter before attending Southampton Boat Show. The exhibitors were fortunate as they enjoyed 10 days of glorious sunshine.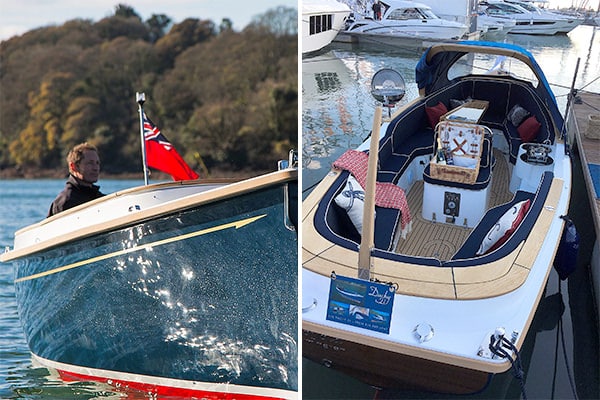 Our friends the Cockwells outperformed their previous show sales figures and continue to build fabulous contemporary classics.
We are their agents for the Thames, so if you wish to consider one of their models, please give us a call and we can send across one of their impressive brochures.
Festival de Loire d'Orléans – What an event!!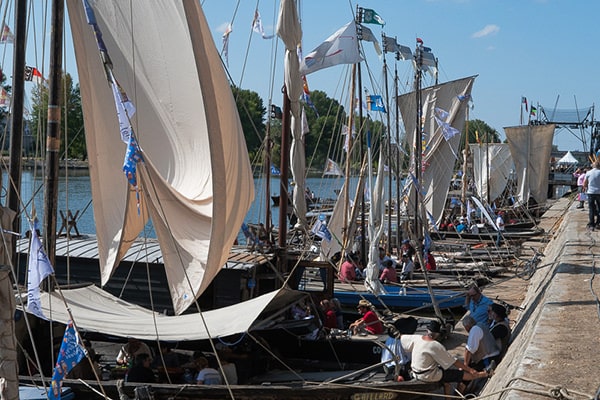 Among the half million visitors to Orléans for the Festival de Loire were our Thames cohort which included our very own Ellie Hillier, now a longstanding member of the HSC team and a familiar face to anyone visiting our Beale Park premises. Ellie was super enthusiastic and summed up the experience in just one word: "Amazing" (that is why I write the newsletter and Ellie repairs the boats).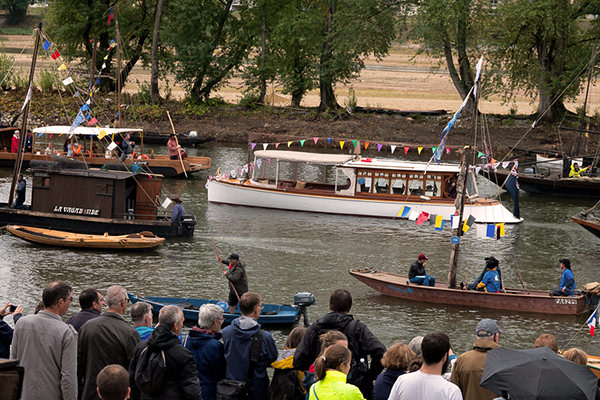 Certainly, Kathy Mansfield's photographs give us a taste of what it must have been like to walk the quays of the Loire during this four day festival.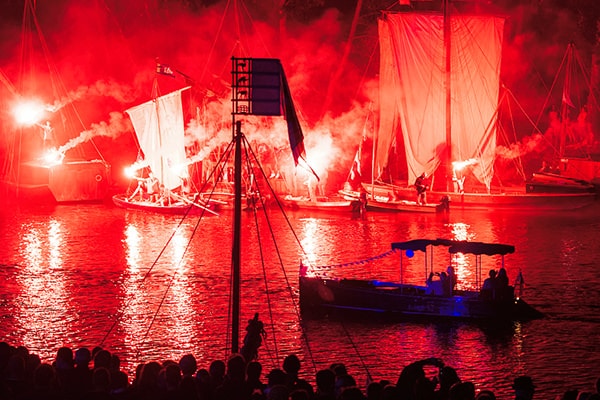 The event apparently cost 2.1 million Euros, with 50,000 of that paying for a magnificent firework display by the Italian world champion pyrotechnician Andréa Scarpato.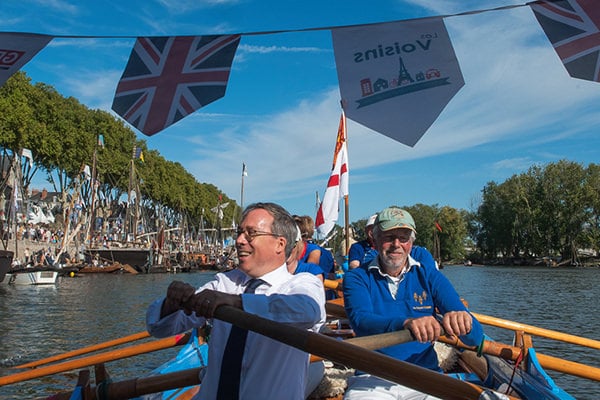 The British contingent were invited to eat and drink at their leisure completely free of charge and in return put on a splendid display both on and off the water to showcase our Thames heritage.
Geoffrey New writes: "This bi-annual festival traditionally invites a guest nation and this year Britain had the privilege. What a magnificent, well organised and fun event.
Although the festival is centred on the waters of the Loire, the whole city of Orleans was fully absorbed, decked out with banners, flowers, light shows on the superb cathedral, concerts and so forth.
Our 40 plus UK contingent took down 18 boats, ranging from a river Severn coracle to skiffs, steam boats, Thames launches and the "pièce de résistance": "Royal Thamesis".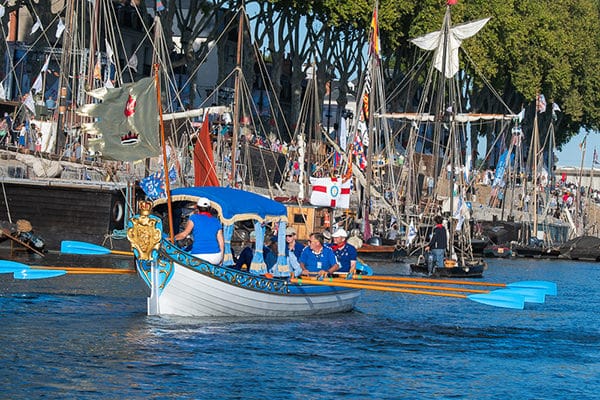 Although the Loire is the longest river in France, at just over 1,000 km it is a continuous run of shifting sand banks. Therefore, all the French boats attending, many large, were flat bottomed. Since our craft are river boats little difficulty was experienced.
The City of Orléans extended to the U.K. guests, continuous generous warm hospitality. The day before opening we were all invited to the original "Hotel de Ville", an amazing 14th/15th century building, as guests of the Mayor and the festival's organisers. There were speeches and a group of musicians and singers in traditional dress, followed by lunch, as only the French can do.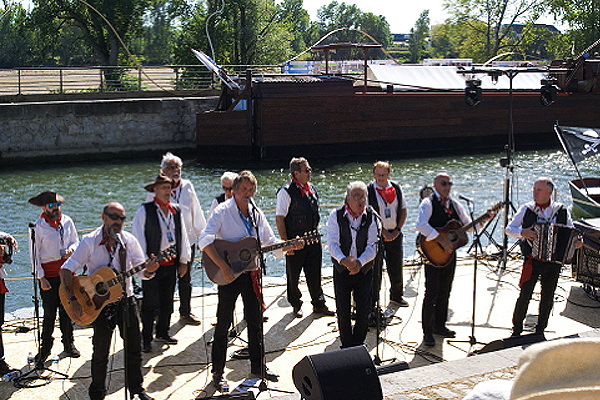 The week continued in the same convivial vein with riverside lunches, evening wine tastings on board a traditional barge that would have been used to move the wine barrels to the seaports, and much more.
The French provided us with five "Agincourt" type tents. One of them housed a cinema running continuous historic footage of past Thames events, and the others; steam boat and canal trust exhibits, the Thames Vintage Boat Club, general interesting boating items and Henley River & Rowing Museum displays.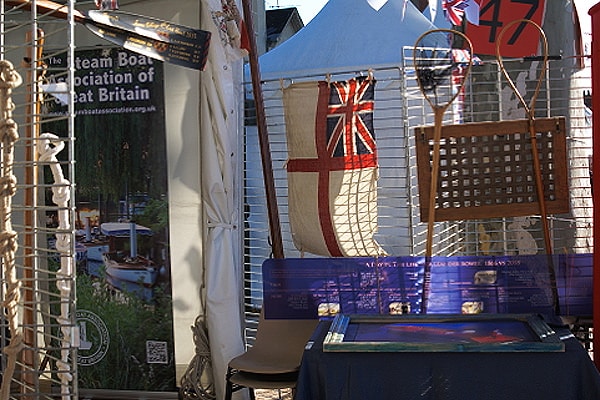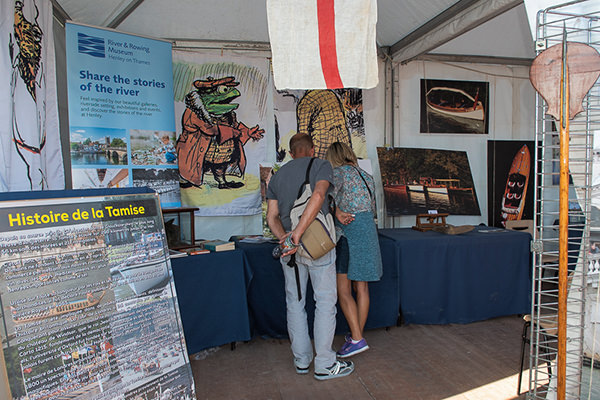 We were all out on the river about 3 times per day. I took over 100 people, therefore with the other craft a great number of French residents got to enjoy their river.
As one would expect, the food, wine and beer, all of excellent quality, flowed like the river.
One evening after dark, all the attending boats paraded up and down as part of an extravagant light show. One French craft sported trapeze artists performing from high on the spars while an orchestra played on deck. Another evening there was a spectacular firework display.
It is estimated that 650,000 people visited the event at no charge.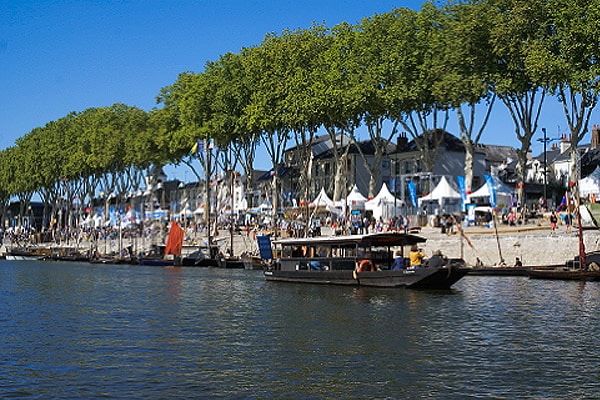 All the way down the 1.5 km quay were stalls demonstrating a myriad of skills, offering all manner of delicious local foods and wines, musicians and so forth. It was an unforgettable event, superbly run by Jeff, Nadege and Olga, overseen and paid for by the City of Orléans. Thank you all for organising and partaking."
Colin Henwood, who showcased his paddle making skills, says: "The Festival de Loire was brilliantly organised and a great success like all these French festivals. They really know how to do it. It was extraordinary on many levels, including the exceptional low river levels that meant quite a few boats were aground! The British contingent were the guests of honour and our welcome and the hospitality was wonderful.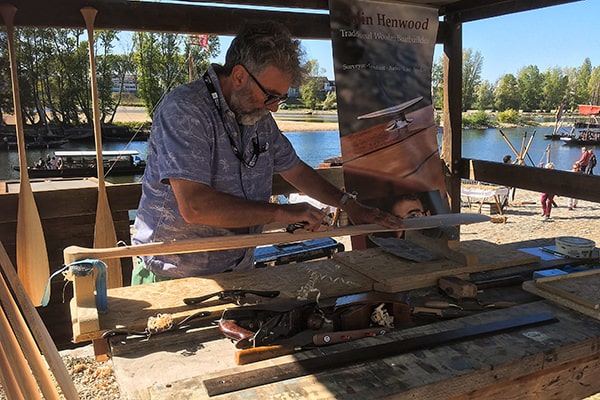 There was wild music, bohemian theatre on a square rigged Loire barge with a piano duet accompanying a duo trapeze act out on the yards while a swarthy crew balletically poled the boat around in the current while dressed in black evening gowns!
The fireworks were beyond imagination and we all took part in a "Son et Luminaire" with the Thames boats leading the fleet of flat bottomed Loire scows.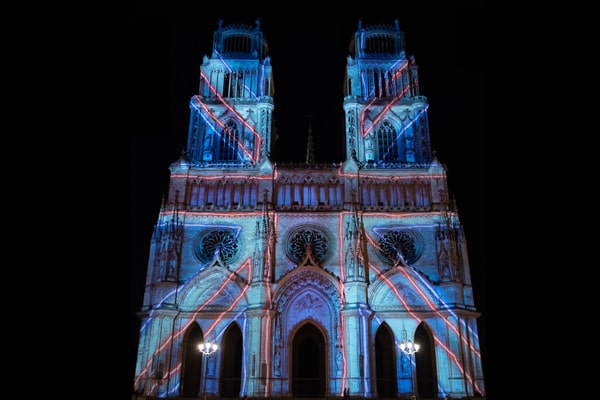 The Cathedral bell tower had a recording of Big Ben ringing out on the hour, we had a Pimms party on our stand raising money for a campaign to rid the Loire of prohibitive licence fees, nobody mentioned Brexit and we all went home happy."
"So Many Boats – So Little Time"
You don't hear me specifically mention a mentor in terms of my three decades of involvement with classic boats, however I did once go for an interview with Bonhams auctioneers to replace the venerable William Rose Esquire.
Bill and his wife (and boating partner) Penny have always been generous advisers to me during my career. They were the power brokers behind the auction, which to my mind was responsible for renewed interest in our Thames heritage during the latter part of the 20th century.
It was this annual event, judicially timed to coincide with the Traditional Boat Rally (as it was called then), that nurtured the careers of people like Colin Henwood, The Freebodys and Mark Stanley to name but a few.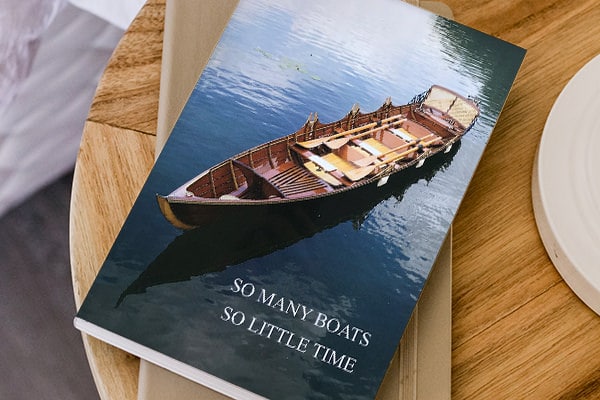 Bill and Penny have spent years amassing their very own museum of boats, paintings and ephemera related to the Thames. Their book aptly entitled: "So Many Boats, So Little Time", has just been published. The book essentially catalogues the Rose's personal choice of items, each of which has a story to tell.
I advise any person interested in the history of Thames boating to purchase a copy, which can be sourced locally from the Way Bookshop at 54 Friday street (Henley on Thames), or by phone on 01491 576663.
Don't let humidity dampen the fun
Condensation is a problem for everyone whether storing indoor or outdoor. There is plenty of water at the moment both on the ground and in the river. As I write the Thames is on red boards and so we have had to halt river deliveries for the time being.
I picked up these few handy hints from the Marinestore and thought that we could all benefit from a few words of sensible advice.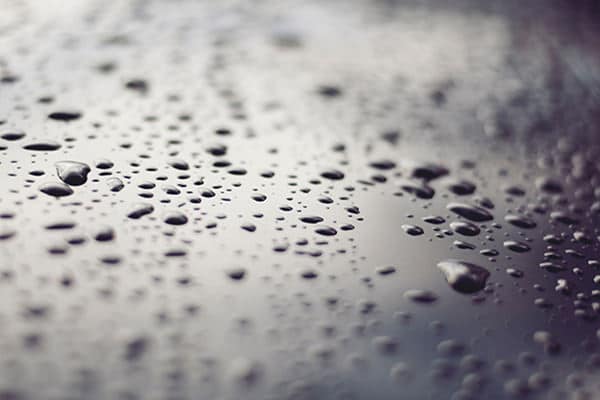 Marinestore writes: "Humidity and the subsequent damp can cause a lot of damage to fabrics on board, black mould is especially difficult to remove. There are several ways to aid prevention.
1. Remove the primary cause: damp air, by using a dehumidifier and a small heater. This will go a long way to removing dampness
2. Remove any fabrics that you can and store them at home, wash or dry clean if possible.
3. Open all interior lockers so that there is free air flow, this will help to reduce condensation.
4. Make sure that air can circulate freely through the boat, leave a hatch open a crack to allow the air through.
5. Make sure that the bilges are kept as dry as possible, leave the cabin sole up if possible.
6. Drain your water systems (this will prevent frost damage and don't forget to drain the water heater too).
7. Wipe all surfaces with a good quality surface cleaner – non abrasive naturally. 8. Take home all the clothing and lifejackets, if they've been used, they'll be salty and water loves salt."
Classic wooden boats: The clever option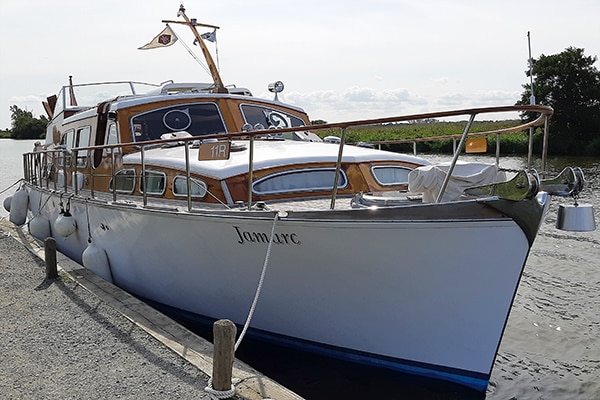 Whatever the challenges of wooden boat ownership, the joys are many, and frankly classic boats are a bargain compared to their GRP counterparts.
Take for example "Jamarc", which has just come up for sale through HSC: It is a magnificent 45ft twin screw motor yacht, and a Bates Starcraft to boot, capable of so much more than simply inland cruising.
When you consider the upfront purchase cost of the equivalent and the inevitable immediate depreciation, the money saved on maintenance is insignificant.
Just to quote two examples: You could buy a 2018 Fairline Targa for £860,000 or a 2008 Broom 450 for £345,000 and these prices will continue to fall during every year of your ownership.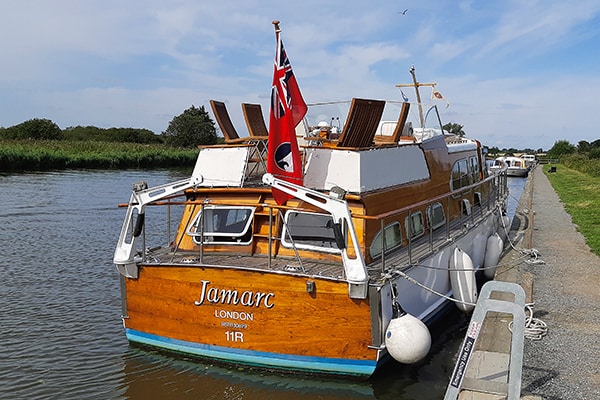 If you look after your wooden classic you should expect to get back what you paid on resale provided you keep an eye on regular maintenance. Furthermore, there is a great deal of pleasure to be had from customisation of your vessel.
The 40ft Bates Starcraft "Karinda" had a second helm position and a flying bridge added last winter and its long-term owners not only have enhanced their enjoyment of the boat they've owned for many years but have also increased the value.
"Jamarc" may have been launched in 1966 but her electronics and her galley with its twin fridges is very much 2018.
For sale under £20,000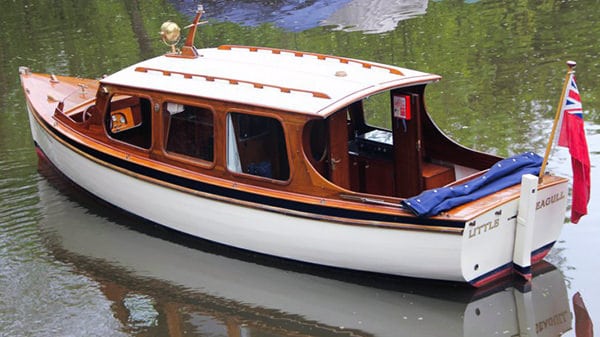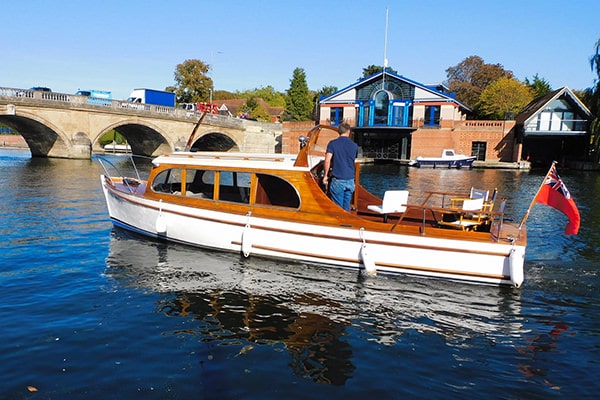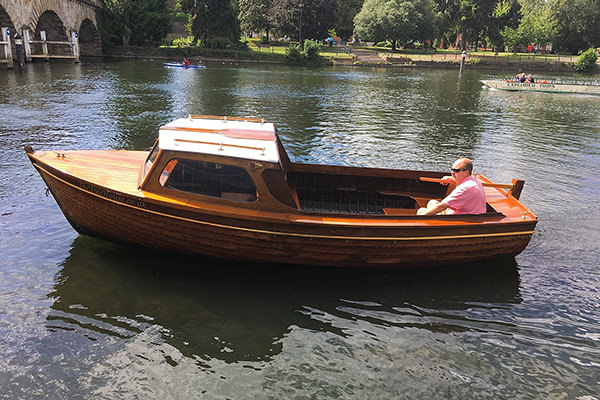 At the other end of the scale there are bargains to be had below £20,000.
Take a look at "Little Seagull" with its newly restored 1938 Austin Side Valve engine, the charming "Little Flagship" which is a dayboat plus with a spacious loo and cabin, or "The Treehouse" recently revarnished and with a new transom and a Lynch electric propulsion system.
Back to reality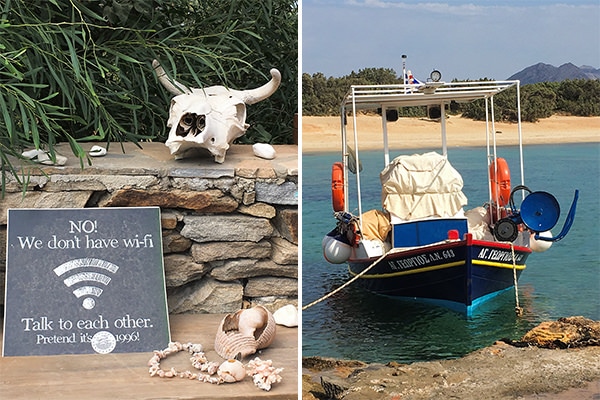 As I write this newsletter I see it is still 20 degrees in Naxos where we stayed at Kavos Boutique Hotel and had 10 days of perfect holiday conditions i.e. great locally grown food, lovely weather, interesting surroundings, cultural outings, and the legendary Greek hospitality.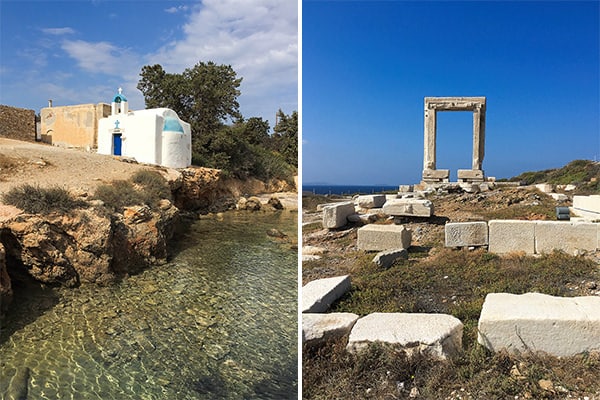 We return to leaden skies. However we do not allow meteorological conditions to dampen our enthusiasm for business and we are now happily ensconced in our new office at 29 Station Road, Henley on Thames, RG9 1AT, where the kettle is always on and a warm welcome awaits you.