Every picture tells a story and this one clearly situates us in Henley on Thames during early July for the world-famous Henley Royal Regatta. And while for an athlete this is all about rowing and competing, for the town's people and the many visitors from within the UK and as far afield as China this year, it is all about having fun. This year we were blessed with lovely weather for 5 whole days!
Henley Royal Regatta – The highlight of the year!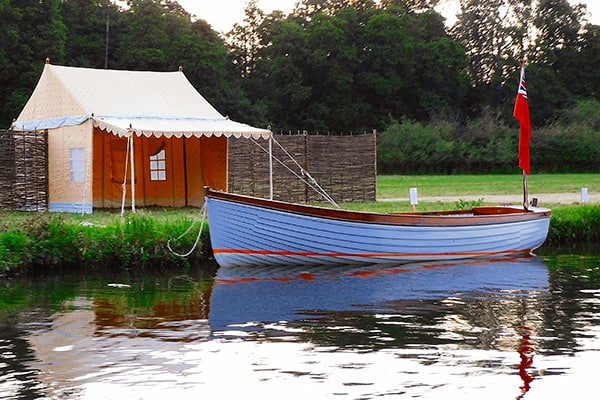 Part of the spectacle consists in watching a constant parade of glorious boats both large and small. Among them it is extremely gratifying to see so many customers enjoying their HSC purchases.
Inevitably people upgrade or even add to their fleet. Here are a few snapshots, taken during this year's Regatta, of boats that we have sold and are being enjoyed by their owners, as well as some which are now actively for sale.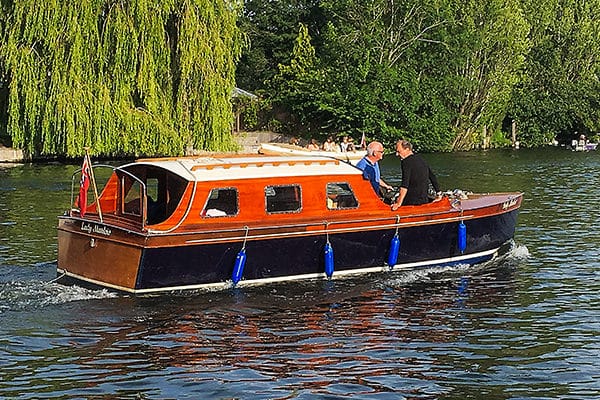 If you like the look of a very practical mid-century Andrews day launch such as "Lady Marlow", which we store and work on each winter, then you could take a look at "Lady Myrtle" or "Wayward II", which are sister boats to "Lady Marlow", for sale through HSC.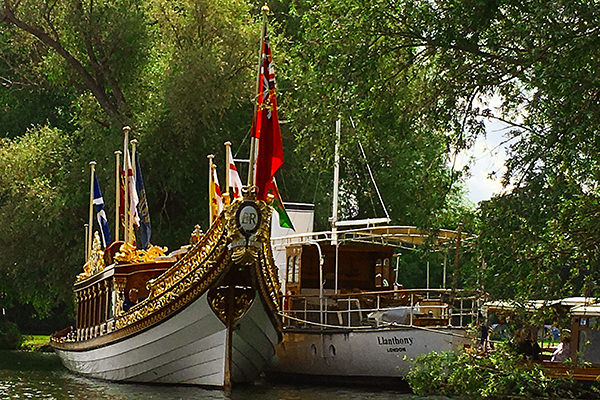 "Gloriana" was spotted lurking in the bushes below Temple Island, tied to "Llanthony", awaiting her Royal Navy Command performance. She was due to cast off and head up the Regatta course, with a number of decorated members of the Royal Navy as passengers, propelled by able seamen with their splendid oars (and a couple of electric motors in reserve, just in case).
"Llanthony" (sold by HSC in early spring) may have been playing a supporting role in this instance, but she will surely be one of the stars at the 2020 Dunkirk Little Ships Return across the Channel next May.
If you are also a history fan with a desire to own a Dunkirk Little Ship, "Elsa II" has just come back onto the market in well-nigh perfect condition. Now is the time to get yourself a boat and become acquainted with its finer points, prior to crossing the Channel for the Return.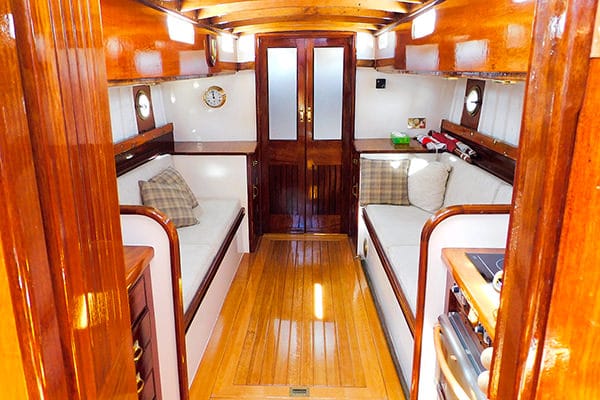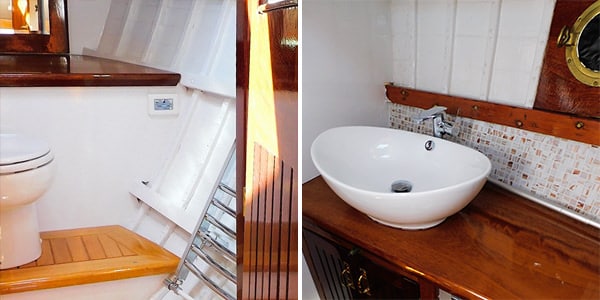 With twin engines, a super smart galley and the most spacious heads you can possibly imagine on a 32ft boat, this is a very luxurious Dunkirker, and quite simply a fabulous day boat.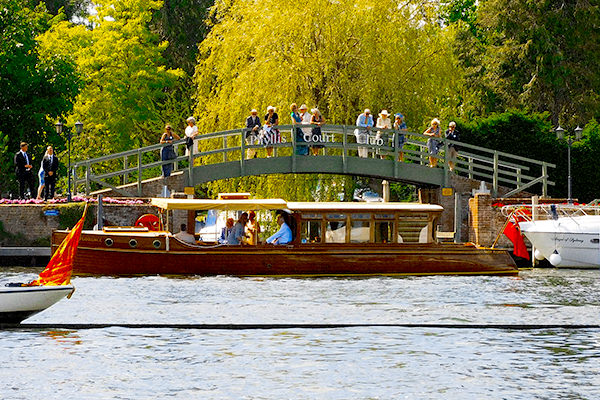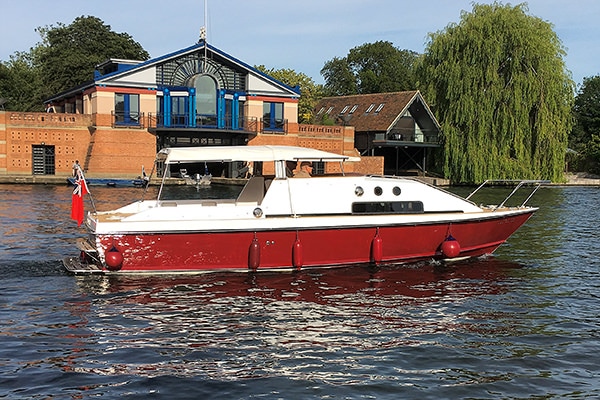 There were many other old friends including "Lady Genevieve", "Viola", "Lady Florence", several slipper launches, a couple of Gibbs, "Dione" (designed by and built for Alex Moulton of bicycle and Mini fame) as well as "Lollapalooza" (a Chris Craft sedan which was once simply known as "Chris") and "Oleanda" (which I think looks beautiful dressed in light blue as opposed to her original dark navy). She was purchased by the current owner 2 years ago at the "Trad".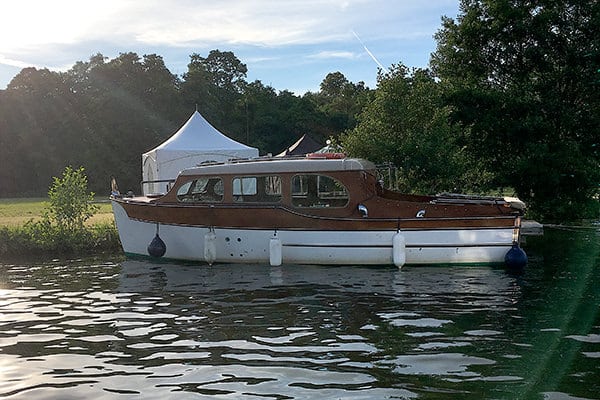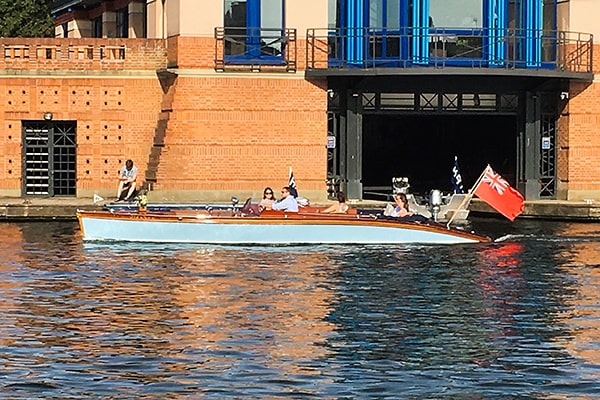 Where fun and tradition meet…
Please do come and see us in our usual location at this year's Thames Traditional Boat Festival (on the upstream section of the site). It is too late to enter your boat if you find the entry form in a neglected pile on your desk. However there will be pleasures aplenty to enjoy while you stroll along the banks of the Thames, admiring the bright work and dreaming of your next boat.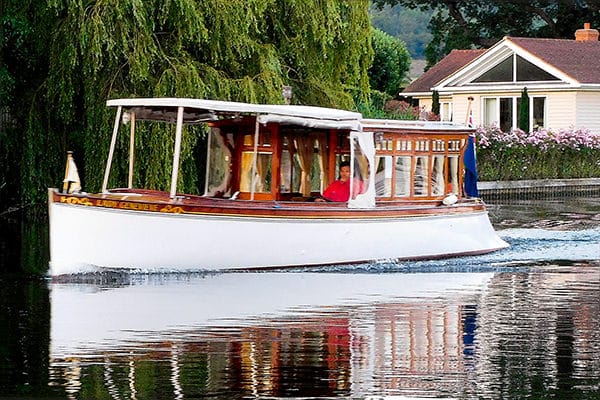 It is interesting to note that customers often begin by coveting a slipper stern, or greyhound launch, but in fact if you are a very sociable person or simply a person with a large family, you may quickly discover that a gentleman's launch (such as "Lady Genevieve", "Viola" or "Archangel") might better suit your needs.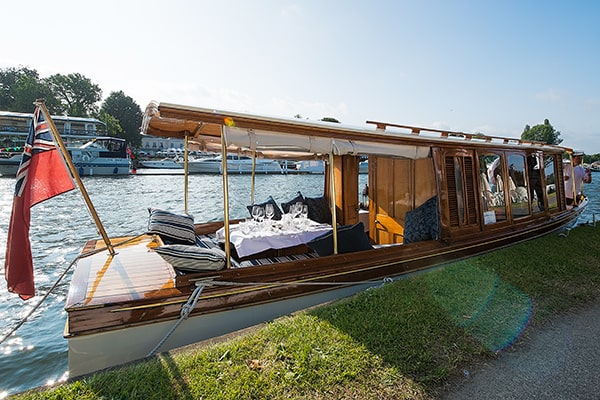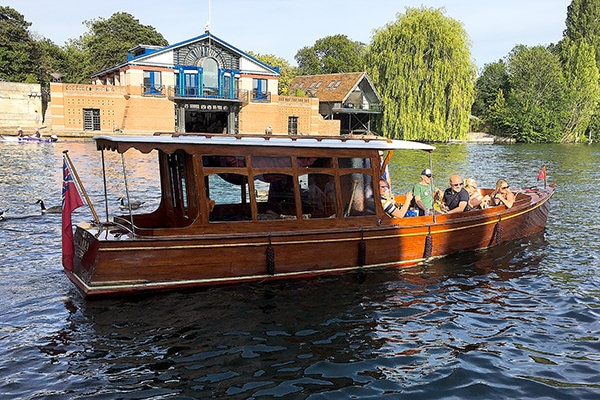 "Viola" is in fact more than 200 miles south of her birthplace, as she was built by Borwicks of Windermere in the Lake District, where I was to be found at the beginning of this month.
An educational Lake District visit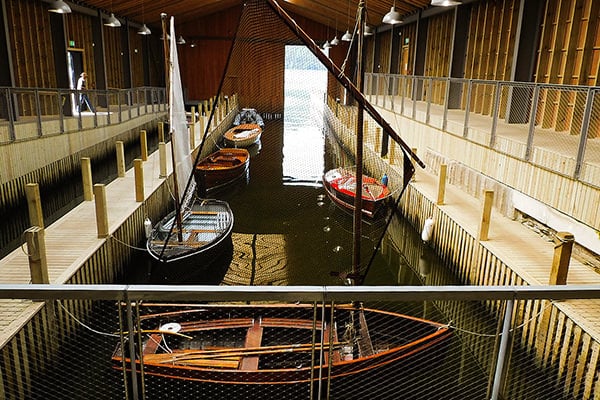 The weekend before the Henley madness began I had three days in the Lake District. I was very excited to visit the recently re-opened Windermere Jetty, as the former Steamboat Museum is now known.
I found the presentation of the static display excellent and look forward to seeing more floating exhibits in the new dock building. The staff mentioned the fact that many of their visitors had come to admire the architecture and I can see why, however the museum should also be on any boating enthusiast's wish list.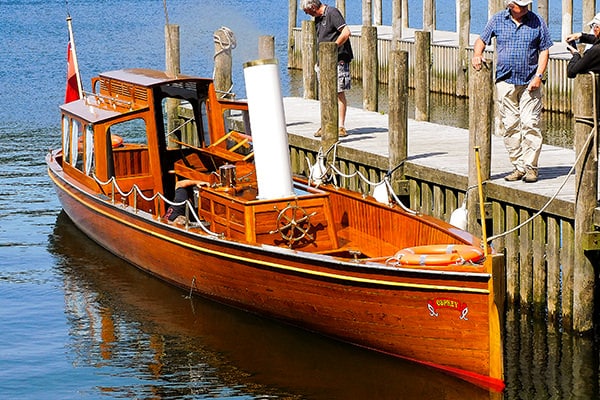 We didn't have time to enjoy a cruise on the steam launch "Osprey". No matter as a more enticing option awaited us on Coniston Water.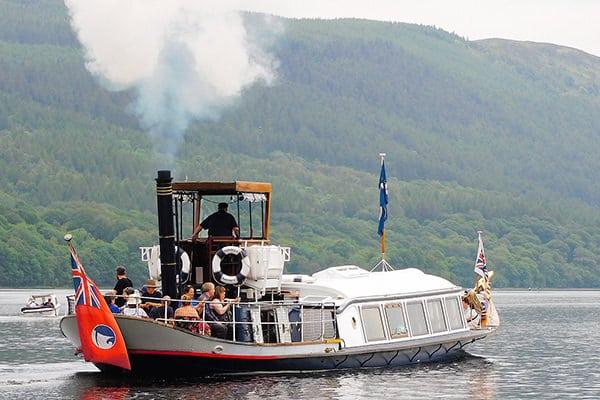 As a guest of the National Trust I was invited to spend a full two hours in the charming and erudite company of the master mariner Julian Blatchley on the steam yacht Gondola. Julian is one of two full time skippers who get to steam the magnificent Gondola.
He has certainly done his research since embarking on a new career as a steamship captain after many years in the merchant navy.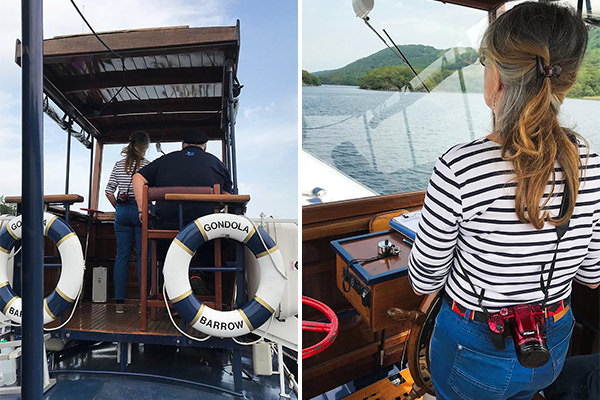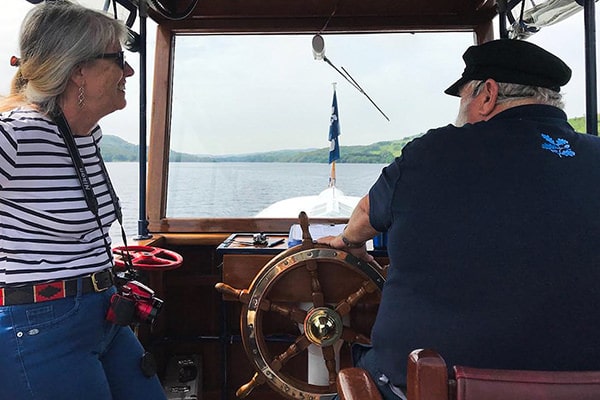 While at sea he wrote two books, one called: Adjacent to the Argonauts, the other: The Trojan Walrus.
You may sense a Greek theme here and I was impressed by Julian's knowledge of Norse history too. I had no inkling of Viking invaders or settlers in the North West of England.
During the cruise I learned about Ruskin, the local wildlife, the importance of sheep farming and so much more.
It was very pleasant for me to be a passenger with someone else in charge for once!
Summer charter in Henley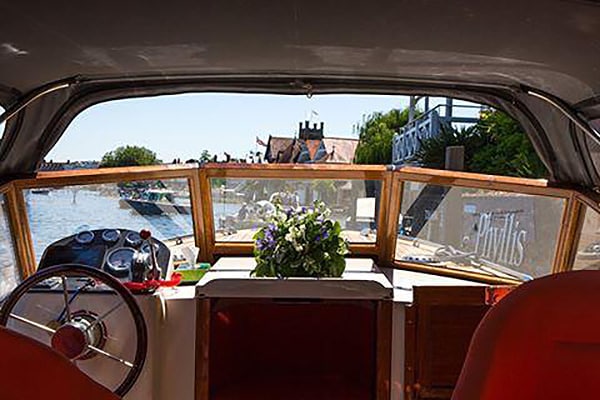 During Regatta in Henley we had three boats operating charters, and Gail has been super busy during Henley Festival of Music and the Arts, as there were catered charters organised for every evening.
At the Regatta "Helena" was working at Phyllis Court alongside "Ella Rose", while "Midsomer Maiden" was available for private charter from our mooring at the bottom of Friday street.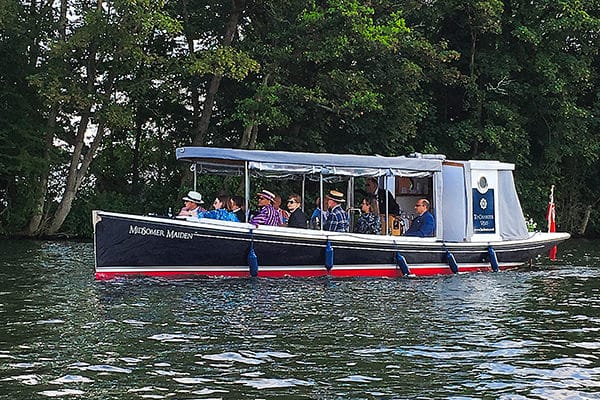 We still have plenty of availability for the rest of the summer, so grab a picnic and pick up the phone to Gail.
Electric self-drive in Wallingford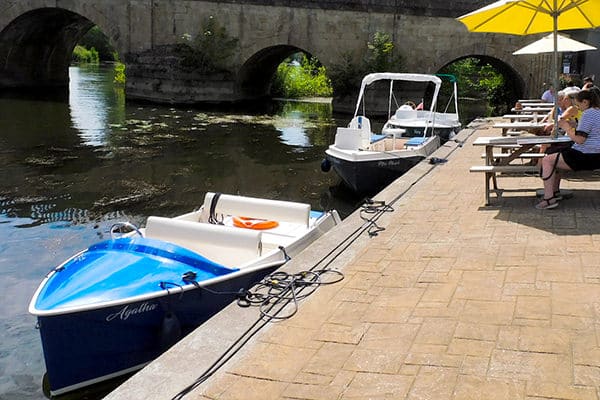 Over in Wallingford self-drive electric boat hire is now in full swing. We take the majority of our bookings online at https://www.pureboating.co.uk.
If you have never driven an electric boat why not take one out for half a day to experience the silence.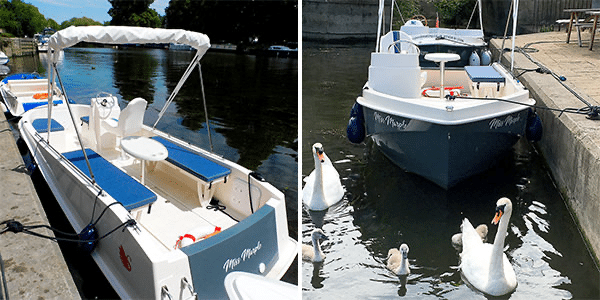 If you too are tempted by any of our new contemporary classics, please call the office and we will arrange for you to try before you buy.
This month alone we have sold two private Scoops, one to Cambridgeshire and one to a customer in the Lake District.
No news from us in August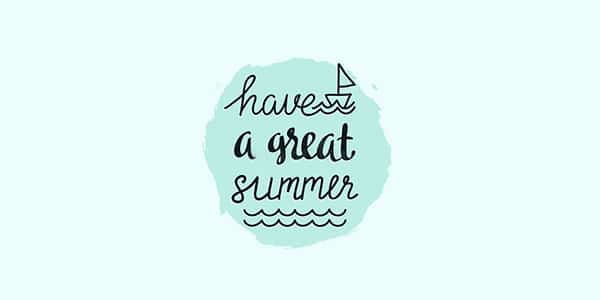 As is customary there will be radio silence until September. However you can call, email, send a letter or even a postcard, any or all of which will be gratefully received as there is always a member of the team in the office.
Have a great summer and in the meantime, we hope to see you at the Trad!